Without Messi and Ronaldo, El Clasico takes a peek into the future
Alex Caparros / Getty Images Sport / Getty
theScore's Gianluca Nesci spent five days in Catalonia leading up to Sunday's El Clasico between Barcelona and Real Madrid. You can find the complete collection of stories from the trip here.
BARCELONA - "No Messi, no Cristiano."
It's a common refrain from just about everybody you see in the days leading up to Sunday's El Clasico at the Camp Nou. Cab drivers bring it up; you can overhear locals discussing it while waiting in line at the grocery store or eating their ham croquettes at one of the seemingly endless restaurants in the city.
Bereft of the two stars who defined it for over a decade, the latest edition of the engrossing rivalry between Barcelona and Real Madrid still feels like it's all about them.
It's fitting, really.
Since the Dec. 2007 installment, when a Julio Baptista goal gave Madrid a 1-0 win, Lionel Messi and Cristiano Ronaldo have been ever-present when La Liga's two behemoths lock horns in Spain's great footballing spectacle.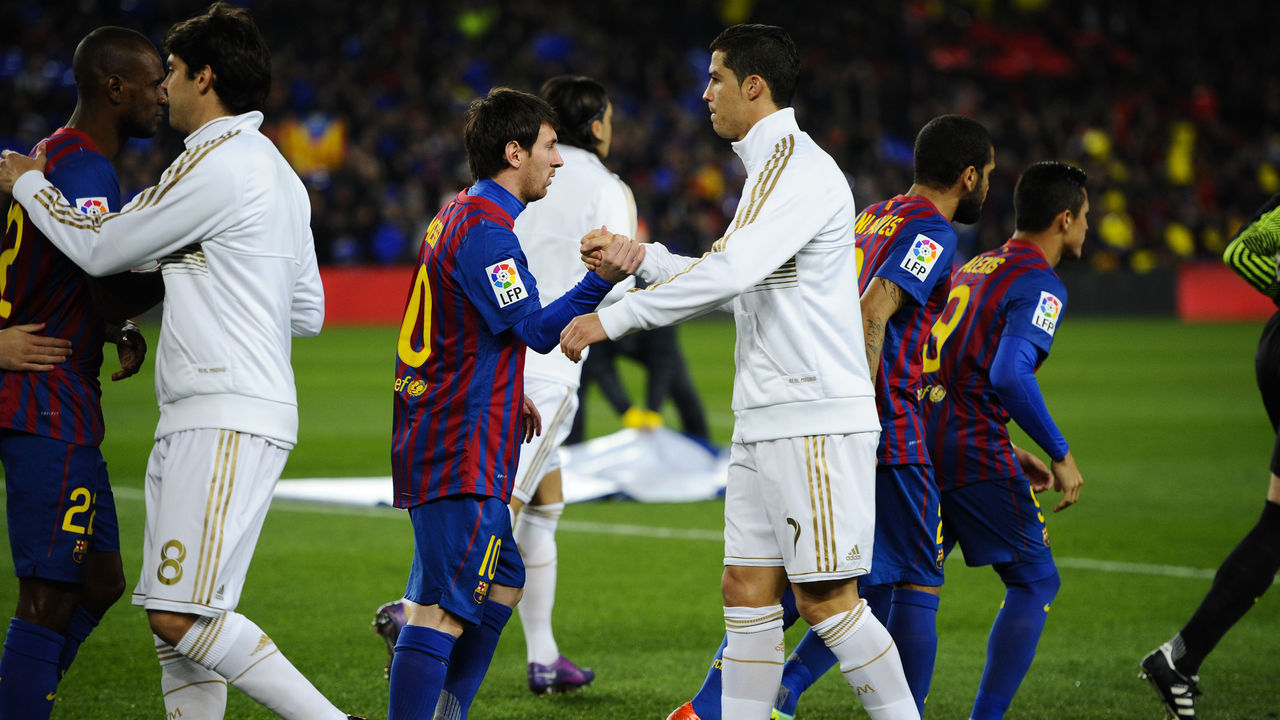 For 11 years, they overshadowed this meeting. The 44 goals they scored in 68 matches between them - a ridiculous statistic - doesn't even tell the whole story.
It was Messi vs. Ronaldo first and Barcelona vs. Real Madrid - arguably the most grandiose rivalry in the sport - second. Judging by the chatter around the Catalan city this week, even in their respective absences, not much has changed.
Eventually, though, it'll have to.
Messi's spot on the sidelines is just a sabbatical, for now, enforced by the broken right arm he suffered last week against Sevilla, but even he won't be around forever.
Jarring to think about, admittedly, but the impending tilt at the Camp Nou offers a peek into the future. With the Portuguese plying his trade at Juventus and the diminutive Argentine now having to look in the rearview mirror to conjure memories of his 30th birthday, the future's coming faster than anybody cares to admit.
"The Clasico existed before that. The Clasico has always been the Clasico, and there were even flying piglets," Barcelona boss Ernesto Valverde told reporters Saturday, referencing the infamous 2002 incident that saw Barca fans throw a pig's head at Luis Figo as retaliation for his decision to leave for the hated capital-city rival.
Without Messi, Ronaldo, or a flying piglet on display, what might the cameras - all 30 of them that will be in use at the stadium, according to La Liga - focus on this time around? They'd always been so fixated on those two, almost super-glued to their every move. Twenty other superstars dwarfed.
Luka Modric just shook someone out of his boots with the type of hip swerve that wouldn't look out of place at a salsa class? Sorry, missed it. Ronaldo was scratching his forehead. Luis Suarez fought off three defenders, using his combination of power and guile to leave them in his wake? Oh, no, didn't catch that. Messi was stroking his beard.
They were the center of attention when these two behemoths met. And with good reason. They delivered.
More often than not, it was Messi - who scored 26 goals and crafted 14 more - creating a number of memorable moments along the way against Madrid.
"There were countless subplots, players and stories to highlight … But above all – way, way above all – there was Messi," the Guardian's Sid Lowe wrote in 2017, perfectly capturing everyone's exact thought after Barca's No. 10 scored that instantly iconic last-minute winner at the Bernabeu.
Now, it's somebody else's turn.
Marco Asensio's electric dribbling ability is seductive. When fit, Gareth Bale is a force of nature. Marcelo looks set to overcome an injury scare. Isco has been waiting to assume the mantle as the next great star of this contest for ages now, it seems. This is his greatest opportunity yet.
On the other side, Arthur has looked increasingly comfortable since joining the Catalan giants from Gremio. Philippe Coutinho loves a golazo from outside the area more than most. Why not on Sunday? Marc-Andre ter Stegen, playing behind an increasingly rickety defense, has looked superhuman for much of the season. Perhaps he stands on his head to win the plaudits.
Heck, maybe even Malcom will get a shot to make his mark. Maybe. Right, probably not.
Nonetheless, the stars will be out. Even if the stars aren't. This is still the most talent-laden club match around, after all. El Clasico may be missing the game's two most engrossing players, but the drama remains.
A Madrid loss could signal the end of manager Julen Lopetegui's short, tumultuous reign on the bench. Just four months and nine La Liga matches after succeeding Zinedine Zidane, the Spanish tactician is already sitting on the hottest of seats.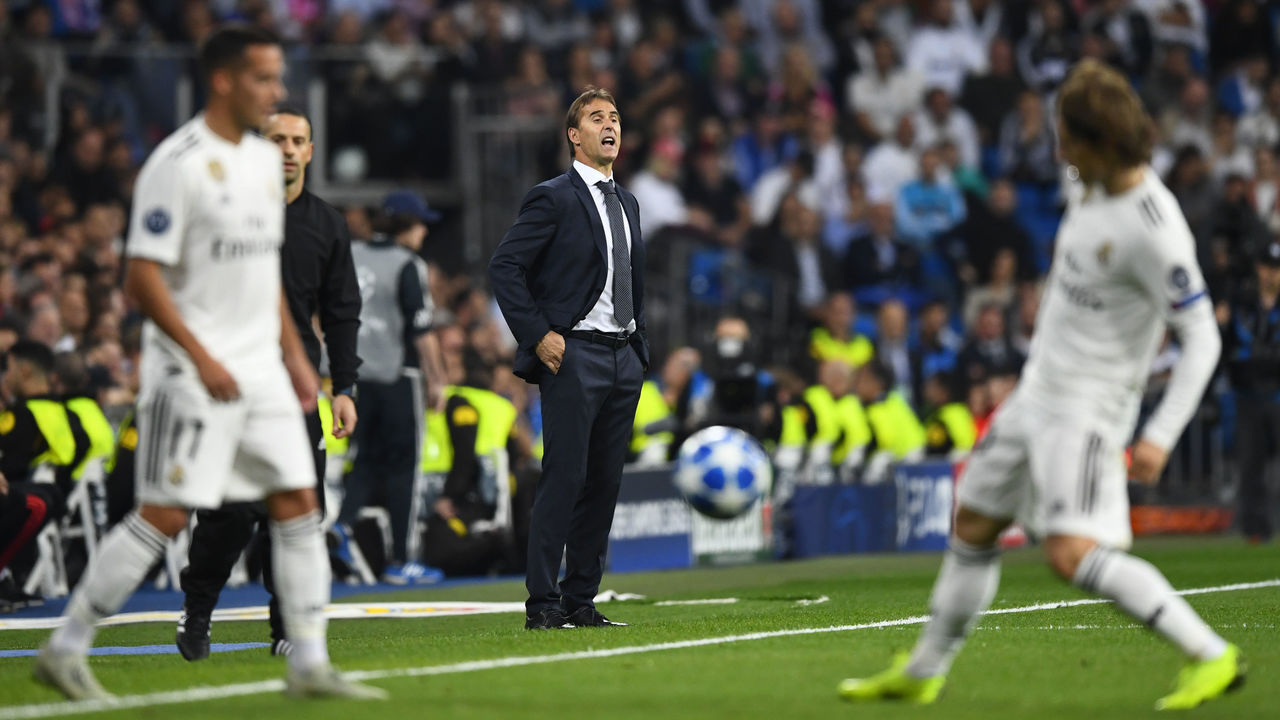 A run of five matches without a win - while scoring just one goal in the process - will do that to you at the Bernabeu. Especially when your predecessor captured Europe's greatest prize three straight times.
An unconvincing 2-1 victory over Viktoria Plzen in midweek Champions League action, which ended the aforementioned winless run, has done little to lift the pressure on the 52-year-old bench boss.
Judging by Saturday's pre-match press conference, he's feeling the strain.
"I have 100 percent energy and I am not going to waste even 0.01 percent of that answering that question," he replied to one reporter when asked about his future with the club.
Not to worry. A loss to a Messi-less Barca, which would leave Madrid seven points adrift of Valverde's side after just 10 matches, would almost certainly mean he doesn't have to answer that question again.
"No Messi, no Cristiano." And, potentially, no Lopetegui come the minutes immediately following the final whistle on Sunday.
A peek into the future. In more ways than one.
Comments
✕
Without Messi and Ronaldo, El Clasico takes a peek into the future
  Got something to say? Leave a comment below!