Rams should've kept chasing a true game-changer in Beckham
Abbie Parr / Getty Images Sport / Getty
The ascendant Rams and Odell Beckham Jr. are a match made in heaven, and right up until Los Angeles stunned the NFL world by trading for Brandin Cooks on Tuesday, they were the favorites to trade for the New York Giants superstar.
And they should've kept trying to make a deal for Beckham until it happened or became impossible. Here's why the Rams were too quick to move on.
Beckham's clearly more talented than Cooks
Cooks is a good receiver and could be the deep threat that appears to be the only hole in L.A.'s offense, but he's shown time and time again that he isn't a top-tier No. 1 target.
The 24-year-old has produced three straight 1,000-yard seasons - an impressive feat - but he established his ceiling on teams with superior quarterback play to the Rams.
The New England Patriots threw the ball more than any other team in the league last year, and the New Orleans Saints ranked second in attempts in both 2016 and 2015, according to teamrankings.com.
Despite playing in these high-octane passing offenses led by two future Hall of Famers, Cooks' career high in yards is 1,173, and he's never caught more than 84 passes. That's partly because Cooks' main skill is his speed, so he isn't a target magnet, but it's fair to question why both teams were so willing to move on from him.
Beckham is inarguably more well-rounded, and was able to average at least 13.5 yards per catch in each of his first three seasons while never catching fewer than 91 passes (and he only played in 12 games as a rookie). Additionally, the Giants ranked 11th, seventh, and eighth in the league in pass attempts per game. The Rams ranked 21st in that category, so Beckham would be more likely than Cooks to maintain his production in their offense.
Los Angeles and offensive wizard Sean McVay may help Cooks find another level of production, but chances are he's maxed out as a borderline No. 1 wide receiver.
Rams need stars to help fill new stadium, don't care about personality issues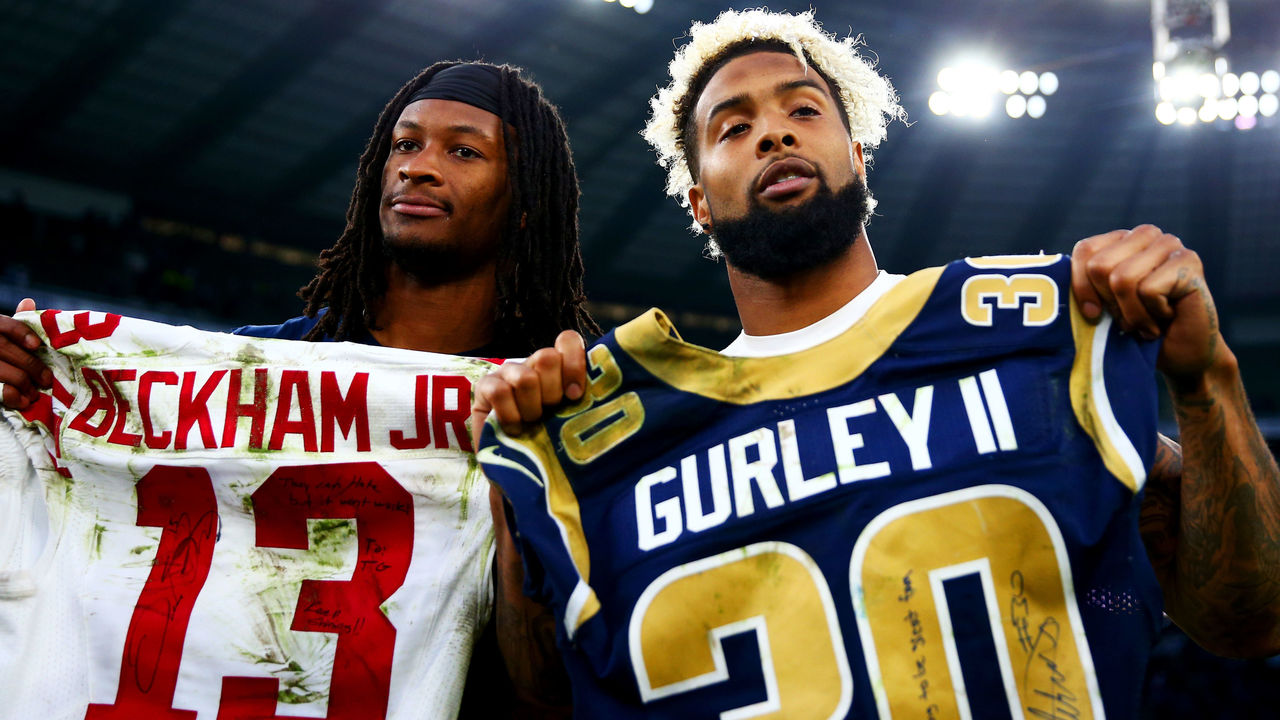 In two short seasons, the Rams and the Chargers will move into the 80,000-seat, $2.66-billion stadium in Inglewood.
The NFL's move back to L.A. hasn't yet been a complete success or an utter disaster, but the middling return is concerning. The apparently imminent resurgence of the Rams should help re-establish them among the City of Stars' sports franchises, but they still lack a superstar who can fill seats and attract nationwide attention.
Beckham is one of only a handful of transcendent players in the league - a face and a name that even casual sports fans know. Todd Gurley and Aaron Donald are elite players, and Jared Goff has the potential to reach a new level of stardom, but none come close to Beckham.
The Giants wideout had the 11th-highest-selling jersey on NFL Shop last season despite missing most of the campaign. Meanwhile, Gurley was the only Ram to make the top 30 thanks to a career year. In 2016, Beckham was fifth, with Gurley 18th and Goff 40th, according to the NFLPA.
Beckham's star power should outweigh any off-field concerns the Rams had about the polarizing pass-catcher, and it's doubtful there were any.
While the Giants have grown tired of Beckham's perceived tantrums and outbursts, the Rams made it clear that they believe they can handle all kinds of personalities by bringing in Ndamukong Suh, Marcus Peters, and Aqib Talib - all of whom have a history of off-field issues or being on-field distractions.
Assets, contracts, and ease of re-signing
The Rams invested heavily in finding a great receiver, first by swapping cornerback E.J. Gaines and a 2018 second-rounder for Sammy Watkins - only to let him walk in free agency - and now by trading a first-rounder (23rd overall) for Cooks.
Given all that effort and all those resources, the future of the position should be secure. But, just like Watkins when he came to the Rams, Cooks has one year remaining before he hits the open market.
L.A. apparently understands it can't lose another recently acquired receiver to free agency, as the club reportedly plans to sign Cooks to an extension before the season. However, after seeing Watkins get $16 million per year on the open market, why would Cooks accept a new deal that isn't at least close to that inflated figure?
Cooks' more-than-solid production far exceeds that of Watkins, and they have similar playing styles. The Rams could lock down Cooks to a deal worth, for example, $14 million-$15 million annually. But if they're willing to shell out that kind of money for him, it would have been more logical to spend an extra $4 million-$5 million for a generational-type talent like Beckham, who should be more than willing to eschew the open market in favor of the long-term deal he wants.
And while it's questionable if Cooks is worth a first-round pick (plus the sixth-round pick of the Rams, who sent a fourth-rounder back to the Patriots), that's a more-than-acceptable price for maybe the best receiver in the game.
The Giants are reportedly seeking at least two first-round picks for Beckham, but a team's initial asking price is always high, and at the end of March, ESPN's Adam Schefter said he believed a first- and a third-round pick would be enough to persuade New York to part with him.
If Schefter's price point was accurate, that's not much more than L.A. gave up for Cooks, and Beckham's superior talent more than makes up for the difference.
(Photo courtesy: Getty Images)
Comments
✕
Rams should've kept chasing a true game-changer in Beckham
  Got something to say? Leave a comment below!