Inside the movement to make Election Day a mandated NCAA day off
Icon Sportswire / Getty Images
It's no secret that turnout among young voters is typically lower than any other age group. But it's a statistic Eric Reveno believes must be improved.
Only 30% of 18- to 24-year-old voters turned out for the 2018 U.S. midterm elections, according to survey data from the United States Census Bureau. In 2016, a presidential election year, only 39.4% voted. Nearly half of the 29,320 surveyed in 2016 were not registered to vote.
In response to an emotional team meeting last week, Reveno, a Georgia Tech men's basketball assistant coach, began a push to make Election Day a mandated NCAA off day for athletic programs nationwide. Reveno began with his own school, proposing the idea to athletic administrators and Josh Pastner, the Yellow Jackets' head coach. Last Thursday, Georgia Tech announced nine of its teams have committed to not schedule any mandatory athletic activities on Nov. 3. Geoff Collins and the Georgia Tech football team were one of the nine to jump on board.
Soon after, head basketball coach Mark Few and Gonzaga committed to canceling team activities on Election Day. The America East Conference's men's basketball head coaches made a pledge together. The National Association of Basketball Coaches issued a statement calling for all men's basketball programs to establish Election Day as an off day. An online petition, started by Reveno and spread using the hashtag #AllVoteNoPlay, has thousands of signatures. For the last week, Reveno's Twitter account has turned into a public relations arm for the cause.
He'd like to see it go one step further - with a conference proposing a rule change to the NCAA to classify Election Day as an off day for years to come.
"As mentors and coaches and educators, we need to teach this life skill of civic engagement," Reveno told theScore. "We teach financial literacy, we teach recovery, we teach nutrition, we teach all the benefits of proper sleep, health. But we haven't done a good job of teaching the basic civics of educating on local elections and getting registered and all that stuff. So that was it. So then, such a simple idea, Georgia Tech ran with it. I haven't sold much at all."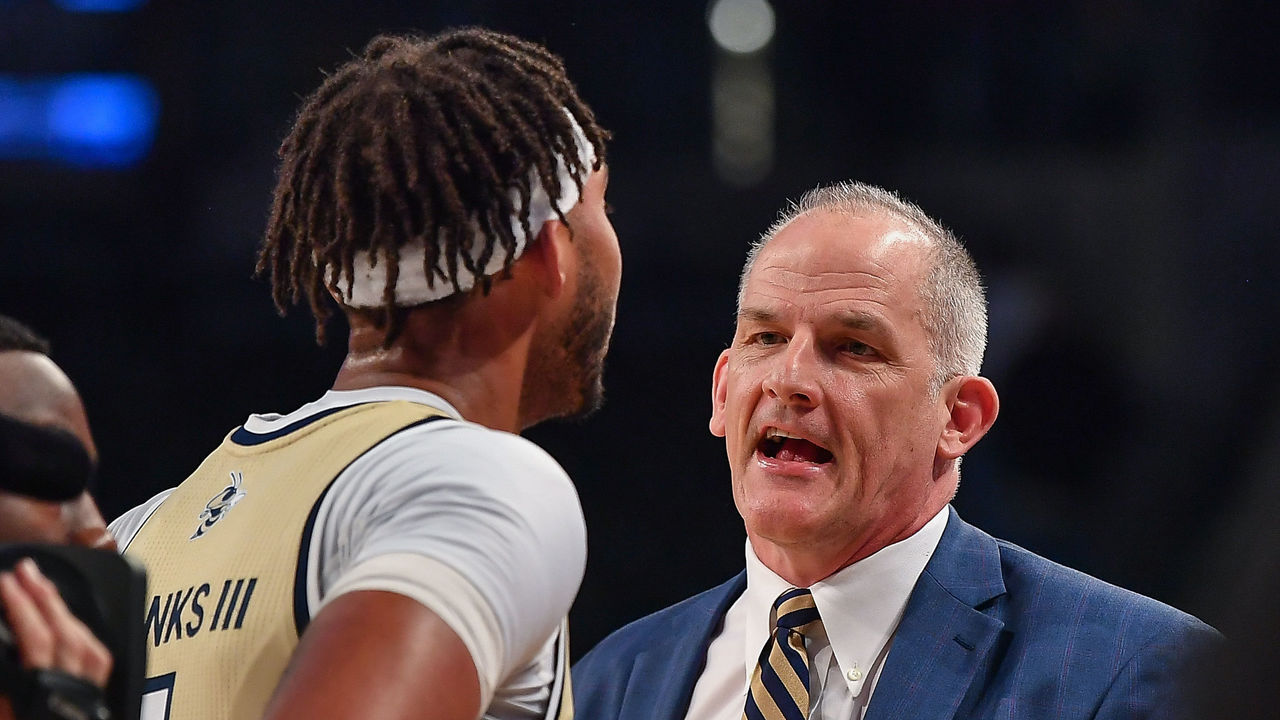 Reveno said the idea to emphasize voting stemmed from a Zoom meeting between Georgia Tech coaches and players on June 1. Following the deaths of George Floyd, Breonna Taylor, and Ahmaud Arbery, and the nationwide protest movement against racism and police brutality, the meeting was emotional. Players took turns choosing words to describe their feelings. Their choices ran the gamut, Reveno said: angry, frustrated, fatigued, confused.
One player, Malachi Rice, brought up the topic of voting. It inspired Reveno to look up the numbers and see that the youth vote was on the decline. The numbers hit him "like a ton of bricks," he said.
"My main one was embarrassed, that I'm a 54-year-old guy and this is the generation we're leaving behind," Reveno said. "We've got to do better, like in this one fundamental area, we just haven't improved the life, the safety, and the equality of African Americans."
Reveno, who's spent 23 years as a college basketball coach, began to think about what he could do within college athletics to spark change. He gravitated toward the idea of a nationally mandated off day to encourage the 460,000 college athletes under the NCAA's umbrella to vote. The idea was so simple that Reveno's 15-year-old son asked why it hadn't been done before.
At Georgia Tech, Reveno said, coaches and the athletic department will make sure their players know how to register to vote. More than half of the Yellow Jackets' basketball players are from outside the state of Georgia. There will be more of an emphasis on educating athletes on how to request and submit an absentee ballot, and reminding them of the deadlines to do so.
Reveno said the off day would also serve as a reminder to coaches that the job must extend beyond sport.
"Getting the degree and playing professional basketball is probably the best way to positively impact their life, but we've got to look beyond just our little bubble sometimes and make sure we're doing our sort of civic duty on some things," he said.
More schools continue to get on board. On Tuesday, UCLA launched its Voting Matters Initiative, announcing it will hold voter education sessions for all 25 of its teams.
The next step is getting a conference to take the proposal to the NCAA as emergency legislation. Reveno wasn't sure how difficult that would be - if the NCAA has to hold emergency meetings this summer as it prepares for its return to play amid the COVID-19 pandemic, then perhaps the #AllVoteNoPlay legislation could be added to an existing agenda.
Until there's a resolution, he'll continue pushing the issue.
"If we put it in the rule book it will be in the rule book going forward," Reveno said. "It will be sustained. … Everyone's really excited this year and everyone's talking about momentum, but Coach Pastner's been great, he's talking about the second-half push. What are we going to do once the tweets stop? We will get back to a new normal, and I don't want that new normal to be like the new normal that has happened so many times in my life. I don't want my personal new normal to be the same, my level of engagement. I think the NCAA can make a difference here."
Mark Cooper is theScore's college sports writer.
Comments
✕
Inside the movement to make Election Day a mandated NCAA day off
  Got something to say? Leave a comment below!