ARLINGTON, Texas - The crowd arrived early for Sam Ehlinger.
Four hours before the Texas quarterback was scheduled to hold court at Big 12 media day in July, four reporters set up tripods in front of his dais, effectively planting their flags on the most coveted real estate on the AT&T Stadium turf.
By the time Ehlinger arrived, the entirety of the space surrounding him had been claimed. Eighteen video cameras - not including cellphones - captured every word. Four reporters even used step stools to see over the mass of others while operating their equipment.
To Ehlinger's right, Longhorns defensive end Malcolm Roach arrived at his own table to answer questions, but the spillover of media members hungry for time with the quarterback encroached on his space, too. Roach joined in, playfully dangling an arm over Ehlinger's table, pretending to gather a soundbite himself.
This is life for the QB1 who returned Texas to college football's upper echelon.
It's been a long time coming. After nearly a decade of trying and failing to develop a franchise pivot, the Longhorns finally found their man last year in Ehlinger, an Austin native.
With what felt like the flip of a switch, he evolved into an All-Big 12 talent. Ehlinger set a conference record by throwing 308 passes without an interception. He remained healthy, something he struggled to do as a freshman. He even beat Oklahoma.
Though the Sooners exacted revenge in the Big 12 title game, Texas' season culminated with a romp over Georgia in the Sugar Bowl. It was after that game, during the victory celebration, that Ehlinger famously declared to the crowd, "Longhorn Nation, we're baaaaack."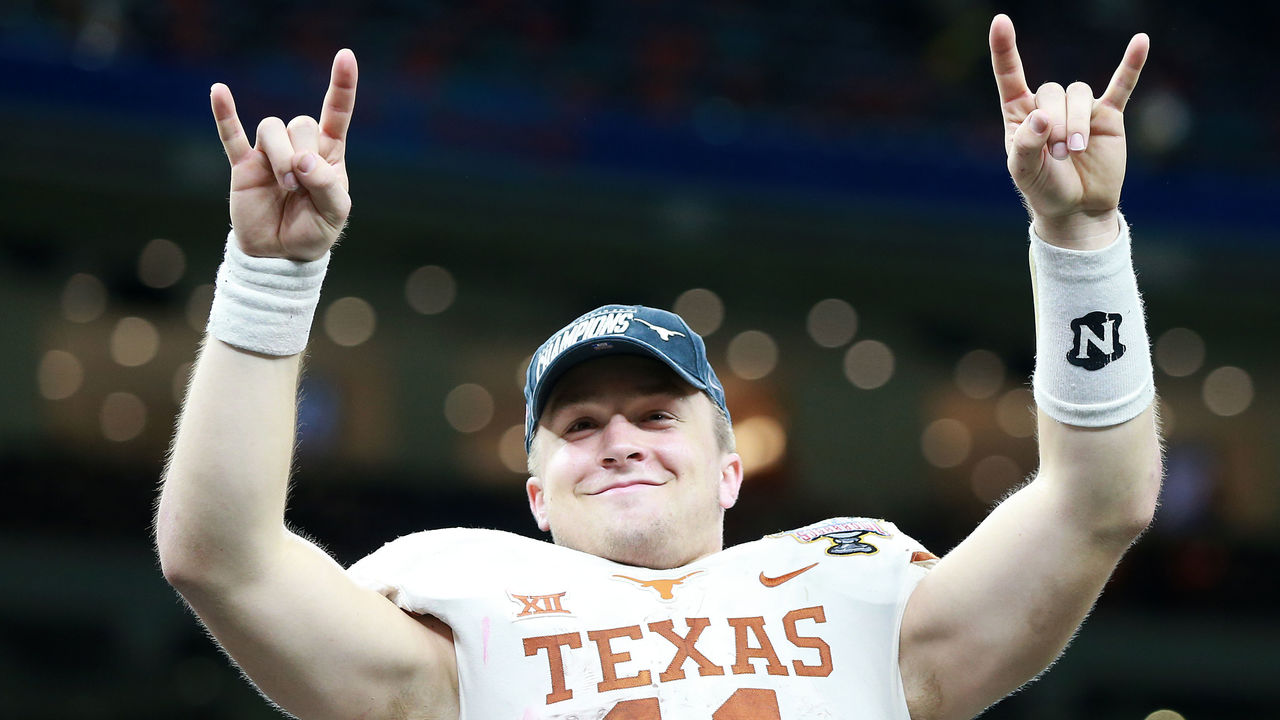 That Sugar Bowl is also the game that inspires confidence among the Longhorns and their fans that 2019 could lead to something greater - a Big 12 championship, and, perhaps, a College Football Playoff run.
It all seems possible as long as Ehlinger is leading the way.
"I'm really excited for where we're at," he said. "I've always said I want the University of Texas to always be competing for championships, and I think that right now we're at a place in our program where we have a chance to do that. That's ultimately where I want us to be."
A decade-long dip
Ten years ago, Texas played for the national championship.
The Longhorns entered that title game a perfect 13-0, having narrowly defeated Nebraska to win the Big 12. Led by Colt McCoy and his favorite target, Jordan Shipley, they entered the Rose Bowl in hopes of claiming a second national championship in five years. They also aimed to deny Nick Saban his first since joining Alabama.
On Texas' first drive of the game, though, McCoy took a hit to his shoulder that sidelined him for the rest of the contest. Alabama ultimately celebrated a 37-21 win that jump-started its dynasty, while the defeat remains a painful what-if moment for Texas.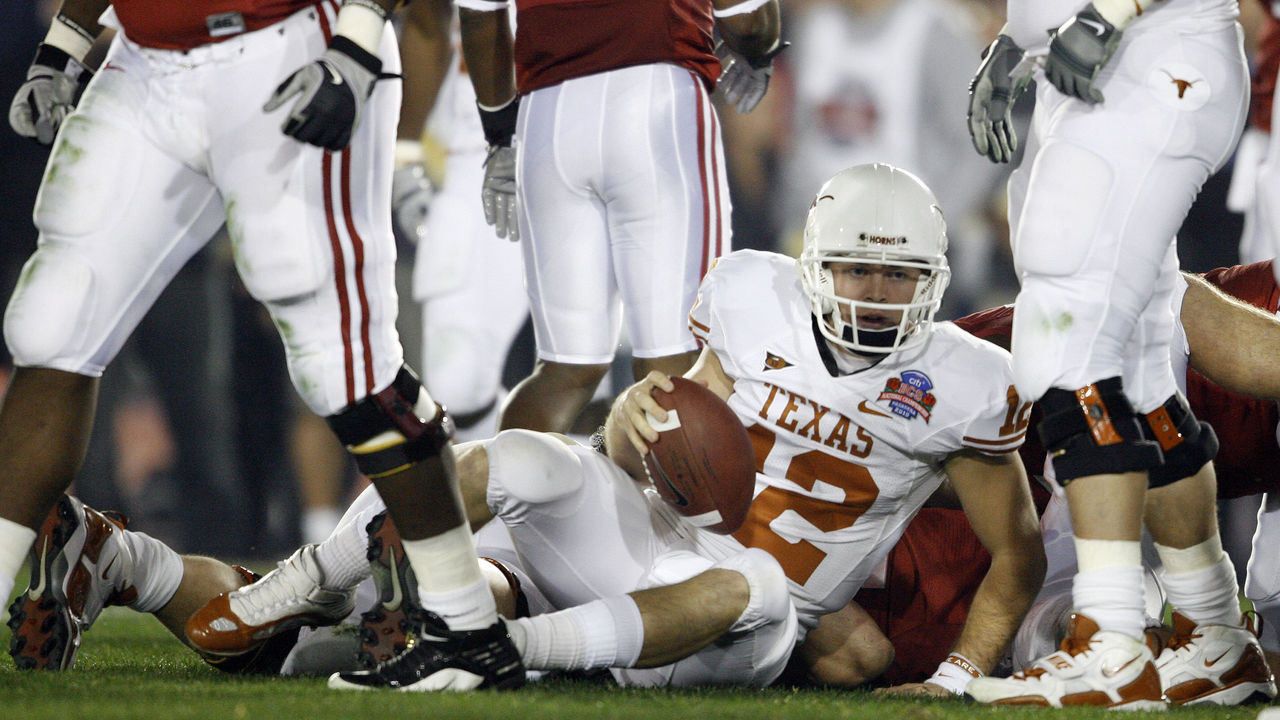 It also ushered in a decade of injuries, misfires, and disappointments at the quarterback position. McCoy left for the NFL after that 2009 season and five-star Austin native Garrett Gilbert ascended to the starting role, but the Longhorns sputtered to a 5-7 record, the first losing season of head coach Mack Brown's tenure.
In all, six quarterbacks started for Texas between McCoy and Ehlinger. The Longhorns won an average of just 6.6 games per season from 2010-17.
Along the way, there were brief, forgettable flashes in the pan. In 2015, Jerrod Heard looked like the answer when he produced more than 500 yards of offense against California. A year later, he moved to wide receiver.
Then in 2016, the team's hopes were pinned, in part, on freshman Shane Buechele. Texas flew up the rankings after defeating Notre Dame in the season opener, but finished with a 5-7 record, which included a loss to Kansas.
Adding insult to injury, the Longhorns missed out on a number of talented Texas prep quarterbacks. Three pivots from the state - Johnny Manziel, Baker Mayfield, and Kyler Murray - won the Heisman Trophy in the last decade. And that list doesn't include another pair of college stars - reigning NFL MVP Patrick Mahomes, who embarrassed Big 12 defenses at Texas Tech, and former Ohio State QB J.T. Barrett.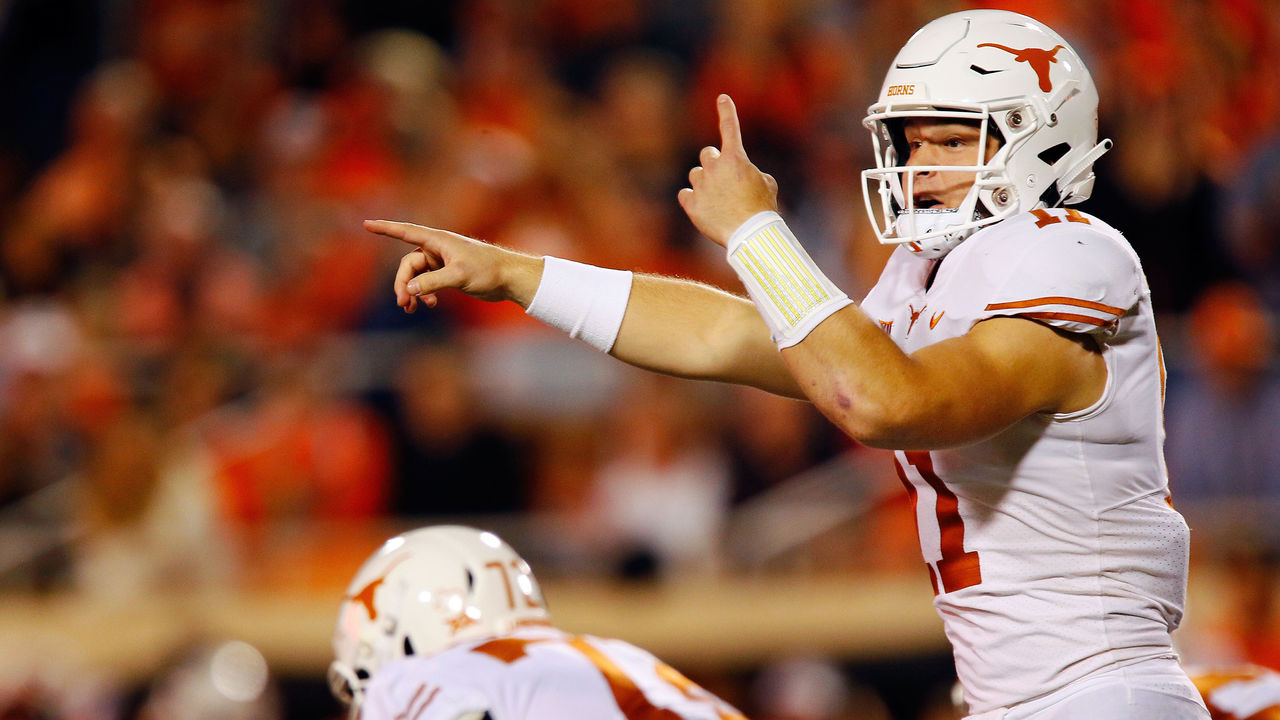 To most fans and analysts, Ehlinger didn't look like the Longhorns' solution as a freshman. His play was up and down in losses to USC, Oklahoma, and Oklahoma State. During that 2017 season, he completed only 57.5 percent of his passes.
But in the locker room, his teammates saw potential.
"This guy's an alpha male," receiver Collin Johnson said of Ehlinger. "He came in his freshman year and he carried himself like a junior or senior already. And that's hard to do. It just takes kind of a swagger and a confidence about you. Sam has a confidence you can't teach. He has a belief in himself so strong nobody can break it."
'I know he doesn't listen to it'
The horde of reporters surrounding Ehlinger at media day painstakingly awaited his response to one topic in particular: the criticism.
Over the summer, Mayfield had taken a shot at Ehlinger while speaking with a radio station in Norman, Oklahoma, saying: "Westlake (Ehlinger's high school) is a great program, but the two best quarterbacks to come out of there are Drew Brees and Nick Foles. Sam can stay down there in Texas." (Mayfield went to rival Lake Travis High School in Austin.)
A week later, Hall of Fame quarterback Terry Bradshaw said Ehlinger "ain't that good." Bradshaw's alma mater, Louisiana Tech, will open the season against Texas.
For his part, Ehlinger played it cool.
"The chip that I try to play with on my shoulder doesn't necessarily have to do with what anybody else is saying," he said. "I try to carry that with me wherever I am because it shouldn't take any extra motivation to play to the best of your ability."
The levelheaded response was a sign of Ehlinger's growth as he enters a junior season in which he's among the top 10 Heisman Trophy betting favorites.
As a freshman, Ehlinger allowed the echo chamber of social media to affect him. But as a sophomore, he deleted Twitter from his phone during the season. When he does use the platform, his settings only show replies from those he follows.
"You're not going to run away from critics, you're not going to not find them, especially in a position like that when you're the quarterback of Texas football," Longhorns center Zach Shackelford said. "There's always going to be that. But we don't listen to it. I know he doesn't listen to it."
Ehlinger said getting away from social media helped him stay focused. After a two-interception performance in a surprising loss at Maryland to open 2018, he reeled off 10 consecutive games without a pick, during which Texas went 8-2. In eight of those contests, Ehlinger completed more than 60 percent of his passes.
His magnum opus, to date, was the Oklahoma game. That day, Ehlinger threw for 314 yards and two touchdowns while running for 72 yards and three more scores as the Longhorns topped Murray's Sooners 48-45 in the annual Red River Showdown in Dallas.
"It's incredible," Ehlinger said of the rivalry.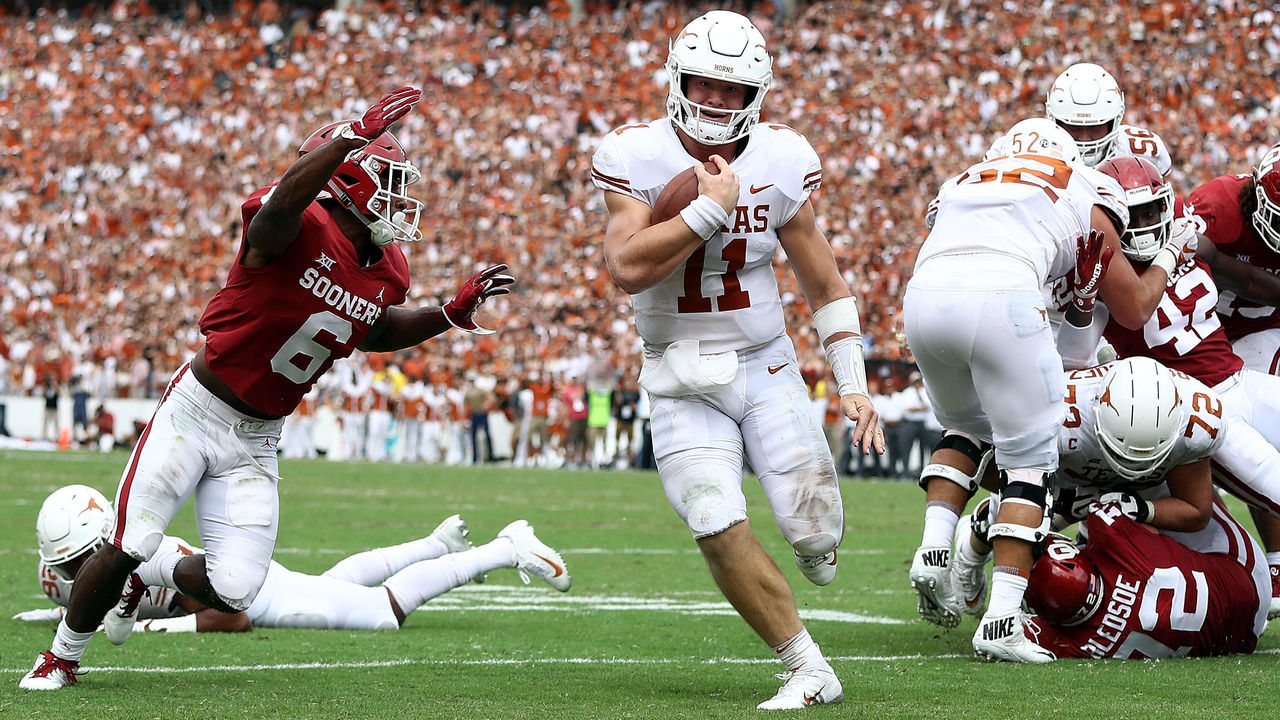 Two months later, Ehlinger and his teammates experienced the other end of the rivalry. They walked off the AT&T Stadium turf as 39-27 losers while Oklahoma celebrated a fourth consecutive conference title, which led to a berth in the College Football Playoff.
Ehlinger - who threw for 349 yards in defeat - and Johnson rode to their postgame media duties together on a golf cart.
"Collin, it's my sole goal not to let this feeling ever happen again for UT, for us, anything," Ehlinger told Johnson at the time.
The conversation returned to their minds when they re-entered the stadium last month.
"I just remember that moment so vividly," Johnson said. "It's just crazy because we've been working hard, so hopefully things play out the right way this season."
Mark Cooper is theScore's NCAA writer.