What would the top 25 poll look like if NFL stars went back to college?
Each year, 129 FBS schools battle for a spot in the College Football Playoff and National Championship. Teams normally balance incoming recruits, large rosters, and outgoing players via graduation or the draft. But what if every NFL player was currently eligible for their respective colleges? Who would field the best team in the nation? TheScore assembled each roster with the intention of finding out.
All active NFL and NCAA players were eligible for this exercise. Players who attended multiple programs were only eligible for the team they finished their careers with. For example, Cam Newton would exclusively feature on Auburn's roster.
In similar fashion to the weekly in-season Associated Press poll, theScore's list was voted on by Mike Alessandrini, Dane Belbeck, and Michael McClymont, who ranked each team based on their hypothetical rosters. Here are our top 25 teams:
1. Georgia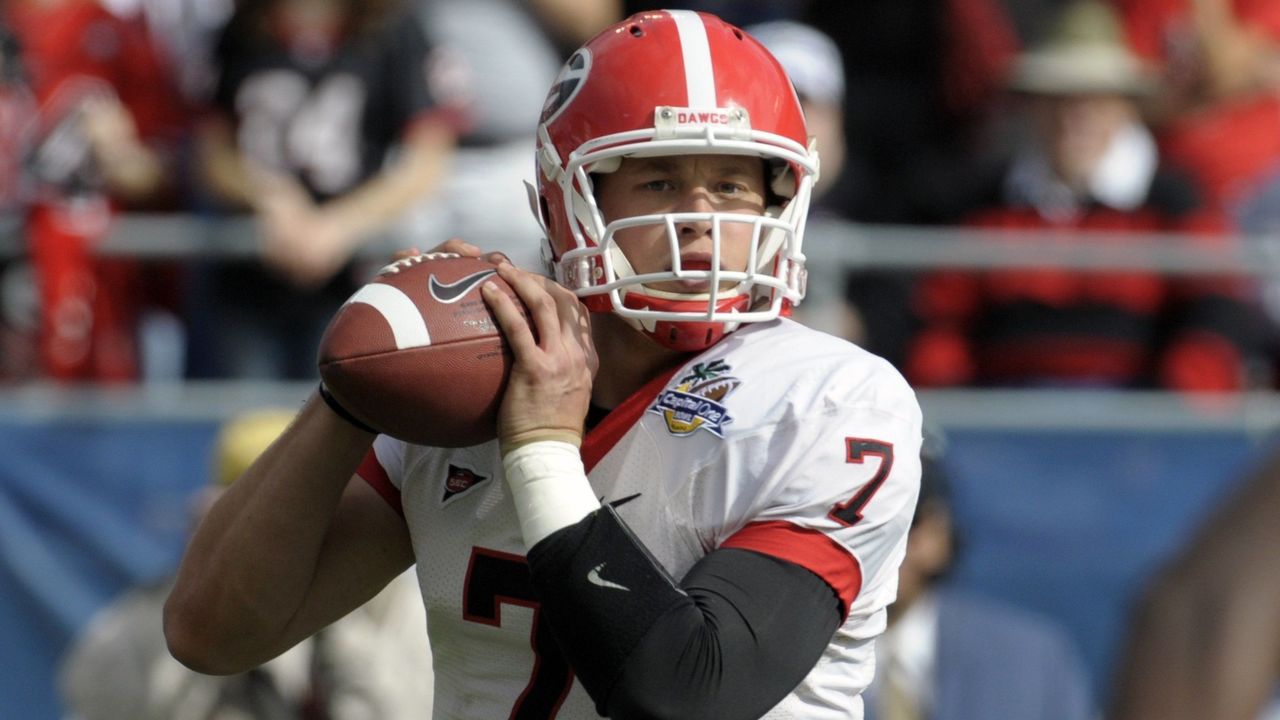 Key Starters:
After assembling college rosters comprised of NFL and NCAA stars, one thing was clear: the Bulldogs stood out above the rest. Georgia features a dynamic offense led by Stafford, Gurley, Green, and a solid offensive line. No other school on this list had a 5,000-yard passer, 1,000-yard rusher, and 1,000-yard receiver in their starting lineup. On defense, the Bulldogs possess a relentless pass-rush led by Atkins and Houston, while Davis, Alec Ogletree, and Roquan Smith round out a strong front seven. Their only weakness is at cornerback, with current senior enrollee Deandre Baker and former New Orleans Saints fifth-round pick Damian Swann atop the depth chart.
In truth, programs such as Florida State, Ohio State, and Alabama were more consistent across the board, but Georgia set themselves apart at the game's most important position. With Stafford under center, the Bulldogs were clearly the top overall team in this exercise.
2. Florida State
Key Starters:
This Florida State team would be extremely entertaining on Saturdays. The Seminoles have a strong quarterback in Winston, and a dynamic running back duo with Freeman and Dalvin Cook. They are lacking top-tier pass-catching options for the Tampa Bay Buccaneers pivot, although Benjamin would command his fair share of targets. Their blocking unit doesn't exactly inspire confidence, either, with Menelik Watson and Roderick Johnson starting at offensive tackle.
The main takeaway from Florida State's roster is on its stop unit, where they undoubtedly claim the "DB U" crown. Ramsey, Rhodes, and Ronald Darby headline an incredible cornerback trio, complemented by Joyner and Derwin James at safety. Similar to the offensive line, the Seminoles were also a step behind Georgia in the defensive trenches, lacking a high-level pass-rush threat.
3. Alabama
Key Starters:
The reigning national champions place in the top three. Alabama head coach Nick Saban would surely mix and match stud linebackers Foster, Hightower, and C.J. Mosley to confuse opponents, but their true strength lies in the secondary. Collins and HaHa Clinton-Dix form an excellent duo at safety, with the former dominating against the run and the latter as a deep-lying playmaker.
Unsurprisingly, Alabama's offense is led by a power run-game with Ingram and Derrick Henry. You'd also be hard pressed to find a better wide receiver duo in this exercise - Jones and Cooper are a lethal combination. Finally, all five starters along the Crimson Tide's offensive line are former top-35 selections, but they've been plagued with inconsistencies during their NFL careers to date. This team looks the part of a No. 1-ranked program, but quarterback AJ McCarron was the key factor in placing them behind Georgia and Florida State.
4. Ohio State
Key Starters:
If you're searching for star power, look no further than the reigning Big Ten champion Buckeyes. With Elliott at running back and Thomas out wide (or in the slot), Ohio State could overpower opposing defenses in a variety of ways. The team also features one of the stronger offensive line units on this list, led by Decker, Norwell, and Corey Linsley. That being said, the Buckeyes face a similar scenario as Alabama. With Cardale Jones behind center, they're a step behind other top programs. Jones, however, would be able to play well enough with his array of weapons to warrant a top-five ranking.
Good luck identifying a weakness on Ohio State's defense. The Bosa brothers and Heyward highlight a dominant defensive line, while the secondary features a blend of young stars and savvy veterans. Lattimore, Denzel Ward, and Bradley Roby are all former first-round picks at cornerback, while Malcolm Jenkins and Kurt Coleman form a versatile duo at safety.
5. LSU
Key Starters:
The Tigers were an interesting discussion during our rankings. If you take away the quarterback position, LSU arguably possesses the top overall roster in the country. Unfortunately, this is football, and we can't eliminate quarterbacks, so the team would have to roll with New England Patriots seventh-round pick Danny Etling. At the very least, Etling is surrounded by play-making weapons. His offensive line is quite good as well, with Whitworth at left tackle and Trai Turner at guard.
Much like Florida State, LSU's group of defensive backs would make completing passes a difficult task. Recent first-round picks Tre'Davious White and Jamal Adams are well on their way to NFL elite status, and their inclusion among Peterson, Mathieu, and Jalen Mills forms a vaunting secondary. The Tigers also have youth in the front seven with Danielle Hunter rushing the passer, and Jones and Kwon Alexander off the ball.
6. Stanford
Key Starters:
While a few of the above teams would struggle to field a quality quarterback, Stanford would have no such issue. Luck would have no shortage of weapons to target in this scenario either, with Christian McCaffrey out of the backfield, Baldwin in the slot, and the tight end-combination of Ertz and Austin Hooper. Unfortunately, the Cardinal do not have an active center in the NFL, forcing their best lineman DeCastro to slide over from guard to play his high school position.
Stanford's lack of playmakers on defense was the deciding factor in ranking them outside the top five. While Murphy and Anderson are solid pieces along the defensive line, the Cardinal's defense would struggle to cover the NFL's elite receivers and tight ends with the likes of Sherman, Johnson Bademosi, and Jordan Richards in the secondary. Martinez is a strong piece at inside linebacker, though.
7. California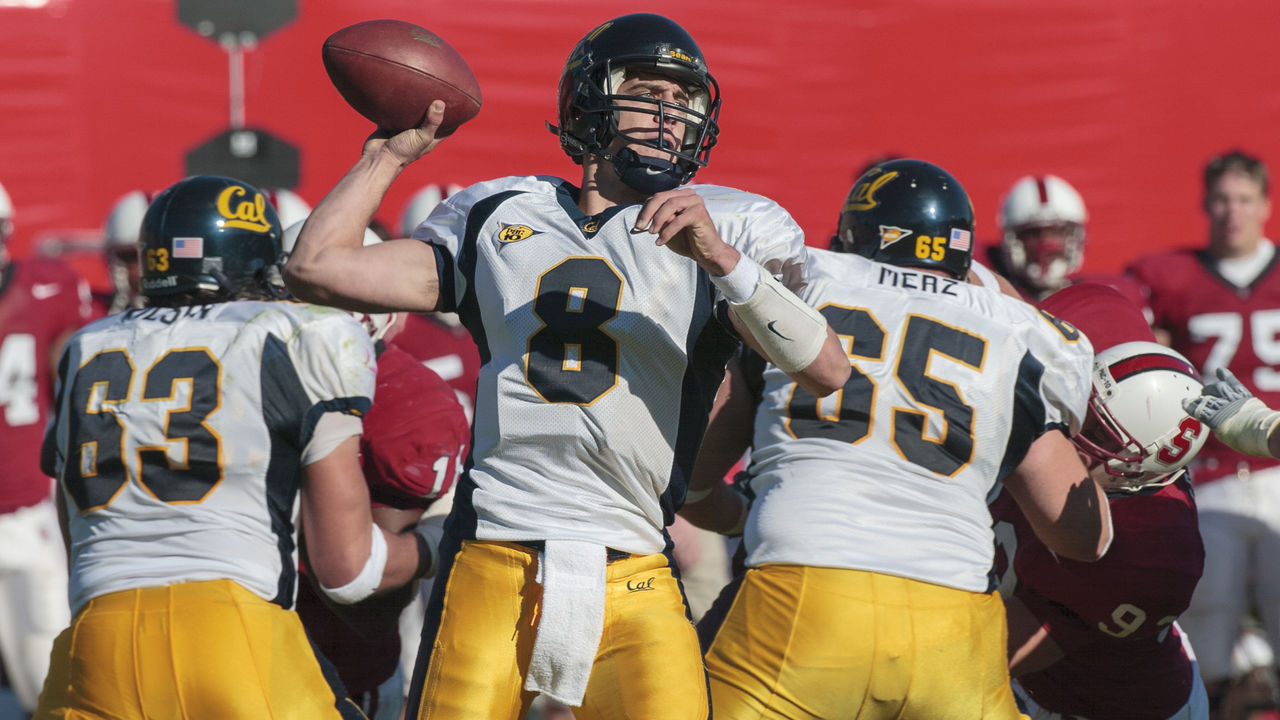 Key Starters:
When you have Rodgers running your offense, a top-ten ranking is all but locked up. The Green Bay Packers quarterback would not be blessed with a top-tier offensive line, but he would make use of an excellent receiving core that includes Allen, Marvin Jones, and DeSean Jackson. Each of the trio offer something different, helping the offense click. And let's not forget the mauling Lynch out of the backfield.
The Golden Bears' secondary would be targeted early and often against the NFL's elite, but the team should be able to generate enough pass-rush with Jordan, McCain, and Alexander. While California's defense wouldn't be the team's strength, Rodgers' presence is enough to rank them among the nation's best college football teams.
8. Wisconsin
Key Starters:
The Badgers field a roster with great disparity on both sides of the ball. Wisconsin will struggle to defend the pass with Oakland Raiders' 2018 fourth-round selection Nick Nelson as their top cornerback, but they'll rely on the Watt brothers to generate a consistent pass rush. Schobert is a budding star at linebacker, too.
Wisconsin's strength lies in its power run game and an incredible offensive line that ranks among the very best on our list. Frederick, Zeitler, Ryan Ramczyk, Rob Havenstein, and Rick Wagner would help open gaping holes for Gordon. Oh, and did we mention Wilson? The Seattle Seahawks star would certainly lack pass-catching weapons, but has enough ability to lead his offense. The Badgers' strengths are too notable to ignore.
9. Oklahoma
Key Starters:
The Sooners have an impressive roster that warrants a top-ten ranking, especially on offense. Oklahoma is blessed with a terrific offensive tackle duo in Williams and Johnson, but admittedly don't have many options along the interior. Bradford will, however, have Joe Mixon to lead the running game and a number of productive college receivers to target.
Oklahoma is a little more suspect on defense. McCoy and Stacy McGee are a handful to block at defensive tackle, and Colvin is an ascending young cover corner. But aside from that trio and Jefferson at strong safety, the Sooners defense is lacking, which hindered them from a higher placement on our list.
10. Clemson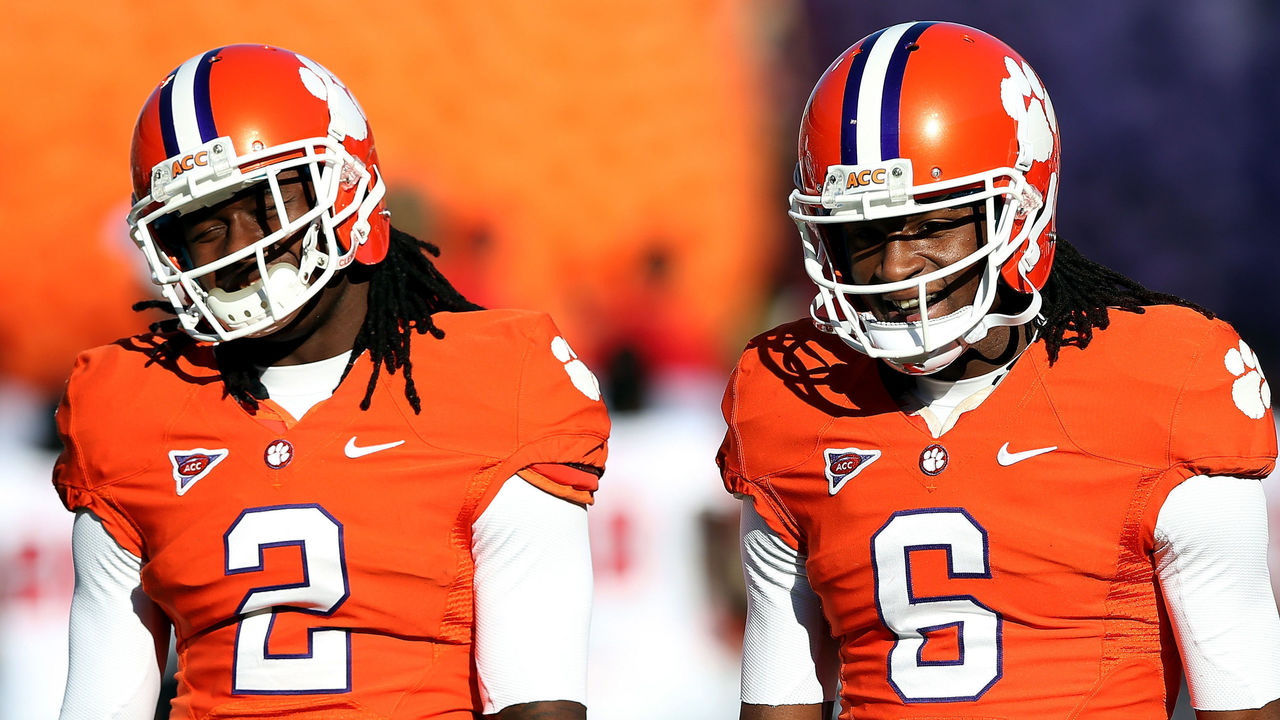 Key Starters:
There were discrepancies from our committee when ranking Clemson, but one thing is certain: this team would be extremely fun to watch. Watson unloading deep passes to Hopkins, Watkins, and Martavis Bryant would be practically unstoppable for any team on this list for a full 60 minutes. The Tigers would struggle to field a diverse offense or consistently give their quarterback enough time to make plays, however, as they lack a strong running game and blocking unit.
On defense, Clemson features two of the game's top young defensive linemen in Jarrett and Beasley, and with D.J. Reader at nose tackle, the unit would be tough to pass and run against. The Tigers also possess an intriguing, albeit unproven secondary with Cordrea Tankersley and Mackensie Alexander at cornerback, and T.J. Green next to Marcus Gilchrist at safety.
11. USC
Key Starters:
The retirement of former Heisman Trophy winner Carson Palmer opened the door for the rookie Darnold to grab the reigns at quarterback for the Trojans. The New York Jets' signal-caller will have a productive quartet of receivers to rely on in Woods, Smith-Schuster, Nelson Agholor, and Marqise Lee. USC's roster also features one of the top offensive linemen in the game with Smith at left tackle.
With one of the more impressive defensive lines on our list, the Trojans have the ability to wreak havoc on opposing blocking units. Williams and Jurrell Casey form a dominant duo inside, while NFC North rivals band together with Griffen and Matthews on the edge. USC's secondary is more of a weak spot on the roster, with Adoree' Jackson and T.J. McDonald as the main standouts.
12. Texas A&M
Key Starters:
Before assembling the rosters for our list, we did not expect the Aggies to appear in the top 15, but here they are. Their offense is actually quite talented, with Matthews leading the offensive line, and Evans sure to dominate his share of targets. Tannehill isn't among the NFL's elite quarterbacks, but a number of high-ranked teams on this list would have upgraded with him under center.
Texas A&M could generate pressure more consistently than any other team in the nation with Miller and Garrett on the edge and Bennett inside. Beyond the front four, however, is a major question mark. Lack of production at linebacker and inexperience in the secondary were driving factors in ranking the Aggies outside of the top ten.
13. Oregon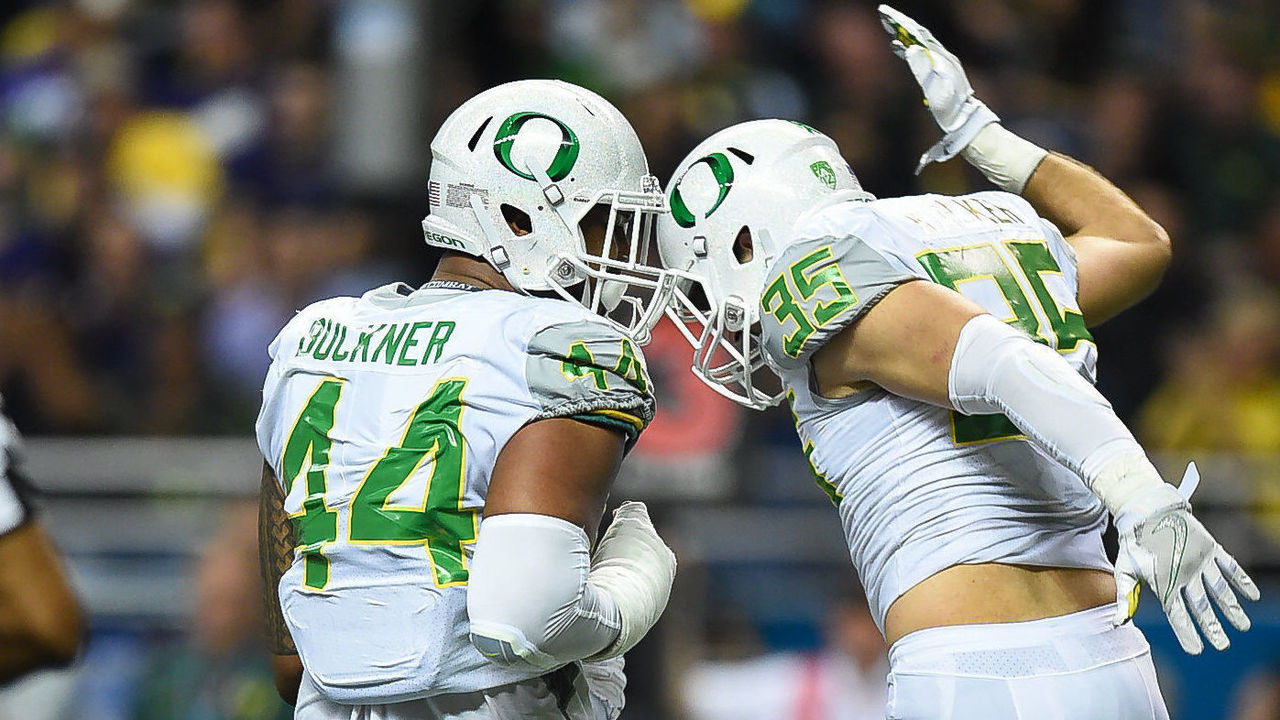 Key Starters:
Oregon's strength clearly lies in the trenches. The Ducks' roster features a stout offensive line led by Long and center Max Unger. On defense, San Francisco 49er teammates Buckner and Arik Armstead form a young pass-rush duo, while Dion Jordan finally began to live up to his high draft pedigree towards the end of 2017.
A Mariota-led offense will always be effective, and the dynamic passer will have Blount and current rookie Royce Freeman to lean on in the running game, too. Unfortunately, Josh Huff and De'Anthony Thomas headline his pass-catching options. While the duo have been utilized as deep-threat playmakers in the past, their NFL careers have been marred with inconsistency. With such a unique and high-powered offense over the last decade, one would think Oregon had produced a larger amount of dynamic skill-position players.
14. Michigan
Key Starters:
Perhaps the most interesting debate when creating our list came when discussing how far the greatest quarterback of this generation could take a very average Wolverines roster. Brady would not have an effective rushing attack to help utilize play-action, but Funchess is a solid No. 1 option in the passing game. At least Michigan's offensive line, led by Lewan, would be able to keep their pivot upright.
One of very few collegiate players to make their team's starting rosters, 20-year-old and 2019 draft hopeful Rashan Gary would play significant snaps on this Wolverines defensive, alongside Graham and Clark. Michigan's secondary is comprised mostly of young talent that is skilled, but lacks experience. Overall, the Wolverines' ranking was a rare instance in which an elite quarterback upgraded the rest of the roster.
15. Miami
Key Starters:
The Hurricanes' talented defensive roster helped place them in the top 15. Campbell and Vernon form a formidable edge-rush duo that few teams in this exercise could emulate. Throw in Pittsburgh Steelers youngster Burns at cornerback, and Denzel Perryman manning the middle at linebacker, and there are some impressive pieces to work with in Miami.
The offense features a few playmakers as well. Allen Hurns and Travis Benjamin are solid receivers, but tight end is Miami's greatest strength, with Graham and Greg Olsen. Linder leads an uninspiring offensive line, but the real issue lies at quarterback, where the Hurricanes would hold a competition between journeyman Stephen Morris and former Detroit Lions sixth-round pick Brad Kaaya.
16. Michigan State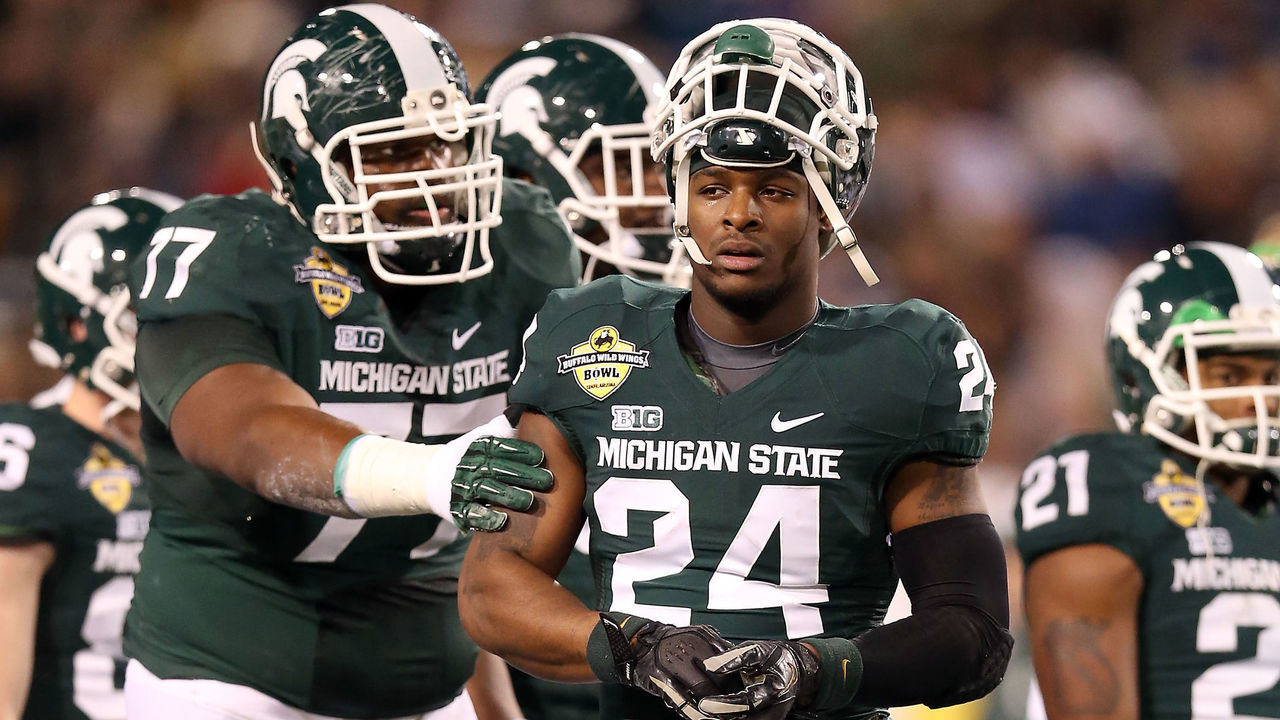 Key Starters:
The Spartans were a difficult team to rank. On one hand, the team features a Pro Bowl quarterback in Cousins and the league's top running back in Bell. The duo should help Michigan State put up points against even the best of defenses. Their secondary also includes young talent, with Dennard and Waynes (both former first-round selections) at cornerback, and Montae Nicholson at safety.
On the other hand, there are multiple weak points on the Spartans' roster. Conklin is the lone standout among the team's blocking unit, and Cousins' weapons will be few and far between. Michigan State's front seven will also struggle to maintain a consistent pass-rush, though they should be solid in run defense.
17. Notre Dame
Key Starters:
The Fighting Irish field Cleveland Browns cast-off DeShone Kizer at quarterback, but the young pivot will have plenty of options to target in the passing game. Rudolph and Tyler Eifert are excellent red-zone threats, and Tate makes oncoming defenders miss like few other receivers. Martin, rookie Quenton Nelson, and Baltimore Ravens left tackle Ronnie Stanley lead an impressive offensive line that would consistently overpower opponents.
Notre Dame could struggle on defense, however. Outside of Smith, an All Pro at safety, and Tuitt on the defensive line, the Irish will have trouble slowing down the NFL's brightest stars. Their uninspiring pass-rush and secondary were primary reasons why Notre Dame was unable to crack our top 15.
18. Auburn
Key Starters:
Newton has been known to carry the Carolina Panthers offense on his shoulders from time to time. Unfortunately, it'll be more of the same here. Johnson and Peyton Barber will help form a solid rushing attack, but the former No. 1 overall selection will have mediocre receivers to target. Enter Super Cam.
Auburn would be a dangerous matchup for opposing quarterbacks with Lawson and Ford on the edge. Its secondary also features young talent, but in the end, it was all about Newton. Without the former NFL MVP under center, the Tigers may not have been ranked in our top 25.
19. Florida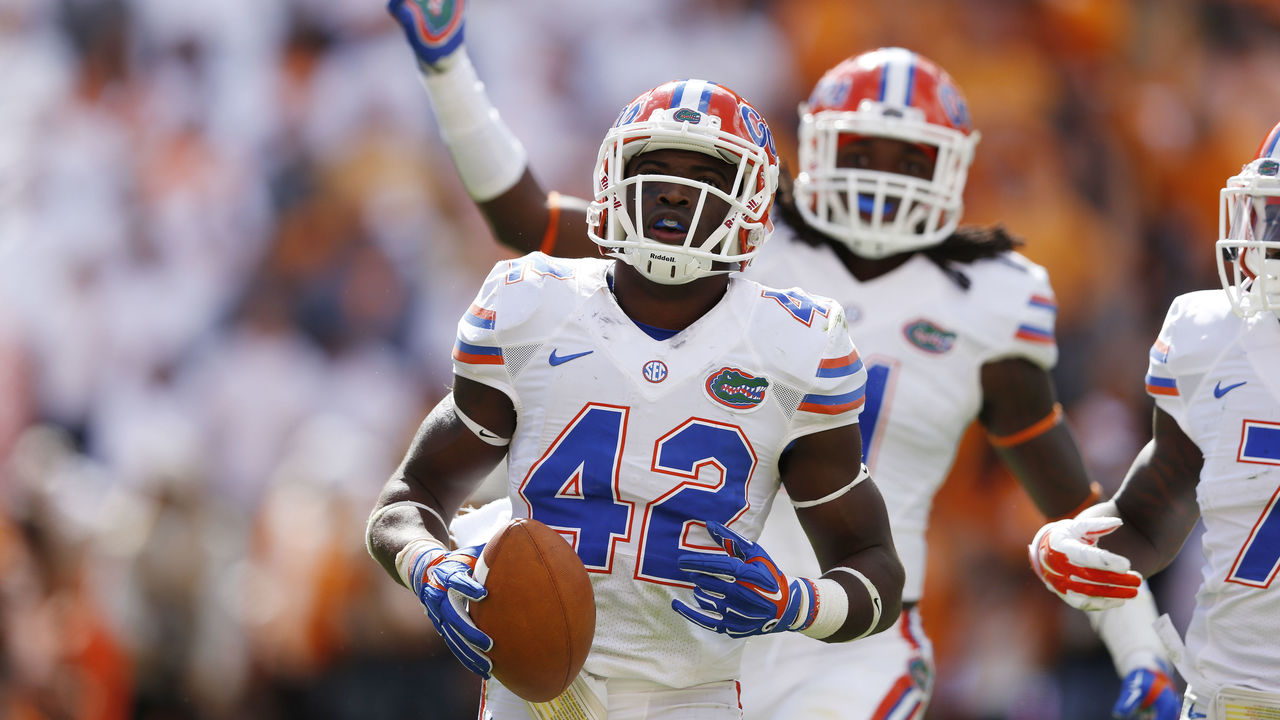 Key Starters:
With two national championships in the last 12 seasons, it isn't surprising to see talent spread out across Florida's roster. Reed and Trey Burton are excellent pass-catching options at tight end, while Brown, the Pouncey brothers, and Marcus Gilbert headline an excellent offensive line. On defense, former first- and second-rounders dominate the front seven, and the secondary offers a mix of savvy veterans and young playmakers.
Unfortunately for the Gators, there isn't an active NFL quarterback that qualifies for our roster selection, so the team would have to roll with whomever claims the starting gig this year in Gainesville. At the moment, the leader appears to be Feleipe Franks, coming off a rocky redshirt freshman campaign. Regardless of the starter under center, Florida's lack of quality at the position downgrades the team from a possible top-10 ranking to barely inside the top 20.
20. Pittsburgh
Key Starters:
One of the more interesting teams to rank, the Panthers' top players are among the best in the league. It starts in the trenches with Donald, arguably the NFL's most dominant defender, and Sheard on the edge. Offensively, McCoy and Fitzgerald lead a talented skill-position group that also features Lewis and Tyler Boyd.
Pittsburgh's linebackers and secondary leave something to be desired, but its largest problem lies under center. Tom Savage and Nathan Peterman would hypothetically battle it out for starting snaps, so the Panthers' quarterback scenario, well, speaks for itself.
21. Penn State
Key Starters:
With a number of talented playmakers on offense, Penn State offers an entertaining brand of football. Barkley and Robinson shoulder the load, but the Nittany Lions' scoring unit also features Chris Godwin, Jesse James, and rookie Mike Gesicki, who were easy roster selections. Deciding on a starting quarterback, however, was slightly more difficult. Whether free agent Christian Hackenberg or current senior Trace McSorley were to win the job, Penn State would be a step behind its peers at the position.
The Nittany Lions defensive pieces are another display of the team's talent. Wake and DaQuan Jones star in the trenches, while Lee would captain the team at linebacker. Don't sleep on Penn State's secondary, either. Amos and Trevor Williams are underrated defenders coming off breakout campaigns in the NFL.
22. UCLA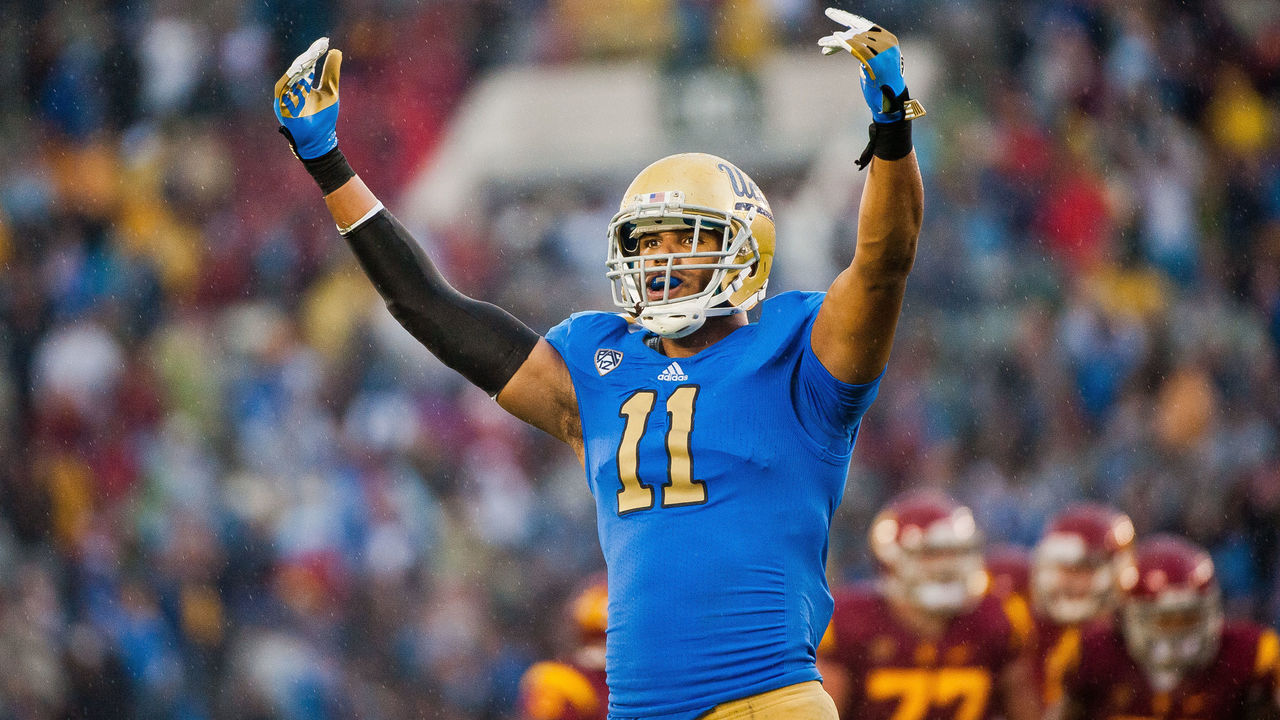 Key Starters:
The Bruins' roster is comprised mostly of young, inexperienced players, but the talent is evident. This is particularly visible on defense, where Clark and Takkarist McKinley lead a versatile front four. UCLA's true strength, though, is at linebacker. Jack, Kendricks, and Anthony Barr form arguably the No. 1 trio at the position in the nation.
Rosen, an incoming rookie, will lead an uninspiring offense for the Bruins. Four of their five starting offensive linemen actually played together at some point in college, so continuity will be a strength. Talent, however, will not be. UCLA has the pieces to warrant a spot on our list, but lack star-power to be ranked higher.
23. Iowa
Key Starters:
If you enjoy old-school football, look no further than the Hawkeyes. Iowa won't blow anyone away with dynamic scoring, but they would play the matchup game to perfection with multiple tight end sets. Yanda and Scherff headline a dominant offensive line as well; one that could easily be the best on this list. Unfortunately, C.J. Beathard at quarterback and Akrum Wadley at running back are not among the best of duos. If the Hawkeyes had upgrades at these two key positions, they would be locked into the top 15.
That being said, Iowa still features talent at all three levels of their defense. Daniels and Adrian Clayborn are productive linemen, while Kirksey and Anthony Hitchens are proven NFL run defenders. In the secondary, Hyde and Desmond King are incredibly versatile; capable in stopping opposing rush attacks and covering slot receivers.
24. Texas
Key Starters:
Texas, similar to other rosters on our list, would be more effective defending its opponents than scoring points. Brown and Alex Okafor are key pieces on the team's defensive line, while Hicks and Thomas provide versatility and leadership to the back end. Kenny Vaccaro is currently without an NFL team, but would be an easy selection as a starter for the Longhorns.
While Texas' defense was the main reason for its ranking, a lackluster offense held them back from placing higher. Career backup Colt McCoy leads a speedy passing attack, but the Longhorns' offensive line may not be strong enough to give their signal-caller enough time in the pocket.
25. Louisville
Key Starters:
It was difficult deciding who would start at quarterback for the Cardinals between Jackson and Teddy Bridgewater, but we went with the more exciting option. Another key factor involved Louisville's subpar offensive line. Whomever starts under center would have to escape the pocket rather often against quality opponents, and we feel more comfortable with the Ravens' rookie in this scenario.
The Cardinals have some impressive pieces on defense to help offset their offensive deficiencies. Rankins, Brown, and Alexander lead a youthful, promising core which also includes veteran pass-rusher Elvis Dumervil.
Other teams receiving votes: North Carolina, TCU, South Carolina, Ole Miss
(Photos courtesy: Getty Images)
Comments
✕
What would the top 25 poll look like if NFL stars went back to college?
  Got something to say? Leave a comment below!