The 2010 Wildcats produced five 1st-round picks - and changed college basketball
Photo illustration by Nick Roy / theScore
Every draft produces selections and storylines that, given time, become generational talking points or fade from view. Our writers are throwing it back a decade to tell some tales about the classes of 2010. The series, which will run throughout June, began with the NHL and MLB.
The first step in the creation of the 2009-10 Kentucky Wildcats was the hiring of head coach John Calipari.
Calipari had led Memphis to a 38-2 record and a trip to the NCAA championship game two years earlier, but that entire season was vacated because of the Derrick Rose SAT scandal. Despite his hugely successful track record, the scandal had tarnished Calipari's reputation to the point that he was a polarizing hire. When he took over at Kentucky from the ousted Billy Gillispie, it marked a directional shift for the program, ushered in a new era for the Wildcats, and signaled a sea change for college basketball as a whole.
For a long time, it was standard practice for even the best college players to stick around for two, three, or four amateur seasons. But that trend started to change in the late 1990s and early 2000s as more and more players sought the most expedient path to the NBA.
The prospect paradigm shifted, favoring high schoolers making the jump straight to the Association. Preps-to-pros successes like Kevin Garnett, Kobe Bryant, Jermaine O'Neal, Tracy McGrady, Amar'e Stoudemire, LeBron James, and Dwight Howard bolstered the legitimacy of that approach.
Then, in 2005, the NBA instituted an age minimum that barred high school players from entering the draft until one year after graduation. And with that, the one-and-done era was born.
While plenty of college coaches took sanctimonious stands against the one-and-done model, Calipari outwardly embraced it. He actively sought out top recruits who viewed college as a brief stopover on their way to the NBA and built his programs around them. In the process, he turned Memphis into a contender and made himself the highest-paid coach in college basketball. When Kentucky pried him away in 2009, his program had produced two consecutive NBA Rookie of the Year winners in Rose and Tyreke Evans, both of whom spent just one year at Memphis before declaring for the draft.
Though he's arguably coached better teams since, Calipari's first Kentucky team still lays claim to a singular distinction. It's the only college squad to ever feature five players selected in the first round of the same NBA draft: John Wall (first overall, Washington), DeMarcus Cousins (fifth, Sacramento), Patrick Patterson (14th, Houston), Eric Bledsoe (18th, Oklahoma City), and Daniel Orton (29th, Orlando).
Four of them were freshmen. Wall and Cousins both came in as top-five high school recruits, Orton ranked 13th, and Bledsoe came in at No. 52. Patterson had been a top-10 recruit in 2007 and initially declared for the 2009 draft after an excellent sophomore season, but he reversed his decision when Kentucky hired Calipari.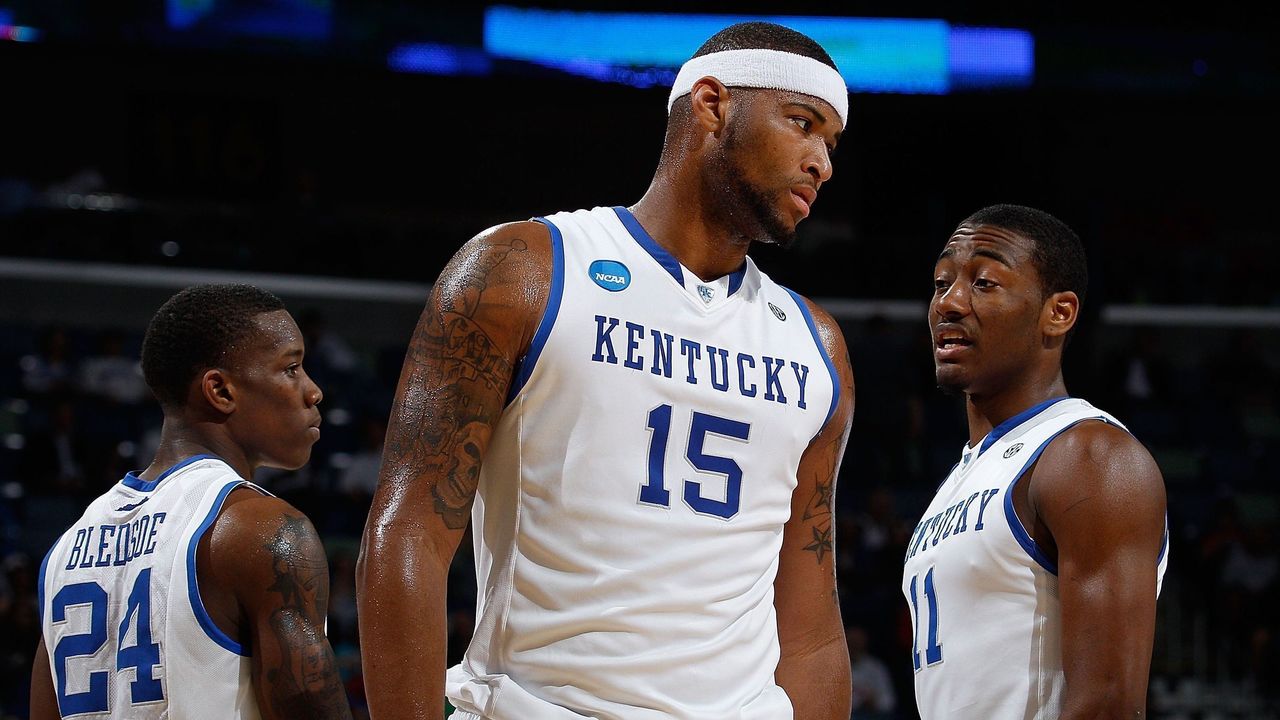 Even on such a stacked team, Wall stood out; a point guard with size, vision, athleticism, and a lightning-quick first step, he established himself as the clear-cut No. 1 pick early in the season. Cousins, a post bruiser with balletic footwork and slick passing chops, could run the break as well as any big. Patterson was a rock-solid, low-maintenance forward who could defend and shoot and do all the little things. Bledsoe played the wiry defensive pest, boasting tremendous open-court speed and a nose for the rim.
Wall and Bledsoe started together in a two-point guard alignment, with Wall handling primary distributing duties and Bledsoe taking the toughest defensive assignments. Darius Miller, a 3-point specialist on the wing, filled out the starting five, with Orton providing size off the bench. Miller and two other players on that team - DeAndre Liggins and Josh Harrellson - would also go on to play in the NBA. (Liggins, incidentally, beat out Orton for the Thunder's last roster spot in 2012.)
The Wildcats won their first 19 games, finished the regular season 29-2, won the SEC championship, and entered the NCAA Tournament as a No. 1 seed in their region and the second-ranked team in the nation. They were the talk of college basketball: young, brash, electric - a veritable superteam.
They just couldn't quite finish the job. After steamrolling their way to the Elite Eight, they fell to an older, more composed, and eminently less talented West Virginia team. For context, that Mountaineers squad produced zero first-round picks, one second-round pick (Devin Ebanks), and just two players (Ebanks and Kevin Jones) who ever appeared in the NBA (for a combined total of 93 games).
It would become something of a trend: high-profile teams led by talented one-and-done freshmen coming up short in March against teams with more upperclassmen and more continuity; teams of experienced players who played together for years overcoming bands of hotshot recruits thrown together for a single season.
"Everyone says you cannot win a national title because you're too young," Calipari said after that loss in 2010. "That may be the case, who knows?"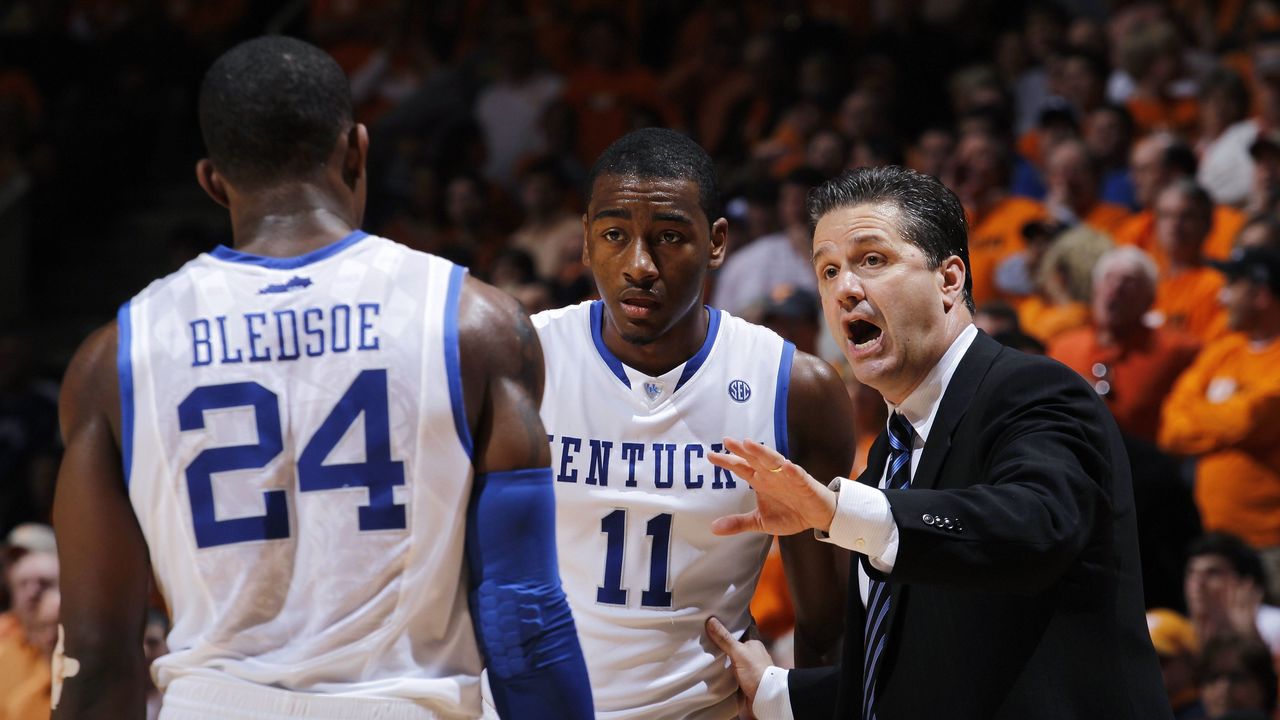 The thing was, he didn't much care. When that team went on to make history at the draft, the tournament result ceased to matter.
"Right now, it feels like we won a national title," Calipari said on draft night. "That's how I feel. I have a tingle in my body, more so than when we went to the Final Fours (at UMass and Memphis)."
He added: "We're a players-first program. And we might have just had the biggest day in Kentucky basketball history with a No. 1 pick and five first-round picks."
Ten years after the fact, assessing that team's legacy and reflecting on those players' pro careers make for fascinating exercises. Some may view the 2009-10 Wildcats' failure to run the table as a disappointment. But in the era of one-and-done, college teams are remembered just as well for what becomes of their players on draft night and beyond.
For the 2010 Kentucky draftees, it's been a bit of a bumpy road in the years since, albeit with more successes than disappointments - not unlike their lone college season together. With the exception of Orton, one can't really argue that any of them underperformed relative to their draft slots: The other four all rank top 10 in their class in NBA win shares.
Wall proved to be a worthy No. 1 pick, helping turn Washington from doormat to perennial playoff team. Though his sketchy jump shot put a cap on the Wizards' potential - they haven't reached the 50-win plateau or advanced past the second round of the playoffs since drafting him - he's been one of the NBA's deadliest open-court players and routinely led the league in assists to corner 3-point shooters. Even if Washington has been viewed as a disappointment in the Wall-Bradley Beal era, Wall brought the franchise a measure of legitimacy.
Cousins couldn't quite do the same for the Kings, but he did put up gargantuan counting stats, endear himself to the Sacramento community, and give long-suffering fans something to cheer about for seven seasons. He and Wall have combined for nine All-Star appearances and three All-NBA selections. They've also seen their careers derailed by injuries in recent years, including Achilles tears from which neither appears likely to fully rebound.
Patterson bounced around a bit before settling in as a stretch-four with the Raptors. He pieced together a four-year run as a high-end, two-way role player for a fringe contender before a knee injury diminished his impact at both ends of the floor. He's still hanging on with the Clippers, but it's clear his best days are behind him.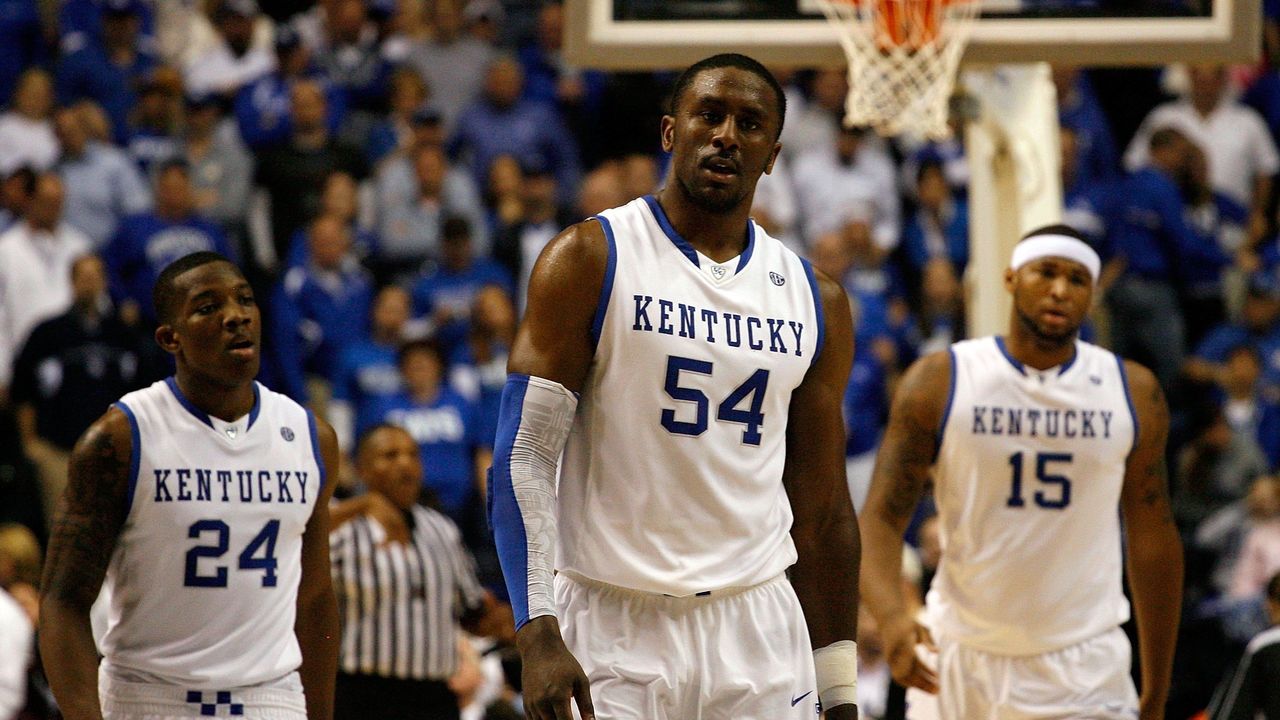 Bledsoe took the slow-and-steady route, and a decade later, he's unexpectedly the most prominent player of the bunch. Flipped to the Clippers on draft night, he played backup to Chris Paul for a couple of years and eventually broke out as a starter following a trade to the Suns. When Arizona fell apart and he decided he didn't wanna be there, the team shipped Bledsoe to Milwaukee, where he became the head of the snake for one of the best defensive teams of all time. His disappearing act in last year's playoffs, however, was a big reason the Bucks fell short of The Finals after a 60-win regular season. Until he proves otherwise, he's going to be considered a flight risk in the highest-leverage moments.
Orton arguably shouldn't have been a first-round selection. He played just 502 total minutes as a bench big at Kentucky, averaging 3.4 points, 3.3 rebounds, and 1.4 blocks. He had some leftover helium from his days as a top high school recruit, but it was that star-studded Wildcats team that really propelled him into the first round as an upside pick. His NBA career never got off the ground, in part due to injuries and in part due to an inability to refine his ball skills. He played 51 games across three seasons between the Magic, Thunder, and 76ers before heading overseas to play in China, the Philippines, Greece, and Turkey.
Calipari, for his part, was happy to embrace his reputation for recruiting one-and-done players. Even if some felt the tactic cast him in a negative light, he made no apologies for it. That 2010 draft was as much Calipari's meal ticket as it was anyone else's. The ripple effects continued to resonate with NBA-hopeful recruits, creating a positive feedback loop. Other elite programs could brandish national championships, but none could advertise themselves as springboards to the NBA the way Calipari's could.
And so, more Kentucky superteams followed. The 2011-12 team starred Anthony Davis and Michael Kidd-Gilchrist; they went first and second overall, respectively, in the 2012 NBA Draft and won a national championship. The 2014-15 squad led by Karl-Anthony Towns, Devin Booker, Willie Cauley-Stein, and Trey Lyles (all of whom were drafted in the lottery) didn't lose a game until the Final Four, where Wisconsin snapped the 38-game win streak that had captivated the nation.
Other powerhouse schools had no choice but to adapt their recruiting approaches. Mike Krzyzewski may have initially balked at the notion of one-and-done, but he wasn't about to let Zion Williamson and RJ Barrett slip through his grasp even if he knew they'd be NBA-bound after one year at Duke.
The 2009-10 Wildcats weren't the first college superteam, but they did represent something of a turning point in the way NCAA programs operate. They may not have won it all, but a decade later, they remain one of the most memorable - and influential - college squads of all time.