Washington Wizards shooting guard Alan Anderson was playing in just his sixth game of the season Tuesday night, and he didn't even make it out of the first quarter.
Anderson took exception to some particularly physical chest-to-chest defense from Portland Trail Blazers swingman Gerald Henderson, and retaliated after Henderson was finally whistled for a foul late in the first frame.
The two engaged in a brief shoving match, and after reviewing the play, the officials decided Anderson had given the worst of it both by initiating the fracas and swiping his elbow toward Henderson's face.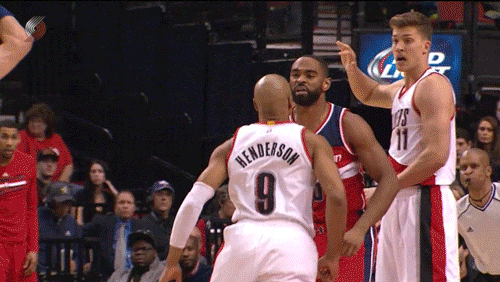 (Courtesy: CSN)
Henderson received a technical, on top of the common foul. Anderson received a flagrant-2 and an ejection. Henderson took advantage of being allowed to remain in the game, scoring eight quick points in the second quarter.
Anderson - who missed the first two-thirds of the season while recovering from ankle surgery - has averaged 9.2 points and 2.6 rebounds, with a .519/.500/.900 shooting split since returning two weeks ago.