There's still time for last summer's win-now swings to pan out
Blockbuster trades are usually considered the domain of glamor franchises, and for good reason. Teams that play in desirable markets that stars tend to gravitate toward can feel confident in their ability to re-sign said stars, and thus feel less pressure to build patiently by drafting and developing homegrown talent.
But the teams that made the three biggest and costliest acquisitions of last year's offseason were lower-profile, mid-market, moderately competitive clubs. The Minnesota Timberwolves, Atlanta Hawks, and Cleveland Cavaliers all shelled out considerable long-term capital in exchange for All-Stars of varying ilk and quality in the hopes of contending right away. All three teams went on to lose in the first round of the playoffs.
As we look ahead to Year 2 of Rudy Gobert in Minnesota, Dejounte Murray in Atlanta, and Donovan Mitchell in Cleveland, it's worth taking stock of the results those trades have produced so far, and what they might produce in the future.
I understood the process behind each of last summer's win-now swings - even the Gobert trade, which plainly looks like the worst of them right now. Acquisition costs notwithstanding, I liked the fits for each of the big names acquired. I also recognized the potential pitfalls. Big structural change is always complicated and rarely clicks into place right away.
A big reason these franchises felt comfortable making the deals is that all three players had multiple years of team control left on their contracts: Gobert and Mitchell still have two remaining, and Murray just extended with the Hawks through at least 2027. So there's still time for these trades to bear fruit. That doesn't necessarily mean they will, but each team has reasons for optimism.
That's particularly true for the Cavaliers, even though they ostensibly have the least amount of time for their gamble to pay off. Mitchell and Gobert both have player options in 2025-26, but whereas Gobert seems likely to pick up his $46-million option, Mitchell is almost certain to decline his at $37 million. His willingness to extend or re-sign feels heavily contingent on team success. Fortunately for the Cavs, they're a young team coming off a 51-win season in which they led the league in defensive rating and ranked second in scoring margin.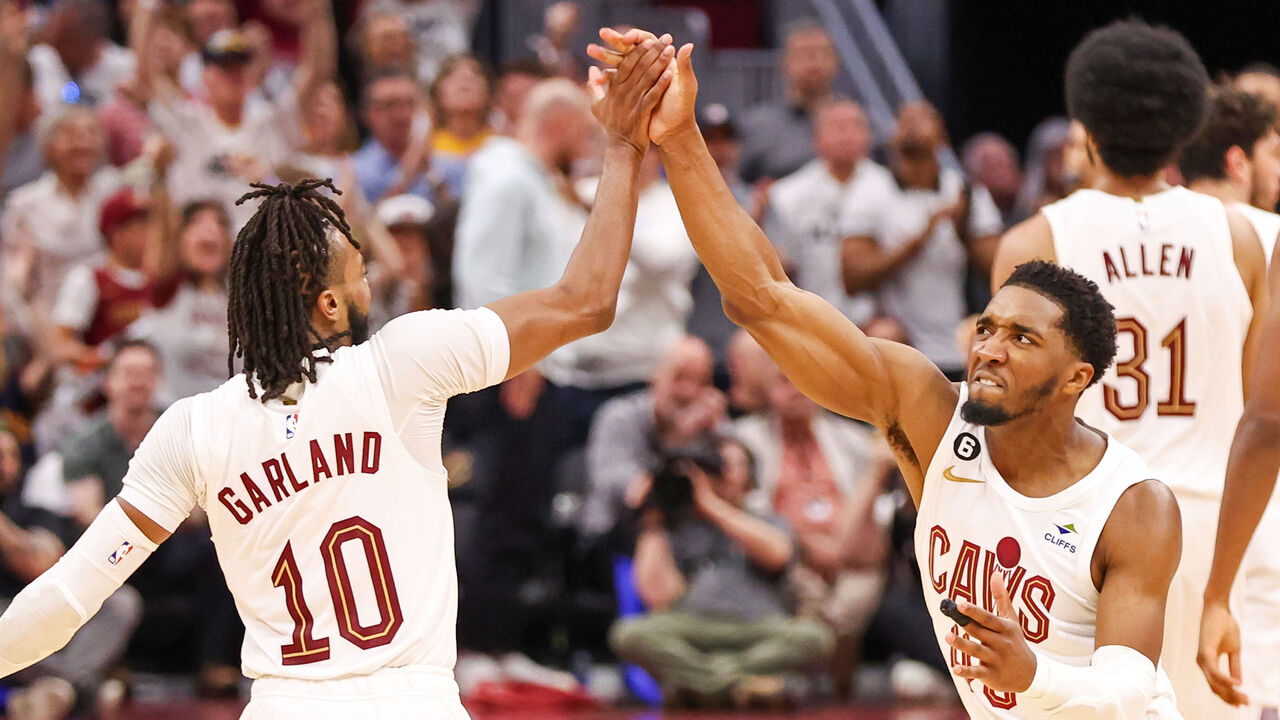 In the regular season, Mitchell was everything Cleveland could've hoped for and more. He further established himself as one of the best pull-up shooters and drivers in the league en route to All-NBA second team honors, and he meshed beautifully with backcourt mate Darius Garland. Rather than wrestling for control of the offense, the two routinely created advantages for each other and interacted cooperatively in guard-guard actions. Mitchell's arrival helped vault Cleveland from 20th to seventh in offensive rating without compromising the team's foundation at the other end of the floor, where he put together the best defensive season of his career.
Of course, the good vibes evaporated in the playoffs, when the Cavs got mauled by the Knicks while posting an appalling 101.9 offensive rating. But that result didn't retroactively make the Mitchell trade a mistake, even in light of Lauri Markkanen's leap in Utah. For at least two more years, the Cavs will have what so many teams covet: an in-his-prime superstar shot creator capable of carrying an offense. And while no one would argue Mitchell had a good series, he was pretty low on the list of culprits for Cleveland's disappointing showing.
He didn't get much help from Garland or Evan Mobley (who were seeing their first glimpse of playoff action), or from Jarrett Allen, who admitted to being unprepared for and overwhelmed by the postseason's bright lights. All of them should be better in the future, with the offensive development of Mobley - a Defensive Player of the Year finalist in his second season - looming as a particularly significant variable.
Mitchell saw extra bodies any time he drove or came off a screen. The Knicks felt very comfortable gapping, stunting, digging, and outright blitzing him, knowing they could navigate rotations or survive short closeouts on the back side because Cleveland had two and often three non-shooters on the floor. The Cavs' bigs were almost unfathomably bad at finishing on the roll in that series. Isaac Okoro's perimeter defense was necessary, but his offensive limitations crippled the Cavs' spacing.
Being a defense-first team that starts two bigs comes with tradeoffs, but Cleveland's front office made a point of addressing shooting deficiency on the wing by adding Max Strus and Georges Niang this offseason. The Cavs still lack two-way balance at the small forward spot, but those additions give J.B. Bickerstaff more and better options. Caris LeVert is still around as one of those options, and the Cavs had a plus-11.3 net rating last season (and a respectable plus-2.5 in the playoffs) when he played the three next to Mitchell and Garland.
The Cavs should be able to improve in most of their problem areas. They'll still be far from perfect (perimeter defense, rebounding, and overall physicality are likely to remain issues), but in an Eastern Conference full of aging contenders and teams in turmoil, there's a window for a rising young squad with a lot of continuity to break through. A deep run in the next two years feels plausible, and maybe that'll be enough to convince Mitchell to stick around a while longer.
It's a little harder to find the upsides of the big T-Wolves and Hawks trades, even though their seasons ended at the same stage of the playoffs as Cleveland's. Let's give it a try anyway.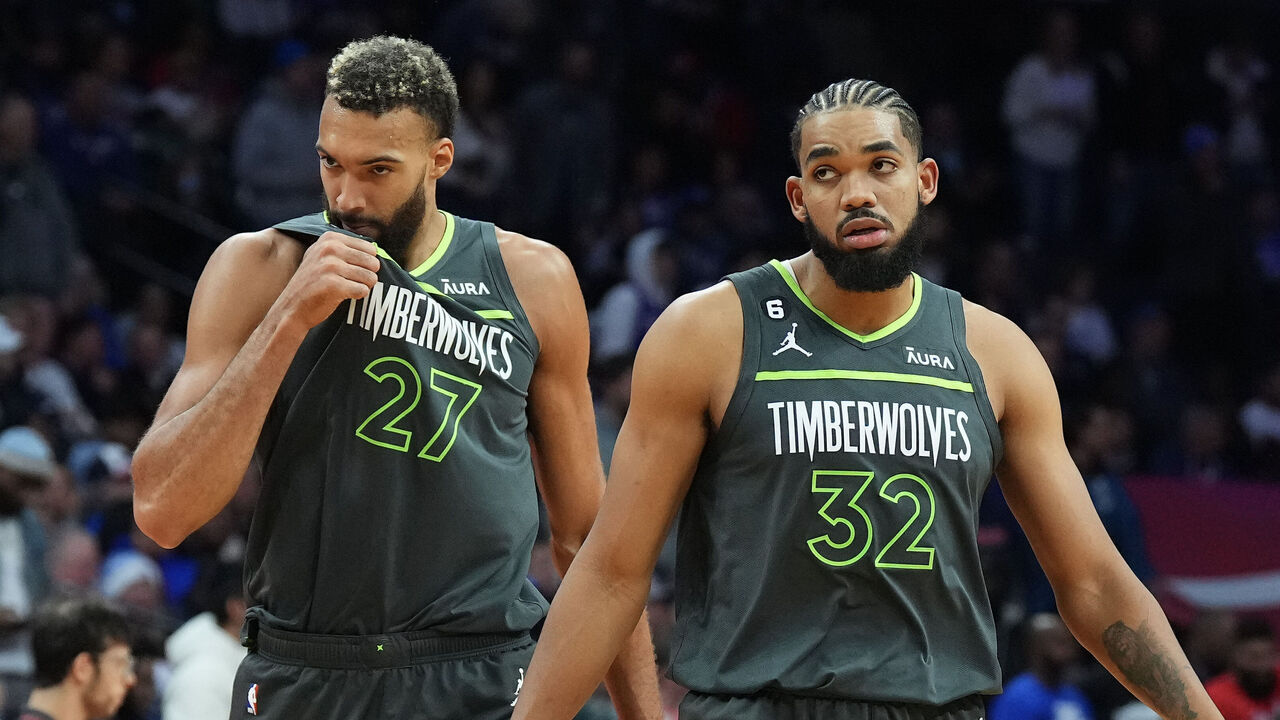 Minnesota made a massive bet on a two-center frontcourt of Gobert and Karl-Anthony Towns in hopes that Gobert could insulate Towns defensively without diminishing the explosive offense helmed by Towns and rising star Anthony Edwards. The same logic held for Atlanta's move to acquire Murray and pair him with Trae Young in the backcourt. Things didn't quite pan out for either team; in both cases, the offense was significantly diminished and the defense didn't improve enough to compensate.
Given how much of their future they sacrificed, the Timberwolves are easily the most disappointing team among this group, and they have the most riding on a change in fortune over the next couple of years. Beset by injuries and stylistic friction, they hovered around .500 all season and eventually got dispatched by the top-seeded Nuggets. That's not an encouraging outcome after sending four first-round picks and Walker Kessler out the door. But hey, those costs are sunk, and there's reason to believe the fit in Minnesota can be more harmonious this season.
Assuming Towns can avoid missing all of training camp and four months of the season this time around, he and Gobert will have more of a chance to develop their offensive chemistry, or at least figure out how to stay out of each other's way. They actually found some nice high-low synergy early last season, and there's evidence that their skill sets can be complementary.
Defensively there was some awkwardness - mainly with Towns chasing stretch bigs and navigating screens while playing the four - but the numbers on that side of the ball were auspicious. The Wolves allowed only 105.6 points per 100 possessions with both bigs on the floor. Their starting lineup with D'Angelo Russell in it allowed 104.2 per 100, and that number decreased to a round 100 with Mike Conley in Russell's place. (For context, Cleveland's league-best mark clocked in at 109.9.)
After a sluggish defensive start, Gobert rediscovered his best self, and by season's end, he once again had the largest dampening effect on opponent rim frequency of any big man in the league, per Cleaning the Glass. If every team in the West is chasing the Nuggets, Minnesota is in a decent starting position with one of the best Nikola Jokic defenders in the sport. (Everyone who takes on that assignment is graded on a curve, but Gobert really did do a nice job on Jokic in that first-round series.)
Meanwhile, Conley proved to be the kind of offensive organizer the team needed, and Gobert and Towns both reaped the benefits of his midseason arrival. The same goes for Kyle Anderson's rise to prominence. But more than anything, the team was buoyed by Edwards' development as a self-creator and playmaker. He carried that over into a monster playoff performance, averaging 32-5-5-2-2 on 60% true shooting in a five-game loss to the Nuggets that was closer than the series scoreline indicates (and would've been closer had Jaden McDaniels and Naz Reid been available).
There are still a lot of bugs to work out. The fact that the Wolves routinely played 7-footers plus a 6-foot-9 small forward together and finished with a bottom-five offensive rebound rate is pretty galling, especially considering they weren't even a good transition defense. They also fouled like crazy, got smoked on their own glass, and turned the ball over a ton.
And yet, the upside of this team remains intriguing. Edwards is a megastar in the making. McDaniels is a defensive stud in his own right. Towns, for all his warts, is one of the two or three most skilled offensive bigs in the game. The bench looks much improved. The Gobert trade will wind up looking like a colossal overpay almost no matter what, but plenty of good can still come of it.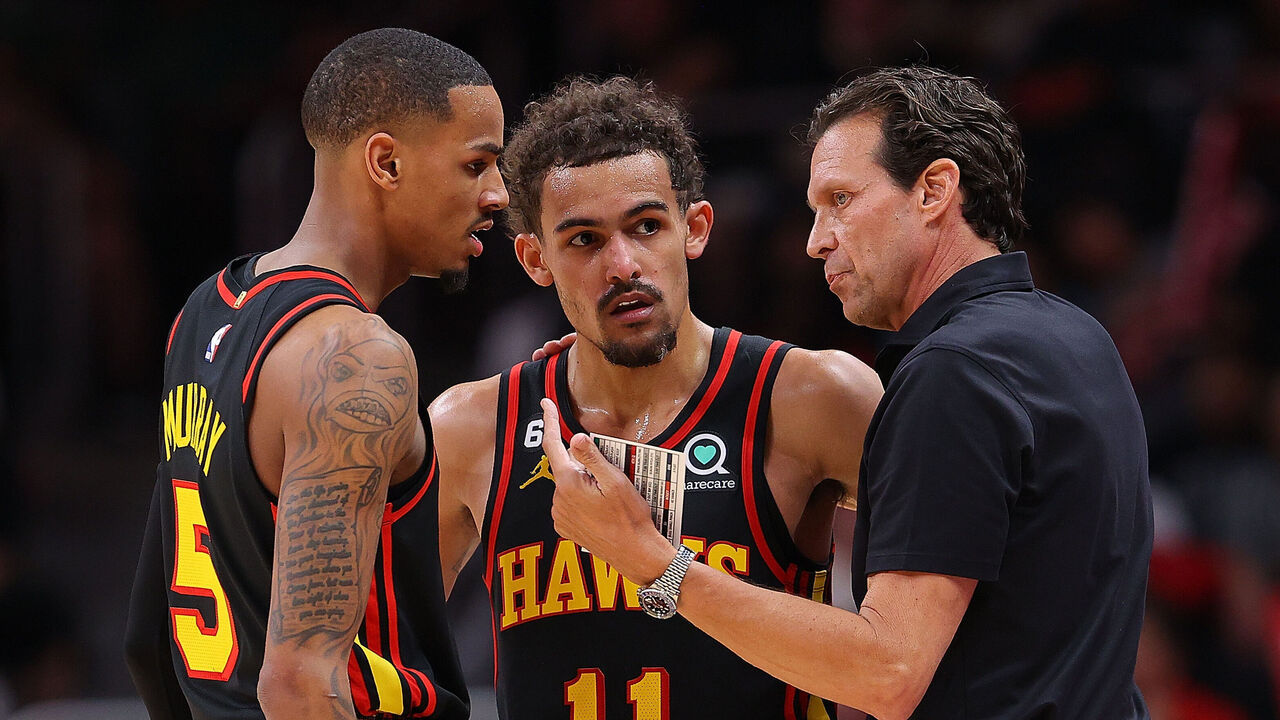 Down in Atlanta, this season should be a good test case for how big a difference coaching can make. Can Quin Snyder get more out of this group than Nate McMillan did?
After Snyder took over with six weeks remaining last season, we saw some tweaks to the Hawks' retrograde shot profile. They posted the league's fourth-best offensive rating (119.2) from that point forward, up from 11th (114.2) beforehand. They jacked up their rate of rim shots and corner threes, which together accounted for 45.4% of Atlanta's field-goal attempts under Snyder compared to just 39.2% under McMillan.
Stylistically, though, there wasn't a huge distinction. Snyder's past teams have been defined by rapid-fire decision-making and continuous ball and player movement, but he wasn't going to be able to overhaul Atlanta's more stationary offense with what little remained of the 2022-23 season. It's not like the Hawks suddenly started playing pass-happy advantage basketball after he arrived; they ranked last in the league in passes per game when Snyder took over, and they ranked last in the league in passes per game the rest of the way.
Even after a full offseason to sell his vision and install his principles, he's unlikely to transform Atlanta into a paragon of systematized offense. Coaching is about bending your philosophy to fit your personnel group, not the other way around. And when you have a lead creator as talented as Young, running an equal-opportunity scheme isn't necessarily the best way to engender efficient scoring. (To reiterate: The Hawks under Snyder ranked fourth in points per possession while passing the ball less than any team in the league.)
That said, Snyder needs buy-in from Young and Murray when it comes to better serving each other - and the offense as a whole - with their off-ball activity. Unlike Mitchell and Garland, they never achieved symbiosis last season. Even at its smoothest, their on-court partnership was one of coexistence more than cooperation. It's not entirely a coincidence that Young's defining game of last season - a 38-point, 13-assist performance to beat the Celtics on their home floor in Game 5 of the first round - came with Murray out of the lineup.
Young mostly stood around when Murray handled the ball in the half court, often disengaging from possessions and wandering out to the logo. He still took 80% of his threes off the dribble, which is in line with his previous three seasons. That's despite shooting under 33% on pull-up triples compared to 42% off the catch for his career. If a coach with Snyder's pedigree can't convince Young to adapt, I'm not sure anyone can.
Murray could also amp up his cutting, relocating, and off-the-catch attacking to make himself more of a pressure release for Young, which would help compensate for the fact that he isn't much of a spot-up threat (32.4% on catch-and-shoot threes last season). That last part wasn't just a Murray problem, either; the Hawks as a team ranked dead last in 3-point attempt rate and 21st in 3-point percentage. (That they nonetheless managed a top-10 offensive rating is a tribute to Young's wizardry.) Ideally, there will be more room to breathe this year with John Collins gone, De'Andre Hunter sliding up to the four, and another wing - presumably AJ Griffin - jumping into the starting lineup.
But the Hawks need to improve most at the other end of the floor. Last year, they surrendered a ton of shots at the rim, fouled a lot, and struggled to clean the defensive glass, and almost all of those issues stemmed from leakiness at the point of attack. While that comes with the territory for Young, the infrastructure around him can be stronger. Murray did his job, but as a perimeter defender who doesn't excel as a low man, he can only impact so much. Hunter, the team's de facto wing stopper, has to start living up to his defensive potential. Third-year forward Jalen Johnson has fantastic tools that he can only actualize by improving his on-ball technique. Ditto for Saddiq Bey.
Atlanta's center rotation is its strongest defensive link. Clint Capela and Onyeka Okongwu are both capable of putting out fires on the backline, playing between two guys in drop coverage, and executing late switches while staying connected to ball-handlers in space. That allows the Hawks' help defenders to stay home on shooters, while their on-ball defenders veer back to take away pick-and-pops. One of the few things the team did well defensively last season was suppress opponent 3-point attempts. Tighten things up on the perimeter and contain the ball a bit better and this team can get into the league-average range. Coupled with an elite offense, that would allow the Hawks to sniff 50 wins.
For now, though, these trades still read as cautionary tales. They might have even helped chill the market for available flawed stars like Damian Lillard, James Harden, and Pascal Siakam. If so, maybe better outcomes in Year 2 will have a thawing effect, showing that big swings can be worthwhile for middle-of-the-road, mid-market teams - even if the payoff isn't immediate.