The Raptors are in limbo. Scottie Barnes will dictate how long they stay there
Julian Catalfo / theScore
With the 2023-24 campaign approaching, we're diving deep into some of the players we're most interested to watch. Last up is a former Rookie of the Year with an uncertain positional future, looking to get back on track after a disappointing sophomore season.
Previous entries: Austin Reaves | Victor Wembanyama and Chet Holmgren | Jaden McDaniels | Jordan Poole and Chris Paul | Evan Mobley
There are a number of reasons why the Toronto Raptors' 2022-23 season turned out to be a disappointment. But chief among them was that their reigning Rookie of the Year plateaued or regressed in almost every aspect of the game. It probably didn't help that he reportedly clashed with the team's veteran faction all campaign.
In many ways, Vision 6-9 was Vision Scottie Barnes. The Raptors staked a good portion of last season on Barnes' development, doing virtually nothing in the 2022 offseason to augment their flimsy guard and center rotations. That seemed to reflect their belief in Barnes' ability to provide the kind of off-the-dribble shot creation and interior defense the team lacked. But Barnes struggled defensively, regressed as a shooter and in-between finisher, and displayed no progression when navigating tight spaces with a live dribble or creating advantages as an initiator. His passing remained a bright spot, but he didn't get to showcase that skill in the half court all that much because of his aforementioned limitations.
Barnes often seemed unsure how to assert himself against set defenses, and things didn't go particularly well when he tried. He ranked in the 19th percentile league-wide as a pick-and-roll ball-handler (0.69 points per possession), 31st percentile as an isolation scorer (0.81), and 33rd percentile on post-ups (0.89), according to NBA Advanced Stats. He even struggled badly as a transition scorer, averaging just a point per possession (25th percentile). Barnes finished with a 52.4% true-shooting mark in a season in which the league average eclipsed 58%. All of those numbers were way down from what he produced as a rookie.
The Raptors eventually addressed their hole at center by trading for Jakob Poeltl midseason, a move that stabilized their defense but further clouded Barnes' role at the other end of the court. Before that, he started to find success operating as a de facto five on offense, working the dribble-handoff game and finding pockets of space to drive, roll, and cut into on a (slightly) better-spaced floor without a traditional big man beside him. He was already ceding mid-post touches to Pascal Siakam, and he had to do a lot of scavenging on the margins after the trade as the pick-and-roll partnership between Poeltl and Fred VanVleet took center stage. That led to Barnes forcing some things, which in turn led to his true shooting tumbling to 50.6% post-All-Star break.
Even before Poeltl arrived, Toronto mostly deployed Barnes at the point of attack on defense, a role that didn't serve him or the Raptors especially well. His proclivity for chest-to-chest ball pressure, coupled with his occasionally flat feet and rigid hips, led to plenty of opponent blow-bys. But he vastly improved as a help defender as the season progressed, and Poeltl's presence provided a safety net that made his gambles on the perimeter less damaging.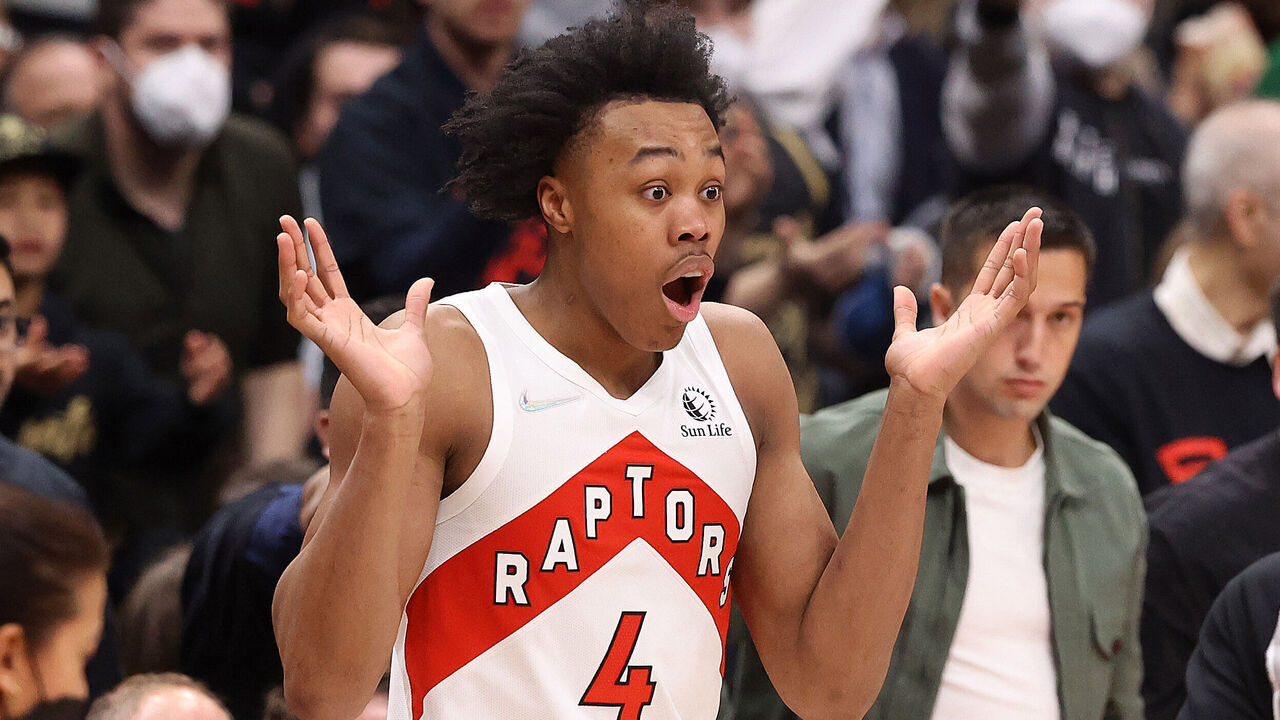 At the other end, there's enough interior passing and touch between him, Siakam, and Poeltl to make that a viable frontcourt trio. That was borne out by the fact that the Raptors posted a 120.3 offensive rating with the three of them on the floor, even as Barnes struggled individually. But it's clearly not an ideal offensive setup, given their shooting limitations and that Barnes and Siakam like to operate from a lot of the same spots. The fit feels particularly precarious given the dearth of movement shooting and half-court creation around them. That was true last season when VanVleet was still in the fold. How will it work now that Toronto's former starting point guard has bolted to Houston?
To summarize the implications of VanVleet's free-agency decision: a team that was already starved for ball-handling, shooting, and general pick-and-roll proficiency just lost its best ball-handler, off-the-bounce 3-point shooter, and pick-and-roll operator. And it got nothing in return besides the freedom to use the full mid-level exception on Dennis Schroder - a significantly worse shooter and playmaker. When the aforementioned frontcourt trio played without VanVleet last season, their offensive rating fell to an abysmal 102.7, per Cleaning the Glass. Needless to say, it'll be difficult for the Raptors to improve their 25th-ranked half-court offense.
Perhaps not having to compete with VanVleet for ball-handling or locker-room primacy will make Barnes feel like a freer and happier person. But it's going to make his on-court job quite a bit more onerous. The one play type in which he rated above league average last season was as a roll man. However, he didn't get many opportunities to do so after the acquisition of Poeltl, and he figures to have even less utility in that role now that VanVleet is gone. Instead, Toronto will lean on Barnes more heavily to initiate actions and create for himself and others. And he'll have to do that without the benefit of VanVleet's off-ball gravity and proficiency as a screener in inverted ball-screen actions.
For a supposed franchise building block, the Raptors haven't exactly surrounded Barnes with a roster that serves his particular strengths and weaknesses. Giving him the keys to the offense and a license to work through mistakes is a fine idea in a vacuum. But asking him to steer through an offensive environment with no spacing and minimal off-the-bounce creation around him isn't setting him up for success, especially when the team has signaled an intention to try to win now.
Under different circumstances, VanVleet's departure might have prompted the front office to sell off the rest of its veteran contingent, especially with Siakam and O.G. Anunoby now on expiring contracts. But the Raptors no longer control their 2024 first-round draft pick, dealing it to San Antonio (with a very light top-six protection) to acquire Poeltl, whom they were effectively boxed into re-signing for four years and $80 million this offseason. Toronto appears to be at an impasse with Siakam, having rebuffed trade offers for its All-Star impending free agent while making no progress toward an extension.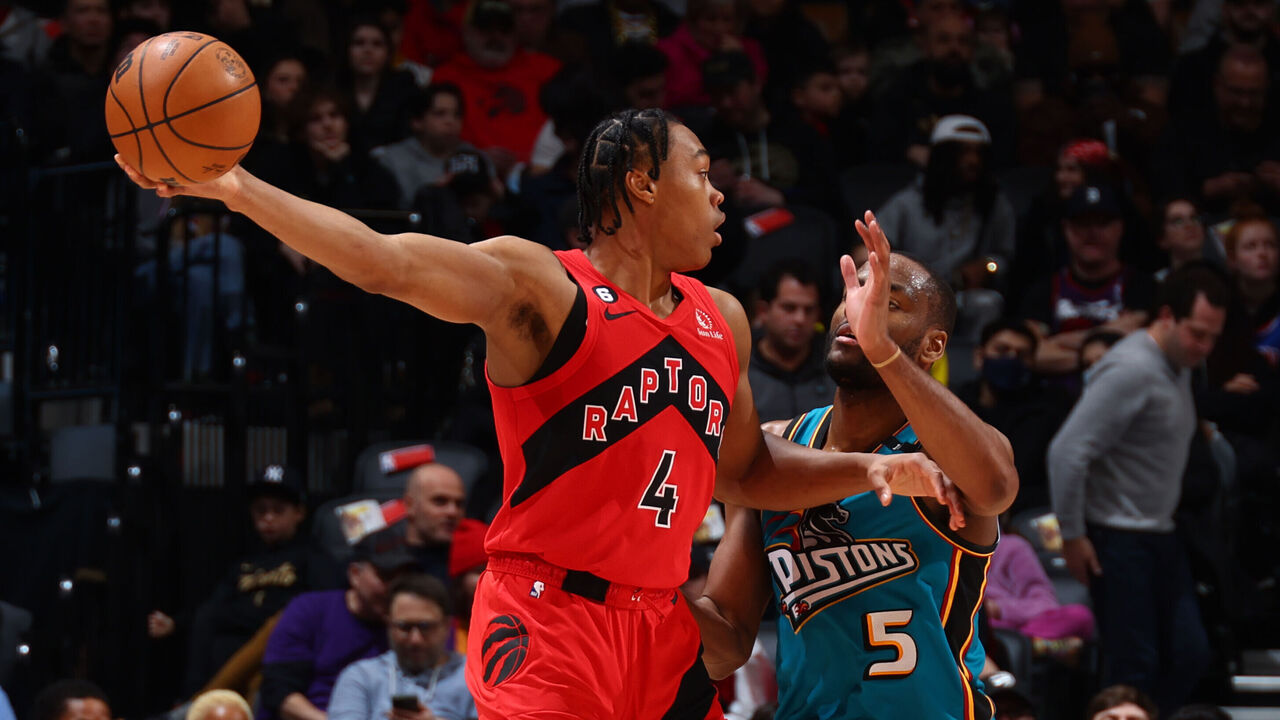 For now, the plan seems to be to proceed with what remains of last season's middling roster and hope that a coaching change and more harmonious vibes can improve the outcome. It's a faulty plan, but a big step forward from Barnes might redeem it (or at least make its faultiness feel less consequential in the big picture). The Raptors' ability to avoid having a truly lost campaign - one in which they're bad but not bad enough to keep their pick - largely depends on what the 22-year-old does in Year 3.
Development is rarely linear, and it's possible (maybe even probable) that Barnes' sophomore slump will prove to have been just that - a rare valley in a career full of towering peaks. Barnes is, after all, extremely young and incredibly talented. But it's another matter entirely whether he can develop in the specific way the present-day Raptors are counting on him to do. At the moment, his skill set seems more conducive to a role as a dependent scorer and a connective playmaker out of the high post and short roll.
Again, Barnes is an excellent passer - snappy, creative, elite for a player his size, and almost certainly Toronto's best right now. But that in itself doesn't make him a point guard. Getting there will require growth on a number of fronts. Can he develop a workable pull-up jumper? Can he tighten his handle to the point that he can break down defenses off the bounce and consistently get himself to the rim? Can he punish defenders who duck under screens when he runs pick-and-roll, either as a shooter or as a driver who can explode through the space those unders give him? At the defensive end, can he refine his on-ball technique and contain dribble penetration against smaller, quicker players?
The answers to those questions will dictate not only Toronto's season but the franchise's direction moving forward. There won't be a more interesting player to watch in 2023-24.