NBA offseason grades: Breaking down the moves in the Atlantic Division
Julian Catalfo / theScore
On the cusp of a new campaign, we're recapping the summer moves made by each NBA franchise, whether through the draft, trades, or free agency.
Last year's division toppers, the Boston Celtics, are going all-in with Jrue Holiday and Kristaps Porzingis, but it cost them a couple of fan-favorites. It's all turned upside-down in Philly, where new 76ers coach Nick Nurse is navigating a volatile situation with James Harden, and the New York Knicks are no longer the divisional pushover thanks to their model of continuity.
In the Brooklyn Nets and Toronto Raptors, though, the Atlantic boasts two teams with intriguing personnel and murky futures - though one is in seemingly better shape than the other.
Be sure to check out our breakdowns for all six NBA divisions.
Atlantic | Central | Southeast
Northwest | Pacific | Southwest
Boston Celtics
Last season: 57-25 (.695), lost in Eastern Conference finals.
In what can only be seen as the perfect counter to the Milwaukee Bucks' shocking acquisition of Damian Lillard, the Celtics pushed all their chips to the middle of the table for Jrue Holiday - the marquee piece surrendered by the Bucks for Lillard in their own deal. Holiday came at a massive cost, but his skill set should fit the Celtics mold - and there are few other players in the Association you'd want defending Lillard during "Dame Time" in a hypothetical Eastern Conference finals.
Expect Porzingis to rejuvenate the Celtics' offense. The Latvian is equipped to be a towering option in pop actions and has also improved as a rim protector in recent seasons. Stretch-capable bigs aren't new in Beantown, with Al Horford and Grant Williams occupying that role last season. But the 37-year-old Horford, compared to Porzingis, was vastly undersized at 6-foot-9, and Williams - even shorter at 6-foot-6 - was offloaded to Dallas.
Boston's most significant loss is arguably that of Smart, who was the franchise's longest-tenured member and frequently cited as the heart of Celtics squads of seasons past. The absence of his unique blend of leadership and on-court tenacity will be felt, though no one can argue with Brad Stevens dealing from a position of strength - Boston's abundance of guards - to land Porzingis. Adding a star ball-handler and veteran of Holiday's quality, even if it cost defensively astute center Robert Williams - is another sublime move that catapults the Celtics further into contention status.
Jaylen Brown and Jayson Tatum now have what may be their best overall supporting cast ever. Losing Brogdon and both Grant and Robert Williams in one offseason is a notable hit to their depth, but Joe Mazzulla's squad is firmly prepared to make the most of its championship window.
Grade: A-
Philadelphia 76ers
Last season: 54-28 (.659), lost in Eastern Conference semifinals.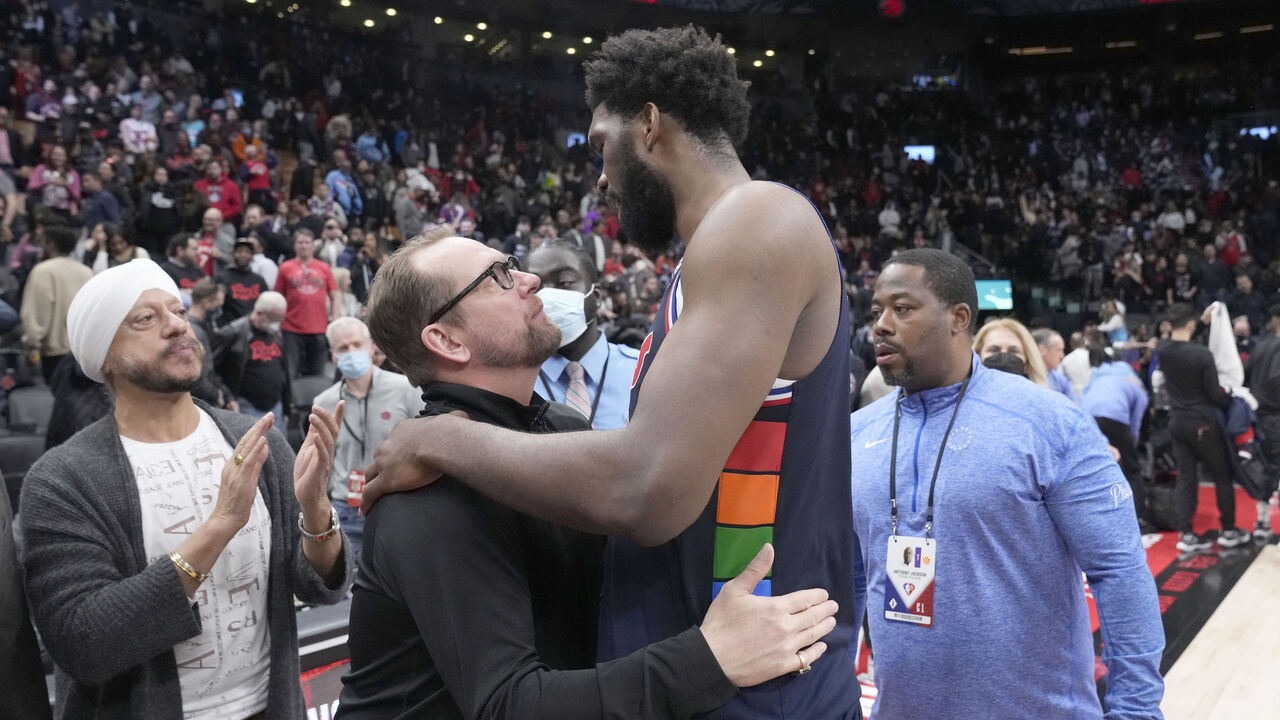 It's been anything but a smooth summer in the City of Brotherly Love.
James Harden awkwardly remains a Sixer despite making it clear that he no longer wants to be in Philadelphia. It all sets up for an uncomfortable preseason - especially with a new head coach in Nick Nurse - and letting it linger this long seems like an awful misstep for an organization that doesn't just boast legitimate championship aspirations, but also the reigning MVP in Joel Embiid.
Harden aside, there are questions to be asked about what the 76ers did do this summer.
In a vacuum, Shake Milton isn't a hugely significant exit, but replacing him with Patrick Beverley leaves the bench without an efficient scorer comfortable with creating his own shot. That lack of reserve shooting is only compounded by the loss of a 40% 3-point specialist in Georges Niang. Presumably, Danny Green will fill that role, but Green is also 35 and averaged 12.5 minutes last season after recuperating from a torn ACL and LCL. Kelly Oubre Jr. is a fine budget pickup but his rounded shooting splits of 44/34/73 over the last four seasons suggest he isn't the solution either.
To Philly's credit, re-signing Montrezl Harrell was a logical move, and it would be harsh to hold his freak ACL injury in August against the front office (who could do worse than Mo Bamba for an emergency signing). However, while bringing back Paul Reed was smart, the Utah Jazz forced them to commit more than they probably wanted to with a creatively structured offer sheet.
Maybe Daryl Morey has something up his sleeve in which a potential return for Harden makes the team better as a whole. However, right now, it appears no one is biting, and the tricky standoff is only going to be another distraction for Embiid and Co.
Grade: C
New York Knicks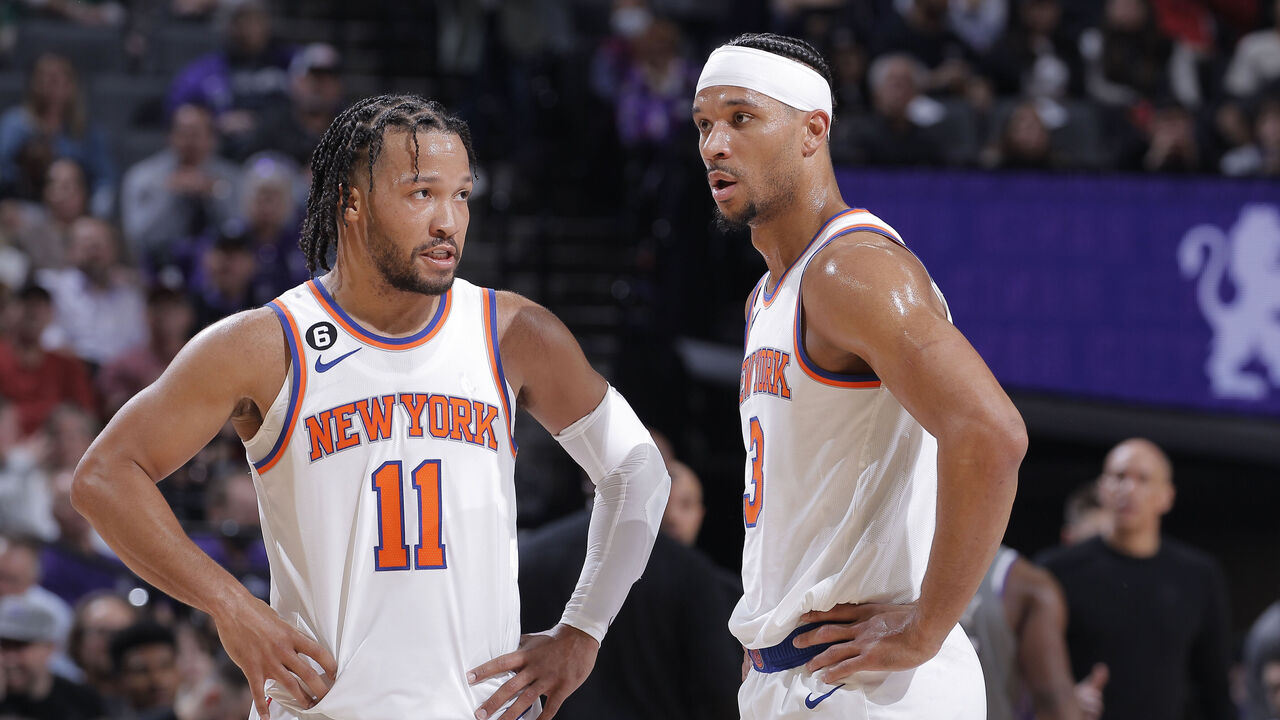 Last season: 47-35 (.573), lost in Eastern Conference semifinals.
The Knicks are no longer perennially susceptible to throwing out all their plans because of low-level rumblings of some NBA superstar wanting out. In what feels like a paradigm shift over at Madison Square Garden, the Knicks seemingly devised their own build-it-up blueprint over the last few seasons and stuck by it.
A second-round appearance for the first time in a decade is exactly the kind of upward trajectory the team's brass hopes to maintain and there was no need to make some massive splash over the summer.
With that in mind, quietly adding a great 3-point threat and vet like Donte DiVincenzo is the perfect transaction for a club that ranked 19th (35.4%) in that category during the regular season and dead-last 29.2% in the playoffs. Extending Josh Hart was a no-brainer, especially considering the relatively inexpensive cost of acquiring him last season and his well-established rapport with fellow ex-Villanova teammate Jalen Brunson (on that note, DiVincenzo was also their Wildcat teammate in 2016-17).
New York's front office personnel, including president Leon Rose, kept things simple and straightforward. The departures of Derrick Rose and Obi Toppin shouldn't pose an issue considering the former fell out of the rotation entirely in January last season and Toppin's third year didn't foster the type of jump that the franchise hoped for. A single pick in this year's draft would have been nice, as would perhaps a smidge more depth behind Julius Randle; but, all in all, Knicks fans should be in good spirits.
Grade: B+
Brooklyn Nets
Last season: 45-37 (.549), lost in Eastern Conference first round.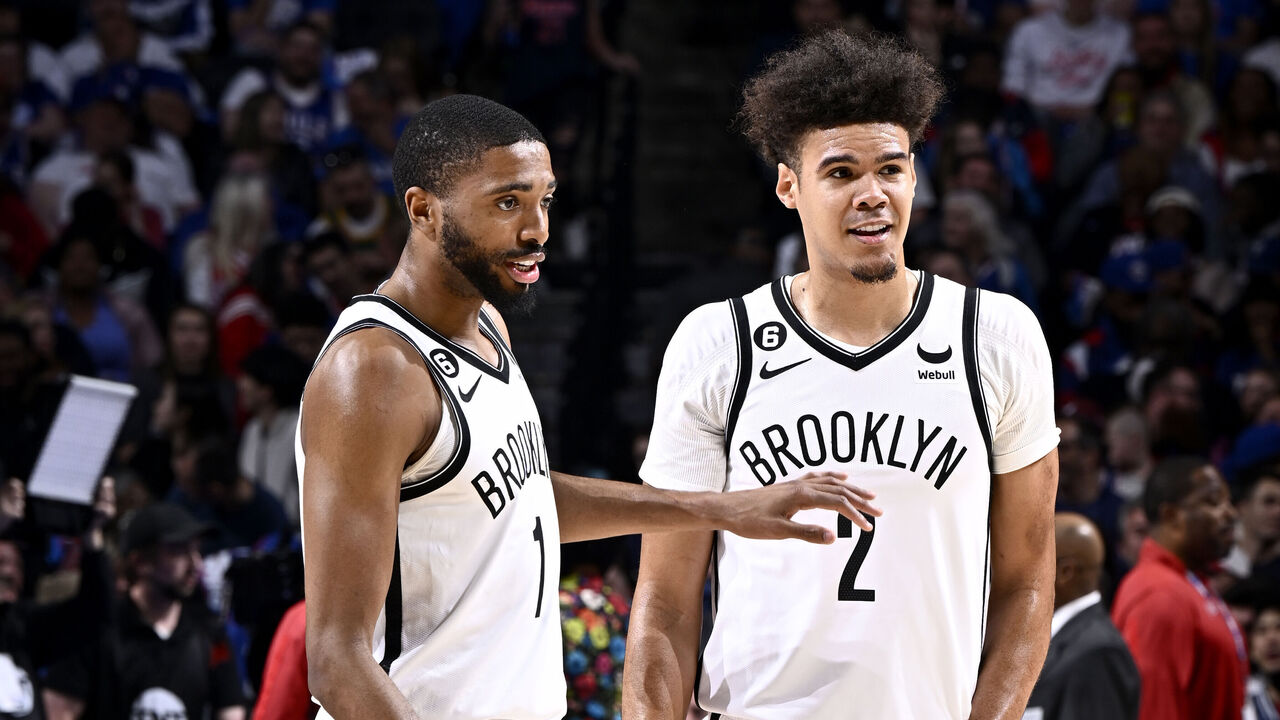 What a difference a year makes. This time in 2022, the Nets were shrouded in chaos thanks to Kevin Durant walking back his abrupt trade request, just days after the unpredictable Kyrie Irving picked up a near $37-million player option.
The vibes are a little more grounded nowadays.
Nets general manager Sean Marks has thoroughly transformed the squad in a single year. Irving and Durant are no longer around, and only five players remain from last year's Opening Day roster: Nic Claxton, Royce O'Neale, Day'Ron Sharpe, Ben Simmons, and Cam Thomas.
Similar to their Manhattan pals, the Knicks, the Nets didn't need to reinvent the wheel. Lonnie Walker, still only 24 and coming off a solid single year with the Los Angeles Lakers, was brought aboard on a minimum deal but is still arguably their biggest signing. It's a simple low-risk addition that could very well complement the young core they kept together by re-signing Cam Johnson. The same can be said about Dennis Smith, Darius Bazley, and Trendon Watford - all inexpensive young talents who could simply benefit from a change of scenery.
Their back-to-back late first-rounders - Noah Clowney and Dariq Whitehead - may need a little more time to acclimate to the NBA level, but they could both emerge as key contributors as rookies thanks to Clowney's mobility and athleticism in the frontcourt and Whitehead's shooting prowess.
It's nothing special, but the Nets have identified Johnson and Mikal Bridges as their core and now have each under contract long-term. That alone is a passing grade for an organization that had to entirely retool its squad. If - and with the caveat that this is a massive if - a healthy Simmons can revert to his former All-NBA form, the Nets may surprise many.
Grade: B
Toronto Raptors
Last season: 41-41 (.695), lost in Eastern Conference play-in tournament.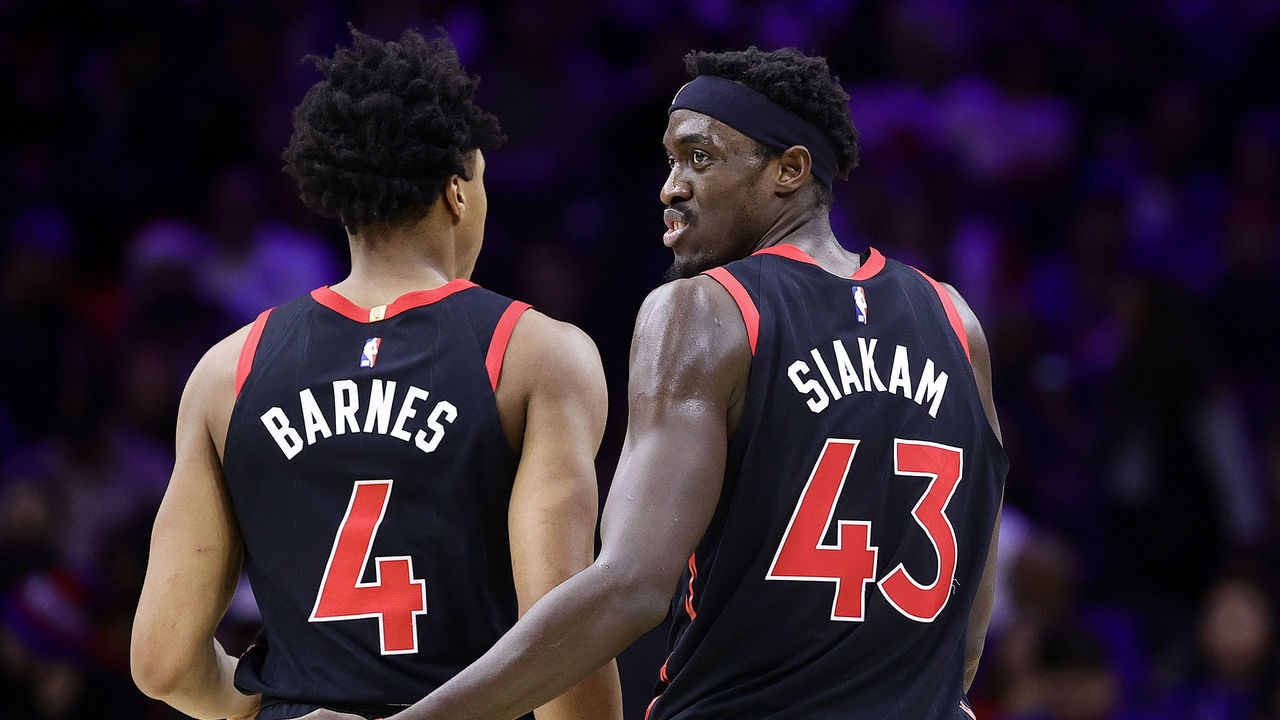 Another perplexing offseason may have the Raptors bringing up the rear in the Atlantic again.
There was little Toronto could realistically do once the Houston Rockets reportedly guaranteed Fred VanVleet north of $82 million over the next two seasons (plus a $45-million team option in 2025-26). Nobody can fault Toronto for being resistant to the idea of making VanVleet among the league's top 15 earners next season, per Spotrac, but it's fair to question why the team didn't meaningfully look to deal him at the February trade deadline, rather than push for a postseason run that fizzled out in one play-in game thanks to the Chicago Bulls and the loud support of Diar DeRozan.
In what felt like an oddly rushed replacement, the Raptors brought in journeyman guard and former Laker Dennis Schroder on a two-year pact. Schroder is a fine complementary piece to round out your squad - especially with his familiarity with new Raptors coach Darko Rajakovic - but he's a much different player than VanVleet, who occasionally had to carry the Raptors' offense last season. Winning the FIBA World Cup and being named MVP perhaps suggests Schroder is up for the challenge, but it's a tall ask for the German over an 82-game campaign.
In truth, so much of the Raptors' recent activity - or lack thereof - has been unusually questionable. That aforementioned playoff push also spurred them to trade for Jakob Poeltl (and his expiring contract), which cost them their 2024 first-round pick unless it falls in the top six. They did at least re-sign Poeltl, but the stipulations on that pick mean they could still be without a first-rounder next year even if they did tear it down this season.
The real kicker, however, is that franchise star Pascal Siakam, touted 3-and-D forward O.G. Anunoby, and young guard Gary Trent Jr. are all set to enter free agency next summer (an extension for Trent was reportedly close in June but inexplicably never finalized). With that on the horizon, coupled with the likelihood that Toronto can't compete on paper with the East's juggernauts, the Raptors could trap themselves in a dire spot.
Grade: D+