Jokic-Murray 2-man game, Miami's zone, and more observations before Game 2
Jesse D. Garrabrant / NBA / Getty Images
The Denver Nuggets hosted their first Finals game in franchise history Thursday night and came away with a convincing 104-93 win over the Miami Heat. Here are four takeaways from Game 1, and their potential impact on Sunday's Game 2.
A problem without an answer
Miami's playoff defense is a shape-shifting organism with invasive tentacles that can be tortuous to navigate for even the game's elite offensive players. But that organism is still dwarfed by the monstrous magnitude of Nikola Jokic, who dominated Game 1 without forcing his own offense. He didn't attempt a shot until the last 20 seconds of the first quarter, finished with only 18 total shooting possessions (which he of course parlayed into 27 hyperefficient points), but doled out 14 assists against only two turnovers. As anticipated, the Heat simply didn't have a good answer for him.
They didn't get funky with the matchups at all; when they lined up in man-to-man coverage, outside of the odd cross-match it was exclusively Bam Adebayo serving as Jokic's primary defender. Miami didn't hang Adebayo out to dry, mostly bringing soft doubles and pinching corner defenders into the paint when Jokic had the ball at the elbow or in the post. Adebayo also did his damnedest to keep the ball out of Jokic's hands altogether by fronting him to try and deny entry feeds. But Jokic and the Nuggets had counters for all of it.
The most effective of those counters was Jokic's two-man game with Jamal Murray, who racked up 26 points and 10 assists of his own. On the game's very first possession, with Adebayo fronting Jokic in the post, Murray simply drove past Jokic's hip - using the front as a de facto screen - and got a layup. When Murray's defender played him on the top side to prevent him from coming up to receive dribble-handoffs, he cut backdoor and Jokic hit him for easy scores.
When the two ran basic pick-and-rolls, usually on an empty side to make it difficult for Miami to engage a third defender in the action, Adebayo mostly dropped back. He looked to retreat to Jokic after briefly showing help to hold up Murray's drives and buy time for the on-ball defender to get back in contact. Murray cooked that coverage with floaters and pull-up jumpers, and also hit Jokic for short-roll buckets and a pick-and-pop three.
The Heat started the game with Gabe Vincent on Murray but began using bigger defenders like Jimmy Butler, Caleb Martin, and Haywood Highsmith for that assignment. On a couple of occasions, they switched the pick-and-roll and took their chances with those bigger wing defenders on Jokic. That didn't work out, either:
The flare screen there from Michael Porter Jr. on Adebayo was a nice touch, erasing a defender who was already in a tough spot trying to show help on Jokic without losing track of Murray.
Jokic and Murray benefit from each other's scoring gravity and playmaking acumen, but so does everyone around them. Watch the next play, for instance, and note how Adebayo's reluctance to leave Jokic completely opened up the lane for Porter Jr. as he curled off a "wide" screen:
The Heat's defensive numbers for the game wound up looking solid considering their opponent, but they never truly found a viable solution to Denver's dynamic duo.
Aaron Gordon and Miami's matchup conundrums
Part of what makes this such a tough matchup for the Heat is that the thing their defense is designed to take away - i.e. drives to the rim - isn't something Denver depends on.
The Nuggets came into the Finals ranked dead last among playoff teams with 34.5 drives per game, after finishing last in the regular season with 36. They had only 27 in Game 1. But thanks to their cutting, post-up proficiency, and the sweet-passing Serb who can see over everything and unlock all those cuts and post seals, they're still able to get to the basket plenty. They just don't necessarily need to dribble themselves there. To wit: they took 33% of their shots at the rim in Game 1 (a solidly above-average rate for a playoff game) and shot an astounding 81% inside the restricted area.
The Heat being at a major size disadvantage doesn't help in that regard, and Gordon, more than anyone not named Jokic, made them feel it. Butler guarding Murray seems like a matchup Miami wants to get to, but that usually means having a much smaller defender on Gordon, and Gordon stuffed that defender in the basket virtually anytime that happened in Game 1. He hit six straight field goals in the first quarter by ducking in, sealing, and posting the likes of Vincent, Max Strus, and even Martin. A couple of them were the result of him simply running the floor hard and forcing cross-matches.
Getting those deep, early seals was a big part of Gordon's evolution into the perfect Nuggets role player, and right from the jump Denver made it a priority to play through him whenever he had a strength advantage:
Butler spent most of the game as Gordon's primary defender for that reason, on top of the fact he's probably Miami's best help defender, and Gordon is the easiest Nuggets starter to help off of. The problem is: the Nuggets were well aware of that, so they made a point of involving Gordon in screening actions - especially with Murray - and forcing Butler and the Heat into some difficult decisions. Either one of those guys can screen for the other, and it always causes headaches. When Miami switched those actions to prevent Murray from shaking loose, this happened:
Things didn't go much better when they tried to avoid switching those screens:
Of course, the Heat's communication on those coverages could've been a lot better, and they showed as much by tightening things up in the second half. With Butler mostly staying attached to him or the Heat zoning up and closing off the middle of the floor, Gordon attempted only one field goal after the second quarter - a contested baseline turnaround that he airballed.
Still, even if his first-quarter scoring barrage is as good as things get for Gordon offensively in these Finals, simply presenting the threat and forcing Miami to respond by gluing its best wing defender to him does Denver a huge service.
So, about that Heat zone…
Perhaps the most surprising part of Game 1 was that the Heat turned to their zone defense for an extended stretch in the fourth quarter with Jokic on the floor, and that it actually worked pretty well for a while. It's a big part of the reason they held Denver to an 83.3 offensive rating and only three shots at the rim in that final frame.
It stood to reason that Miami would be reluctant to zone up against Jokic, because of his ability to carve that coverage up from the middle of the floor. That's why in the first half the Nuggets only saw it when Jokic was on the bench. But nothing worked for the Heat through the first three quarters anyway, and they had nothing to lose entering the fourth trailing by 21.
The crucial tweak was lining up in more of a 1-3-1 alignment, which allowed them to load up on Jokic and make it more difficult for him to get a clean catch in the middle: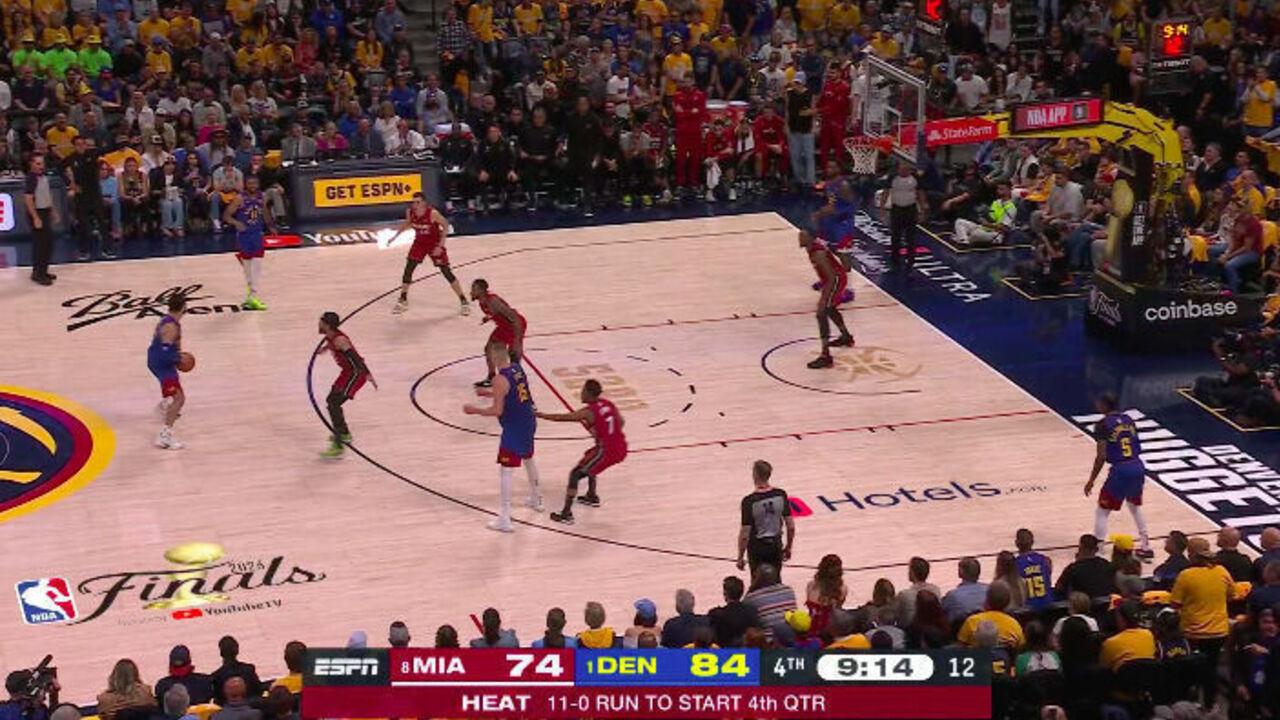 That seemed to throw the Nuggets for a bit of a loop, and allowed the Heat to rattle off an 11-0 run to kinda, sorta get back in the game.
Whether that can actually be a long-term solution is another matter. A selectively used knuckleball? Sure. But give Jokic, Murray, and Co. an extended look, and they will figure out how to solve it. Which they eventually did in Game 1:
Jokic did most of the damage to break the zone late in the fourth quarter, but Murray also got plenty of good looks against it that he couldn't knock down.
That said, we should credit the Heat for finding a way to make the zone viable in this matchup, and trust that Erik Spoelstra will have something new cooked up for Game 2. The only hope in defending Denver is to mix things up and throw a bunch of different stuff at them, and there's no coach or team that's better equipped to do exactly that.
Denver's defense held up
The Nuggets came into the Finals with a 119.7 postseason offensive rating, and the Heat held them to 111.8 in Game 1. Unfortunately, they could only muster an even 100 themselves, about 16 fewer points per 100 possessions than they averaged through the first three rounds.
Miami actually won the 3-point battle by 15 points, but shot only 45% from 2-point range, including 26% (6-for-23) on pull-up mid-range jumpers. The Heat failed to really stress the sometimes-shaky back line of Denver's defense, and their shot diet - featuring twice as many non-rim 2-pointers (38) as shots in the restricted area (19) - is one any defense will gladly live with. The Nuggets helped coax those shots by playing disciplined drop defense against most of Miami's ball-handlers, inviting those mid-range pull-ups and a slew of short-roll jumpers from Adebayo. It didn't help that three of the Heat's best shooters in Martin, Strus, and Duncan Robinson combined to shoot 2-for-23 from the field.
Hot outside shooting from Vincent and Kyle Lowry in the second half ultimately forced Jokic to start coming out higher, but Miami wasn't really able to take advantage and beat Denver's rotations behind that two-on-the-ball coverage. That's mainly because the Nuggets were able to bring liberal back-side help off of Butler, Martin, and Highsmith, and only Highsmith was able to make them pay for it. (They'll continue to challenge him to do so.)
Butler, meanwhile, didn't seem to have much interest in attacking Gordon in isolation, and didn't have much luck with his pull-up middie out of the pick-and-roll (which he relied on too heavily) against a steady diet of drop. His 18% usage rate was his lowest mark in any game this postseason. He finished with 13 points on just 14 shooting possessions, and didn't attempt a free throw. (Miami as a team shot two freebies, the fewest for any team in a playoff game in NBA history.)
There were several possessions on which Butler targeted Porter Jr., calling his man up to screen and generating a switch. But apart from one driving layup, he didn't look to attack that switch one-on-one, preferring to go immediately into a pick-and-roll with Adebayo. That's not a bad idea on its face; Porter Jr. struggles with screen navigation, and forcing him to defend the ball out on the perimeter rather than helping on the back line is a net win for the Heat. But in a game in which their role players were struggling to score and Adebayo was forced to do too much (26 points on 25 shooting possessions isn't good enough to carry an offense), Butler needed to be a lot more assertive.
Porter, to his credit, also did a pretty damn good job of staying engaged in those plays, either by ducking under screens or pursuing and contesting Butler from behind:
It feels like the Heat should be able to bank on bigger Butler performances moving forward. Maybe this was a feel-out game for him, and he'll come out in Game 2 with a better sense of how to attack the soft spots in Denver's defense.
It's also possible he's worn out, and that the ankle sprain he suffered in the second round (he hasn't looked the same since) is impacting him more than we realize. If it's the latter, this could be a very short series.