How are the Heat going to defend the Nuggets?
Julian Catalfo / theScore
The Miami Heat have made a habit of slaying giants this postseason, already knocking off the top two seeds in the East - and the top championship betting favorites - en route to the Finals. Now they set their sights on another juggernaut in Denver, the top seed out West that took a 12-3 slalom through its conference's bracket.
Though the biggest story of the Heat's run has probably been their offensive glow-up (going from 27th in points per possession during the regular season to third in the playoffs), they remain, at heart, a defense-first team. Sure, they had games where they lit it up from 3-point range and danced circles around their opponents with cyclonic off-ball movement, crisp passing, and relentless drive-and-kicks. But in the highest-pressure moments, it's their defense that carried them through, smothering the Bucks, Knicks, and Celtics with seamless switching, intense ball pressure, connected help rotations, and a befuddling zone that ties all those elements together.
That brings us to the most important question about the Finals: How is Miami going to slow down a Nuggets team that has to this point scored 3.4 more points per 100 possessions than anyone else in the playoffs? It's one thing to switch and swarm against teams like Milwaukee and Boston whose lead creators are limited playmakers and shaky ball-handlers, or to gap and pack the paint against a shooting-challenged team like the Knicks. It's another thing to do that against Denver - arguably the best 3-point shooting team in the league, with the league's best passer and post scorer at the controls, complemented by an explosive lead guard whose handle and jumper hold up under pressure.
You wouldn't exactly describe this as an unstoppable force meeting an immovable object; Miami's defense is more like a shape-shifting object that will try to direct that unstoppable force to areas where it can do the least amount of damage.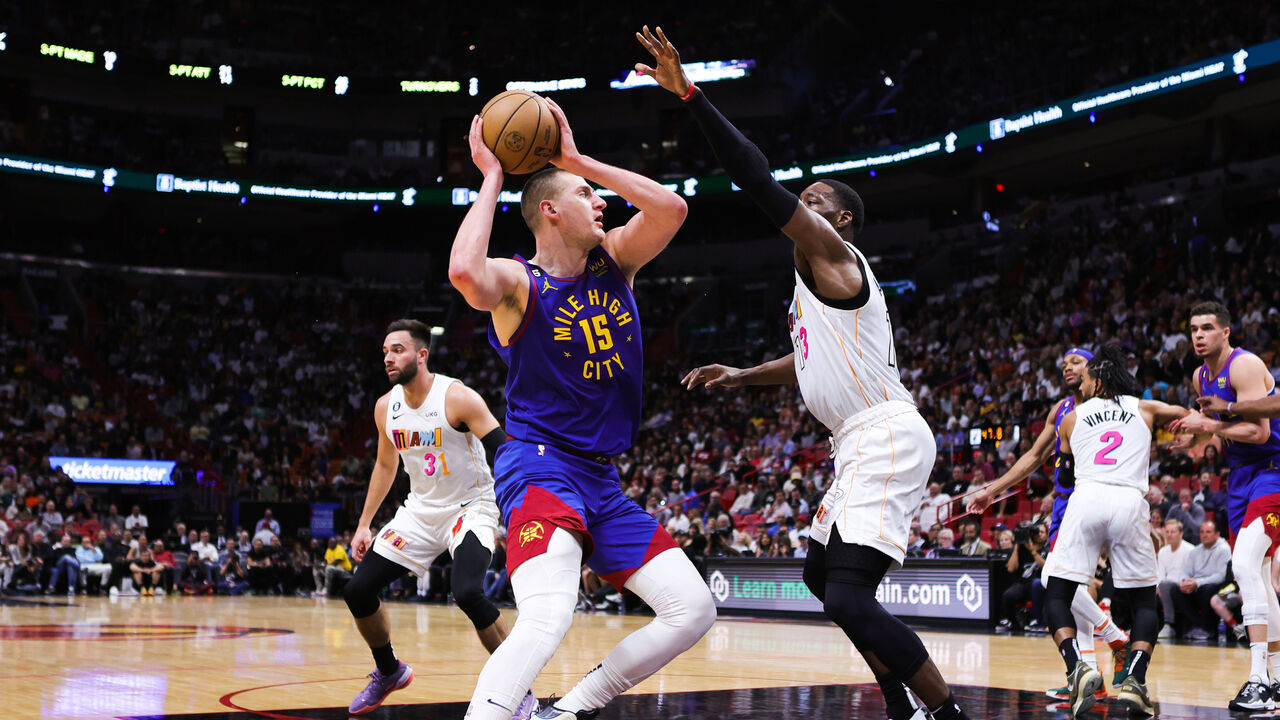 The first and most pressing issue it will face when confronting that challenge is a simple size disparity. The Heat have a lot of players with functional size that doesn't show up in raw measurements, but stacking up their starting lineup against Denver's still really reveals their disadvantage in that department.
Bam Adebayo technically being an undersized center at 6-9 doesn't really negatively affect him in any matchup ... except this one. Jokic, who has about three inches and 30 pounds on him, has mostly had his way with Adebayo in single coverage (as he does with everyone). And it's not like the Heat have great size matchups for Aaron Gordon or Michael Porter Jr., either. If they opt to use Jimmy Butler and Caleb Martin in those matchups, they'll be putting a smaller player on Jamal Murray as well.
Miami can try to follow the blueprint laid out by the Lakers and a handful of teams before them, of sticking a big forward on Jokic while having their best rim-protector provide back-side help while roaming off of Gordon. We've seen the Heat do this, albeit very sparingly, in the recent past. But there are a couple of major issues with that approach when it comes to their personnel.
First of all, who is that big forward capable of checking Jokic? Asking Butler to do it would be unfair considering what's going to be required of him at the offensive end. Martin is physical and tough but simply isn't quite big enough. Haywood Highsmith might be able to hold his own, but then Miami will have to live with his offensive limitations. Would the Heat pull Kevin Love back off the rack and press him into duty against the two-time MVP? Love has the heft and smarts to manage OK against Jokic post-ups, but his lack of foot speed would make him susceptible to Jokic's sneaky-quick drives and cuts, to say nothing of the endless pick-and-roll actions Denver would force him to navigate as either an on-ball or screen defender.
The second issue is that rim protection isn't even what makes Adebayo an elite defender. As far as centers go, he's probably below average in that regard. Having him lurking as a disruptor on the back line isn't going to have nearly the same impact that having Anthony Davis back there did. Adebayo is an excellent help defender regardless, but his true outlier skill is the incredible lateral agility that allows him to lock down just about every perimeter player in the league on switches. And even that skill has questionable utility in this particular matchup.
That's not because Adebayo can't hold his own when switched out on Murray, but because switching a small onto Jokic is inviting a world of pain. Miami can mitigate that to a certain extent by starting a bigger defender like Butler or Martin on Murray. Those guys would still be in perilous situations trying to wrangle Jokic on the back end of switches, but they at least have the strength and savvy to avoid getting immediately bulldozed - either with aggressive fronts or by fighting for position - and buy time for teammates to shade help.
But sending help Jokic's way - even in the stunting, unpredictable way the Heat like to do it - is just another way to let him pick you apart.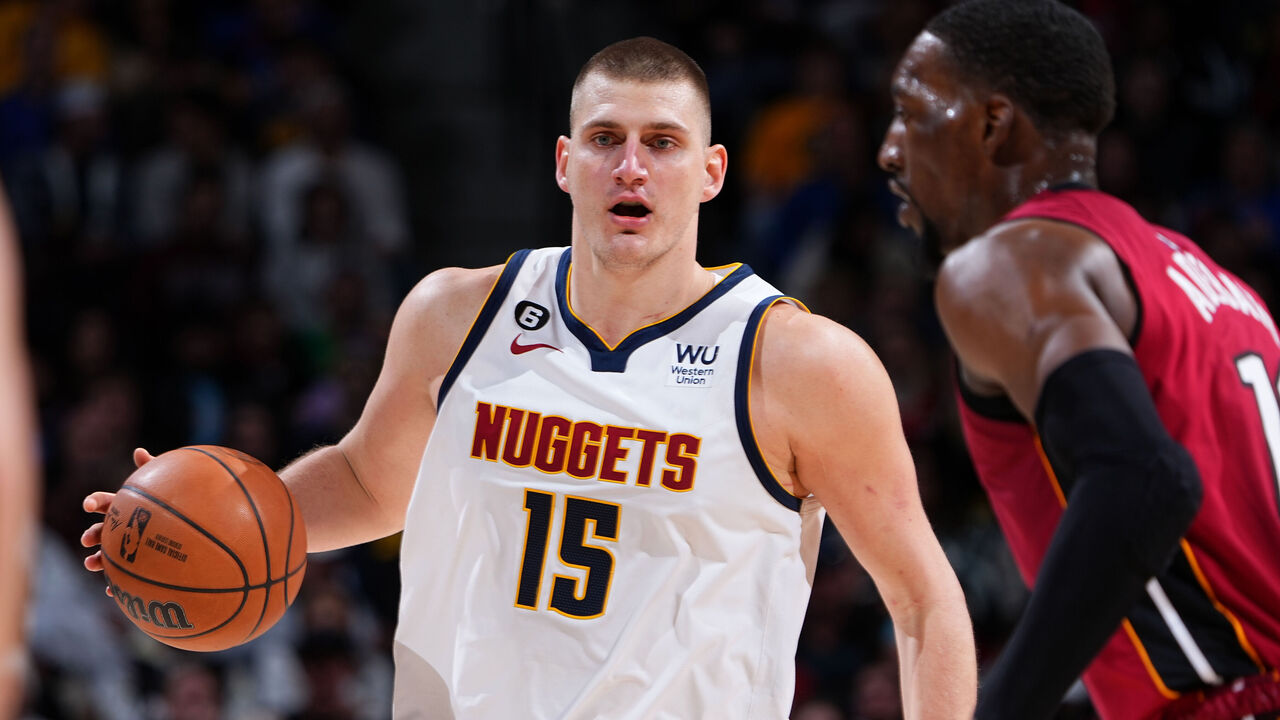 On top of which, pulling Adebayo away from the basket would leave Miami extremely vulnerable on the defensive glass against a player who inhales rebounds and is especially adept at recovering his own rare misses.
The Heat's switching - which really ramped up late in the East finals and helped them close that series out - will still come in handy in a lot of ways. It's the best counter for Denver's whir of weak-side activity and off-ball screening actions. In particular, sets that involve Murray and Gordon screening for each other before popping and slipping (respectively) have given opponents a ton of trouble, but the Heat can manage those actions effectively as long as they're airtight with their switches. Switching a small like Gabe Vincent onto Gordon might still be perilous, but Miami has the collective alertness and communication to scram those mismatches out.
When it comes to Jokic screening actions, though, Miami almost never switched during the regular season, instead preferring to drop Adebayo back and have him retreat to Jokic after trying to temporarily hold up the ball-handler, with supplemental help coming from the baseline. That tactic was fairly successful, with the Heat's on-ball defenders doing a good job chasing and fighting to get back in front of Murray so Adebayo could stay focused on Jokic.
The Nuggets still have plenty of counters for that coverage (Murray's drives and pull-ups, Jokic's short-roll floaters and pick-and-pop threes), but these are the types of shots you have to live with giving up against them:
That was also a different version of Murray than the one we've seen this spring. This Murray is a more dangerous pull-up threat, and a more explosive driver and finisher. The Lakers tried to execute the same coverage against Murray-Jokic pick-and-rolls when Davis was guarding Jokic and Murray torched them for it.
The way the Heat typically respond to scenarios in which there's no good coverage option for a ball-screen action or an individual matchup is to go with a zone. But again, that's not really tenable in this matchup, because Jokic is a one-man zone buster and the Nuggets as a whole have great counters with their plethora of shooting and cutting. They were statistically the best team in the league against the zone this year, and carved it up on the rare occasions Miami busted it out during the regular-season series:
The Heat could opt to just let Adebayo do his best in single coverage against Jokic, and focus more on preventing other guys from getting going. That was part of the Suns' strategy in the second round, and Jokic averaged 34.5 points on 66.3% true shooting in the series. Challenging him to be a scorer doesn't really work the way it once did.
So, there's not really a right answer, and Miami, as it always does, is going to try a little bit of everything. Attempting to slow down the Nuggets' offense means picking from a series of poisons knowing you're likely to get killed no matter which one you drink. The goal is to pick the combination that will kill you slowest so that you might stay alive long enough to kill them first.