Built for this: Jokic and Murray are the NBA's ultimate playoff duo
Julian Catalfo / theScore
DENVER - Jordan and Pippen. Shaq and Kobe. Duncan and Parker. LeBron and Wade. Curry and Thompson. Jokic and Murray?
Reading Nikola Jokic's and Jamal Murray's names alongside some of the greatest playoff duos of our time may appear blasphemous. After all, the Denver Nuggets' duo still has a job to finish in the Finals just to win its first championship together - they can't be thinking about multiple titles yet. But Jokic and Murray have firmly established themselves as the league's best playoff duo, with both stars already on their way to cementing all-time postseason resumes.
The modern sports media landscape can be brutally negative and unforgiving. Much of the NBA discourse this time of year is centered around players and teams that can't get over the hump; about which stars shrink from the moment and why. With Jokic and Murray leading the way, however, the Nuggets provide a breath of fresh, mountain-crisp air.
From the first playoff game they appeared in together four years ago, Denver's stars have consistently met the moment. They did it again in a Game 1 victory over the Miami Heat.
Jokic finished with 27 points, 14 assists, 10 rebounds, a steal, and a block on 8-of-12 shooting in Denver's 104-93 win. With Miami's switching defense leading to early size mismatches for Nuggets forward Aaron Gordon, combined with Murray's early scoring and the defensive attention largely on Jokic, the big man dissected the Heat with his passing in the first half. Jokic had a 10-point, 10-assist double-double by halftime, using only five shooting possessions to get there.
"That's the beauty of Nikola," Nuggets head coach Michael Malone told reporters postgame. "I learned a long time ago that the defense tells you what to do, and Nikola never tries to impose his will or force things that aren't there. If they're going to give him that kind of attention, well, he's just going to pick you apart, and now it's up to the other guys to step in and make shots. He's going to read the game. He's going to make the right play. Most importantly, he's going to make every one of his teammates better."
Facing different looks in the second half, Jokic settled in as a scorer, bullying and bamboozling opposing centers Bam Adebayo and Cody Zeller inside. By the time his 40 minutes of work were done, Jokic had his ninth triple-double of the 2023 playoffs. The rest of the league has a combined three.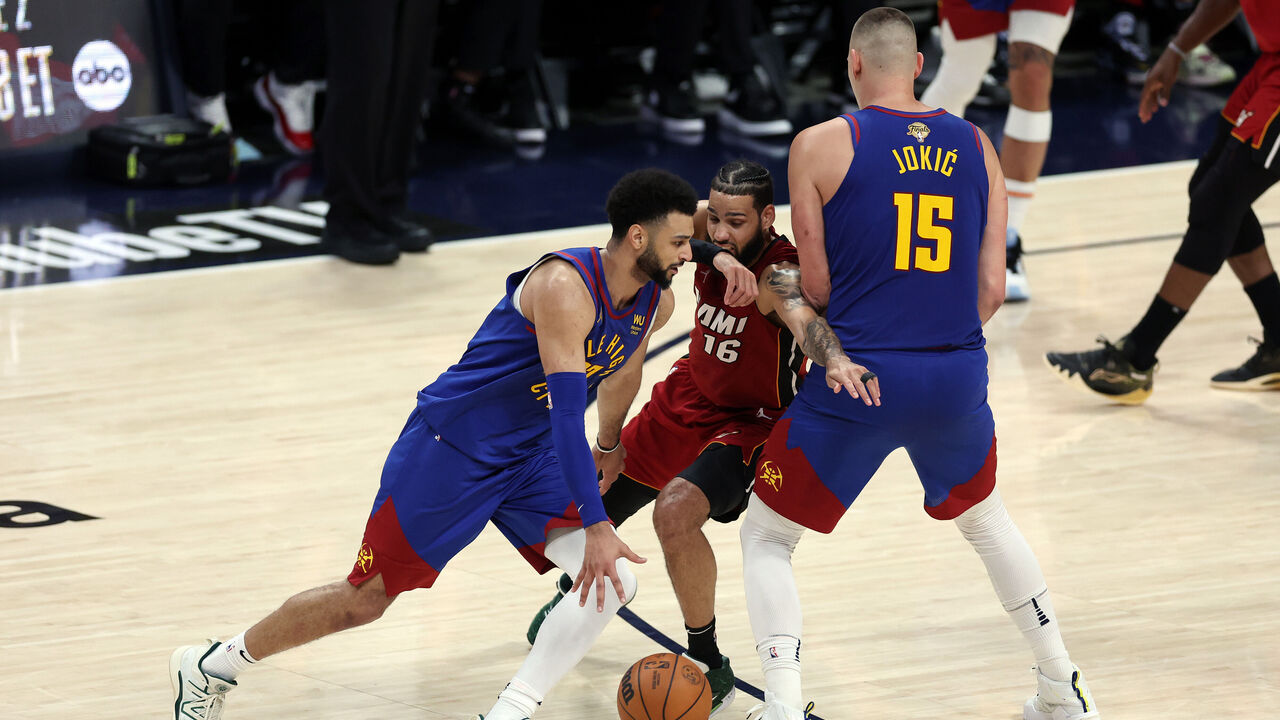 Murray finished with 26 points, 10 assists, six rebounds, and a steal while logging a game-high 44 minutes. From the opening tip of the first Finals game in Nuggets history, the Canadian guard did a masterful job keeping Denver's offense humming against Miami's varied defensive schemes. Murray used his shooting to punish the odd drop-related mistake while running pick-and-rolls, used his handle to create space for himself and time for his teammates to get to their spots, and showed poise in moving the ball at precisely the right time.
Through 16 playoff games this spring, Murray's averaging 27.6 points, 6.4 assists, 5.5 rebounds, and 1.6 steals while shooting better than 53% from 2-point range, 39% from deep, and 92% from the free-throw line. Not bad for someone who entered the season having missed 18 months rehabbing a torn ACL in his left knee.
​​"Just making reads, playing basketball," Murray said of Denver's flawless Game 1 offense. "Had nine days off, so I got to show off my left leg."
"Not all stars have chips on their shoulders, but I think they do," teammate Bruce Brown told theScore about Jokic and Murray. "Jamal's coming back from injury and trying to prove himself after he was counted out. Nikola, he probably didn't care much about MVP because he's a back-to-back MVP already, but he should've won again this year, so he's got something to prove, too."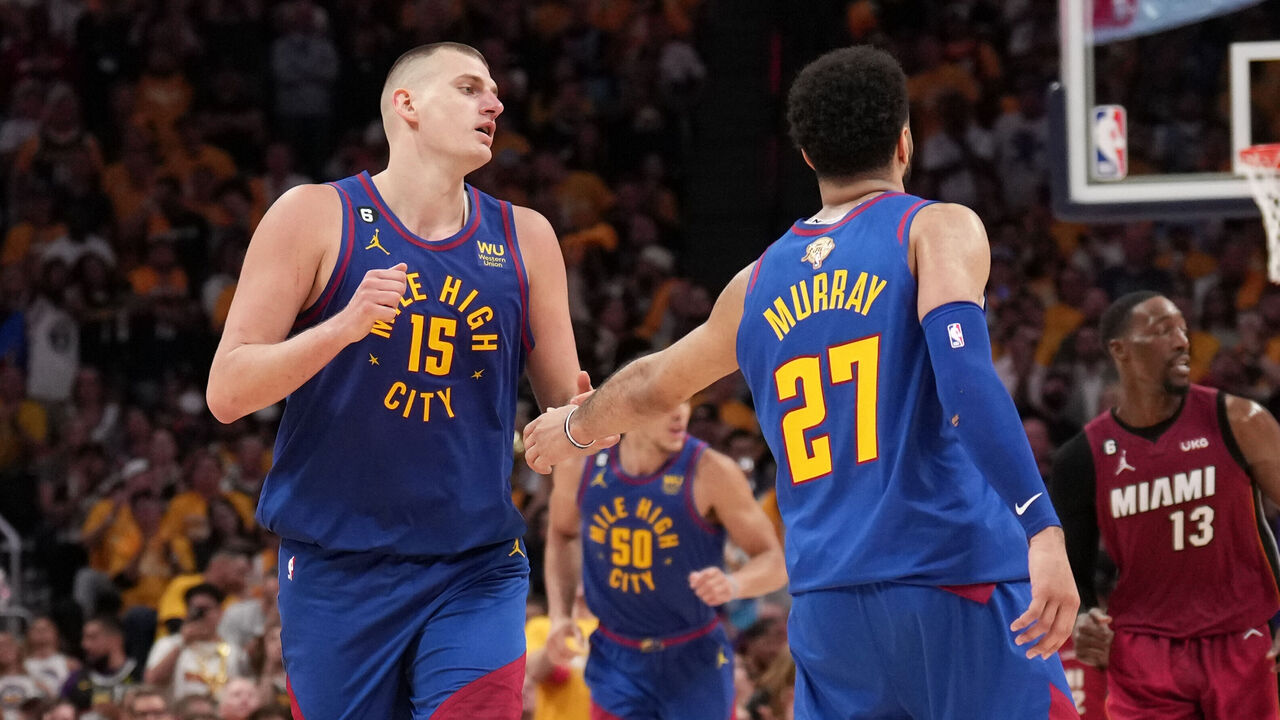 The truth is that while we lambast athletes for failing on the biggest stages, it's actually to be expected. As one neuroscience experiment at the University of Pittsburgh recently found, our brains are wired to choke. Given that information, we should be praising stars who simply manage to maintain their standard level of play when the chips are down. Even just that kind of consistency is rare enough.
What makes Jokic and Murray so remarkable is that they somehow manage to find a new gear when the stakes are highest. "They're both at their best when their best is needed," Heat forward and five-time All-Star Kevin Love told theScore.
Jokic averaged roughly 25 points, 13 rebounds, and eight assists over 14 games as a 24-year-old postseason debutant back in 2019. In only the third season of his partnership with Murray, the Nuggets got within one game of the Western Conference finals. Denver followed that up with a trip to the 2020 West final after rallying back from 3-1 series deficits against both the Jazz and Clippers.
In two playoff runs without Murray in 2021 and 2022 - which ended in a second-round sweep to the eventual West champion Suns and a first-round defeat to the eventual champion Warriors, respectively - Jokic averaged roughly 30 points and 12 rebounds on 61% true shooting to drag the shorthanded Nuggets as far as they could possibly go.
In this run to the 2023 Finals, Jokic broke a 56-year-old record previously held by Wilt Chamberlain for the most triple-doubles recorded in a single postseason. He also became the second player to ever average a triple-double in back-to-back playoff series. Between beating the Suns in the West semis and sweeping the Lakers in the conference finals, Jokic averaged roughly 32 points, 14 rebounds, 11 assists, a steal, and a block.
"That's probably the thing I marvel at most over his eight years, is how consistently great he has been," Malone told theScore before Game 1. "For him to do it every single night, that's a talent, that's a skill. Only historically great players are able to do it every night. To be averaging a triple-double in the NBA playoffs heading into the Finals, only guys named Wilt and Magic have done that in the past. He's up there with the greatest players of all time."
Murray's postseason excellence is becoming the stuff of legend in its own right, perhaps more so because he's a good-but-not-great regular-season player. Murray's never made an All-Star team in his seven-year career, but come April, May, and now June, few guards are better.
He shot the Nuggets past Utah with 152 points over a three-game span during a 2020 first-round series, becoming one of four players in history with multiple 50-point games in a single series. He posted back-to-back 37-point performances against the Lakers in this year's West final. He's one of only 31 players in history - and one of 11 active players - with five 40-point playoff games to his name.
Murray recorded those five performances in his first 35 playoff games. To put that in perspective: he has only four such regular-season performances over 410 games.
"It just seems like as the stakes get higher and the stage gets bigger, he embraces it. He doesn't shy away from that," Malone said.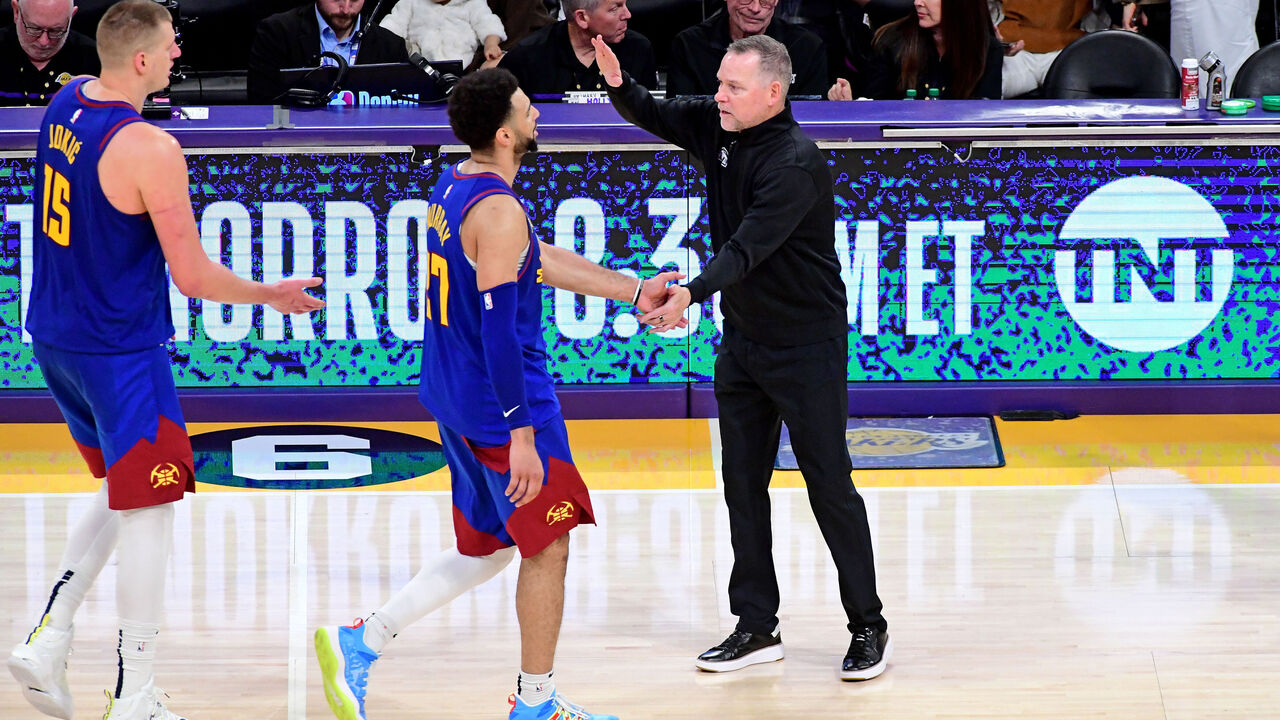 Add it all up, and the Nuggets entered the Finals having won six of the eight playoff series Jokic and Murray have teamed up for, taking down a boatload of future Hall of Famers in the process. The duo rallied back from a 3-1 deficit to eliminate a team led by Kawhi Leonard and Paul George. They ran a team led by Devin Booker and Kevin Durant off its own court in Phoenix. They swept a team led by LeBron James and Anthony Davis.
"I think more than anything, it's a mentality," Malone said of Jokic and Murray. "It's an inner belief that they have in themselves and their teammates, and they go out there and continue to show it and prove it every single night. That's why I'm just so excited to watch our team in these Finals," Malone added, a few moments before his two stars put on another mesmerizing show to open the Finals.
Veteran center DeAndre Jordan believes his teammates have been hardened by adversity. "I just think those guys are built for these moments," Jordan told theScore at Finals media day. "I think it's preparation but also the way that they're wired. Nikola's been a pro for years," Jordan said, noting Jokic's pre-NBA career in Europe. "He's played in hostile environments and been able to overcome different feats of adversity. Jamal has had to deal with an injury that deterred his progress, but he's fought through that."
Reggie Jackson, another veteran teammate, isn't at all surprised by Jokic and Murray's perennial postseason success, having seen the tireless work both put in behind the scenes.
"There's no such thing as leveling up," Jackson said at media day. "There's a great quote that '(Under pressure), you don't rise to the occasion, you sink to the level of your training.' The best players in any sport, the best at their craft usually last because they put the work in. You get to see the fruits of their labor, but you don't get to see their true excellence. These guys have been putting in the work all year, and it shows."
It certainly showed Thursday, and if history is any indication, there won't be any kind of drop-off Sunday, or when the series shifts to Miami.
Though it's their first time on this stage, there are few stars in history, and fewer still in the league today, who belong on it quite like Nikola Jokic and Jamal Murray.
Joseph Casciaro is theScore's senior content producer.