Deal or no deal? Porzingis makes sense for the Pelicans
Dustin Satloff / NBA / Getty Images
Welcome to Deal or no deal?, a series we're running ahead of the NBA's Feb. 9 trade deadline. Its purpose is to find sensible trade partners, both from a team-to-team and team-to-player perspective.
As a reminder, these aren't necessarily trades that have been reported or speculated about in the past, but rather trade scenarios we've come up with that we believe all parties involved should look into. We've already examined why the Lakers and Suns should talk about an Anthony Davis trade, and why the Pacers and Hawks should swap John Collins for Buddy Hield. Next up, a hypothetical Pelicans-Wizards deal.
Proposed trade
Pelicans receive: Kristaps Porzingis
Wizards receive: Jonas Valanciunas, Devonte' Graham, Jaxson Hayes, two 1st-round draft picks (one heavily protected)
Porzingis' trade candidacy is a fascinating study. On one hand, the Latvian big man is playing his best basketball in years. On the other hand, Porzingis' offensive profile is an awkward fit for many teams.
He's a giant but isn't a consistent finisher as a roll man. He's a solid yet unspectacular shooter when he pops. He can sometimes dominate his team's offense without the star impact that usually comes from such dominance. Compounding it all is that Porzingis is being paid like he does provide star value, with the one-time All-Star earning $33.8 million this season, which is among the top 25 contracts in the league.
But given his 2022-23 resurgence and injury history, Porzingis could decline his $36-million player option for next season to chase more long-term security in free agency. If that happens, he'd earn more guaranteed money than what's left on his current deal but likely end up on a contract with a salary better aligned to his current on-court impact. And if he does surprisingly pick up his 2023-24 player option, there's little risk in New Orleans acquiring a good but overpaid player with only a year left on his contract.
Teams positioned to win immediately should have more of a stomach for that risk, and of those teams, none make more sense than the Pelicans.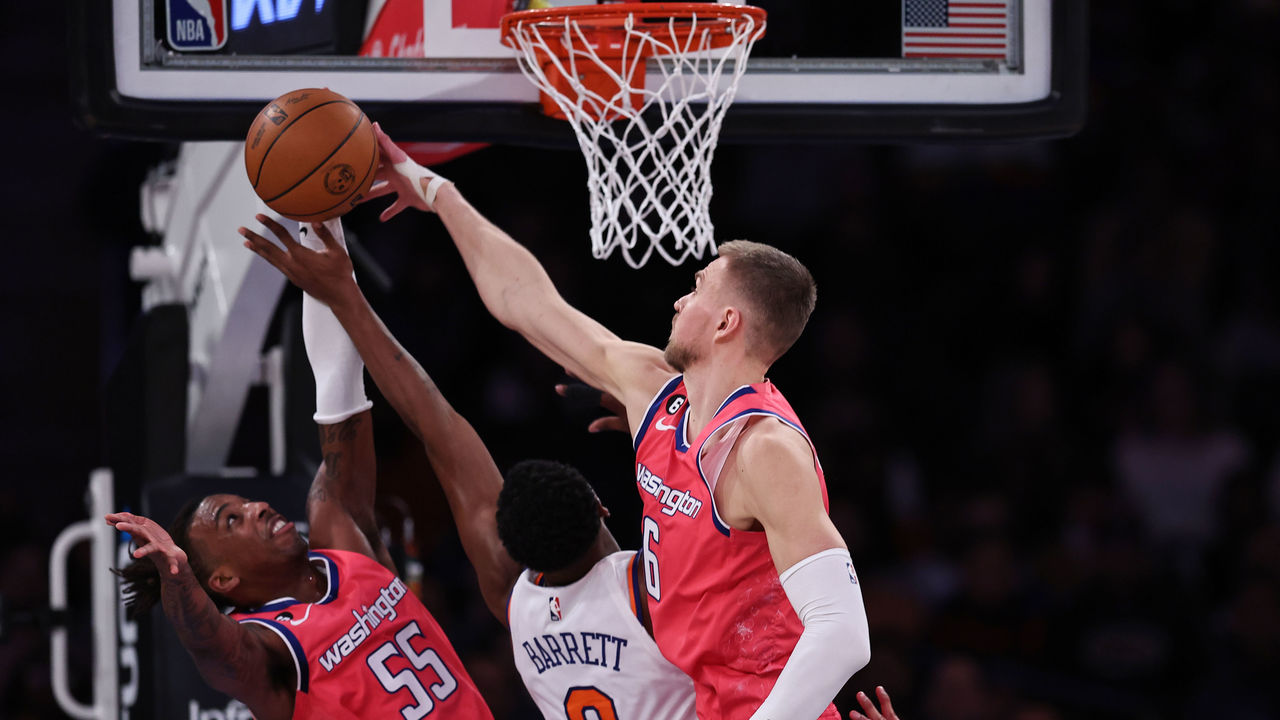 Though the Pelicans have tumbled down the Western Conference playoff picture recently with Zion Williamson out of the lineup, they're legitimate contenders at full strength. They could use a rim-protector, though. New Orleans' defensive scheme does a good job preventing opponents from actually getting to the rim, but it can't stop anybody who does manage to get there. Opponents are converting 70.5% of their attempts at the rim, the highest mark given up by any defense.
Porzingis' pick-and-roll defense can be exposed by more mobile big men, but he's once again one of the league's best help defenders and rim-protectors. Among the 161 players who've defended at least 100 shots at the rim this season, Porzingis ranks in the top 20 in defensive field-goal percentage (56.0%), just behind Myles Turner. Of the 120 players who've defended at least 500 shots overall, only four have had a more negative effect on opponents' shooting than Porzingis, according to NBA.com.
The only other players averaging at least 1.5 blocks and one steal per game are Joel Embiid, Davis, and Jaren Jackson Jr., with Porzingis able to consistently make defensive plays without over-fouling.
Porzingis would certainly boost New Orleans' defensive upside, and the presence of Larry Nance would still allow the Pelicans to match up with more versatile frontcourts. Given that it's New Orleans' offense that has actually fallen off, however, and that Valanciunas teams with Williamson to absolutely feast on the interior, it's fair to question whether Porzingis is enough of an upgrade to make this deal worthwhile.
I'd still wager that the answer is yes.
The Pelicans' offense could benefit from some variety, particularly when it comes to shooting and spacing from their bigs. Though Porzingis' 3-point percentage (34.8%) is rather pedestrian, it's still respectable enough to spread opposing defenses out, especially when combined with his 3-point volume (5.4 attempts per game).
Plus, it's not like Porzingis fails to bring the traditional offensive qualities of a behemoth. The 7-foot-3 center has been one of the league's most efficient post-up scorers this season, and he's getting to the free-throw line more than ever before. Porzingis has drawn fouls at an elite rate and is converting 82.7% of his attempts from the charity stripe.
The Pelicans would still be able to overwhelm opponents in the paint, Porzingis' spacing would better complement Williamson's interior domination, and his overall offensive abilities would provide New Orleans another weapon when Williamson is out of the lineup.
As a second or third offensive option, and on a versatile team that can already defend more mobile lineups, Porzingis could be a tremendous two-way addition. He's also only 27 years old, so it's not a stretch to imagine him continuing to grow with the Pelicans' impressive young core.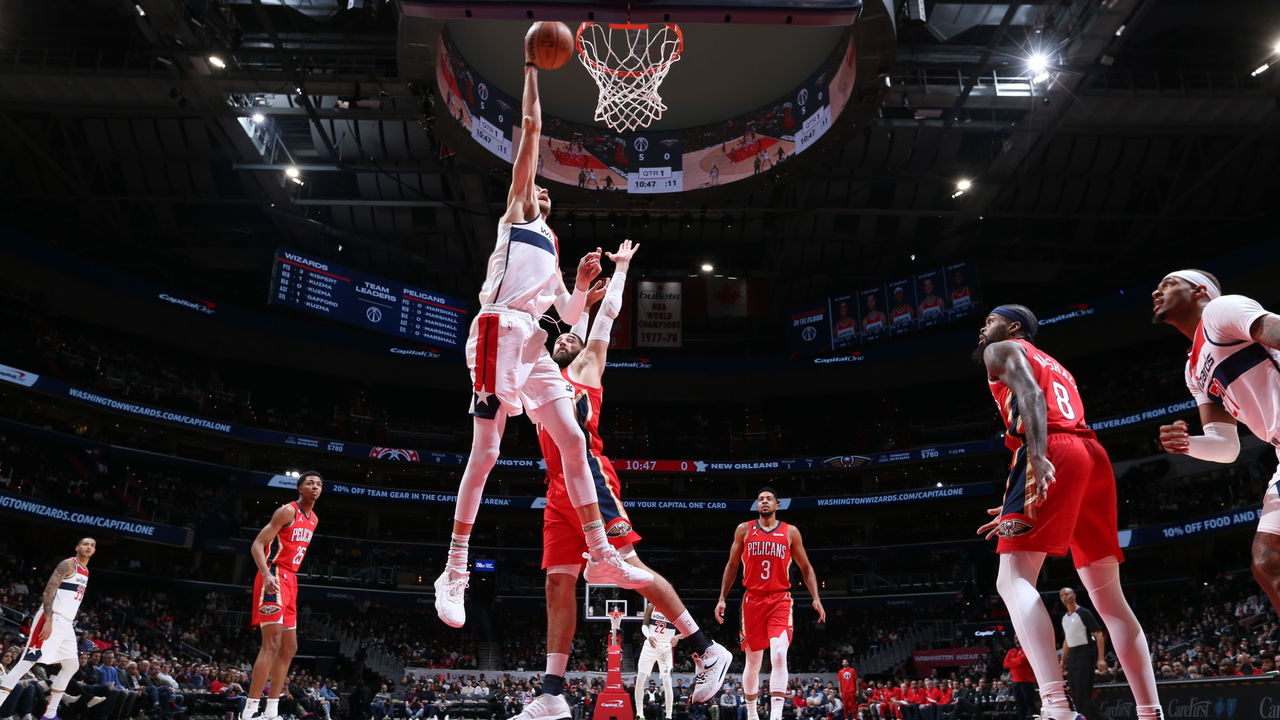 Thanks to previous hauls for Davis and Jrue Holiday, New Orleans has one of the NBA's most enviable collections of draft picks. The Pelicans could send multiple picks to Washington and still have more than enough leftover to get in the mix for a future star.
Meanwhile, the Wizards can only dream of such a treasure trove, but the franchise is notorious for chasing low playoff seeds rather than lottery odds. That's unlikely to change now that the Wizards owe Bradley Beal a quarter-billion dollars. In making this proposed trade, Washington could squeeze some future draft capital out of one of its big-money players (and potentially pending free agents) while remaining competitive this season with Valanciunas joining Beal and Kyle Kuzma.
The Wizards can also take a flier on Hayes before the young big man hits restricted free agency and squeeze an extra draft pick out of the Pelicans by taking Graham's contract off their books.
So, Porzingis for Valanciunas, salary filler consisting of Hayes and Graham, and a couple first-rounders, one of which could be heavily protected. Who says no?
Joseph Casciaro is theScore's senior content producer.
Comments
✕
Deal or no deal? Porzingis makes sense for the Pelicans
  Got something to say? Leave a comment below!