Deal or no deal? Pacers should make a play for John Collins
Ron Hoskins / NBA / Getty Images
Welcome to Deal or no deal?, a series we're running ahead of the NBA's Feb. 9 trade deadline. Its purpose is to find sensible trade partners, both from a team-to-team and team-to-player perspective.
As a reminder, these aren't necessarily trades that have been reported or speculated about in the past, but rather trade scenarios we've come up with that we believe all parties involved should look into. Our first entry in the series examined why the Lakers and Suns should talk about an Anthony Davis trade. Next up, a hypothetical Pacers-Hawks deal.
Proposed trade
Pacers receive: John Collins
Hawks receive: Buddy Hield, Jalen Smith, 1st-round pick
Indiana certainly doesn't have to rush things, but Tyrese Haliburton's star leap has fueled a surprisingly solid Pacers team that's too good to tank.
Rather than seeking trades that'd send the team free-falling down the standings to boost its lottery odds, Indiana's front office should aim to add to a promising young core. The Pacers should try to retain center Myles Turner and continue building around a foundation of Haliburton, Turner, and youngsters Bennedict Mathurin, Aaron Nesmith, and Andrew Nembhard.
Finding another forward - ideally a power forward - would round out that rising core nicely. Enter Collins, a young veteran at 25 years old whom the Hawks have reportedly had on the trade block for some time. Collins could use a change of scenery, is under contract through at least 2025, and represents the type of talent a market like Indiana would be hard-pressed to acquire via free agency.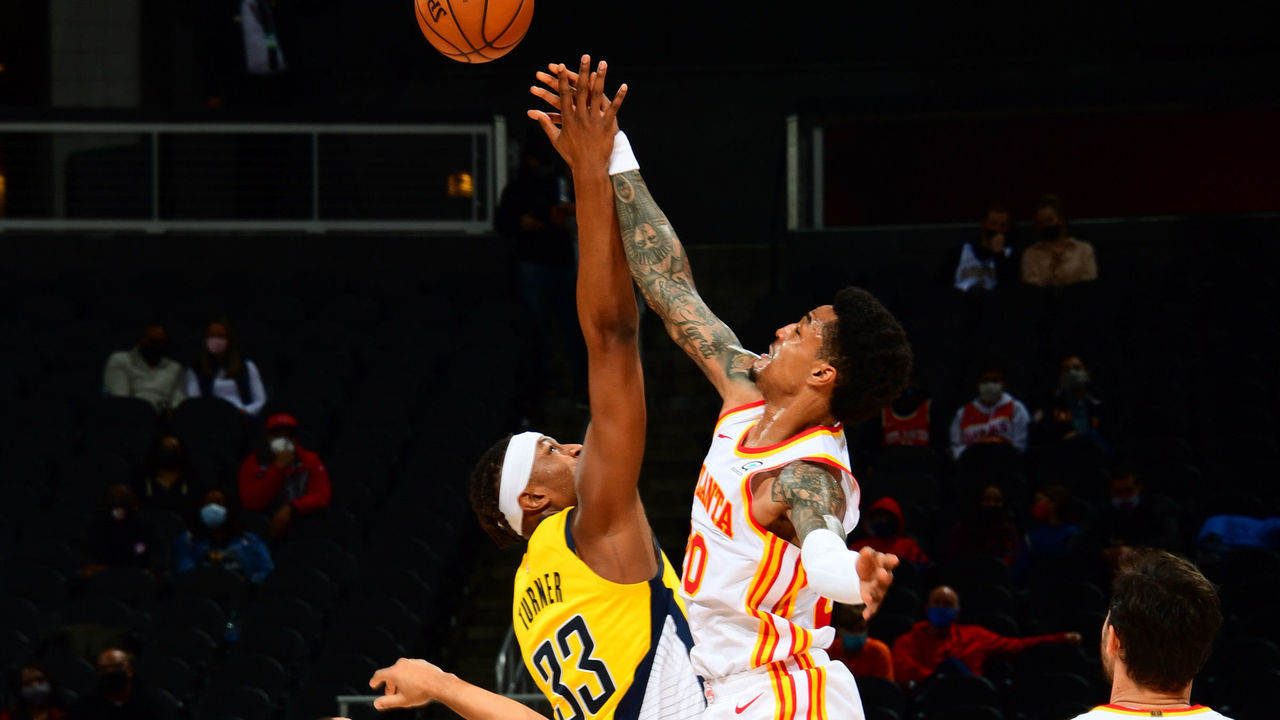 At an average annual salary of $25.1 million over the next three years, Collins' production in a supporting role could make him a bargain as the salary cap continues to rise.
After shooting better than 37% from deep through the first five years of his career, Collins' long-range accuracy has cratered this season (22.9%), and 3-pointers now make up a greater share of his overall shot diet than ever (31.7%). His increasing distance from the basket on the offensive end has also negatively affected his offensive rebounding, and his overall numbers this year leave something to be desired (13.3 points, 8.1 rebounds, 1.3 assists).
However, Collins is a lot better than those numbers suggest, and he could rediscover his offensive touch by sharing the frontcourt with a floor-spacing big man like Turner rather than centers like Clint Capela and Onyeka Okongwu. Collins' efficiency as a roller and post-up player, added to his experience with Trae Young, should make him a great partner for Haliburton. Though Collins is a 4 defensively and Turner thrives as a rim-protecting 5, they could almost fill opposite roles on the offensive end, with Collins - who's shooting 62.4% inside the arc this season - doing more of his work inside while Turner spreads the floor.
Collins is also an improved defender who's mobile enough to hang with agile big men but strong enough to bang with big bodies in the paint. The numbers match the eye test on that end, too. Among the 50 players who've defended the roll man in pick-and-rolls most often, Collins ranks 14th in limiting the efficiency of those actions. His block percentage of 3.9% ranks 13th, just ahead of Kristaps Porzingis, while ESPN's Defensive Real Plus-Minus ranks him as the eighth-best power forward.
In Collins and Turner, the Pacers would have a young frontcourt duo that provides an enviable combination of size, defense, shooting, rebounding, and versatility. Moving Hield and Smith would leave the Pacers with some financial flexibility, and Indiana would still have enough young talent and draft capital to get in the mix for a bigger trade should one present itself as the team continues its climb up the Eastern Conference in the coming years.
While losing Hield would hurt the Pacers' shooting, it'd also provide more immediate opportunities for Mathurin, Nembhard, and Nesmith; as a rookie, Mathurin is already looking like a Sixth Man of the Year candidate.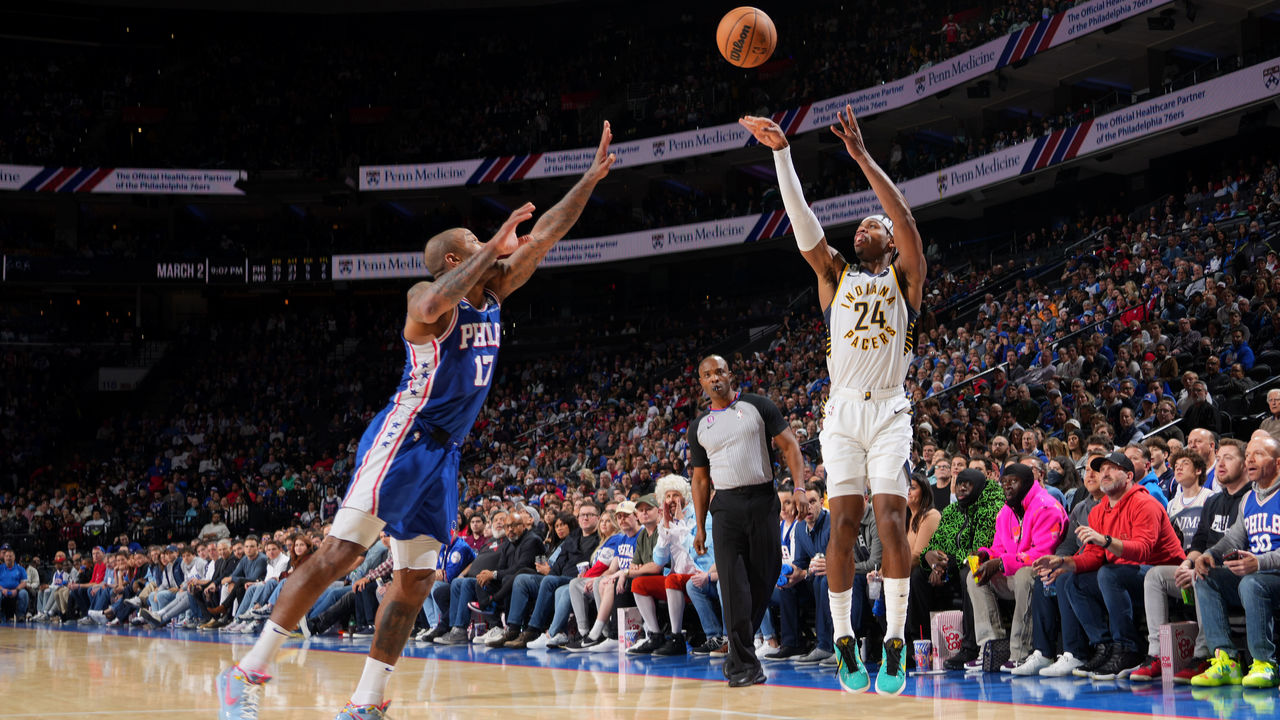 As for the Hawks, Hield would be the perfect antidote for an offense producing the fewest made 3-pointers per game (10.3) on the fourth-worst 3-point percentage (33.1%).
Hield is shooting 42.6% on nine 3-point attempts per game, with more than 63% of his shot attempts coming from behind the arc. Few shooters have been as effective over the last half-decade, and Young, Dejounte Murray, and the Hawks could use a veteran scorer who knows exactly what his role within the offense is (and sticks to it).
Though there'd be legitimate defensive concerns and the Hawks are already flush with guards, Hield could play the 3 beside Young and Murray, while his shooting in the backcourt could help stabilize bench units when one of those two rests.
Hield's also under contract for only $19.3 million next season, and his arrival would make Bogdan Bogdanovic's expiring deal more expendable. The Hawks could upgrade from Bogdanovic to Hield and perhaps even trade the former to recoup some draft capital.
As part of our hypothetical Collins-for-Hield swap, the Hawks could also take a flier on a young power forward with some upside in Smith and snag a first-round pick.
The only question would be which pick the Pacers could stomach parting with, and which pick Atlanta would settle for, as Indiana owns three first-rounders this June: its own, Boston's, and Cleveland's. The Hawks might prefer a pick in 2025 or 2027, years they're currently without a first-rounder due to their 2022 acquisition of Murray. Perhaps Atlanta can even talk the Pacers into sacrificing one of their 2023 picks and a protected pick in one of 2025 or 2027, although that feels a bit steep.
So, who says no to Hield, Smith, and a first-rounder (or two) for Collins?
Joseph Casciaro is theScore's senior content producer.
Comments
✕
Deal or no deal? Pacers should make a play for John Collins
  Got something to say? Leave a comment below!