Are the Clippers a sleeping giant or a paper tiger?
Winslow Townson / Getty Images
When the Los Angeles Clippers' current nucleus came together on a fateful July night back in 2019, it felt like a seismic event, and not just because it coincided with a literal earthquake in the L.A. area. By pairing the superstar wing tandem of Paul George and Kawhi Leonard - the latter of whom was just three weeks removed from a championship run that culminated in Finals MVP honors - the Clippers seemed to have radically altered the NBA landscape.
But three-and-a-half years into their team-building endeavor, they haven't done much to shape the league terrain. Three playoff series wins are all they have to show so far for the all-in moves that cost them Shai Gilgeous-Alexander and a half-decade's worth of draft capital, and their two stars have been on the court together for just 40% of the Clippers' games (127 of 314, including playoffs) since joining forces. They did end a 50-year franchise curse by finally reaching the conference finals in 2021, but that wasn't exactly the goal when this team was assembled.
Last year was a spirited but ultimately futile campaign, with Leonard rehabbing an ACL tear and George missing more than half the season due to an elbow injury. This season was supposed to mark the Clippers' return to the ranks of the contender class, with George healthy and Leonard rejoining a group that added even more wing depth in his absence. That may yet happen, but two-thirds of the way through the regular season, they're a middling 29-26, having outscored their opponents by a grand total of five points.
Their mediocrity owes in large part to the still-sporadic availability of Leonard and George, who have continued to miss big chunks of time with injuries and planned absences during back-to-back sets. Leonard struggled initially upon returning and has only rediscovered his burst and rhythm within the last month. But that doesn't fully explain the team's purgatorial malaise. The Clippers are frustratingly inconsistent - not just in terms of who plays from night to night but in the way they play, even at full strength. They can look like two completely different teams from one possession to the next.
They don't typically have a ton of offensive structure, but there are times when they at least create an organized brand of chaos, with movement and flow and simultaneous actions and zippy drive-kick-swing-relocate sequences. Other times, everything is sludgy and predictable; they give up on running anything after the defense stifles their initial action (if they even execute one), and four guys stand in place while someone dances or burrows with the ball before eventually settling for a contested look.
Their fall-from-ahead loss to the Bucks on Thursday night, in which they blew a 21-point third-quarter lead and went scoreless over the final four minutes, was a perfect microcosm of those maddening tendencies. They built up their big lead with crisp ball movement and an egalitarian approach - and then let all of that fall by the wayside in crunch time.
The Clippers had nine offensive possessions over those four scoreless minutes, and after crossing midcourt, they made six total passes (excluding inbounds) on those possessions. All but one of those passes started and ended above the 3-point line, and the lone exception was an entry feed to Leonard posting up Jrue Holiday at the nail. No one other than Leonard or George took a shot, and they went a combined 0-for-8 on almost exclusively isos.
Even when they ran a sensible action like the one above - an inverted empty-corner pick-and-roll to let George attack a weaker defender in Pat Connaughton - George dithered long enough to let the Bucks switch themselves right back out of that matchup without making any attempt to exploit the gap that let Reggie Jackson slip into a wide-open pocket on the wing. When Jackson came up to screen for him again, George rejected it and wound up air-balling a pull-up three with Holiday right in his face.
They often get better results than that, but the slow pace and penchant for one-on-one play are defining features of the Clippers' offense. They rank 25th in the league in average time to shot, including 29th after opponents' made baskets, per Inpredictable. They rank near the top of the league in isolation frequency and near the bottom in isolation scoring efficiency, per NBA Advanced Stats. Their passes create the fewest potential assists of any team. They rank 23rd in rim frequency. A lack of passing ability, downhill punch, roll gravity, and overall offensive synergy has resulted in a team full of uber-talented shotmakers ranking 24th in points per possession.
The passing issue is particularly pressing. George has registered the three highest assist averages of his career over the last three seasons, and he's made some meaningful strides in that department since joining the Clippers. However, he's still highly turnover-prone and has fundamental limitations as a de facto lead playmaker. That manifests not only in wayward passes but in missed passing windows.
Neither he nor Leonard is a particularly manipulative passer; both tend to telegraph their intentions, which can undercut even their best quick-hitting sequences, like this one against Denver's show-and-recover scheme:
On its face, that look like a pretty slick touch pass from Leonard, but a closer look shows why the Clippers didn't gain any advantage from it. Jamal Murray was the low man rotating to tag Ivica Zubac's roll, and he was closing back out to the corner before Leonard even released the pass because he knew exactly where it was going: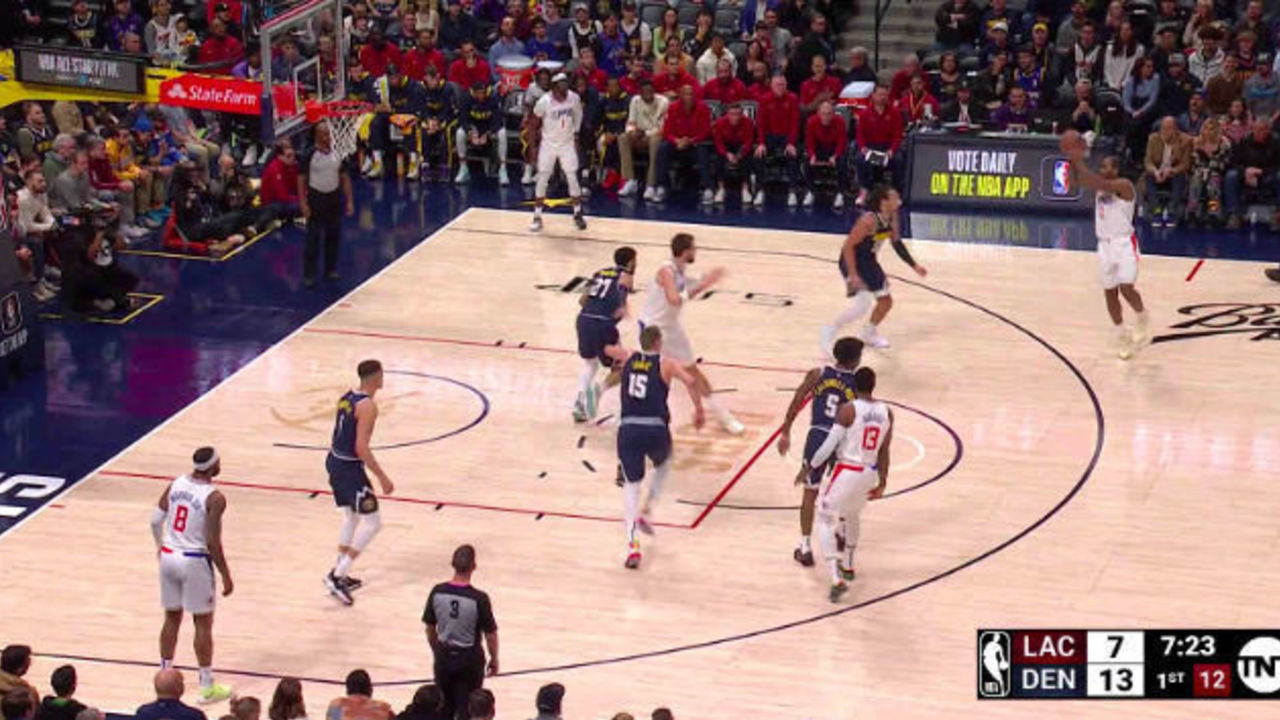 Had Leonard waited half a beat longer, he could've hit Zubac for an uncontested layup instead.
This isn't really his or George's fault - they're both still quality playmakers for their size and position - but the fact that so much of the playmaking load rests on their shoulders helps explain some of L.A.'s struggles.
Back on media day, George posited that the Clippers' wing-heavy team construction and their ability to deploy switchable five-out lineups might prove revolutionary.
"Our speed, our length, our athleticism, our individual defensive IQ, quick hands, quick feet across the board ... I think it's going to be a real problem," he said. "And then when we get a stop and we're going to the other end, if we've got personnel on the court that's all wings, it's tough for teams to guard that and match up against that. It really might (transform) the league, where the game might go to five-out wings on the floor. We could be the kind of team that other teams try to emulate because of the success we have doing it."
A few months later, L.A. is out hunting for a point guard and a big man ahead of the trade deadline. Turns out that having a pair of elite two-way wings isn't a substitute for the kinds of players that bookend traditional lineups. The Clippers need a facilitator who can help organize their offense, and they need more rim protection and rebounding behind Zubac.
Jackson was a sneakily big part of the conference finals run a couple years ago, but he hasn't come close to recapturing the shooting and driving magic he harnessed during that postseason, and his decision-making and penchant for ball-stopping are becoming untenable.
John Wall was a worthwhile gamble with the taxpayer mid-level exception, and he does offer a jolt of north-south juice and multi-directional passing for a team that was starved for it. But he also flings up a ton of 19-foot jumpers early in the shot clock despite being awful at hitting them. He doesn't finish well around the basket, hurts more than he helps on defense, and is now injured.
Meanwhile, Robert Covington's decline has given L.A. one less reliable small-ball center option, and while Nic Batum continues to fill that role admirably, it's hard to trust a 6-foot-8 34-year-old to anchor the back line in the playoffs.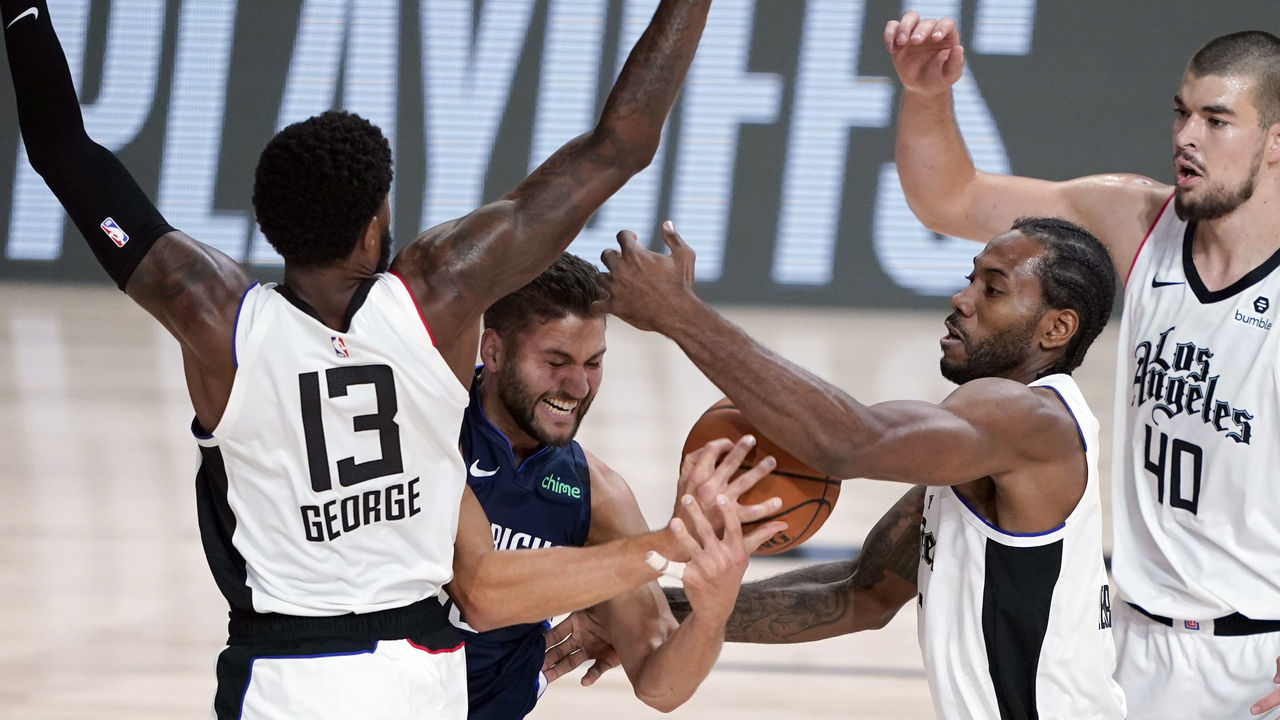 And still, for all that, the Clippers sit fourth in the West, tied with the third-place Kings in the win column. Even after their collapse in Milwaukee, they've won six of their last eight games, and Leonard is rounding into form in a way that should terrify the rest of the West.
Over his last 12 contests, he's averaged 28.6 points, 6.8 rebounds, 4.3 assists, and 1.9 steals on 67.3% true shooting, and that's including his 7-for-26 clunker against the Bucks. After looking tentative and sluggish early on, he's playing with Peak Kawhi-level force - chiseling his way to his favorite spots, embracing contact, and creating separation for his line-drive jumper, all while playing outstanding defense.
L.A. is 17-6 when both Leonard and George suit up and has outscored opponents by 12.3 points per 100 when the two share the floor, with offensive and defensive ratings (119.3/107) that would both comfortably lead the league. Ty Lue has removed Jackson from the starting lineup in favor of the stouter and more decisive Terance Mann, and things are starting to click.
The Clippers have managed to tread water all season because their defense has been exactly as good as their offense has been bad. (They've scored 112.1 points per 100 possessions, and conceded 112.) Leonard and George have set the tone on that end, but the infrastructure around them is strong.
Zubac is a quality drop defender who can really protect the rim and clean the defensive glass. Mann gets into opponents' jerseys and uses his hands extremely well as an on-ball defender. Marcus Morris has the strength to jostle with opposing bigs as a small-ball center. Batum requires a bit more help in those assignments, but he offers more as a back-line helper. Even sharpshooter Luke Kennard has defended solidly within the team scheme, despite his lack of athleticism and length.
The Clippers' switchability is both a boon and a crutch. When they do it well, they can really jam opponents up. Consider their final defensive possession against the Bulls from earlier this week, when they completely short-circuited Chicago's sideline out-of-bounds set while protecting a 3-point lead:
At the same time, they still give too many unnecessary soft switches that only serve to take their best man-to-man defenders off of their opponent's best offensive players with minimal resistance, a bad habit that's compounded by their lack of rim protection in Zubac-less lineups.
Teams know they're going to switch and use that tendency against the Clippers. Here, Holiday gets George switched off of him in exchange for Norman Powell (the worst defender in L.A.'s rotation) and promptly drives right through Powell, forcing George to step up and opening up an easy lay-down pass:
We see the Clippers' perimeter defenders gamely fight through screens when they're put in actions with Zubac, so they're obviously capable. It would be nice to see them keep that same energy when they go small and either fight harder to avoid switching or switch with a bit more physicality. As effective as their scheme can be in flattening out opposing offenses and keeping L.A.'s defenders from overexerting themselves, the general lack of activity with which they execute it contributes to them forcing turnovers at a bottom-five rate.
So, what exactly should we make of this Clippers team? They clearly have a high ceiling, but it's unclear whether they have the focus or connectivity to reach it and stay there for an extended stretch. The next few weeks should tell us a lot.
Thursday's trade deadline offers one last opportunity to address their obvious roster needs, and while there are reports that the front office is intent on holding onto Mann, it would be a mistake to make him a sticking point. While Mann is energetic, low-maintenance, and eminently useful, he's also a complementary wing on a team that's stocked with them. He's the closest thing the Clippers have to a prospect, but at 26 years old with a career 15% usage rate, it's not like he's teeming with upside. This organization can't afford to get precious after sacrificing so much to assemble a present-day contender.
Deadline upgrades or not, the Clippers have a chance to prove they still belong in the championship conversation. The winnable game they just punted away in Milwaukee was their first of 13 straight games against teams with .500-or-better records, and the loss dropped them to 8-21 against such teams on the season. Fortunately, the next 11 of those games are scheduled on non-consecutive days, meaning Leonard and George should theoretically be available for all of them.
If we're ever going to get a glimpse of what this team is really made of, now is the time.
Comments
✕
Are the Clippers a sleeping giant or a paper tiger?
  Got something to say? Leave a comment below!