Appraising the adventures of Kyrie and Klay
Andy Lyons, Theron W. Henderson / Getty Images
Last week was a banner one for long-awaited NBA returns, with Kyrie Irving finally rejoining the Brooklyn Nets as a still-unvaccinated part-time player, and, four days later, Klay Thompson taking the floor in Golden State for the first time in 31 months. The proximity of the two season debuts to each other made the contextual and emotional contrasts between them all the more stark.
One had been sidelined due to hard-luck circumstances beyond his control, the other due to a fraught situation that he held the power to resolve. One returned in front of a frenzied home crowd, the other in a largely indifferent road environment. Thompson's return offered a glimpse into what the Warriors might look like for the rest of the season (though Draymond Green's absence complicated that picture), while Irving's was a snapshot of one of two versions of the Nets, the road-only iteration that would feature his dizzying dribble moves and stop-on-a-dime transition pull-ups.
You didn't expect much on-court awkwardness in reintegrating the two players because Thompson and Irving are both plug-and-play, though for entirely different reasons: Thompson because he thrives without the ball and never gets in anyone's way, and Irving because his individualist stylings and iso scoring brilliance make the concept of folding him into an offensive system practically irrelevant. Interestingly, it's Thompson who's really asserted himself as he looks to recapture his rhythm, posting a gargantuan 37.4% usage rate in his two games back. (Irving's has been a comparatively modest 25.2%.)
Now that both of them have played multiple games, let's check in on how they've looked, and how they project to help their title-contending teams from here:
Kyrie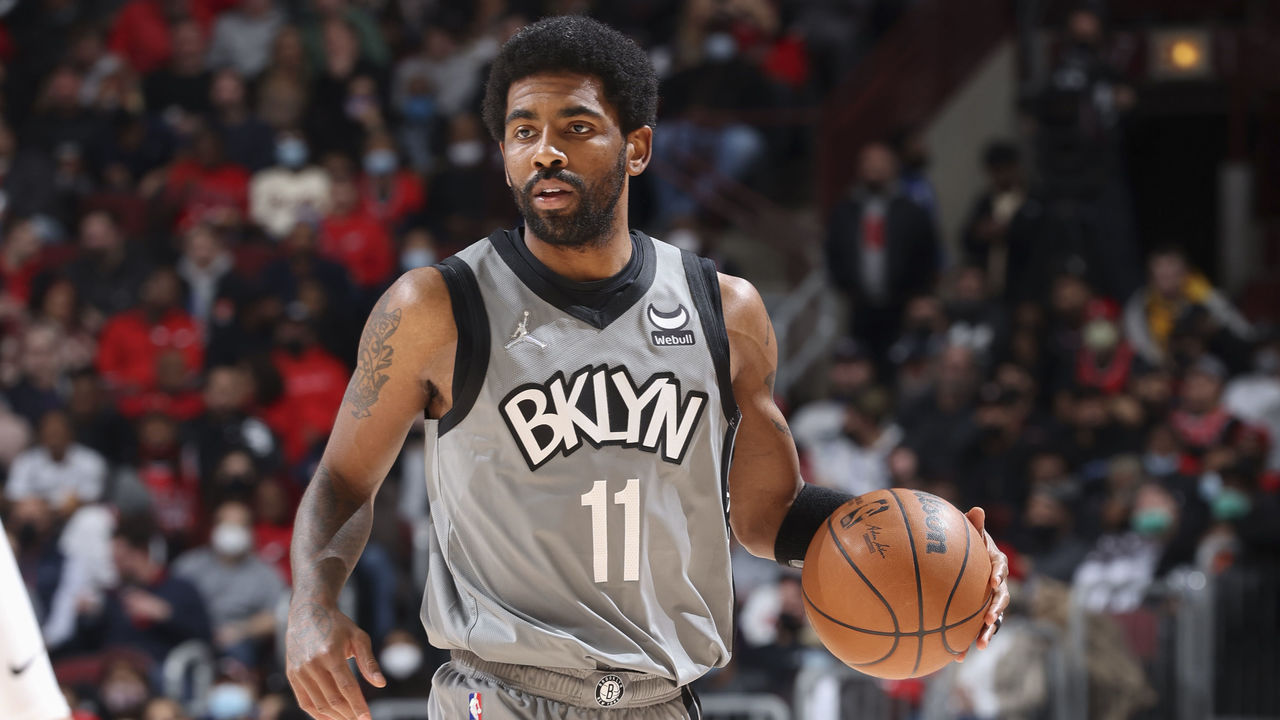 Irving has shown some rust and struggled a bit with his jumper, but he's been able to leap back into the fray without much stylistic disruption for him or the Nets. That speaks as much to Brooklyn's lack of flow this season as it does to the team's adaptability. The Nets' offense was the most efficient in NBA history last year, but it's been surprisingly choppy this season. They ranked 13th in offensive efficiency heading into Irving's debut last Wednesday, and with Kevin Durant and James Harden still aboard - two of the greatest scorers in history - you would've expected far better even in light of Kyrie's absence.
Irving's offensive output has been pretty unremarkable by his standards so far (17.7 points on 52.8% true shooting, 4-of-13 from distance, just 11 assists against seven turnovers) but his mere presence on the court next to his superstar teammates has had an amplifying effect. He juices Brooklyn's spacing just by standing on the perimeter, which is crucial for a team that, in the absence of Joe Harris, was extremely light on shooting outside of Durant, Harden, and Patty Mills, ranking 25th in the league in 3-point attempt rate and 17th in 3-point percentage.
Irving's also injected the team with some much-needed pace and open-court verve. The Nets have run more frequently and scored far more efficiently in transition with him on the floor, according to Cleaning the Glass. All told, they've registered a 120.1 offensive rating with him on the court, compared to 110.6 with him off.
Simple actions in which he screens for Durant almost always produce good looks because defenses have to decide whether to switch a guard onto Durant or send two to the ball and let Irving slip into open space. All the better if those actions can get Harden involved as well. It's still rare to see him take catch-and-shoot jumpers, but it's a more common sight when Irving's on the floor:
Irving's own shooting might take some time to come all the way back. He looked reluctant to hoist threes in his first game, record-scratching out of clean looks or passing out of them immediately, before airballing his first attempt late in the third quarter.
For now, he feels a bit disconnected from the Nets offense as a whole. He's isolated on 23.2% of his possessions - a lot even by Irving's standards - and scored only 0.62 points per possession on those isos. He's looked off the roll man just about every time he's run pick-and-roll. And when he's passed the ball, he's committed some pretty ugly turnovers, most of them due to lack of familiarity with his teammates.
You'd like to think those issues will sort themselves out with more reps, but with Irving only eligible to play in 19 games the rest of the way, that's far from a certainty.
Still, Irving garners a ton of respect as a pull-up shooter whether he has it going or not, and his ability to draw multiple defenders to the ball tends to create good shots even when he struggles individually. Against the Bulls on Wednesday, the Nets had their big three intact for the second time this season and just the 16th time since Harden was acquired a year ago. Not coincidentally, their offense looked as good as it's looked since last year's postseason, even as Irving scored only nine points on 4-of-10 shooting.
The defensive end of the floor is another matter. The Nets have actually maintained a top-10 defense all season, but it's been powered in large part by opponent shooting luck and it all felt unsustainable even before the reintroduction of Irving's inattentive proclivities. To his credit, he's made some high-effort plays at that end of the floor, but he's also been plagued by miscommunications and late low-man rotations that have left Brooklyn vulnerable on the back line:
The Nets' big bet, as it was last year, is that their offense will be potent enough to offset any defensive struggles. It's a decent bet; the level of self-creation and shotmaking ability possessed by their three stars is overwhelming enough to make the Nets a serious title threat no matter what red flags present themselves. But negotiating that balance will be a lot trickier if Irving remains a part-time participant.
Klay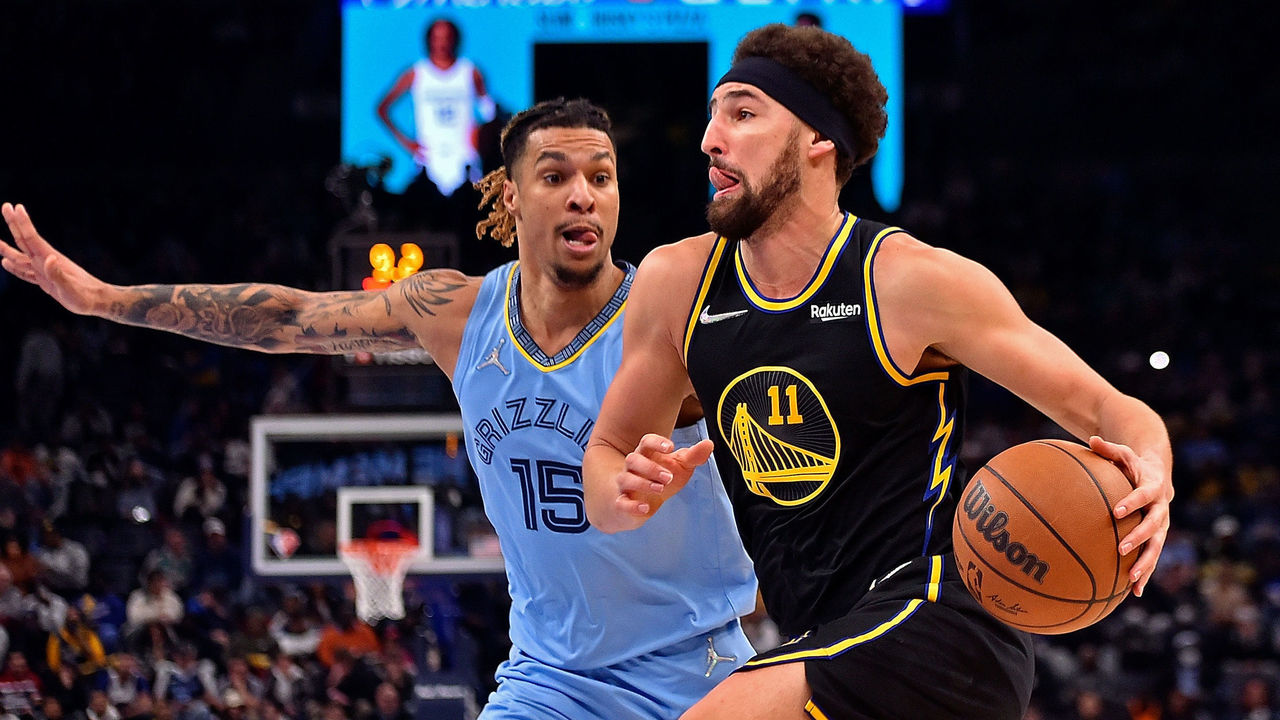 The Warriors' first offensive play of Thompson's first game since the 2019 Finals was a wide pindown for him coming out of the left corner. Thompson curled around the screen, knifed into the lane, and hit a running floater. It was a harbinger of things to come, both in terms of Golden State force-feeding him the ball and Thompson showing no trepidation about attacking downhill.
Thompson's quick trigger on spot-up jumpers has been a welcome addition to the Warriors, who've quietly struggled offensively in recent weeks in part due to their penchant for overpassing. But one of the most surprising aspects of Klay's return so far is the burst he's shown off the dribble and the regularity with which he's gotten into the teeth of the defense, despite the fact that doing so has never been a big part of his game and he's coming off consecutive devastating lower-body injuries.
So far, 47% of his shots have come either at the rim or from floater range, which would represent by far the highest proportion of his career. He's driving the ball an average of 7.5 times in just 20 minutes a game, or about three times as frequently as he did when we last saw him. One of those drives saw him blow the roof off of Chase Center by throwing down on two Cavaliers in his season debut.
Despite that jaw-dropping dunk, there have been moments where it seems like Thompson's lift isn't quite there, and he's consequently struggled to finish on those occasions in which he drives into the lane. (He's shot just 43% inside the paint.) But the positive indicators have far outweighed the negatives so far.
That's true at the defensive end of the floor, too. It helps that the Warriors can shield him (at least for now) from the toughest perimeter assignments, which instead go to Andrew Wiggins and Gary Payton II. Thompson has been stashed on lesser threats, mainly those that take him up the positional spectrum.
He's generally looked good defending bigger players, using his strength to deny them deep position and avoid getting bumped off his spot on drives. He had a couple of spirited grapples with Evan Mobley in the post during the Cavs game. This possession from the game against Memphis also stood out, with Thompson switching twice in quick succession before stoning Jaren Jackson on a drive and getting a hand on his kickout pass:
When given the opportunity, particularly in the Memphis game, he also showed he still has the footwork and lateral agility to hang with shifty perimeter players like Desmond Bane and even Ja Morant:
Meeting Morant just below the level of the screen, then turning your body and staying with him on the drive when he crosses over and attacks the front foot takes a mighty quick and balanced change of direction. Ask Wiggins, who got cooked by that same cross - albeit on a better-spaced floor - on Morant's game-icing layup late in the fourth. Thompson managed to stay in front and wrench the ball away (with an assist from a trailing Payton) for good measure.
It's early yet and the stints have been short, but Thompson's footwork doesn't seem to have slipped much, if at all. The Warriors have allowed just 95.1 points per 100 possessions with him on the floor. The mere fact that they can get his shooting and off-ball gravity on the floor without taking anything away from their league-best defense is massive.
All of this will only get more fluid over time, and should get easier for him at both ends when Green returns. On top of providing another massive safety net on defense, Green can create better shots for Thompson at the offensive end with his crafty screening and pinpoint passing from the top of the floor. In all but one of his NBA seasons, Thompson's effective field-goal percentage has improved (in many cases significantly) with Green playing next to him.
We still need to see if he can scale this production up to a higher minutes load, but it's safe to say the Warriors have added a huge piece to what was already looking like a pretty convincing title case.
Comments
✕
Appraising the adventures of Kyrie and Klay
  Got something to say? Leave a comment below!