Raptors' recipe for success: Take the ball away, and don't give it back
Mark Blinch / Getty Images
In hindsight, it sure seems like the Toronto Raptors were simply picking who they believed to be the best player available when they zagged against conventional wisdom on draft night. At the time, though, the controversial decision to select Scottie Barnes ahead of Jalen Suggs appeared to be a philosophical choice, one that revealed the type of team the front office wanted to construct as it looked toward the future.
That plan was further consolidated when the Raptors picked Dalano Banton - another oversized ball-handler with a questionable jumper - in the second round, and acquired hyperkinetic big man Precious Achiuwa in the sign-and-trade for longtime franchise point guard Kyle Lowry.
The Raptors are now in the midst of the league's most unique team-building project. They haven't quite punted on shot creation and individual scoring, but they certainly haven't prioritized those things to the same extent that most other teams have. Instead, they've focused on stocking themselves with long, positionally ambiguous, defensively interchangeable athletes who thrive in chaos but often struggle to create within the ordered parameters of set defenses.
You can disagree with that philosophy, but you can't deny there's a clear and coherent vision behind what Toronto is doing. This is a team built to carry out coach Nick Nurse's hyper-aggressive defensive scheme, and mitigate its offensive shortcomings with speed, smarts, and physicality. Eight of its 10 regular rotation players stand 6-foot-7 to 6-foot-9, and a ninth (Yuta Watanabe) should soon join the fray. No one on the roster is taller, and the two rotation players below that threshold - Fred VanVleet and Gary Trent Jr. - are two of the most aggressive point-of-attack defenders in the league.
In the absence of spacing, half-court advantage creation, and pure shotmaking ability, the Raptors have gotten resourceful in their efforts to patch together a positive scoring margin. They've done so, by and large, with one neat trick: making sure they get way more opportunities to score than their opponents do.
To wit: the Raptors miss a lot of shots, but they also recover a ton of their own misses, ranking first in the league in offensive rebound rate. Meanwhile, their help-conscious, strong-side-flooding defense forces a ton of turnovers, and they themselves are one of the league's best teams at protecting the ball. Add it all up, and Toronto is averaging 8.3 more field-goal attempts per game than its competition, by far the biggest differential in the league.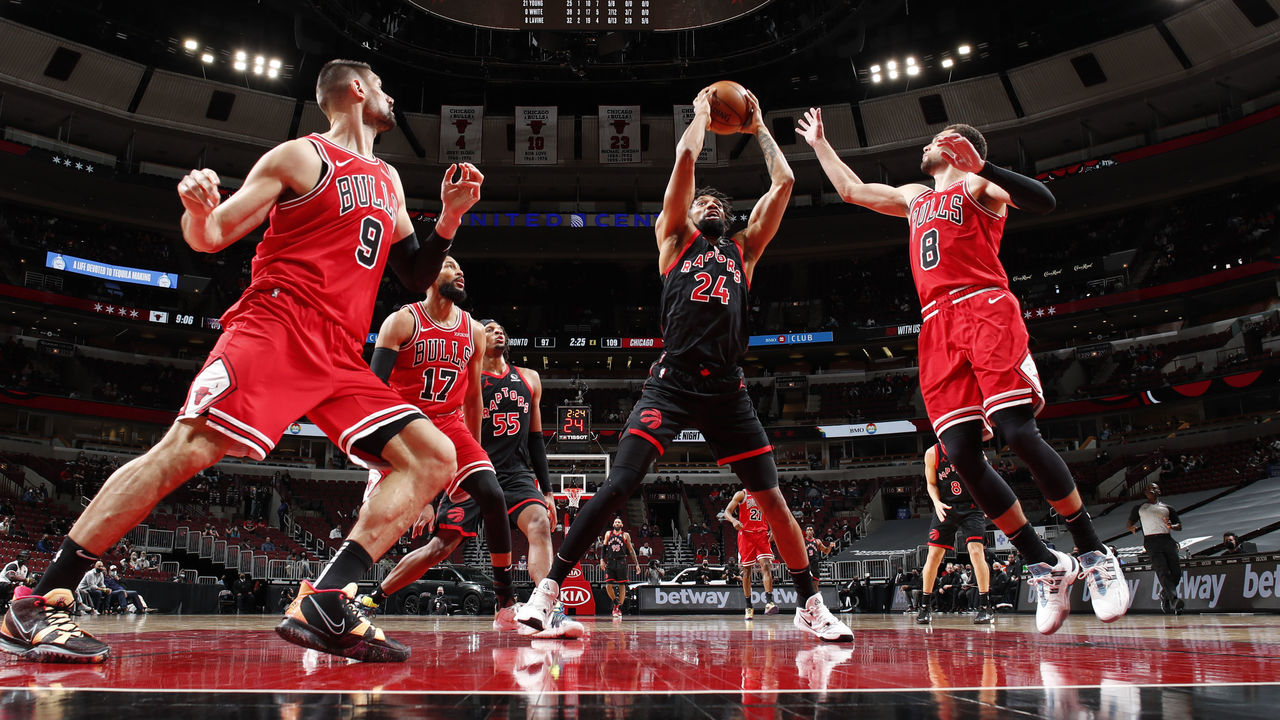 That edge was actually plus-11 before Khem Birch, the team's best offensive rebounder, was sidelined with a knee injury this week. Only two teams in NBA history - the 1990-91 Nuggets and 1997-98 Celtics - have created such wide gulfs over a full season, and in both cases, the divide was partly explained by enormous negative free-throw disparities (minus-9.6 for the Celtics, minus-eight for the Nuggets). The Raptors are attempting just 1.3 fewer freebies than their opponents, so their field-goal attempt differential is mostly representative of their overall shooting possession advantage.
That advantage is the reason they've been able to produce a league-average offense and plus-1.6 net rating despite ranking 26th in both true shooting percentage and first-shot efficiency in the half court.
"We're always in a possession battle, right?" Nurse said last month. "So, just making sure we get more is always our No. 1 goal. Whoever has more possessions, more shots, is a huge determinant in winning. So, yeah, I would like the differential to be the focus."
Nurse said the Raptors' goal is to be plus-five in shooting possessions.
"Most of the analytics say that once we get to that number the chances of winning improve greatly," he said.
Through 13 games, the team is far outpacing that objective. I asked Nurse earlier this week if, in light of that fact, he's disappointed to be only one game over .500.
"Well, you can't just throw everything into one side of it," he said. "I would imagine there's some other glaring statistic that's sticking out in some of those games that we're losing that balances it the other way."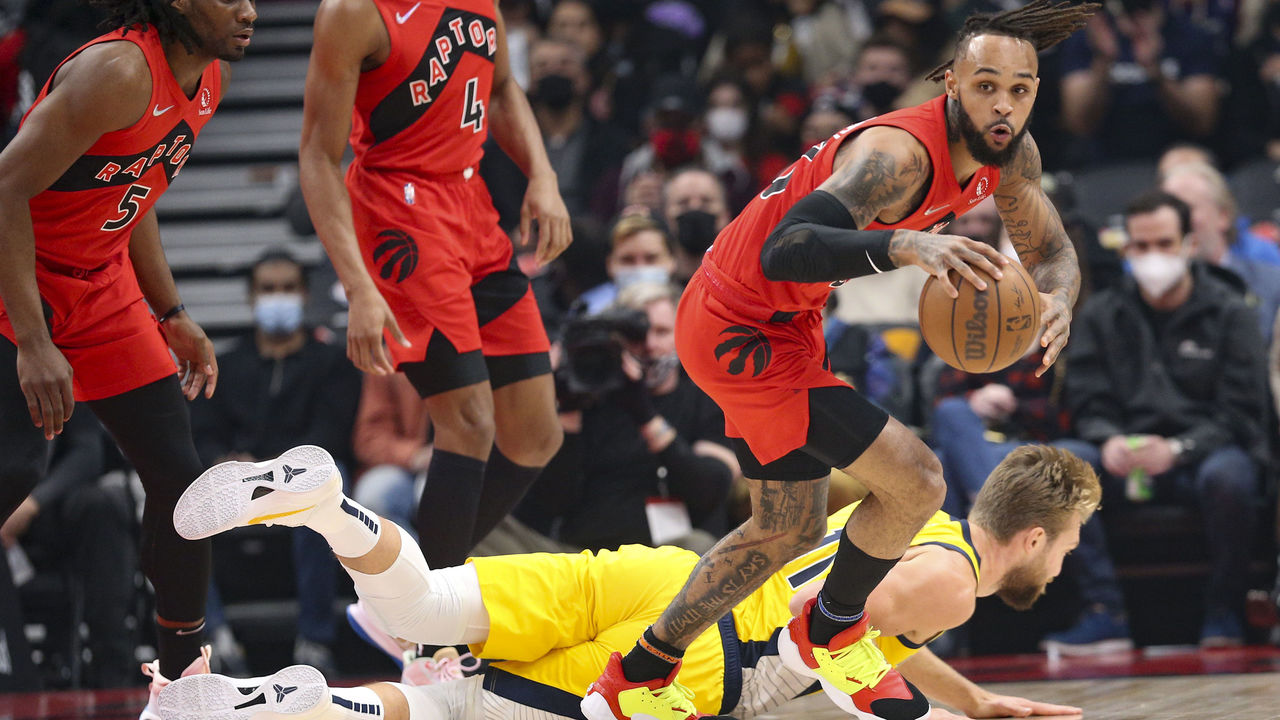 Indeed, Toronto's brand of basketball is high-risk, high-reward. Steals are a valuable commodity, particularly for a team that relies so heavily on its ability to create transition chances off of live-ball turnovers. But jumping passing lanes, double-teaming the post, and pinching on drives as aggressively as the Raptors do can have downsides. One is that they send opponents to the free-throw line at the league's seventh-highest rate. Another is they surrender a ton of threes, especially from the corners.
This season, 13.1% of the field goals the Raptors have conceded are corner threes. That's the second-highest rate in league history, trailing only the mark they set in 2019-20. (They've actually been fairly fortunate on those shots so far, as their opponents have hit just 35.4% of them, down from 41.5% last season.) The Raptors' scheme is designed to pull help off the corners anyway, but those profitable shooting zones have been left particularly naked due to the many occasions in which would-be pickpockets have lunged 10 or 15 feet out of position, forcing desperate rotations behind them.
Trent is unquestionably the Raptors' biggest gambler, which is why he leads the team (and ranks second in the league) with 2.5 steals per game. But even VanVleet and OG Anunoby, All-Defense-caliber stoppers who typically play with a bit more discipline, have gotten burned for overzealous steal-hunting.
The Raptors are aware of the risks inherent in their high-wire defensive approach, but they don't seem to have any intention of scaling back the aggressiveness.
"There's some times when I might see (a steal opportunity) and be like, 'I don't even got a chance, but I'm still gonna go for it,' because I think I can make something happen," Trent told theScore. "Even if I go for it and I miss, I'm gonna go back again next play if I feel like I can get it."
Trent explained that these are typically calculated gambles, and his willingness and ability to make them is informed by a great deal of preparation.
"It's just (about) the in-game scenario - the situation, the play," he said. "Our coaching staff does a terrific job. Sometimes when we're at the free-throw line we call out other teams' plays, so you already know what's coming, you already know how a guy's about to come off a screen, you know how you can jump it. So, it's really just doing your homework, knowing the plays, listening in on shootaround, that type of thing."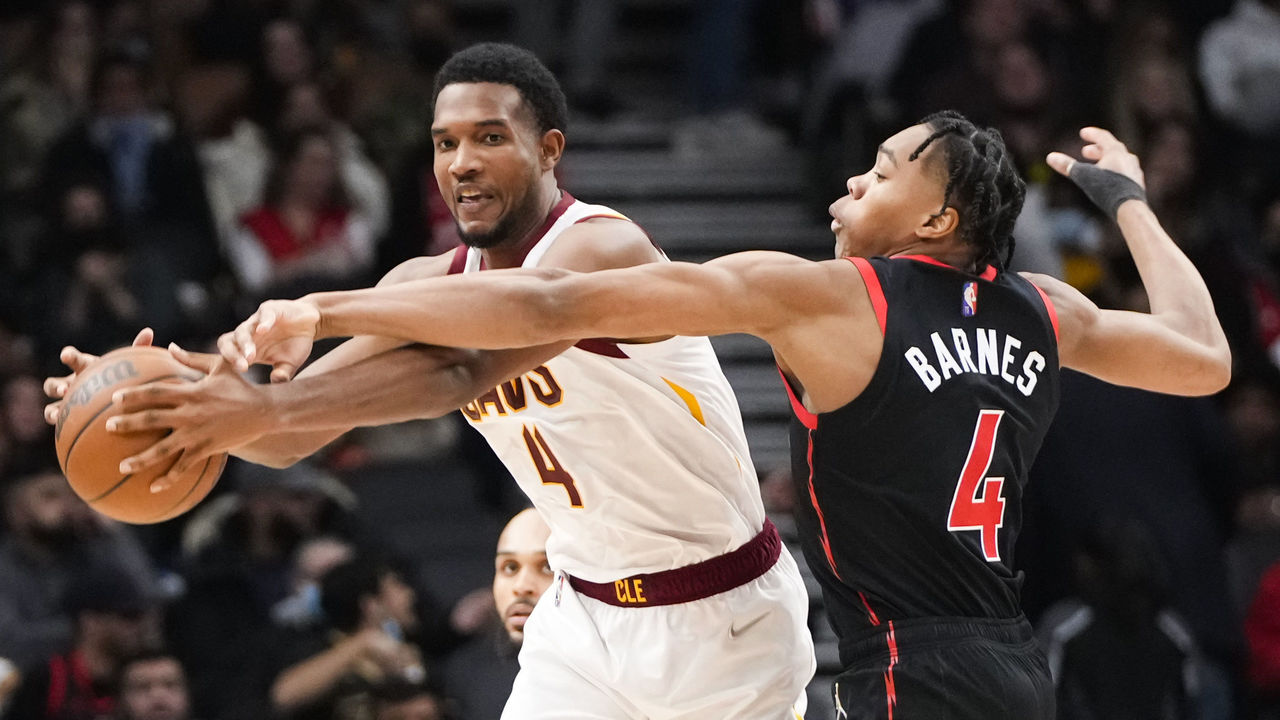 Nurse has similarly held firm on those aggressive principles even when they've appeared to backfire. One particularly notable instance came in a narrow defeat to Cleveland last week, when the Raptors forced 19 turnovers but also whiffed on several steal attempts and consequently blew a late lead.
"I can think of three or four where we gambled and really paid for it. Like, really paid for it," Nurse said after the game. "But they were really close to going the other way, and that's the fine line you're walking when you're playing so aggressively. We're gonna have to live with that sometimes, and hope that they don't just make us pay immediately and in such a big way, that maybe they'll miss a shot or someone will throw it away or something like that. But that's kind of the price you pay once in a while for being super aggressive. I think I can live with that."
If anything, Nurse believes the Raptors have left some opportunities on the table by being too conservative at points, particularly when facing isolation-heavy teams like the Brooklyn Nets and Dallas Mavericks that gave them fewer opportunities to pick off passes.
"I didn't think we were aggressive enough against Brooklyn," he told theScore. "Because they're just not passing, they're playing iso basketball and standing there dribbling it, and unless you're gonna take it from (James) Harden, you're not gonna create anything unless you send some kind of scheme at him. And I'm not very happy with myself that I didn't try to do something more to create more. And I would say the same thing about (Luka) Doncic in the Dallas game."
Perhaps that exasperation is shared by coaches who've faced Nurse's squad this season. After all, Toronto ranks 29th in the league in assist rate and 24th in passes per game, and though that may not translate to beautiful free-flowing offense, it's a good way to avoid giving the ball away. It's a big reason the Raptors, who rank third in the league in generating takeaways, also rank third in preventing them. In short: they excel at stealing the ball, and then keeping it.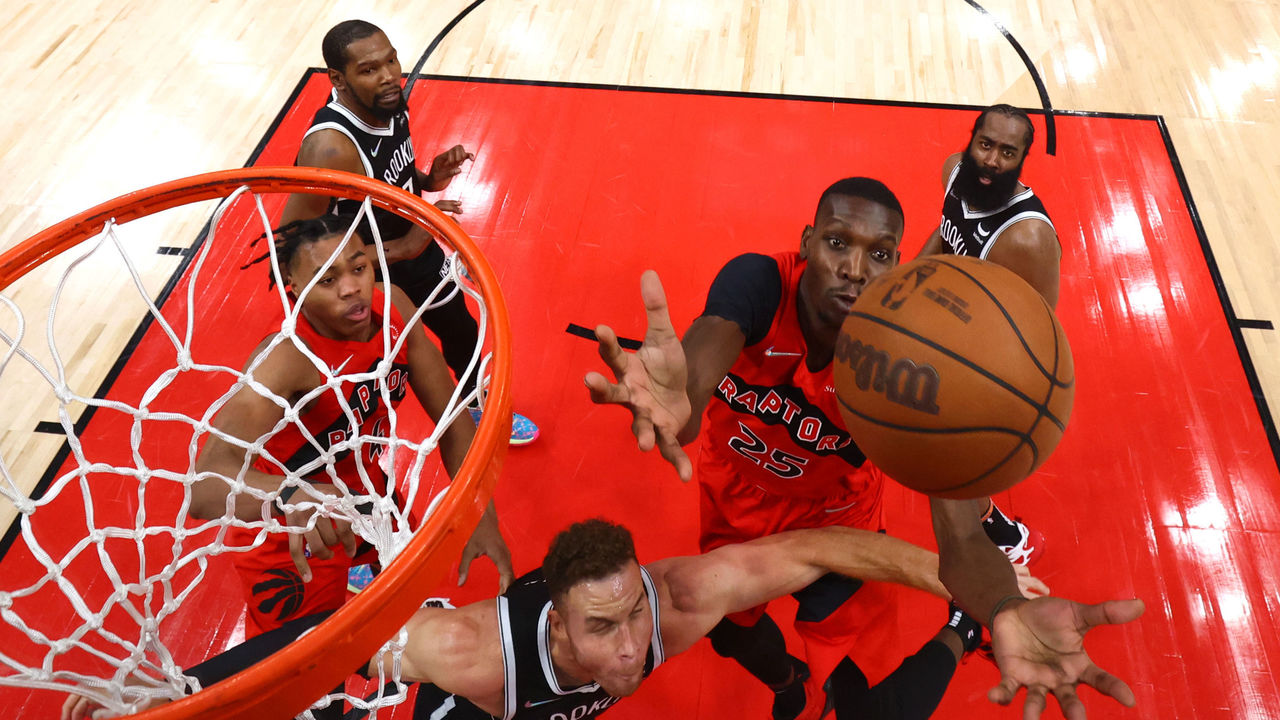 On top of ball protection, Toronto's ability to retain possession owes a lot to its extraordinary second-chance creation, with Birch and Barnes leading the way. Though the Raptors are small at the center position, they're huge on the wing, and they're leveraging that size advantage by having their wings crash hard.
That tactic is also a way to turn their lack of spacing into a subtle advantage. The Raptors don't have many 3-point threats, and they're particularly averse to launching from above the break. Only three teams attempt a lower rate of non-corner threes, according to Cleaning the Glass.
Their court geometry is such that at least three and sometimes even four players are stationed below the free-throw line, and at that point hitting the glass becomes a matter of course. Part of that geometry is that Toronto makes prominent use of the dunker spot, particularly with Barnes, whose timing and explosive second jump make him an absolute handful on the boards.
What's especially impressive is how little the Raptors sacrifice in pursuit of those second-chance opportunities. Conventional wisdom suggests that sending bodies to the offensive glass will compromise a team's transition defense, but the Raptors are the NBA's best team at limiting opponents' fast-break opportunities. Only one team has led the league in both categories since the 2003-04 season, which is as far back as the Cleaning the Glass database stretches.
While the inverse correlation with transition suppression isn't quite as strong as you might expect, the teams that led the league in offensive rebound rate over those 17 seasons had an average ranking of 18th in opponent transition frequency. (Those mid-2010s Thunder teams were truly ridiculous.)
More astounding still is the Raptors have specifically done the best job of matching up after missed shots. Following defensive rebounds, no team forces opponents to eat more clock before getting a shot up at the other end, according to Inpredictable.
"We play hard, we cover for each other, we play together," Achiuwa told theScore. "We're able to cover for whoever goes for the offensive rebound until they get back on defense. It's all effort."
Achiuwa has struggled badly in myriad ways during his first season with the Raptors, but his great motor has nonetheless played a huge part in the team achieving that rare twin feat. He's hauling in 3.1 offensive rebounds per 36 minutes, and the Raptors concede 50 fewer transition points per 100 possessions off live-ball rebounds with him on the floor than with him on the bench, according to Cleaning the Glass.
The 22-year-old acknowledged that on top of sheer effort, it helps that the Raptors have so many multi-positional defenders who can simply grab the nearest open player and be trusted to survive the matchup, at least until the defense can get set and execute a scram switch.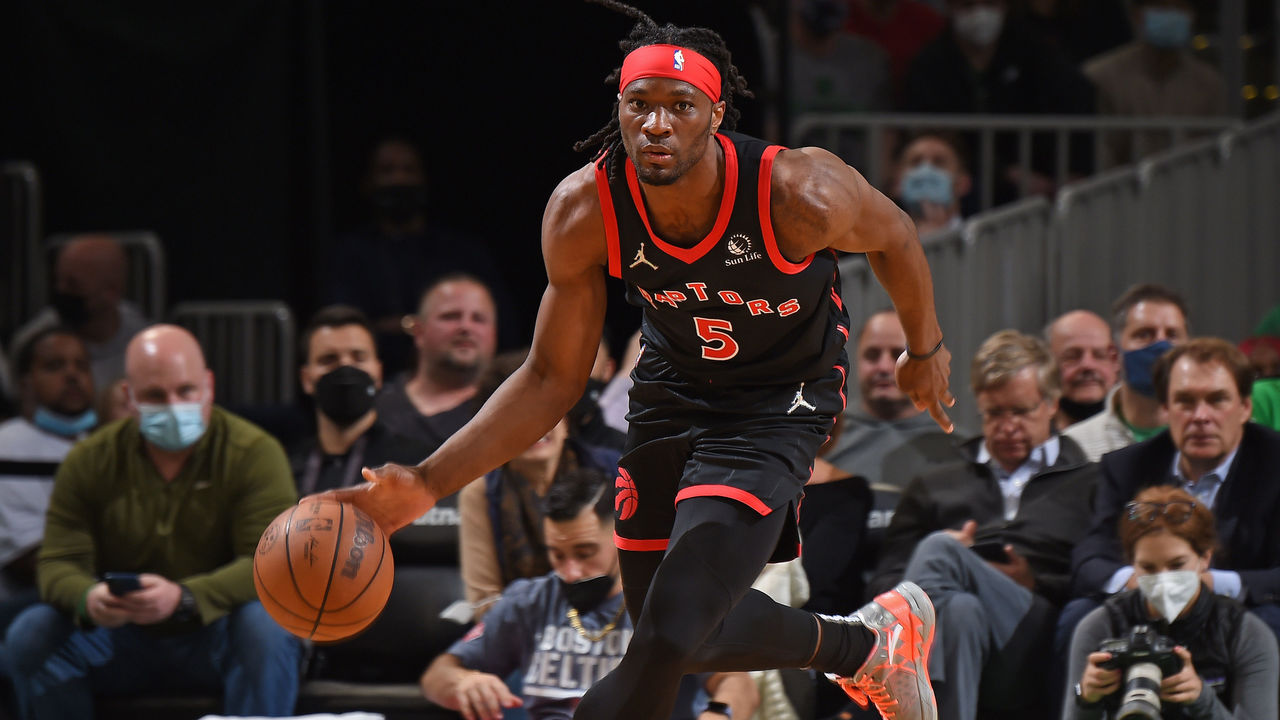 "It kinda does (help), especially if we have certain lineups out there like Scottie, OG, myself, Pascal, Gary sometimes depending on who it is," he said. "We can cross-match and then we can fix it from there. Just stop the transition, and then we can always fix (the matchups)."
In an NBA game, there are certain things that are beyond a team's control, such as how its opponent shoots the ball. You can play perfect team defense, execute pinpoint rotations and textbook closeouts, and still be undone by high-level shot-making. In most games, that variable is going to tilt away from the Raptors, so they're doing their best to control for it by giving themselves a huge head start: They're dominating the possession battle like few teams ever have.
In time, perhaps internal development - for which the Raptors have an excellent track record - will help address their offensive limitations. For now, though, this is a try-hard team designed to win games by being a royal pain in the ass. So far, so good.