An unheralded quartet of guards is electrifying the 76ers' offense
Tim Nwachukwu / Getty Images
One of the big questions hovering over the start of this season was whether the 76ers would be able to withstand Ben Simmons' absence so that they could afford to patiently wait for his trade market to develop. Through three weeks, the answer is a resounding yes.
With Simmons out of action, the 8-3 Sixers reside at the head of the Eastern Conference standings, and authoring the league's most efficient offense put them there. While they aren't likely to remain at the top for long given that Joel Embiid just joined Tobias Harris and Matisse Thybulle in the league's health and safety protocols, the strong start portends great things for this team once it eventually returns to health, and once the Simmons situation is resolved in some fashion.
Philly's offensive success is even more surprising in light of the circumstances. For one thing, Embiid's individual offensive production was sluggish before he was shelved due to his positive COVID-19 test. His scoring rate was way down and his true shooting plummeted from 63.6% to 56.1%. (In a major reversal of a longstanding trend, the team was actually performing slightly better during his minutes on the bench before narrowly losing to the Knicks without him on Monday.)
Meanwhile, Harris has been sidelined for the last five games, three of which Danny Green also missed. The Sixers are 4-1 in those games, mostly against quality competition (including the Bulls twice and the Trail Blazers).
The biggest reason the Sixers have weathered these various setbacks is their revelatory guard play, which has been better this season than at any point in Embiid's career outside of the short-lived Jimmy Butler era. If a seer had told you before the start of the season that the Sixers' offense would thrive, thanks in large part to a rejuvenated backcourt, you'd likely have thought Simmons was about to get traded for a star creator. Instead, the team has been buoyed by Seth Curry, Tyrese Maxey, Furkan Korkmaz, and Shake Milton, each of whom has handled an increased ball-handling and shot-taking load with aplomb.
Simmons led the team in touches and time of possession last season, so a ton of on-ball reps needed to be redistributed. Surprisingly, Embiid hasn't spent any additional time with the ball in his hands this season. Neither did Harris before his own brush with the coronavirus took him out of action. Instead, the aforementioned quartet of guards soaked up virtually all of Simmons' vacated possessions:
That shift has helped drive a significant boost to the team's pull-up jump shooting, an area of weakness for Philly for basically the entire Simmons-Embiid era. The Sixers attempted 6.5 off-the-dribble 3-pointers per game last season - fewer than all but three teams - and hit a ho-hum 32.7% of them. This season, they're taking 9.3 pull-up threes a night and canning 42.2%. On pull-up jumpers overall, they've posted a league-best 51.4% effective field-goal clip, up from 46.3% last year.
Simmons' detractors might take all this as evidence that the embattled star was holding the team back, but Philadelphia's hot start is more a product of internal improvement than addition by subtraction. It's worth noting that the Sixers have experienced a corresponding dip on defense, falling to 16th in points allowed per possession after ranking second a season ago. And they've had to reorient their offense to account for the loss of Simmons' playmaking and open-court prowess. After ranking eighth in the league in transition frequency in 2020-21, they're down to 28th this season, and they're throwing about 16 fewer passes per game.
That said, the extra spacing against set defenses certainly hasn't hurt. The Sixers may be playing in the open floor less often, but their half-court offense has hummed to the tune of 100.6 points per 100 possessions, second only to the Warriors and a huge improvement on the 97.1 points per 100 it generated last year.
Pull-up shooting isn't the only way Curry, Maxey, Korkmaz, and Milton have helped in that regard. They've also been staggeringly effective around the basket, shooting a combined 70-of-92 (76%) inside the restricted area. That interior conversion rate is plainly unsustainable for a group of guards, but it has been (and should continue to be) aided by the fact that Philly now keeps the lane uncluttered by going four-out on a permanent basis. Not to mention the fact that Embiid, the nominal "one-in" the majority of the time, still carries plenty of gravity away from the hoop.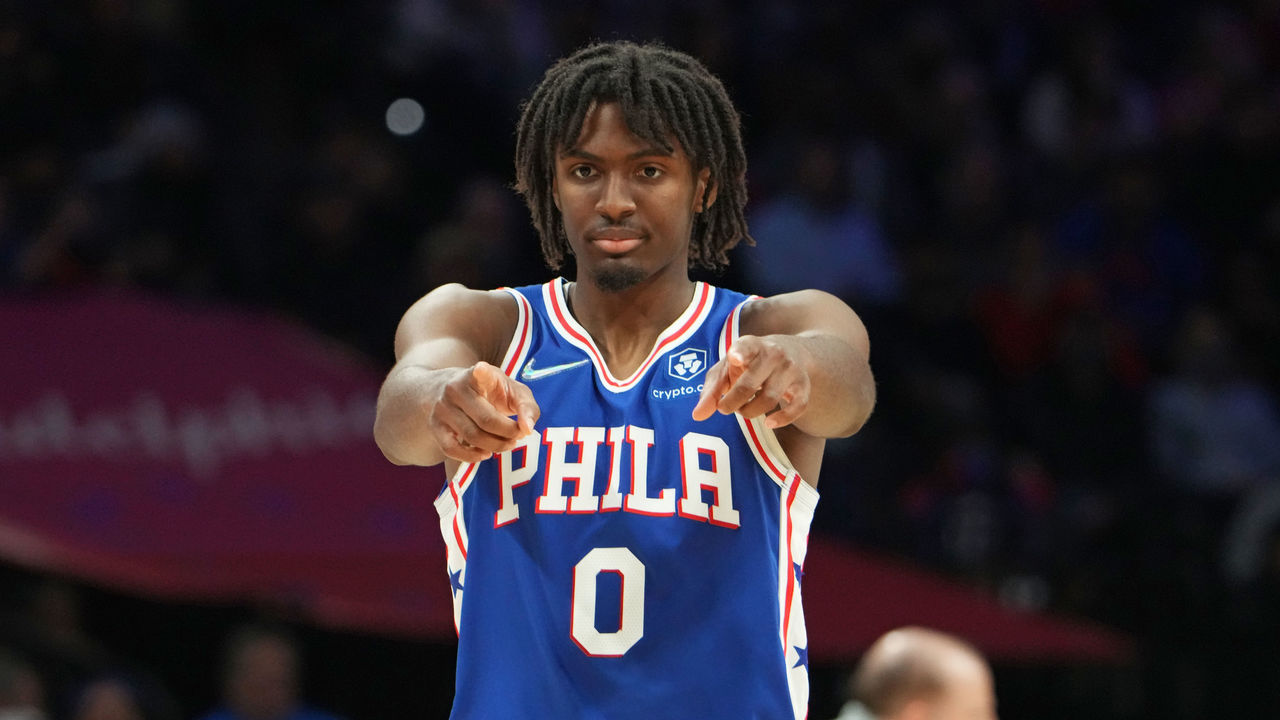 Maxey's rim frequency and free-throw attempt rate are up from his rookie season, a product of increased assertiveness on drives and the enhanced spacing. He always had the first-step juice to get into the teeth of the defense, but last year he cut too many of those paint forays short, shying away from contact and leaning too heavily on his floater. That floater is still there when he needs it, but this season he's been able to find clearer lanes in which to build up a head of steam and slalom all the way to the hoop, especially when he attacks off the catch.
Curry, meanwhile, is dabbling with a bit more self-creation, and he's hitting everything from everywhere. Off-the-catch shooting and the dribble-handoff dance with Embiid remain his bread and butter, but he has a silky mid-range step-back that's been near automatic, and he looks increasingly comfortable operating with the ball in his hands - not just driving closeouts, but running primary pick-and-rolls and methodically probing for openings when he gets chased off the 3-point line. For as good as his long-range shooting has been, Curry's inside-the-arc scoring is the real eye-popping development. He's hit 68% of his 2-point shots, including an ungodly 19-for-25 inside the paint and a perfect 8-for-8 at the rim.
He still isn't blowing anyone away off the bounce, and he still needs a screen to create any kind of meaningful advantage, but he's taking extra dribbles, using hesitations, jailing guys on his hip, and showing pristine touch from floater range. While his 58/48/89 shooting split is certain to regress, his ability to more consistently do stuff like this, where he keeps his dribble alive and burrows into open pockets of space, will continue to come in handy:
The 1.14 points per possession Curry has registered as a pick-and-roll ball-handler puts him sixth in the NBA among players who've finished at least 25 such plays. Milton (1.04) and Maxey (1.01) both reside in the top 15, the latter doing so on double the volume. Korkmaz comes in a shade under a point per possession, which still puts him in the 71st percentile. The Sixers as a team lead the league in scoring efficiency on pick-and-rolls finished by the ball-handler, a big jump from last season's 13th-place finish.
Philly almost always stations Curry and Maxey on opposite wings and has them attack from the side rather than from the top. One of them will orchestrate a pick-and-roll or initiate a drive, try to draw nail help, and kick to the other for a spot-up three or a chance to attack a closeout and extend the advantage. (Maxey typically initiates those sequences because he's much more explosive and can attack without a screen, and because Curry is the far better shooter.) Throwing Milton into the mix in three-guard lineups gives them yet another prong for their drive-kick-drive-again onslaughts, and he's been great at attacking out of the corner in those configurations:
Korkmaz can also slot into those lineups, but he's been spending a good deal of his minutes quarterbacking the offense for transitional units. He's long been a dangerous movement shooter with a lightning-quick release, but his off-the-dribble craft looks noticeably smoother this season. He served as the Sixers' de facto backup point guard until Milton returned from injury, and he's continued to put his refined ball skills to use in the games since, running plenty of second-side pick-and-rolls and lofting jumpers and floaters off the bounce. Korkmaz leads the team in pull-up 3-point attempts, and he's drilled 48% of them.
He's also displayed a deep playmaking bag that includes live-dribble corner skips and slick lay-downs in traffic. He's been particularly effective making plays on the move, and the Sixers have done well to feed him the ball in motion. They like to use him in Chicago action, running him off a pindown before he receives a dribble-handoff.
Oddly enough, the proficient guard play and four-out alignment haven't done much to improve Embiid's lot as a pick-and-roll finisher. He's been one of the least efficient bigs in the league in that capacity, producing just 0.79 points per possession as a roll man. The volume and effectiveness of his post game have also diminished slightly, even though it should be less tenable for opponents to send hard double-teams. His playmaking numbers, however, have never looked better; he's piling up more assists while committing fewer turnovers than he ever has.
Part of that reflects the number of shots his teammates have hit out of dribble-handoffs and pitch plays, but it also has something to do with the fact that he's never had such wide passing lanes to work with. He is the offense's unquestioned maestro, even as his self-creation has slipped from last season's dizzying heights. He's figured out how to play in concert with the improved shooters and slashers around him. He's taking advantage of the attention they draw on the perimeter by executing quick kickouts and re-posts to peel away extra defenders and chisel out deeper positions. He's diming up cutters from down low and up high.
So, big picture, what does this all mean?
It's obviously an encouraging development that should continue to bear fruit once Embiid and Harris return, but is it more than just a regular-season blip? Can the offense continue to be good enough to offset the defensive slippage? If Simmons doesn't wind up getting traded, has the guard play improved enough to help this team evade its all-too-familiar postseason stumbling blocks? Or, in the absence of a hoped-for deal that swaps Simmons out for an All-Star-caliber lead creator, will the burden of creation once again fall squarely on the shoulders of an overextended Harris and an overworked Embiid?
These guys may be blowing away expectations in the first month of the season, but that doesn't mean the Sixers can really trust any of them to initiate high-leverage playoff possessions. When they face top-tier switching defenses, who among them can be relied upon to create their own advantages? Constant ball reversals can only get you so far against a locked-in opponent.
Those are down-the-road questions that Philly can take its time in trying to answer, but the stakes are far higher than they would be if this were happening to a different team. Everything the Sixers do, especially when it comes to half-court shot creation, will be scrutinized under a playoff-tinted microscope. And the front office's big decisions - from how stubbornly to wait out Simmons' market, to the type of player they seek in return - will be guided by their level of belief in what the team's guards have done so far.
Comments
✕
An unheralded quartet of guards is electrifying the 76ers' offense
  Got something to say? Leave a comment below!