Season opener shows challenge LeBron, AD face in confronting Lakers' flaws
Kevork Djansezian / Getty Images
The Los Angeles Lakers' season-opening 121-114 loss to the Golden State Warriors, on a night in which LeBron James and Anthony Davis combined for 67 points while Steph Curry shot 5-for-21 from the field, confirmed a lot of the skepticism about L.A.'s shaky roster construction. It also confirmed that James and Davis are still ridiculously good. The question moving forward is whether they're good enough to cover for all their team's structural flaws.
The Lakers' strength ought to be their ability to hammer teams on the interior, given their collective size and speed and downhill attacking ability. But that was far from the case on opening night: they hit just 12 shots at the rim, and attempted only 26% of their shots from inside four feet (a lower proportion than any team in the league attempted last season), per Cleaning the Glass.
The primary reason was that Golden State was able to choke off the middle of the floor thanks to L.A.'s lack of credible 3-point threats. The Warriors shaded early help towards James' face-ups, jammed up Davis' rolling lanes, and invited Russell Westbrook to hoist from anywhere outside 10 feet (he shot 1-for-7 on jump shots). Look at how readily Westbrook's defender abandoned him above the break to impede James' drives and Davis' rolls:
In the second half, when the Lakers had a traditional center playing with that trio, the Warriors broke out a 1-2-2 zone that further limited the possibility of any north-south action:
At the other end of the floor, the Warriors were able to penetrate practically at will due to the threat posed by their movement shooters (namely Curry and Jordan Poole) and some very leaky Lakers perimeter defense. Golden State consistently drew two to the ball, scrambled coverages, attacked closeouts, and had cutters flashing into open space. That's how a team that played a sizeable chunk of the game with one of Draymond Green or Juan Toscano-Anderson (both 6-foot-6) at center wound up destroying the would-be bully-ball Lakers in the paint.
Single-game samples should always be taken with many grains of salt, and the Lakers were missing several important rotation pieces in Trevor Ariza, Kendrick Nunn, Wayne Ellington, and Talen Horton-Tucker - at least two of whom (Nunn and Ellington) should help on the spacing front. Still, this game demonstrated the uphill climb James and Davis are facing in trying to make this a contending team.
To do so, they'll have to make hellacious back-end defensive rotations to put out fires started by the Lakers' flammable perimeter players. At the offensive end, they'll have to rely on their jump shots when they can't wend their way through mazes of bodies in the half court. And they'll have to constantly get out and run to prevent as many of those half-court possessions as possible from happening.
To those specific ends, the Lakers' opening-night loss was actually extremely encouraging. The Lakers scored 1.38 points per possession in transition, and their two superstars were absolutely electric on defense, with LeBron in particular cleaning up messes in a manner that belied his status as a 19-year vet:
Meanwhile, Davis' persistent interior presence allowed the Lakers to play Curry on the high side and run him off the arc, trusting that he'd be swallowed up if he tried to get all the way to the rim. The Lakers posted a 104.8 defensive rating with both AD and James on the floor. So, yeah, that still very much looks like a monstrous two-man defensive battery.
But outside of Kent Bazemore - who did a bang-up job hounding Curry on-ball for most of the game - how much help are they going to get? The return of Ariza should help, and Horton-Tucker has promising defensive tools, but there's going to be a lot of pressure on the back line as long as Westbrook and Carmelo Anthony are major parts of the rotation. Anthony botched countless coverages and rotations, while Westbrook got beat by gambling for steals or falling asleep on cuts and off-ball screens. James' first-quarter block was so breathtaking it almost obscured how badly Westbrook got torched by Poole's backdoor cut, and that was one of several instances of James covering for Westbrook in the game.
At the offensive end, both James and Davis shot the ball extremely well, going a combined 17-for-33 on jumpers. (Try to ignore their free-throw shooting numbers.) While the Lakers didn't leverage their collective size advantage into offensive rebounds or paint points, those two did have the benefit of routinely being able to shoot over their defenders.
But big picture, is that really what the Lakers want to be pinning their half-court offense on? At his apex, James was explosive and powerful enough to pressure the rim even against paint-packing defenses. One of the big questions facing L.A. this year is whether he still has the juice to do that. His inability to do so against the Suns in last year's first round was one of the reasons that series went the way it did.
One game isn't enough to provide a definitive answer, but if you were looking for evidence that James would be back to his rim-assaulting ways after nearly a full offseason, opening night did not provide it. Just two of James' 23 field-goal attempts came inside the restricted area, and both of them came in transition (his only make was a fast-break dunk). That feels especially worrisome considering the Warriors don't even employ a traditional rim-protector.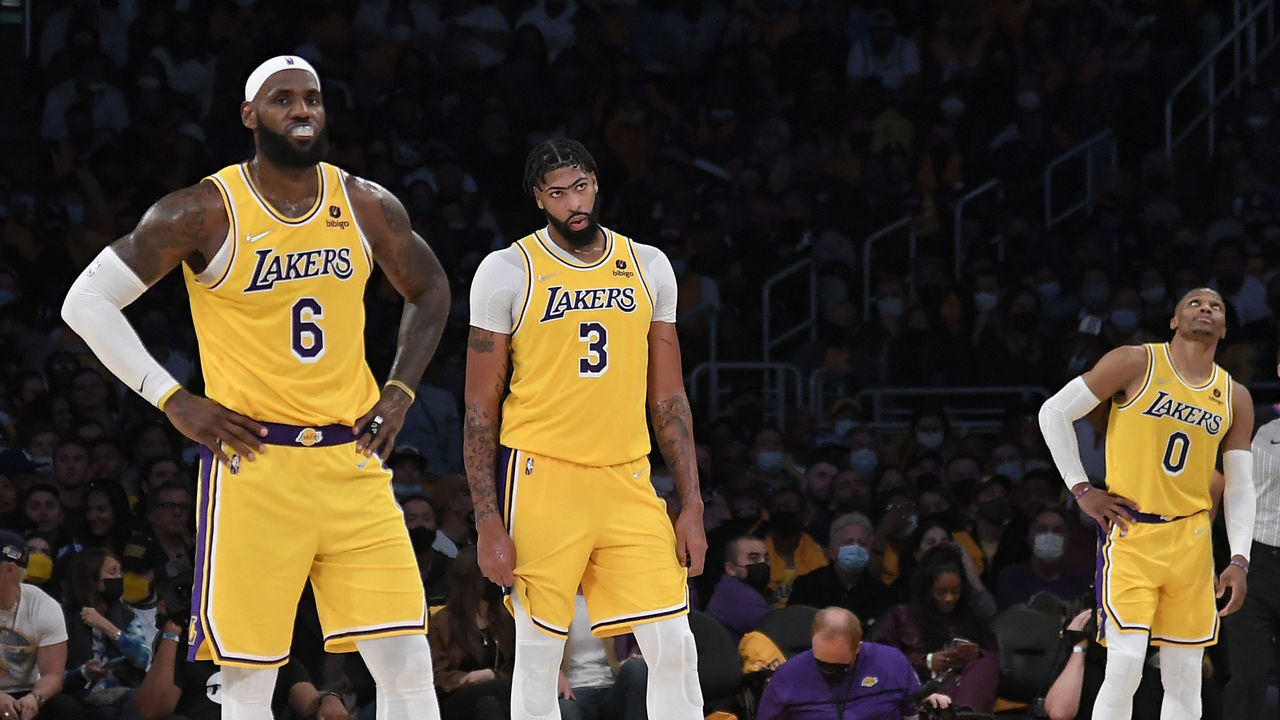 On the whole, the Lakers posted an 86.3 offensive rating in the half court, and that was with them shooting a wholly unsustainable 13-of-20 from mid-range. They did produce a 122 offensive rating in the 22 minutes they played with Davis at center, but they were still outscored in those minutes because those lineups flanked Davis with a bunch of minus defenders.
It's hard to overstate the breadth of Westbrook's contributions to those struggles at both ends. He was flat-out awful in his Lakers debut, scoring eight points on 17 total possessions, with no free-throw attempts and as many turnovers as assists. He was a game-worst minus-23 in his 35 minutes (no other player was worse than minus-10), including minus-21 in the 14 minutes he played without both James and Davis next to him.
The Lakers made things more difficult than they needed to be with the way they structured those Westbrook-centric transitional units, particularly when they slotted Rajon Rondo next to him in the backcourt. Shifting Davis to the 5 is theoretically a nice way to open up Westbrook's driving lanes, but including Rondo in those lineups basically defeats the purpose. That, fortunately, should be a short-lived experiment that ends when L.A.'s injured players return.
Even then, the Lakers will need to get a better sense of how to use Westbrook, which should start with putting him in motion off the ball and finding ways to make his defenders pay for completely ignoring him. He spent way too much time Tuesday spotting up above the break, where he's the opposite of a threat. He'll obviously be a lot better than he was in the opener, but one wonders if the situation will reach a point at which James simply has to spend more time playing off the ball because he's one of the few viable spot-up threats the Lakers have. Westbrook can't space the floor for LeBron, but maybe LeBron can space it for Westbrook.
If the season opener laid bare the Lakers' structural flaws, it also clarified the team's path to overcoming them. While doing so will be a significant challenge, James and Davis appear ready, for the most part, to tackle it.
Comments
✕
Season opener shows challenge LeBron, AD face in confronting Lakers' flaws
  Got something to say? Leave a comment below!