8 players who can swing the 2021-22 NBA season
Getty Images / Photo illustration by Nick Roy / theScore
Every NBA season begins with a certain number of unknowns. Each year, a handful of these intangibles have a chance to alter the league's competitive landscape, depending on which way they break. Here are eight players who can potentially tilt the balance of power in 2021-22.
Klay Thompson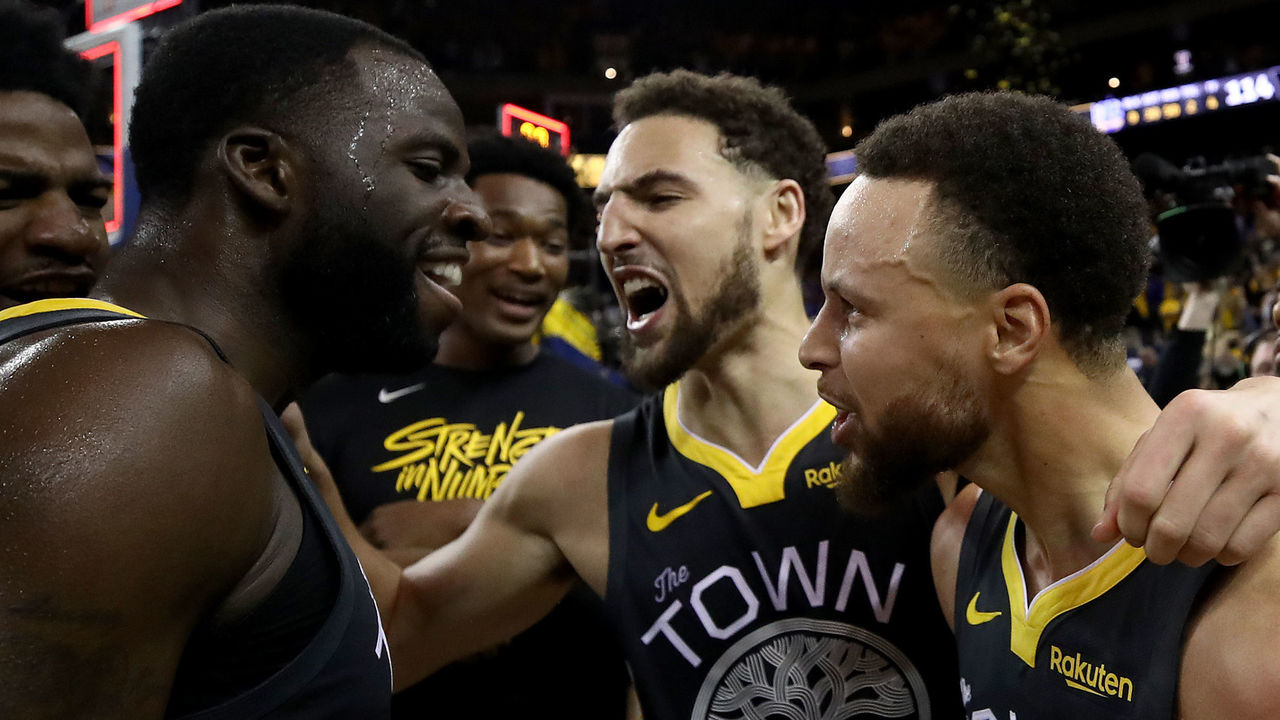 No player this season fits the bill of swing player quite like Thompson, whose reported Christmas return would mark two-and-a-half years since his last taste of NBA action. When and how Thompson comes back is the difference between the Warriors entering the title conversation or merely fighting to be a play-in team, as they were last year.
If last season is any indication, Steph Curry remains an MVP-caliber superstar, Draymond Green can still summon enough playmaking and defense to serve as Golden State's invaluable glue guy, and Andrew Wiggins might've finally settled into a role as a third option on a good team who's just solid across the board. The Warriors also have an improved and intriguing blend of supporting players - both young and old - between Jordan Poole, Andre Iguodala, Otto Porter, Avery Bradley, James Wiseman, Juan Toscano-Anderson, Nemanja Bjelica, Kevon Looney, and Jonathan Kuminga.
If Thompson returns as the Hall of Fame shooter he was for nearly a decade and remains capable of both confounding opposing defenses with his off-ball brilliance and troubling opposing perimeter stars on the other end, the makings of a contender are there for head coach Steve Kerr. If 30 months off because of consecutive knee and Achilles injuries have robbed Thompson of his lateral mobility, however - if he's not the same two-way star who was so integral to those five straight Finals trips between 2015 and 2019 - the Western Conference's title picture has one less team in it. - Joseph Casciaro
Kristaps Porzingis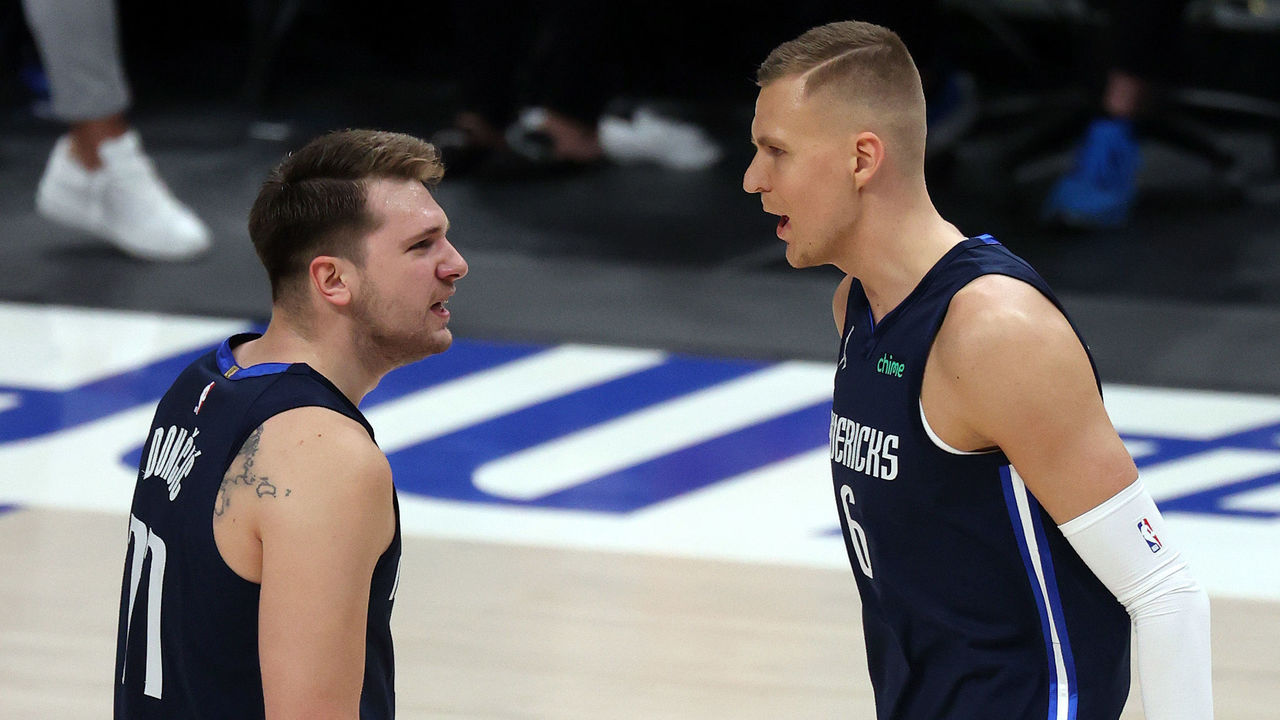 For the last two years, the Mavericks have been on the cusp of breaking into the NBA's contender class. In Luka Doncic, they have the most important prerequisite to entry into that exclusive club: a top-five creator who elevates his game in the postseason. But the rest of the roster mostly elicits shrugs, starting with Porzingis.
The 7-foot-3 stretch tweener is in many ways an ideal complement to Doncic, but he's fallen well short of his billing as Dallas' second star. The Mavs' would-be breakthroughs against the Clippers in the last two postseasons were undone in large part because of circumstances surrounding Porzingis: his meniscus injury in the bubble in 2020 and his vanishing act in the first round last year.
It may be hard to remember, but Porzingis was a really effective back-line defender in 2019-20. That wasn't remotely the case last season when he never seemed to get his vertical burst or side-to-side mobility back after having his knee surgically repaired in the offseason.
He held opponents to 51.6% shooting in the restricted area two seasons ago, but that number ballooned to 61.9% last season and to 65.6% in the Clippers series. The Mavs eventually had to resort to starting him next to Boban Marjanovic (forming one of the three tallest frontcourts in recorded history) just to get some kind of resistance on the interior. Porzingis' slippage meant that playing him at center - a look that unlocks his inside-the-arc game on offense and produced extraordinary team results on both sides of the ball in 2019-20 - became defensively untenable.
That drop-off obscured the fact that Porzingis quietly had his best season at the other end of the floor. He retained his high-volume proficiency from long range (37.6% on an average of six attempts per game) and supplemented it with a career-high (by far) 53.6% mark from 2-point range. That was aided by him taking a higher proportion of shots at the rim than ever before, and shooting nearly 73% there. He also scored nearly a point per possession on post-ups, a number he'd never previously approached.
Those strides fell by the wayside in the playoffs, when he mostly failed to take advantage of size mismatches against the wing defenders L.A. stuck on him, and he was relegated to spot-up duty several feet beyond the 3-point line. That role still served an important function for Dallas' offense - which scored way more efficiently with him on the floor - but left him with a 16.5% usage rate unbefitting of his max contract.
New head coach Jason Kidd apparently plans to feature Porzingis more prominently, perhaps in an effort to keep him engaged and have him better prepared for postseason defenses. That approach could cost the Mavs some regular-season wins but potentially pay dividends down the road. They probably can't win a championship with their all-Luka-all-the-time offense.
Can Porzingis, a year removed from his latest knee surgery, marry his offensive production from last season with his defensive performance from the year prior? Can he carry that union over to the playoffs and avoid getting injured again? If he does, he'll transform Dallas from a team scrapping to stay above the play-in fray to one with legitimate title aspirations. - Joe Wolfond
De'Andre Hunter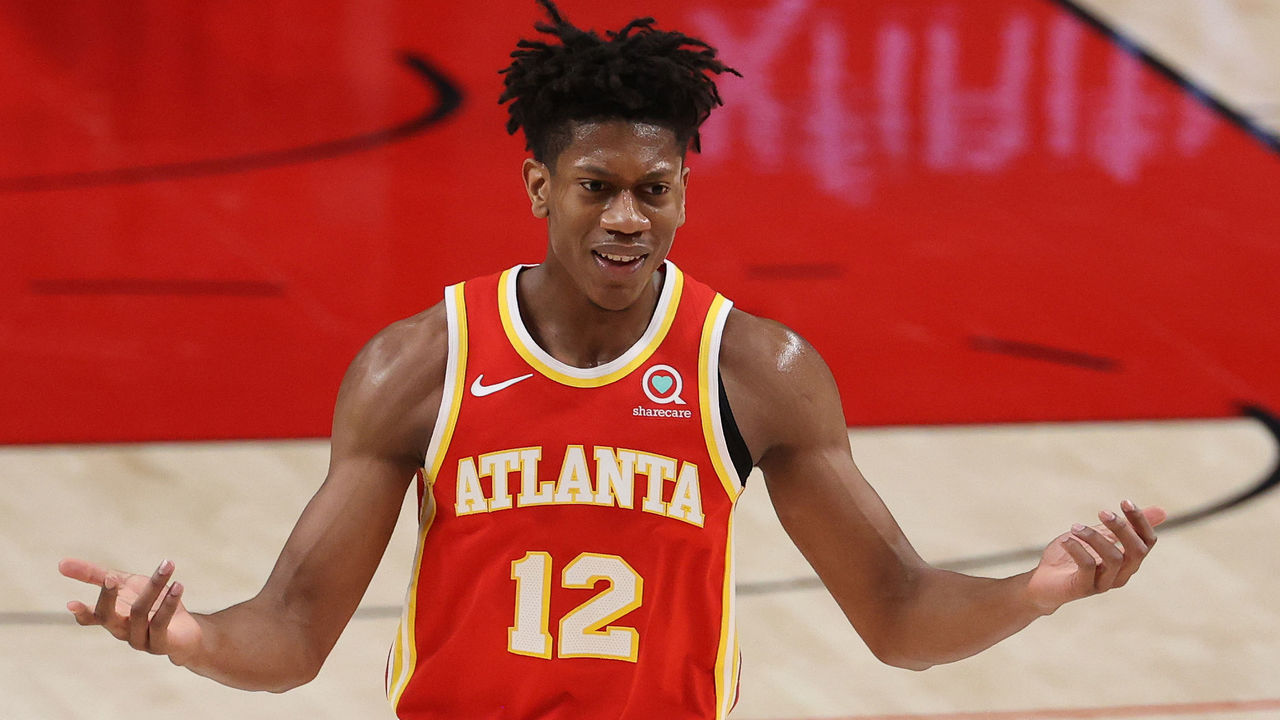 A midseason knee injury disrupted what was looking like a breakout sophomore campaign for Hunter and cratered Atlanta's defense for a significant stretch of last season. After working his way back following a right meniscus procedure, Hunter eventually was shut down again early in Atlanta's East semifinal series against Philadelphia due to a tear in that meniscus. How ready the 23-year-old is for a full season of taxing, two-way play could decide whether the Hawks find themselves legitimately competing for a title.
In the shadow of Trae Young's continued star turn, John Collins' two-way improvement and subsequent big contract, Clint Capela's Defensive Player of the Year candidacy, and Atlanta's stunning midseason turnaround under coach Nate McMillan, Hunter looked like one of the league's most improved players last season.
He's very much the connector for these Hawks on both ends and is capable of being much more than just a 3-and-D wing. His presence is most integral on defense, where his work on the perimeter is desperately needed on a team boasting so many defensively challenged players - Young, Bogdan Bogdanovic, Kevin Huerter, and Cam Reddish, though Delon Wright should also help in this regard.
Hunter's perimeter defense and ability to guard big wings (and even some power forwards) doesn't just protect guards like Young. It also makes Capela's and Collins' jobs easier behind him. It's no wonder the Hawks were more than seven points per 100 possessions better defensively when Hunter was on the court last season.
The biggest surprise in Hunter's game last season was his more refined offensive potential. Though his 3-point percentage dipped, he shot the ball well from every other area of the floor, showed more off-the-dribble pop than anyone expected, and finished the campaign averaging 15 points on 60% true shooting.
The Hawks have the star talent at the top of the roster, the depth, and the two-way balance to contend right now, but Hunter continuing along the trajectory he was on before his injury last year is very much the key to that balance. - Casciaro
Michael Porter Jr.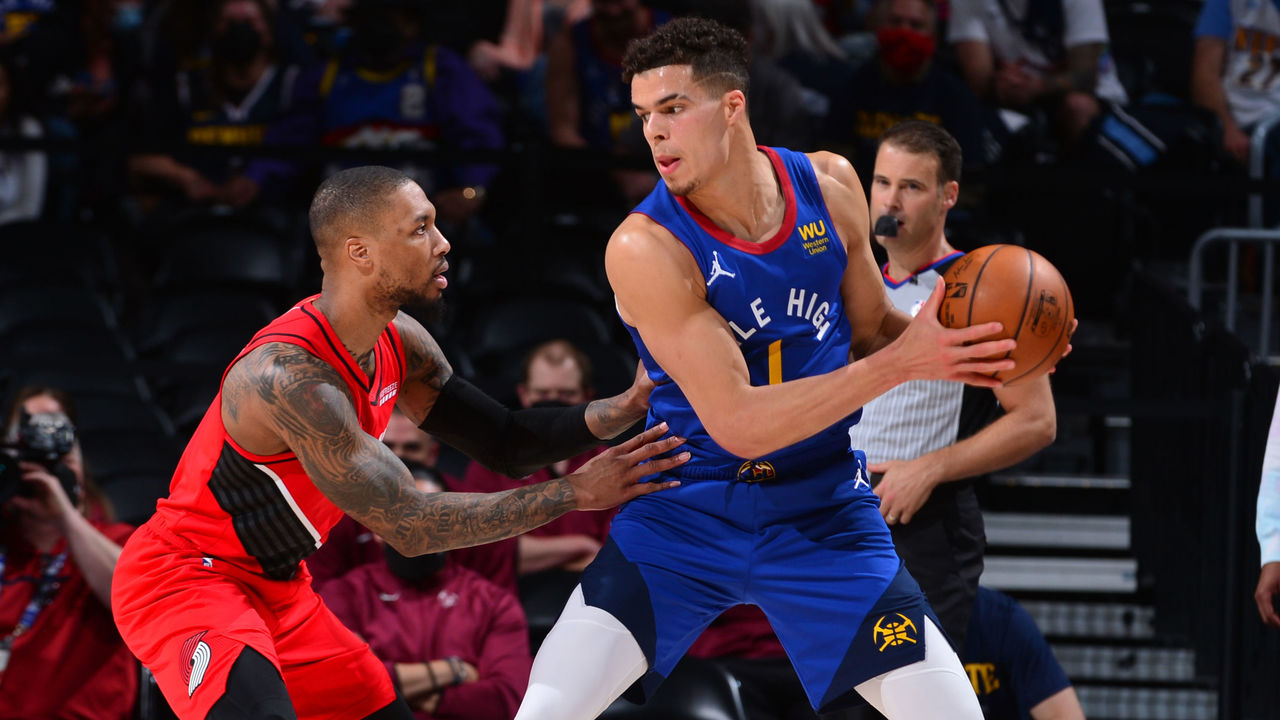 Porter was an obvious swing-player candidate last year, too, but the expectations are much different now.
Heading into last season, the questions were whether Porter could become a consistent third option alongside Nikola Jokic and Jamal Murray and whether he could shore up his obvious defensive deficiencies. He mostly answered those questions in the affirmative, but with Murray sidelined for the majority, if not all, of the upcoming campaign, and the ink still drying on Porter's five-year max contract, Porter will need to grow up fast if the Nuggets are to remain bona fide title contenders.
Porter's offensive abilities are obvious. The guy has legitimate 50-40-90 potential and should score 20-plus points per game this year after averaging 19 points on 54-45-79 shooting last season. But with Murray out, Porter will need to be a more consistent secondary option for Jokic and must diversify his attack. In particular, the Nuggets need Porter to become a much more willing and capable pick-and-roll threat.
The acquisition of Aaron Gordon relieves some of the defensive pressure, but Porter can't be a black hole on that end and an easy target for opponents to pick on when the playoffs roll around. He showed improvements during the 2021 regular season, but can he do it again this year and become a more attentive help defender while also shouldering a greater offensive burden?
If he can, the Nuggets can contend again even without Murray and might flat-out be the West's best once Murray returns. If Porter's not up to the task, Denver will take a step back. - Casciaro
Tobias Harris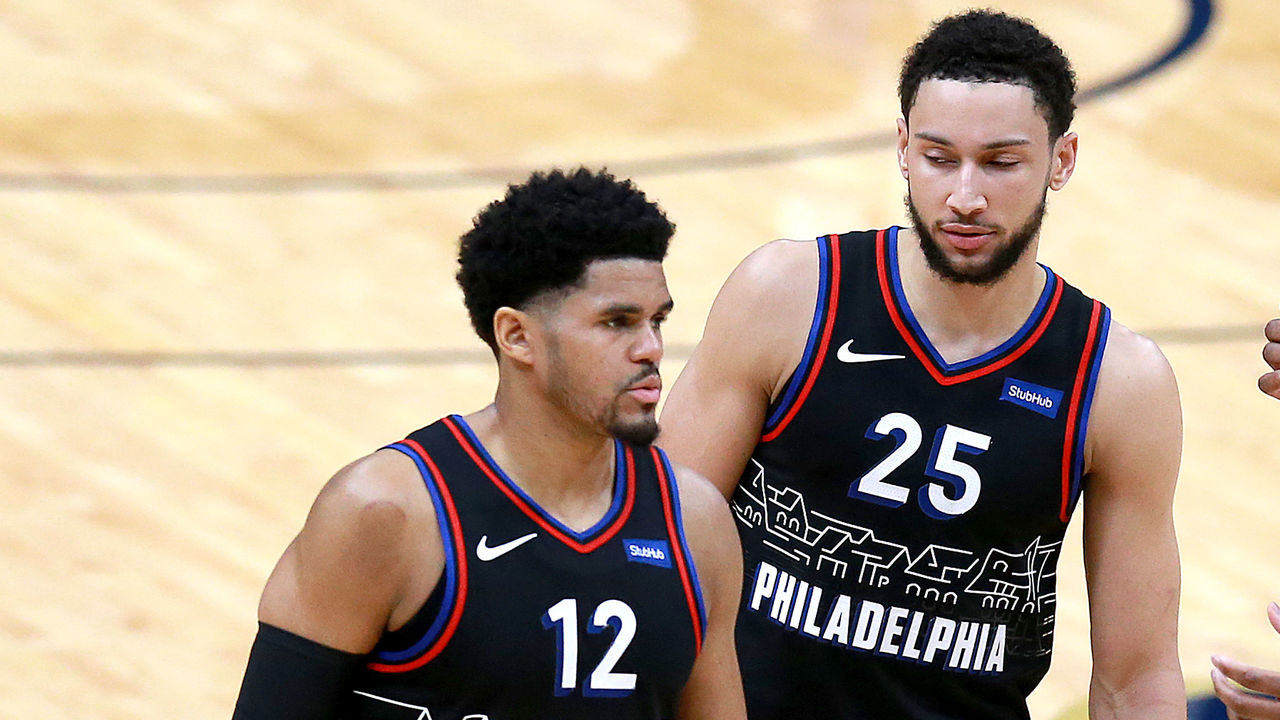 Joel Embiid deservedly got the lion's share of the credit for the 76ers' excellent regular season in 2020-21, but Harris' contributions shouldn't be overlooked. He shot 55% from 2-point range, 39% from deep, and 89% from the stripe, while regularly taking the reins of the late-game offense.
Philly had the league's best record in games that included clutch time (25-9), in large part because Harris posted an incredible 65.1% true-shooting mark on 26.7% usage in those scenarios. For the season, he ranked in the 73rd percentile as a scorer out of the pick-and-roll and in the 69th percentile out of the post. He attacked decisively off the catch and abused size mismatches. The team outscored opponents by 7.2 points per 100 possessions with him on the floor.
Then the playoffs arrived, and for a third straight year, Harris saw a downturn in effectiveness, particularly when the going got tough against the Hawks in the second round. He shot 35% from the field in the final three games of that series, including an 8-for-24 clanker in Game 7. Ben Simmons' offensive disappearance foisted more responsibility on Harris' shoulders, and while that was obviously not his fault, Harris was unable to rise to the challenge.
The truth is, while Harris improved upon basically all of his established skills last season, his established flaws remained. He improved marginally as a defender but still topped out around average. Despite minor strides in the playmaking department, he still wasn't much of a creator for others, which put a lot of pressure on his individual scoring.
Those limitations also contributed to Harris' struggles to prop up bench-heavy units, which Philly relied on him to do because Simmons and Embiid were joined at the hip in Doc Rivers' rotation. The Sixers got smoked by 11.5 points per 100 possessions in the postseason when Harris played without Embiid. He'll continue to be tasked with that role for as long as the Simmons situation remains in limbo and no replacement arrives via trade. So finding ways to improve as the principal in transitional lineups needs to be a priority.
Another priority should be replotting his jump-shot map. Just 22.5% of his field-goal attempts came from beyond the arc last season (3.4 per game), which, for a player who hit 46% of his long 2-pointers, left a lot of low-hanging fruit on the branch. And because of the aforementioned playmaking limitations and the fact that Harris doesn't generate many free throws, it put too many eggs in the mid-range basket. Simply moving a bunch of his jumpers a couple of steps back could really help juice Harris' efficiency and that of Philly's offense as a whole.
A Simmons trade could ultimately result in Harris getting bumped down into a tertiary offensive role, one in which he could still be highly effective, even if his shot profile remains unchanged. But unless or until that happens, he'll hold a disconcertingly large chunk of the Sixers' fate in his hands and will need to take another meaningful step forward to keep them in the title picture. - Wolfond
Jaren Jackson Jr.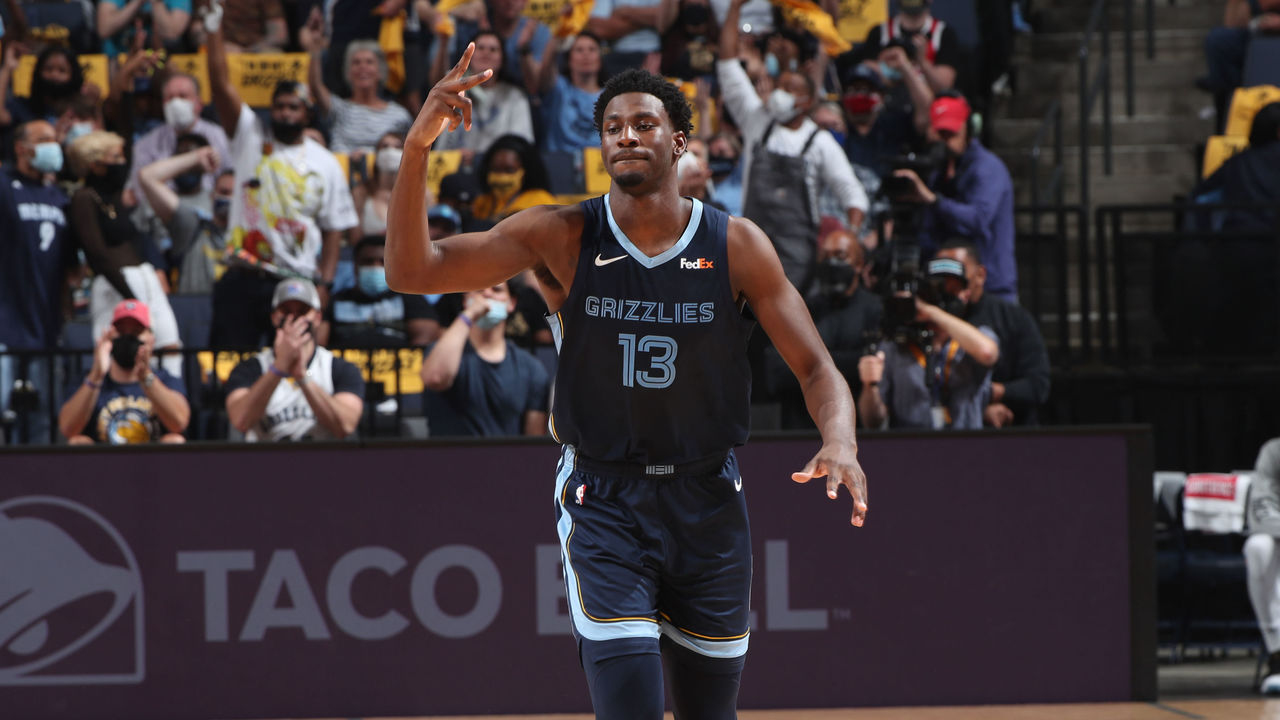 After averaging better than 17 points per contest (on good efficiency) in under 30 minutes, a torn meniscus cut Jackson's sophomore season short, then robbed him of all but 11 games last year. When he did return, his shooting abandoned him, and he never quite looked like himself. If healthy, the big man should break through in his fourth year, which could determine Memphis' season outlook.
With Jonas Valanciunas replaced by the more offensively challenged Steven Adams in the middle, the Grizzlies will be more reliant on Jackson for frontcourt scoring. Adams is there to rebound, defend, and screen. Jackson's floor-spacing ability will be even more important with Adams on the floor.
If the Grizzlies are to overachieve again in the short term and reach their full potential in the long term, Jackson needs to become a better rebounder and especially a more consistent rim-protector. This would allow him to log more minutes at center and make Memphis more dynamic.
Given Ja Morant's star potential and dogged determination to drag the Grizzlies further than they otherwise seem capable, some solid supporting pieces around him, and the underrated tutelage of head coach Taylor Jenkins, Memphis might be closer to fringe contention than it is to the team everyone expects to regress this season. They'll need a career year from Jackson to get there, though. - Casciaro
Robert Williams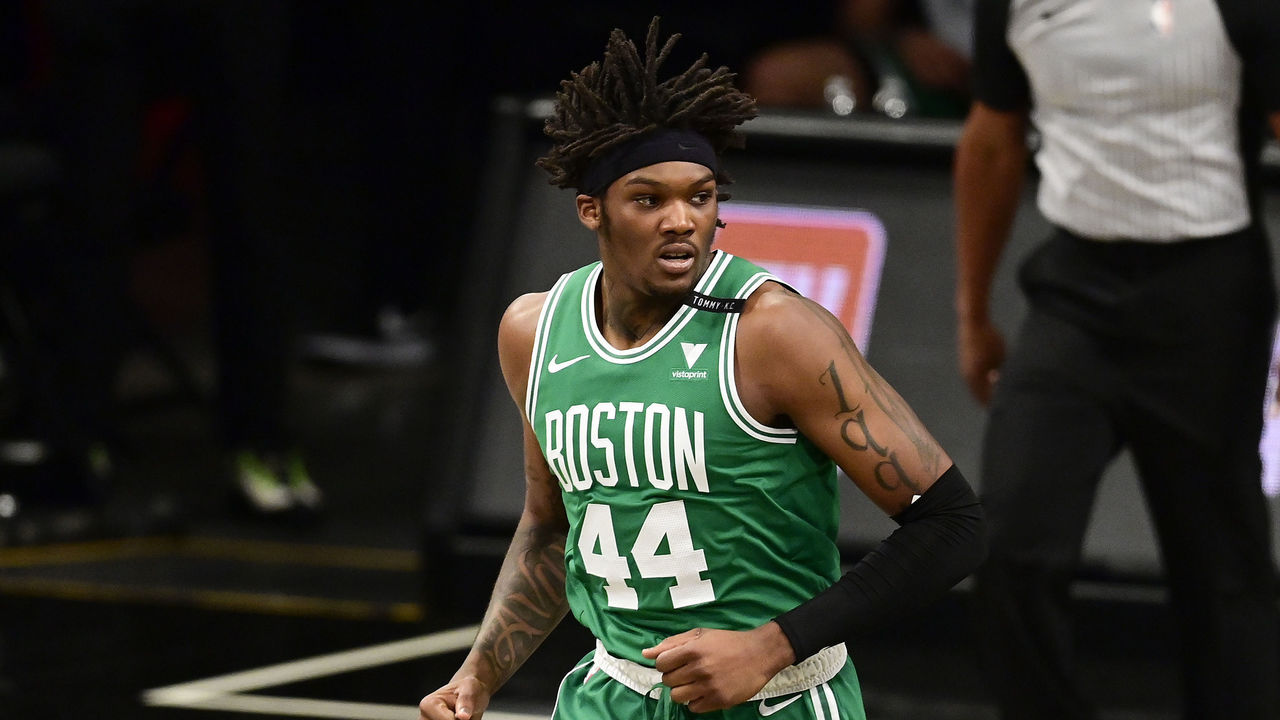 The Celtics possess what ought to be the starting point for a championship contender, with two All-Star two-way wings who can create for themselves and, to a lesser extent, for others. But that two-pronged attack last season was often reduced to one- or no-pass possessions that ended with Jayson Tatum or Jaylen Brown hoisting a contested jumper off the dribble. Boston badly suffered from a lack of playmaking and rim pressure. Williams, a skilled if still unrefined 24-year-old center with staggering physical tools, can help address those issues as a connective passer, interior finisher, and pick-and-roll release valve.
Williams' role was inconsistent last season due to a seeming lack of trust from coach Brad Stevens, who often rolled with his more predictable - and far less exciting - veteran options. But Tristan Thompson and Daniel Theis are gone and Stevens has moved to the front office. The starting center job clearly belongs to Williams, with Al Horford's role tailored to fit around Williams rather than the other way around. And twin-big looks should work better with that duo than it did with any of Boston's center combos last season thanks to Horford's shooting and the pair's collective playmaking.
With some refinement, Williams could also grow into the anchor of a very stout Celtics defense. While he's ostensibly undersized for the center position at just 6-foot-9, his width, leaping ability, and enormous 7-foot-6 wingspan make Williams an imposing defensive force. He has quick feet, even if he doesn't always use them to position himself correctly when trying to corral a ball-handler or navigate a one-on-two. He's error-prone, but his length and pogo-stick second jump allow him to erase many of those mistakes.
His sins are those of commission, not omission. All the fouls and mistimed leaps born of overactivity are worthwhile trade-offs for his defensive playmaking, which produced 1.6 steals, 2.9 deflections, and 3.3 blocks per 36 minutes last season. For now, he's probably better at the level of the screen than on the back line, but having Horford next to him - not to mention perimeter roadblocks like Tatum, Brown, and the unshakeable Marcus Smart in front of him - should make the latter task easier.
If Williams can scale up his offensive production from last year - when he averaged 15.2 points and 3.4 assists per 36 minutes on 72% shooting - while honing his footwork and cutting down on the undisciplined defensive mistakes, he can really help the Celtics reimagine what they might be capable of. - Wolfond
D'Angelo Russell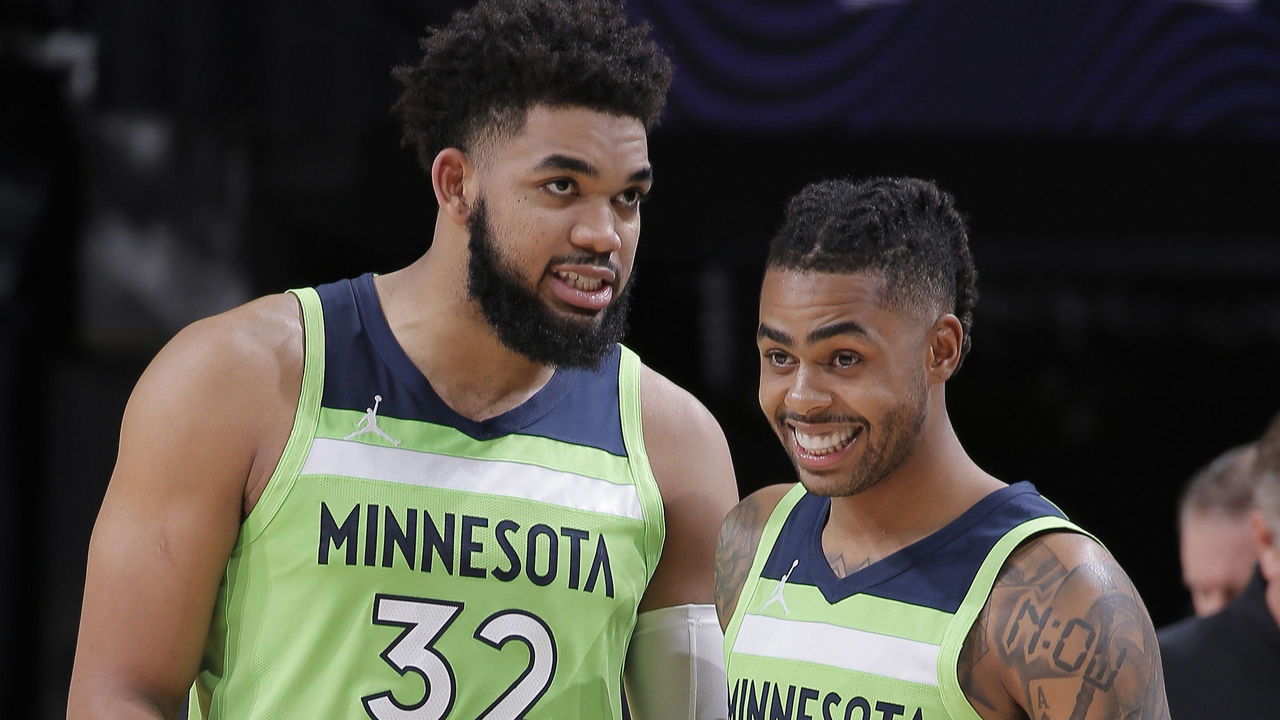 Russell's play in the short term and his long-term ceiling seem much less mysterious than the other players on this list, as the range of potential performance outcomes doesn't feel that wide or interesting. But he makes the cut because he could play a large part in how this season unfolds.
On the most basic level, if Russell and the Timberwolves can finally stay healthy, there's reason to believe Minnesota can be a sneaky playoff - or at least play-in - contender. For as many legitimate defensive concerns as there are about the Karl-Anthony Towns/Russell duo, the T-Wolves have actually proven fairly competitive when the two share the court. The team posted a 13-11 record last year in the 24 games that Towns, Russell, and Anthony Edwards were all available for. Minnesota showed particular promise with that trio on the court once the offensively innovative Chris Finch took over coaching duties.
The elephant in the room here, though, is that Minnesota might be the most sensible landing spot for Ben Simmons, and if a deal comes to pass, Russell would almost surely go the other way. That might not sound all that appealing to Sixers fans, and Russell's game has its warts, but his off-the-dribble creation and playmaking are actually desperate needs in Philly, and his porous defense would be masked better by playing in front of Joel Embiid.
Whether it's being a factor in how competitive the Timberwolves are or being a part of a Simmons trade package, Russell's ability to sink or swim this year will be something to watch. - Casciaro
Comments
✕
8 players who can swing the 2021-22 NBA season
  Got something to say? Leave a comment below!