Plot twist: The Clippers are thriving as scrappy underdogs
Kevork Djansezian / NBA / Getty Images
In a thrilling, injury-derailed playoffs, during which both 2020 finalists were eliminated in Round 1, the postseason's greatest plot twist centers around the Los Angeles Clippers. A team rightfully maligned as a front-running underachiever has morphed into a scrappy, resilient, and inspiring underdog.
No team has ever won more games while trailing in a series than the 2021 Clippers have. They already emerged victorious from two series that began with them digging a 2-0 series hole, and they trailed the Mavericks 30-11 in Game 3 and fell behind them again in the fourth quarter of an elimination game in Dallas.
Even if you chalk that up to an inconsistent contender playing with its food, that doesn't explain the unfathomable resilience the Clippers have shown since losing Kawhi Leonard midway through their Western Conference semifinal series against the Utah Jazz.
The Leonard-less Clippers - having already battled back from two games down - faced a best-of-three against the No. 1 overall seed. Los Angeles not only won two straight games to eliminate the top-seeded Jazz, but it also rallied back from 25 down in the closeout game.
After 50 seasons spanning three cities, two coasts, and a number of more talented Clippers clubs falling short of the conference finals, it was the 51st edition of the team, featuring surprising performances from the likes of Terance Mann and Reggie Jackson, that finally got the Clippers over the hump.
It wasn't the Chris Paul and Blake Griffin "Lob City" Clippers, who were done in by untimely injuries and Josh Smith. Nor was it the Kawhi-led Clippers that built a 3-1 lead in the West semis against the Denver Nuggets last year. It's the battered Clippers of Mann and Jackson.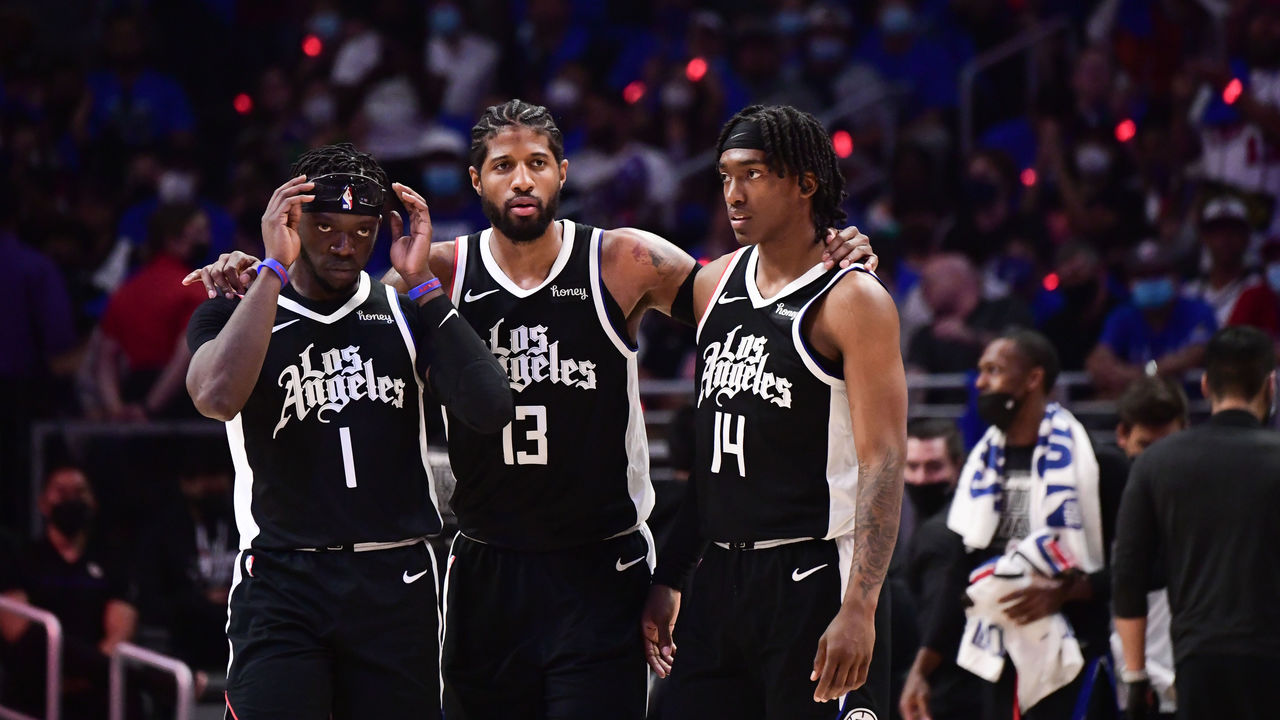 Paul George's brilliance during this run can't be overstated.
His jumper has come and gone this spring, but even when his offensive forcefulness left something to be desired earlier in the playoffs, his defensive effort and playmaking remained on point. He's still faced his share of moments that send Basketball Twitter into a "Playoff P" meme-ing frenzy, whether it's missed free throws down the stretch of conference finals losses in Games 2 and 4 or a couple of moments of lackadaisical play during an otherwise sensational Game 5 performance.
George was taken to task by the broadcast team for the latter, but what looked like a lack of urgency might have simply been fatigue, as he's been forced to carry an exhausting, two-way load since the Clippers lost Leonard.
He's logged 735 minutes during the 2021 playoffs. No one else has played more than 605, and the 130-minute gap between George and second-placed Devin Booker is greater than the gap between Booker and 15th-place John Collins.
If one of those aforementioned free throws dropped, if Jae Crowder and Deandre Ayton didn't combine for one of the most unbelievable game-winners ever in Game 2, or if Game 4 hadn't devolved into an inexplicable slog, George would have this unlikeliest of Clippers teams - sans Leonard, Serge Ibaka, and Ivica Zubac - on the precipice of the Finals.
They may still get there.
Head coach Tyronn Lue has proven himself to be a mid-series adjustments savant, and he knows which buttons to press and which cards to play when his team's back is against the wall.
The Clippers' small-ball lineups continue to cause opponents fits. In Monday's Game 5 victory to avoid elimination in Phoenix, Los Angeles' smaller players did an admirable job keeping Ayton out of the Suns' attack. The Clippers' ability to switch everything even had the usually sure-handed duo of Paul and Booker looking indecisive.
Jackson and Mann have been far from the only surprising contributors, too.
Nicolas Batum's resurgence has defied logic all season, and he's quietly continued to go about playing stout defense, hitting timely shots, and providing sharp off-ball movement throughout the playoffs. Marcus Morris and DeMarcus Cousins combined for 37 points on 57% shooting in Game 5. Trick y'all or not, Patrick Beverley has visibly frustrated Paul and Booker. After being dusted off by Lue following four total minutes of playing time through the postseason's first four games, Luke Kennard has shot nearly 43% from deep.
The Clippers may not win another game this season, and merely playing the role of overmatched playoff pests is not what Steve Ballmer, Jerry West, and Lawrence Frank had in mind when they mortgaged the future to bring George and Leonard home to Los Angeles. In fact, it's exactly the type of situation the front office wanted to move away from after the 2018-19 Clippers proved a surprisingly scrappy playoff team.
But there was no other identity for the Clippers to embrace with the injuries piling up and an uphill climb in front of them. And though what's left of this roster shouldn't be a championship contender, here L.A. stands; still alive, two wins away from the NBA Finals, having already advanced further than any Clippers team that came before it.
May the praise and cheers for this version of the Clippers be as loud as the mockery and jeers were for the team we thought we knew two weeks ago.
Comments
✕
Plot twist: The Clippers are thriving as scrappy underdogs
  Got something to say? Leave a comment below!