Brook Lopez holds the key to Bucks-Nets matchup
Erick W. Rasco / Sports Illustrated / Getty
The Brooklyn Nets and Milwaukee Bucks have been on a collision course all season, and we're finally going to see them clash in the playoffs.
It's a star-studded, blockbuster matchup that pits the transcendent triumvirate of Kevin Durant, James Harden, and Kyrie Irving against the less-heralded threesome of Giannis Antetokounmpo, Jrue Holiday, and Khris Middleton.
But underneath all that star power sits one of the matchup's most important figures, a player whose role and effectiveness will have as much say as anything in the outcome of the series: Brook Lopez.
Lopez had an up-and-down regular season, during which both his vaunted rim protection and ability to defend in space seemed at times to be slipping. But if there were any doubts about his ability to be a difference-maker in the playoffs, he dispelled them emphatically in the Bucks' first-round sweep over the Miami Heat. Lopez wasn't just one of the most important players in that series, he was arguably the single most impactful defender (with the possible exception of Clint Capela) of the entire first round.
A Heat team that ranked second in the league in at-rim efficiency during the regular season shot just 38.1% in the restricted area when he was in the vicinity, and they took only 24.1% of their shots at the rim - down from 32.8% in the regular season - because of his interior presence. On attempts within six feet of the basket, Miami players shot 24.8 percentage points worse than their average when Lopez was the nearest defender. He completely neutralized Bam Adebayo and helped stymie Jimmy Butler. The Bucks surrendered just 87 points per 100 possessions with him on the floor.
Of course, the Nets are not the Heat, and their stars pose a wholly unique set of challenges. Lopez was mostly able to stay in a drop against Miami because that team lacked the shooting and on-ball creation to punish him. He was able to completely cut off the oxygen supply the Heat's offense subsisted on. But the Nets don't depend on scoring at the rim, and they possess the league's most abundant supply of creators and pull-up shooters.
Brooklyn can go five-out and stretch any defense past its breaking point, with every action flanked by weak-side threats off of whom you can't afford to help. And the Nets have myriad ways to roast drop coverages, from their Big Three's collective off-the-dribble 3-point prowess, to Durant's buttery mid-range jumper, to Harden's deft floater, to Joe Harris' off-ball movement shooting, to the pick-and-pop ability of big men like Blake Griffin and Jeff Green. All of which promises to make Lopez's life especially difficult.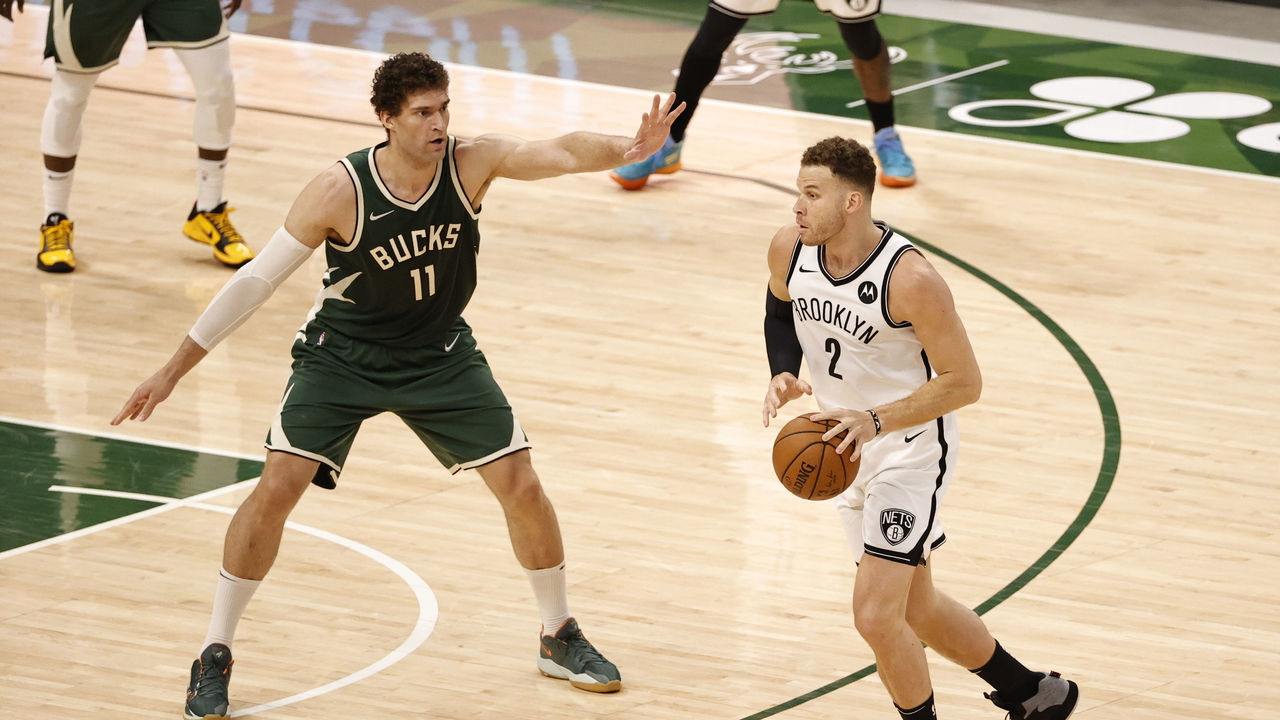 During the regular-season series, the Bucks were significantly better defensively with Lopez on the bench. The Nets put up a 117 offensive rating with him on the floor, despite having at least one member of their superstar trio missing in all three games. Lopez didn't do anything wrong in those games, per se; he executed the coverage he was asked to. But the Nets, more than any team, can make that coverage untenable. Harden, for instance, shot 7-of-9 on floaters in the one game he played against Milwaukee, with all nine attempts defended by a dropping Lopez.
Those are the shots the Bucks' defense is designed to concede, and they're the types of shots you have to be willing to live with against Brooklyn, given the alternatives. But Milwaukee ultimately needs Lopez to do a better job impacting those shots. The Nets also shot 61% at the rim against him in the season series (he allowed 49% against all other teams), which speaks to how uncomfortable they made him by forcing him to cover more ground.
It's not that Lopez is totally incapable of defending out to the perimeter; he'll stay in his base the vast majority of the time, but when he needs to step out and contest shots, he's capable of doing so with aplomb. Still, the level of ball-handling on the perimeter in Brooklyn makes this a much taller task than just occasionally lunging at Duncan Robinson off a dribble-handoff.
Lopez should be able to play up to the level of the screen in pick-and-rolls, and possibly even trap ball-handlers from time to time when Antetokounmpo is on the floor with him. Having Antetokounmpo's incredible court coverage on the backside makes shorthanded rotations a lot more navigable (though, again, Brooklyn's shooters leave no margin for error).
The Bucks had Lopez playing up at the level on this Durant pick-and-roll, and it worked because Giannis was guarding non-shooter Bruce Brown in the strong-side corner:
That gets a whole lot thornier if Giannis is the guy guarding Durant. Who helps the helper then?
Things will also get complicated when the Nets roll with a stretch five, but fortunately for Lopez, Green - Brooklyn's one center-adjacent player whose jumper is threatening enough to drag him away from his interior help duties - is out with a plantar fascia strain, and it's unclear when he'll be back. Griffin, who's been starting at center in the playoffs, has a functional but not exactly dangerous jumper. And putting Durant at the five would leave the Nets with precious little rim protection of their own to deal with Antetokounmpo at the other end.
DeAndre Jordan being on the floor makes Lopez's life easier, because he isn't a threat to shoot or make plays when he catches the ball in space. That effectively allows Lopez to serve as a goalie and comfortably remain within his crease in front of the net. Or, if Jordan is screening, Lopez can play the pick-and-roll more aggressively. The Nets have basically mothballed Jordan since the last time these two teams met, but there's a good chance they'll need to dust him off again. Jordan was the primary on Antetokounmpo during the teams' miniseries a month ago, and he's arguably still their best option for that matchup.
There are ways the Bucks can try to protect Lopez while keeping him stationed on the interior, even amid so much shooting. It's common to see him play a one-man zone under the basket while the other four Bucks switch and rotate around him. For example, Lopez was defending the screener (Jordan) on this Nets baseline out-of-bounds play, but it was Holiday (guarding the inbounder) who leaped out at Harris in the corner, while Lopez stayed planted in the paint:
We've also seen the Bucks toy with pre-switching to keep Lopez out of ball-screen actions late in games. The most prominent instance this season came against the Phoenix Suns, another highly proficient pull-up shooting team.
On the possession below, Lopez passed Deandre Ayton off to Middleton as the Suns big man came up to screen for Chris Paul. That momentarily left Lopez on Devin Booker, but Middleton recovered and eventually forced the star guard into a difficult step-back, while Pat Connaughton held in the paint to deter Ayton's roll until Lopez could get back:
Booker, being the great shotmaker he is, still made the bucket, which makes that play particularly instructive. The Nets don't care about a good defensive process; even if you snuff out every action they run, they can still just cook you in isolation.
That's one reason we shouldn't expect to see Lopez on the bench in crunch time this series. With Donte DiVincenzo sidelined, there's no Lopez-less alignment the Bucks can deploy that wouldn't include a defensive minus. Downsizing for the sake of switchability sounds nice in theory, but if one of the players on the floor is Connaughton or Bryn Forbes, switching everything just becomes an invitation for the Nets' scorers to choose their entree. Lopez may concede a precarious amount of space in the pick-and-roll, but the Bucks aren't likely to have any more success with Bobby Portis guarding ball screens, or Forbes and Connaughton getting hunted for one-on-one sport.
Meanwhile, if Lopez can make an impact - or at least avoid being a liability - on defense, the Bucks will get the added benefit of his size and skill at the offensive end. The Nets have shown a preference for putting their center (be that Jordan, Griffin, Green, or Nic Claxton) on Antetokounmpo, which leaves a much smaller player on Lopez. He didn't really capitalize on that advantage during the season series - averaging just nine points on 47.1% true shooting while collecting a grand total of five offensive boards across the three games - but proved against Miami he's still capable of exploiting size mismatches when the situation demands it.
He averaged 15.8 points and shot nearly 70% from 2-point range in that series, while the Bucks collected 56% of available rebounds with him on the floor. That's going to be crucial against a Nets team that lacks interior defense and struggles badly on its own glass.
So, though Lopez may not be the starriest name in this series, he'll undoubtedly be one of its most important participants. And if he has the kind of impact he did last round, the Bucks can absolutely swing the upset.
Comments
✕
Brook Lopez holds the key to Bucks-Nets matchup
  Got something to say? Leave a comment below!