It seems clear that the relationship between Kevin Love and the Cleveland Cavaliers has run its course, and both player and team are ready to move on. But NBA breakups can be complicated, and for now, the two sides are stuck in a loveless marriage. Love recently expressed his frustration with the situation in a loss to Toronto, when he cavalierly (sorry) inbounded the ball directly to the opposition, leading to a wide-open Raptors 3-pointer and a public apology from Love.
It wasn't exactly an isolated incident. You may recall Love deliberately and theatrically taking a three-second violation last season in protest of Collin Sexton's unwillingness to feed him the ball on the block. Or demanding the ball from Sexton in the middle of a possession and angrily rifling it at Cedi Osman. Or getting into a verbal altercation with general manager Koby Altman. Just last week, on a podcast with Yahoo Sports' Chris Haynes, he openly pined for Portland. After going to The Finals in each of his first four years in Cleveland, three seasons of incessant losing in the post-LeBron James era have turned Love into a malcontent.
At this point, the Cavs would surely be glad to grant his wish and trade him. But that's far easier said than done. Love has two years and $60 million remaining on his contract, will be 33 by the time next season starts, and hasn't played more than 60 games in a season since 2015-16. He's had an outstanding, borderline Hall of Fame-caliber career, and it's dispiriting to see him fritter away what could be his last productive years in the league on a rebuilding team that has no incentive to pander to him on or off the court. But being stuck in this situation was part of the bargain he made when he signed his huge four-year extension in 2018, shortly after LeBron decamped for Los Angeles.
No one's going to feel sorry for him as he cashes his gargantuan checks, but this is the downside of signing a lucrative long-term contract when you're a veteran approaching a decline phase: It makes you harder to trade and often roots you in place. Of course, Love isn't helping his case with his demonstrations of irritability or, frankly, with his play. His true shooting percentage and per-possession scoring and rebounding rates this season are his lowest since his rookie year. He's missed an average of 38 games over the last three seasons. His defense isn't getting any better.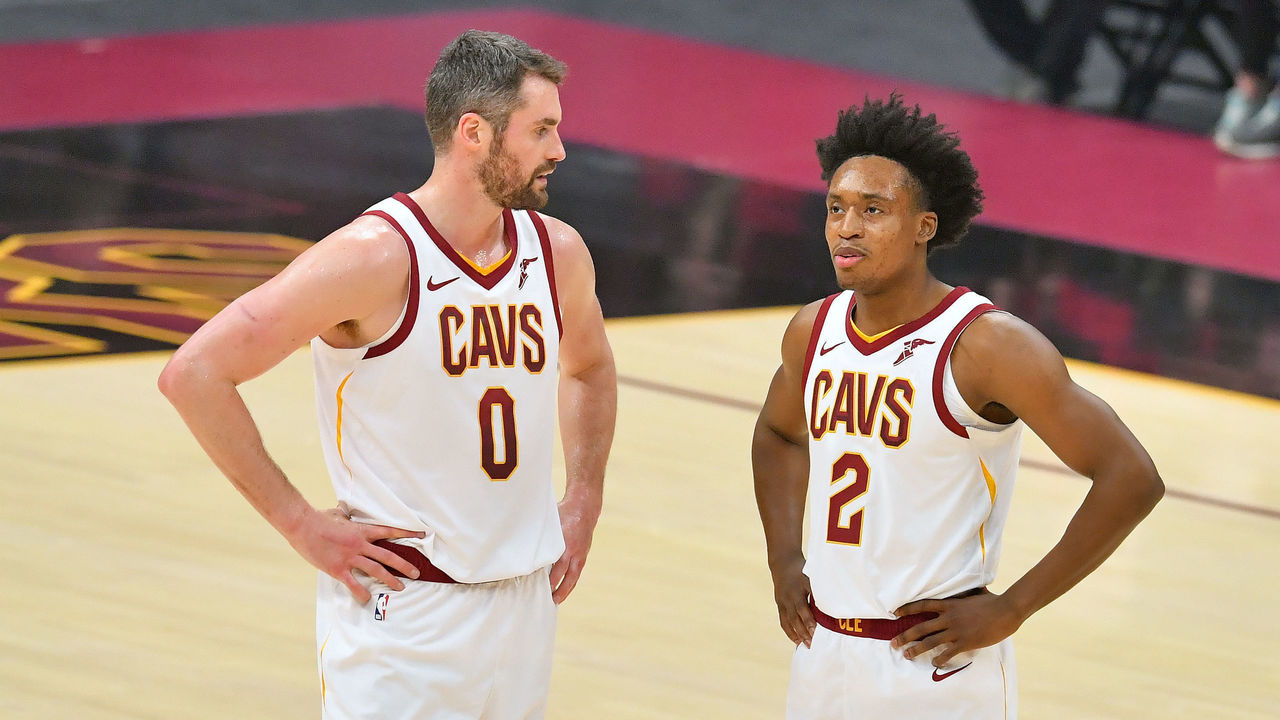 Hastening his exit from Cleveland would require making himself more appealing to potential trade suitors, but it's unclear how much more he's capable of giving. Is his spotty play mainly the product of indifference or the steady slippage he's been experiencing for half a decade? How much would he really bring to a competitive team? And will he get a chance to show us before his decline truly hits a point of no return? Let's investigate.
For starters, Love is still a major offensive plus. The shooting and passing he brings at his position remain hugely valuable and would fit snugly into basically any offense. Those are also probably the two skills that are most resistant to aging, although Love's 3-point percentage this season (34.7%) is his lowest in eight years.
He reads the floor extremely well, greases the wheels for side-to-side action from the top of the floor, and can dime up cutters and shooters from the high or low post:
He's also a super-smart off-ball mover, and while his declining foot speed makes it increasingly difficult for his movement to produce clean scoring chances, a team with more willing and capable passers could probably make better use of that skill.
Most importantly, Love is a legitimate stretch big, with a quicker release than most players of his ilk. He's not just a stationary shooter, either. He can still let it fly on the move, even if his form and shot preparation are a bit rigid and mechanical at this point. His team can run guard-style sets to spring him off of staggered pindowns, which is more than you can say for most 6-foot-9 bruisers:
Love's ideal position has long been a topic of debate, but that's more of a concern at the defensive end. On offense, he can be effective as a 4 or a 5. When he plays alongside a rim-running center like Jarrett Allen, he can space the floor as a spot-up threat around pick-and-rolls or be used as the popper in double-drag actions. When the defense sticks a wing on him or switches a guard onto him, he won't hesitate to duck in and turn the possession into a post-up.
Those post-ups don't quite hit like they used to, though, and that's where the concerns begin. Inside-the-arc scoring in general has fallen by the wayside for Love, who's taking 62% of his field goals from 3-point range and barely getting to the line anymore (his 3.9 free-throw attempts per 100 possessions this season are 2.1 fewer than his previous career low). He's yet to dunk the ball this season. He can vanish for long stretches, chilling on the perimeter and becoming disengaged from the offense. In a recent game against the Wizards, he didn't attempt a single field goal or free throw in 22 minutes of action.
Part of that has to do with his teammates looking him off, whether it's because they're hunting their own offense or they just aren't confident in their ability to make basic entry passes. Love kind of had a point when he stubbornly took that three-second count last year. The Cavs routinely eschew opportunities to feed him the ball against mismatches in the post:
At the same time, it's hard to justify giving him more interior touches when he's averaging 0.76 points per possession on post-ups. Even when Love is aggressive in hunting deep seals against smaller players, his touch around the basket often betrays him these days, perhaps owing to tired legs and lack of lift. His opportunities to be a playmaker out of the low post are also decreasing as opposing teams catch on to the fact that he's no longer much of a threat to score down there.
Still, because of his off-ball gravity and his ability to keep the gears moving with his passing, Love tends to have a positive offensive impact even when he struggles individually. Despite registering an unthinkable minus-45 on-court rating against the Trail Blazers last Wednesday (not exactly a convincing audition for his desired employer), he has a positive on/off differential for the season. The Cavs' assist rate and rebounding percentage get major boosts when he's on the floor, and the team commits far fewer turnovers.
Defensively, it's a different story, and that's where Love's positional ambiguity becomes a problem.
He's almost exclusively played power forward this season, which brings significant challenges with so many teams deploying wing players at that spot. His slow feet stand out on the perimeter, and he can't afford to stray far from his primary assignment to help in the middle of the floor because his subsequent closeouts are toothless.
But playing him at the 5 is an even dicier proposition. As the last line of defense, Love isn't so much a hurdle as he is the ribbon stretched across the finish line. He just can't get off the ground quickly enough to contest, which is why opponents are shooting 74.5% at the basket when he's in the vicinity. He's never been much of a rim-protector, but it's never been this bad.
His defensive deficiencies are more about what he doesn't do than what he does. He doesn't make egregious mistakes and is rarely out of position, but he makes very few impactful help rotations. These are sins of omission, not commission:
But for all the issues that crop up in the half court, his sluggishness is most damaging to his team's transition defense. Opposing teams absolutely shred the Cavs on the break when he's on the floor.
Some of these are effort-based shortcomings he could theoretically improve upon in a winning environment. Within a team-oriented system designed to shield him, he has the smarts to do his job without triggering breakdowns. And he's still a major plus on the defensive glass, with the strength and wherewithal to execute textbook box-outs. But lineups and schemes need to be structured around his limitations.
That's why a trade is so unlikely. There are a handful of decent-to-good teams with frontcourt needs Love can capably fill (the Heat, Mavericks, Spurs, Warriors, Pelicans, and, yes, the Blazers), but none of them will look to address those needs via a 33-year-old one-way player who'll take up more than a quarter of their cap. Especially because most of those teams specifically need help on the defensive side of the ball (and none more so than Portland). Any trade would almost certainly require the Cavs to either attach an asset or take back equally bad money in return, which would defeat the purpose from their end.
The Pelicans might be the Cavs' one realistic trade partner. Love has a relationship with general manager David Griffin, who brought him to Cleveland back in 2014. Steven Adams hasn't really worked out for New Orleans, and his extension, which looks pretty rough from the team's perspective, could get the Pelicans most of the way toward matching salary. Adams is a markedly better defender, but Love can approximate most of what he offers on the glass while spacing the floor for Zion Williamson at the offensive end in a way that could make the Pelicans virtually unstoppable.
But a Brandon Ingram-Williamson-Love frontcourt has the potential to be the worst defense in the league, and the Cavs would have little incentive to make that deal without a sweetener.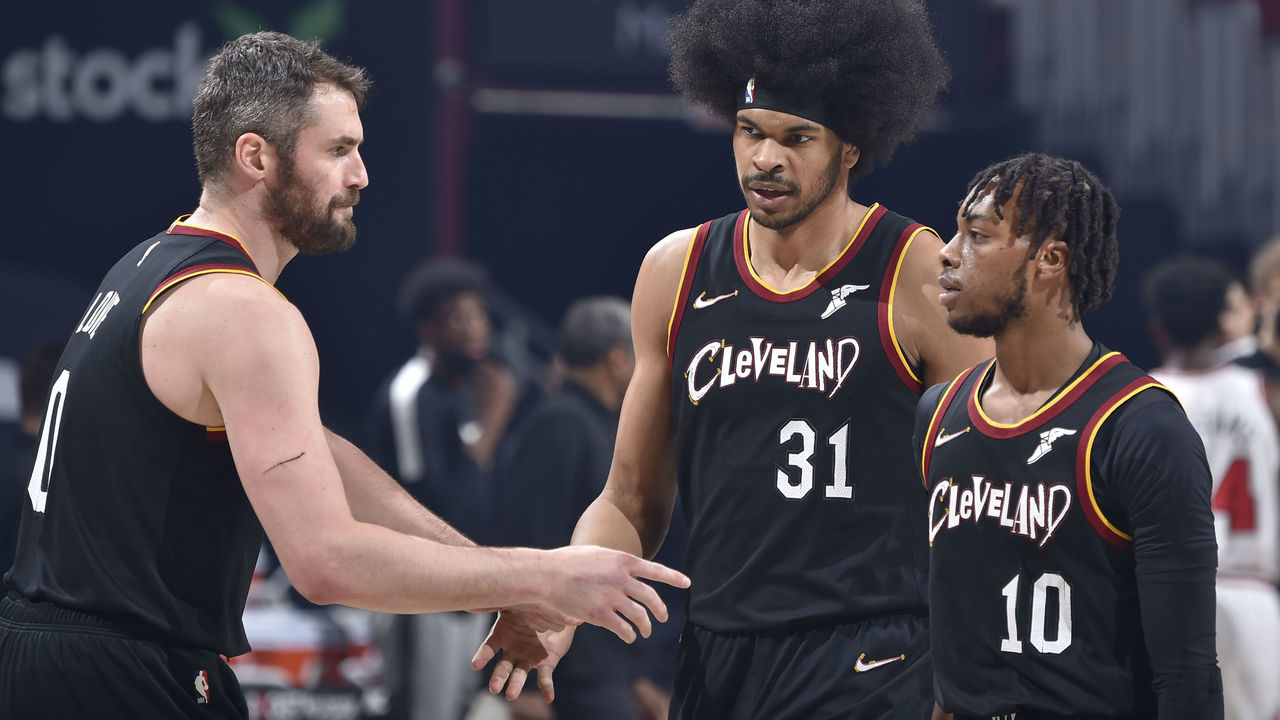 So, it sure seems like Love is trapped, much in the same way Blake Griffin was trapped in Detroit until a couple months ago. Escaping the Pistons required Griffin - whose contract had slightly less term and money remaining than Love's currently does - to give back $13 million in a buyout agreement.
Griffin is a good analog, not just in terms of age and contract status but in terms of skill set and utility to a contender. Griffin is a better ball-handler and defender, but Love is a better shooter, and at least comparable as a passer. Griffin has proven quite useful to the Brooklyn Nets in a scaled-down role since signing for the minimum following his buyout; he's posting the best true shooting percentage (62.1) of his career and playing his best defense in years. That could be a good indicator of what to expect if Love winds up in a similar situation: playing 15-20 minutes a game off the bench for a good team.
But there's a reason Griffin didn't get traded, and a reason we'd never seen a buyout of that scale before. Would Love make a similar monetary concession for a chance to play a smaller role elsewhere? Is Cleveland willing to bite the bullet as Detroit did and pay him to go away? It's possible the two sides will negotiate an agreement sooner than later, but it's equally possible that Love will remain a Cavalier at least until the last year of his contract, when he'll be 34.
There's still a productive player in there, and one who can be a difference-maker in the right situation. But Love is in a race against the clock to find that situation while he can still perform at a high level. At the moment, the clock might be the safe bet.