3 teams, 3 questions: Digging into the doubts facing the East's contenders
With a strange NBA season in the rearview, we're heading into a wide-open postseason that features eight legitimate championship contenders.
There are significant questions connected to all of those teams, and on the eve of the playoffs, we're exploring the biggest one facing each squad.
We brought you the questions the five West contenders are dealing with on Monday. Now here are the three biggest questions the East's three primary contenders must answer.
Philadelphia 76ers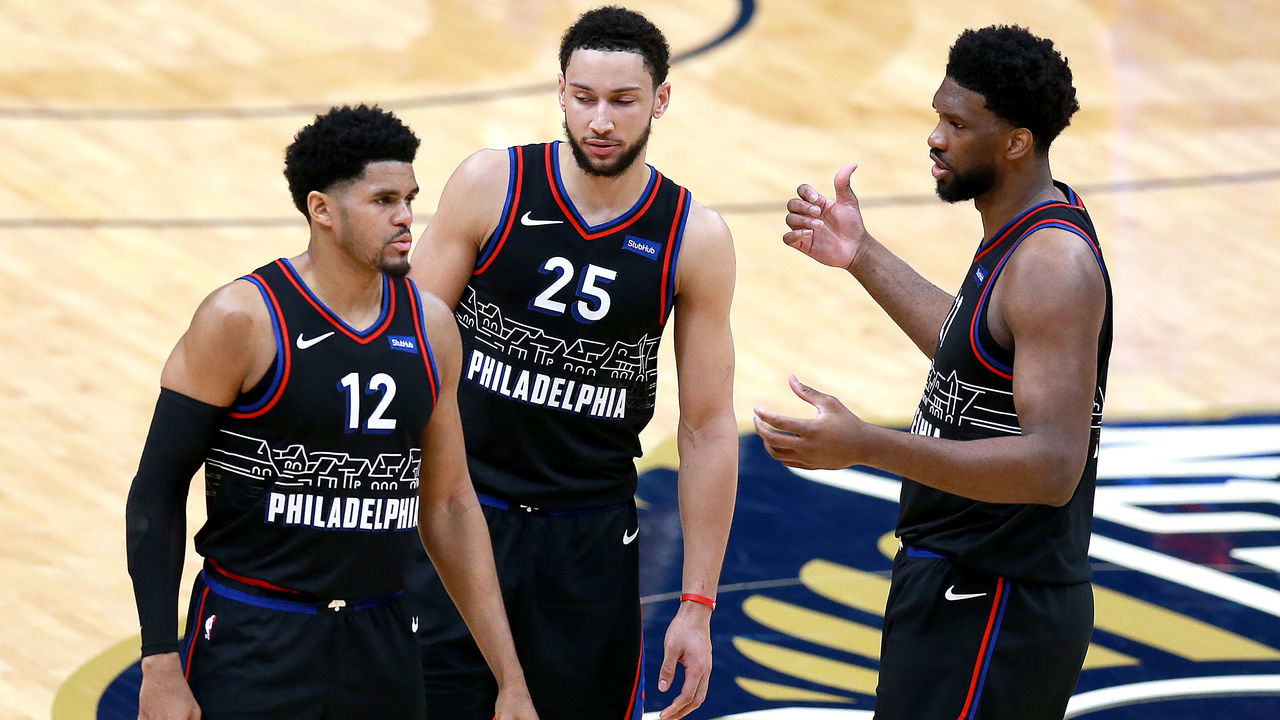 Which versions of Ben Simmons and Tobias Harris will they get?
Joel Embiid's leap as a jump-shooter and overall face-up threat has arguably provided an answer to the 76ers' long-standing offensive questions. His ability to be a dual inside-out presence makes it easier for them to run late-game offense through him, and his sharpened passing instincts make it more difficult for opposing teams to load up.
But that alone won't be enough to take Philly where it's trying to go this postseason. Defenses will challenge Embiid's teammates to make plays, and half-court shot creation will continue to be a concern until those players come through.
Simmons and Harris are the swing players who will heavily influence Philly's playoff ceiling, and how the offense holds up in tight spots will determine the unit's fate. If those two perform similarly to how they did for large portions of this season, the Sixers will get more than a puncher's chance of winning the whole shebang. If the pair plays as they did in past postseasons, the Sixers will have scant hope of making it out of the East.
Harris produced a tremendous season, and he was particularly ridiculous during clutch time (defined as the last five minutes of a game when the score is within five points). He scored 77 points on .531/.444/.913 shooting while registering a plus-66 on-court rating over 105 minutes. His pull-up shooting has been vital for a team that's otherwise light on that skill, and he's frequently been Philly's go-to option down the stretch.
But Harris simply hasn't been who the team needed him to be during the past two postseasons, with his true shooting plummeting to 50.4% (his regular-season mark as a Sixer is 57.2%). Because he creates for himself far more than others, that kind of scoring-efficiency dip is hugely damaging.
Simmons didn't play in the playoffs last year, but it's clear what it looks like when he's marginalized in high-stakes settings. His defensive prowess, passing ability, and dominance in transition are well-established and extremely important to the Sixers. But the team is at its best when he brings his open-court aggression to the half court, and Simmons only does that sporadically at best. He still frequently struggles to make an impact in confined spaces against set defenses. His assertiveness waxes and wanes like the phases of the moon.
There are stretches when he's in nonstop attack mode, and when Simmons revs up for drives before even receiving the ball, getting to the basket and free-throw line at will. There are others in which he looks tentative, shies away from contact, and aborts drives to make last-ditch jump passes. In clutch time this season - which is an admittedly noisy sample, but one that still feels indicative of how players are deployed in high-leverage playoff possessions - Simmons posted a usage rate of just 15.6%, with as many turnovers as assists.
Breaking his season up into chunks shows what a roller-coaster it's been offensively: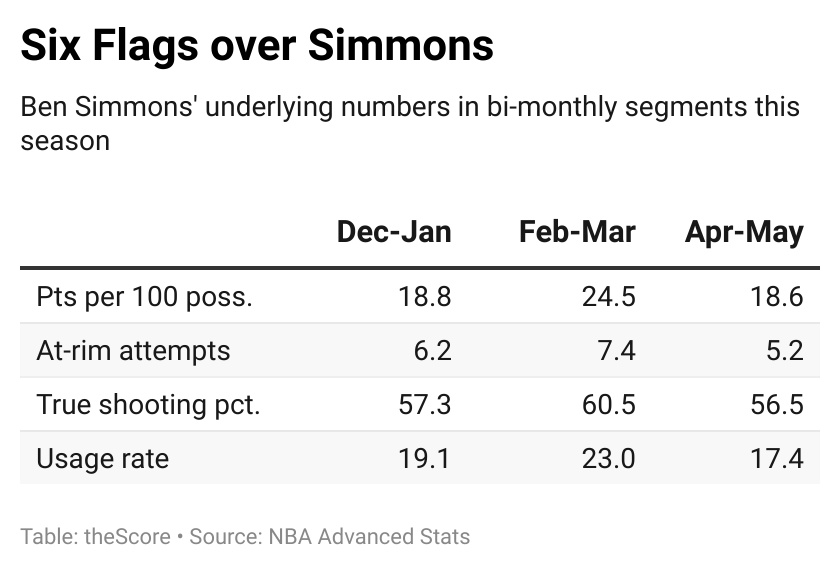 The Sixers punted on their Kyle Lowry pursuit at the trade deadline partially as a commitment to preserving the team's future, and partially as a show of belief in its present.
Without a proven playoff creator like Lowry, the present depends a whole lot on Harris and Simmons. Time will tell if that belief was justified. - Wolfond
Brooklyn Nets
Is their interior defense strong enough?
The Nets' offense should comfortably be the NBA's best when everyone is healthy. With three of the league's top isolation scorers, they'll be a leg up on any opponent when it comes to manufacturing buckets in half-court-oriented, grind-it-out playoff games.
The bar is then naturally lowered for their defense, but questions persist about whether it can be good enough for the Nets to win a championship. And while they're far from airtight on the perimeter, their flimsy interior defense poses the biggest concern.
DeAndre Jordan is their closest option to a traditional rim-protector, but he isn't actually that good at protecting the rim anymore (opponents shoot 61% at the basket when he's nearby). That's particularly troubling because the Nets don't ask him to do much else.
They've toyed with using Jordan as a switch defender and he hasn't looked terrible doing it, but there are better options available to the team for that scheme. It's kind of wild that a club as good as Brooklyn, even accounting for all its injuries, has been outscored by 1.9 points per 100 possessions with its nominal starting center on the floor.
The Nets do benefit from plenty of lineup flexibility, especially when it comes to downsizing. In Kevin Durant, Jeff Green, and a rejuvenated Blake Griffin, they can create a sort of center-by-committee situation in which two or three of those guys play at the same time, and it doesn't matter which one is playing the five-spot because they can crossmatch and switch on everything. Those smaller lineups have collectively defended at about a league-average rate, and the Nets don't need to do much more than that to be considered championship favorites. But there are still some red flags with those units.
For one thing, Jordan is their best option to deter rim shots, even if he doesn't defend those attempts especially well, according to Cleaning the Glass. And while the Nets may be at their best when they go small, opposing teams routinely create extra possessions to punish those lineups. Brooklyn's 71.8% defensive rebound rate with Jordan on the bench is equivalent to the league's fourth-worst mark. Durant, in particular, has been exposed as a rebounder when asked to slide up a position, with stronger players shoving him out of the way.
Breakout second-year big man Nic Claxton is the Nets' best defender when it comes to splitting the difference. He's shown the ability to rebound, switch, and protect the rim (his opponent field-goal percentage in the restricted area is the best mark among the team's rotation players), all while serving as an effective rim-runner offensively. The Nets allowed just 102.1 points per 100 possessions with Claxton on the floor this season, which is elite. He's a bit foul prone, though, and extremely inexperienced after playing just 781 career minutes. To what extent can Brooklyn actually rely on him in high leverage?
Perhaps more pertinently, can Claxton be the answer during the team's most important playoff matchups? The Nets are likely going to face Milwaukee in the second round, and Philadelphia in the conference finals if they advance.
Against the Bucks, they'll need their backline to hold up to Giannis Antetokounmpo's relentless rim assaults. Against Philly, they need a defender who's strong and disciplined enough to keep Embiid from parading to the free-throw line and getting whatever he wants in the post. The fact that Jordan still feels like the best solution to both of those quandaries is a tad worrisome. - Wolfond
Milwaukee Bucks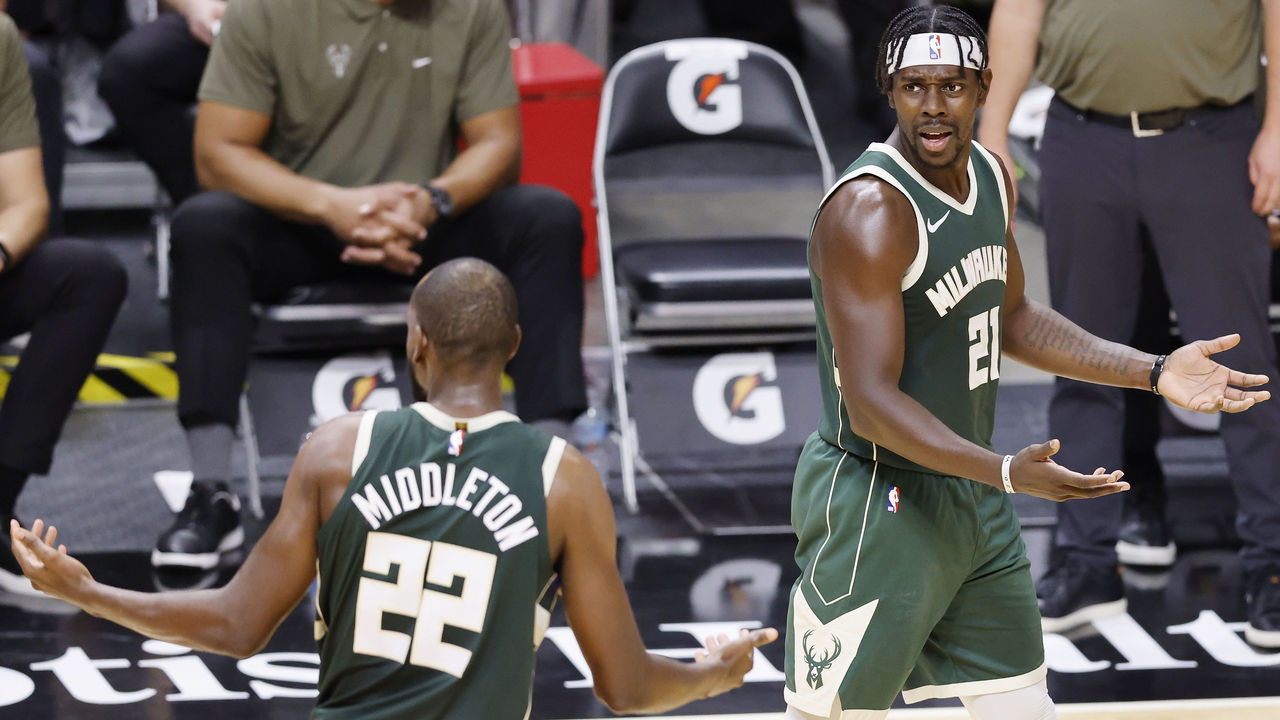 Do they have a championship-level shot-creator?
Antetokounmpo is a two-time MVP still squarely in his prime, and he maybe hasn't even peaked yet. He's a two-way force who can unquestionably be the best all-around player on a title team. But as a non-shooter with a wonky jumper beyond 10 feet, The Greek Freak isn't your traditional championship-team alpha.
Antetokounmpo is more of a big man - albeit somewhat of a point-center - than many care to admit since he's among the most dominant interior finishers we've ever seen.
Milwaukee's offense under Mike Budenholzer has always been built upon surrounding Giannis and his interior dominance and rim-running with a bevy of shooting. But the Bucks have been met with heartbreak when teams effectively wall off the 26-year-old during the playoffs and turn him into an indecisive shooter. Either Antetokounmpo needs to improve his jumper, or the Bucks need to find or develop a championship-level shot-creator.
The former still hasn't materialized, as Antetokounmpo remains a 30% 3-point shooter who rarely tests his mid-range touch. And the latter depends on whether you consider Khris Middleton or Jrue Holiday title-tier shot-creators.
Middleton has averaged roughly 20 points on 47-39-88 shooting over the last four years, has flirted with joining the 50-40-90 club in each of the past two seasons, and for the most part, he's remained a productive and efficient playoff scorer. But he hasn't been able to elevate his game to become a premier shot-creator, and it's uncertain whether Middleton can be successful against the game's most effective wing-stoppers in the postseason.
Same goes for Holiday, who doesn't score on Middleton's level, but he's one of the league's most impactful two-way guards. In a well-suited role as Milwaukee's lead guard but third scoring option, Holiday was as efficient as he's ever been this year. And though less than 18% of his field-goal attempts came between the 3-point line and 10 feet of the basket, he was deadly from that area, which is where postseason defenses force you to go. Holiday shot a career-high 52.8% this campaign from 10-16 feet out, shot better than 40% on long 2-pointers beyond 16 feet, and shot a career-high 39.2% from deep.
Can he be that type of shot-creator, shot-maker, and crunch-time closer in the playoffs? Can he and Middleton combine to give the Antetokounmpo-led Bucks the playoff presence they've lacked in recent years? Or will Milwaukee be left to helplessly watch as another prime-time performer (Jimmy Butler, Kawhi Leonard, etc.) sends the team to an offseason of despair again? - Joseph Casciaro
Comments
✕
3 teams, 3 questions: Digging into the doubts facing the East's contenders
  Got something to say? Leave a comment below!