5 teams, 5 questions: Digging into the doubts facing the West's contenders
With a singularly strange NBA regular season in the rearview, we're heading into a wide-open postseason that features no less than eight legitimate championship contenders.
All of those teams face significant questions. On the eve of the playoffs, we're exploring the biggest question facing each of them, starting with the five contenders in the Western Conference.
Utah Jazz
Can a 'sum of its parts' team win a title?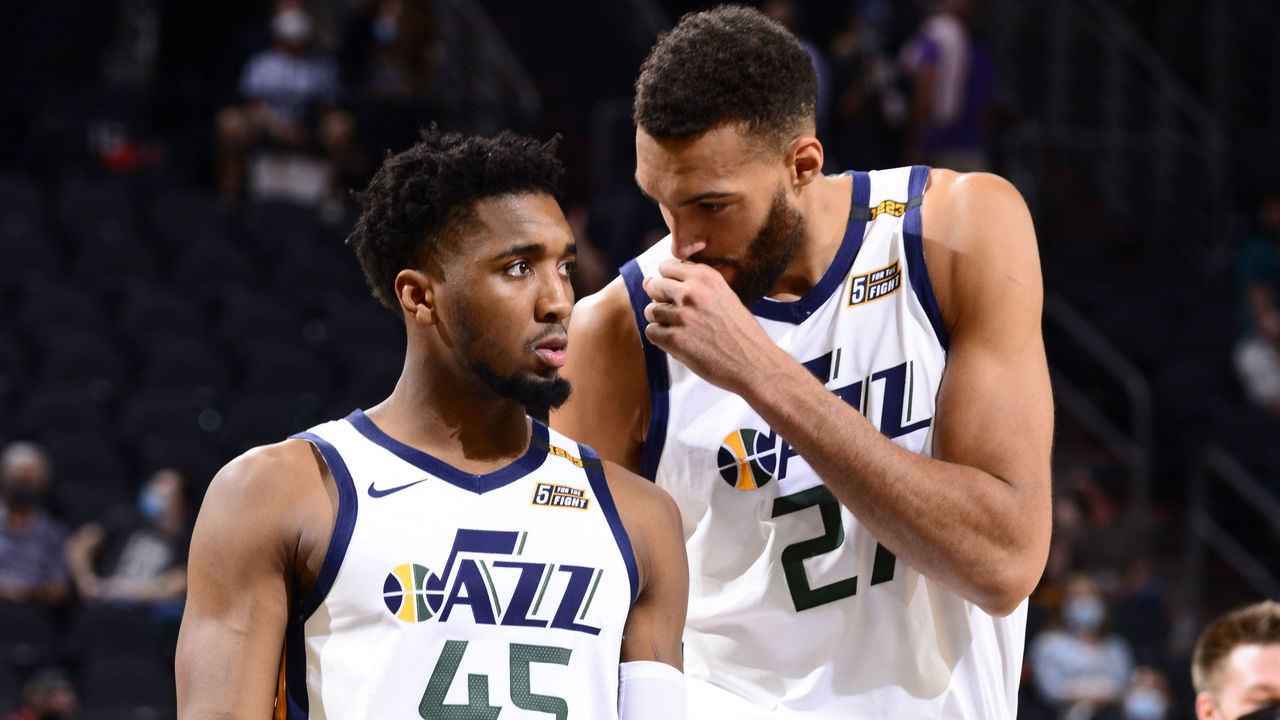 Every so often, a good team no one expected to be great emerges as a dominant regular-season force. Whether it's the 2020-21 Jazz, the 2017-18 Toronto Raptors, or the 2014-15 Atlanta Hawks, these teams ride multiple All-Stars, tremendous depth, and ruthless, two-way execution to around 60 wins and mind-blowing point differentials. They do it despite the absence of truly transcendent superstars, the presence of whom is widely accepted as the foundation of real championship contention.
As the regular season winds down, we end up asking the same question of these teams; can one relying on the sum of its parts really win an NBA title without such a superstar?
The 59-win, top-seeded 2018 Raptors were swept by LeBron James and the Cleveland Cavaliers in the second round. The 60-win, top-seeded 2015 Hawks were also swept by James in the conference finals. You see the pattern here.
With all due respect to Donovan Mitchell's tremendous abilities and 2020 postseason exploits, and Rudy Gobert's generational defensive impact notwithstanding, the Jazz are a great team that will never have the best player in a series against the league's other contenders.
Whether it's James' defending champion Los Angeles Lakers, Kawhi Leonard's Los Angeles Clippers, Nikola Jokic's Denver Nuggets, Chris Paul's Phoenix Suns, or teams led by Joel Embiid, Giannis Antetokounmpo, or Kevin Durant (plus James Harden and Kyrie Irving) in the East, the Jazz will face an uphill battle. Trying to win in the playoffs without a true superstar is the NBA's equivalent of bringing a knife to a gunfight.
It's not that it can't be done. It's just that you can only cling to the 2004 Detroit Pistons for inspiration for so long.
Overcoming one of those aforementioned, superstar-led contenders is possible, and it's worth acknowledging just how good Utah has been this season. They rank in the top four on both ends of the court, can win in a variety of ways, are well-coached, play basically zero overall liabilities, have won at least nine straight games on three separate occasions, and owned the league's best record almost start to finish.
But it may be asking too much for them to overcome multiple superstar-led contenders in one playoff run. And with the way the West playoff bracket is shaping up - the Lakers potentially finishing seventh or eighth - Utah could need to beat four of those aforementioned teams en route to a title. - Joseph Casciaro
Phoenix Suns
How real is this defense?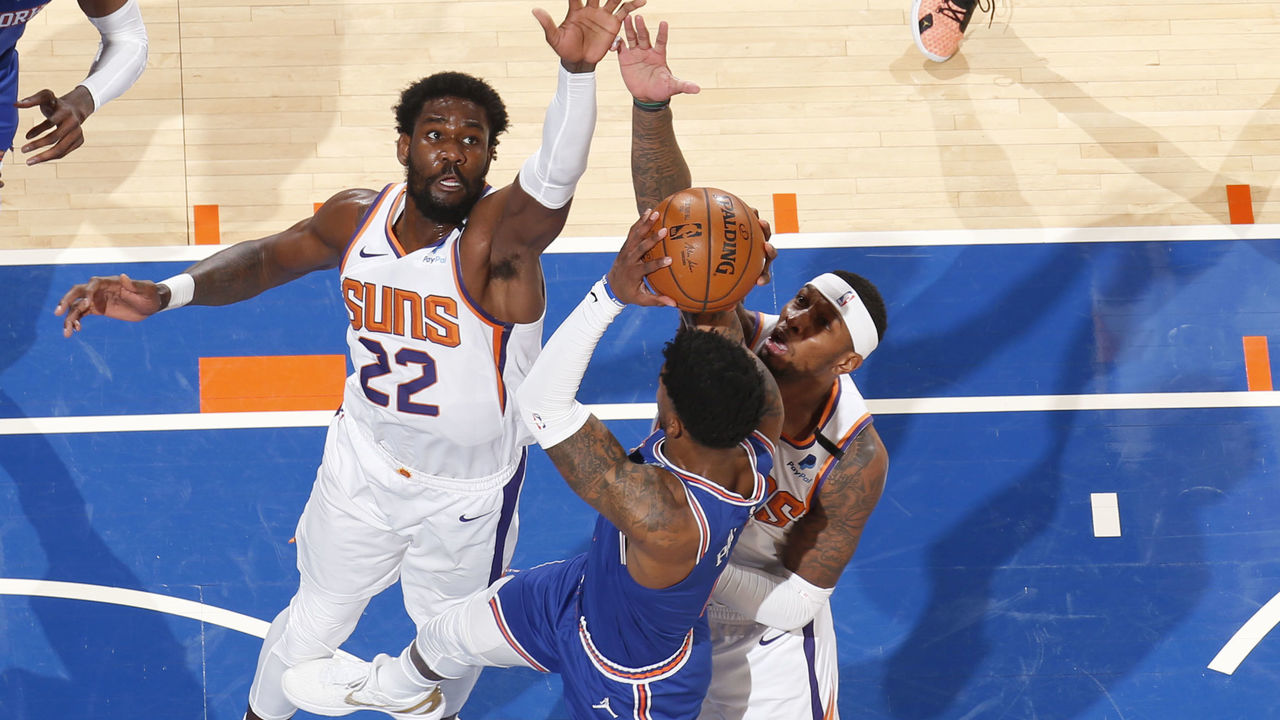 Everyone knew an offense built upon the backcourt of Paul and Devin Booker could be elite, but Phoenix's level of contention was always going to be determined by the type of defensive team the Suns could be.
They passed with flying colors during the regular season, ranking seventh in defensive efficiency. The postseason is a different animal, however.
The playoffs have a way of exposing and magnifying a team's weaknesses, as opponents mercilessly feast on whatever advantages can be found. A defensive liability among the most important players can be treacherous. Two can be a fatal flaw.
Phoenix has some game-changers on that end. Paul remains one of the best perimeter defenders, while Mikal Bridges and Jae Crowder give the Suns the type of big wing defenders necessary to match up with the league's star forwards (James, Leonard, Paul George). Torrey Craig was a nice midseason acquisition on the defensive end, and Jevon Carter is a solid option further down the rotation.
Booker and Deandre Ayton are the big question marks.
The former has been more engaged than ever before on the defensive end, and effort alone goes a long way during the regular season. But we haven't seen opponents target Booker the way playoff foes will, and Phoenix can't afford for one of its two best players to be bleeding points.
Ayton has taken a sizable leap on the defensive end over the last couple of years and has been solid enough both as a rim protector and while defending in space this season. It remains to be seen whether he can be the anchor of a championship-level defense in the playoffs, though.
Neither has done enough on that end to completely put these concerns to rest. If even one - let alone both - emerges as cannon fodder for Phoenix's opponents, the Suns' title hopes evaporate.
If you're looking for an offensive question mark, it's that the Suns lack a consistent rim attack. Paul and Booker are sensational offensive talents, but how is this team going to generate easier looks against playoff defenses? Phoenix's offense revolves around its guards, and the Suns are 30th in rim frequency and 29th in free-throw attempt rate. The counter-argument would be that Booker and Paul, especially, excel at making the type of tough shots playoff defenses force you to take. - Casciaro
Los Angeles Clippers
Will they trust their improved offensive process?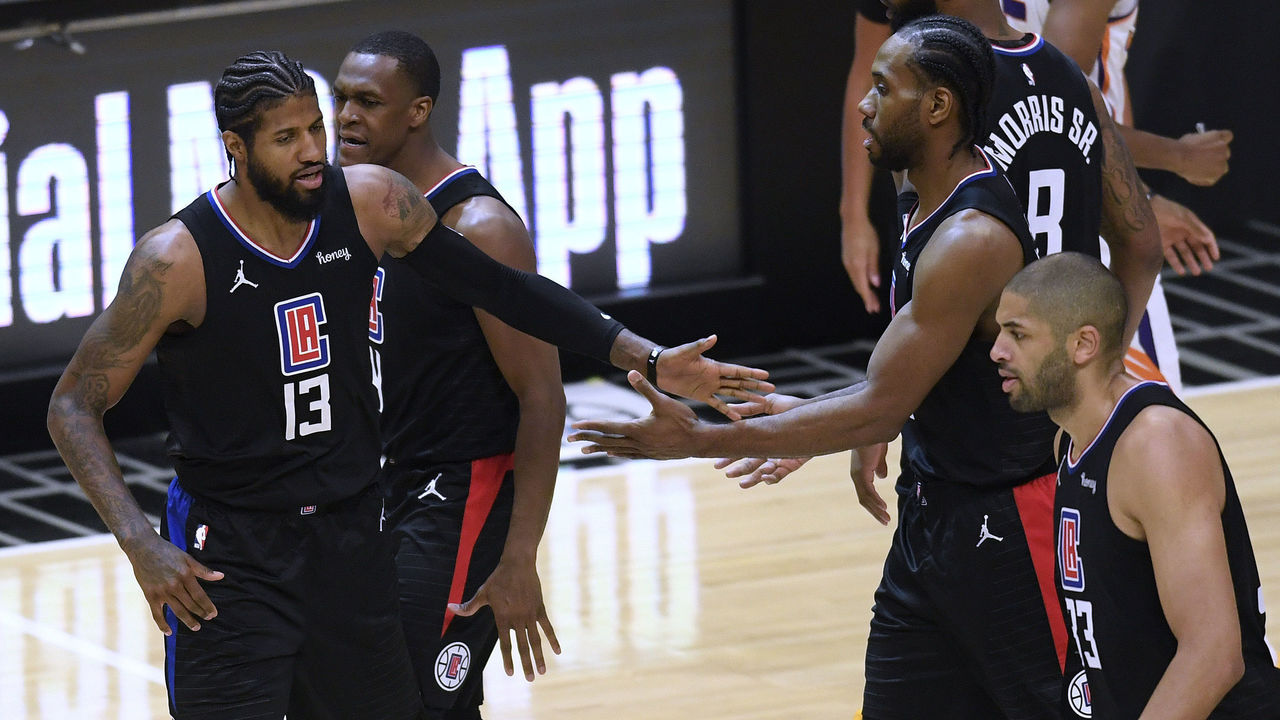 There have been plenty of encouraging indicators for the Clippers this season.
First, they might be the greatest jump-shooting team of all time. Nine of their rotation players are connecting on at least 40% of their threes, and they're shooting 41.6% from beyond the arc as a team, including a preposterous 47% from the corners.
For another, the lack of rim pressure that dogged them early in the season has improved. They still rank just 26th in the league in frequency of at-rim shot attempts, but they're up to 16th since the trade deadline, according to Cleaning the Glass. Various factors have contributed to the uptick, including the deadline-day trade for Rajon Rondo, Ivica Zubac replacing the injured Serge Ibaka as the starting center, more rotation minutes for slashing wing Terrence Mann, and George's increased affinity for driving the ball.
Rondo has also infused their offense with more creative juice. Nic Batum has helped in that regard, too. George and Leonard have refined their playmaking chops. The ball is popping a bit more than it did last season, with a slight increase in assist percentage and passes per game.
But the Clippers still regularly fall back into old habits. Their rate of isolations has actually increased this season, and they go through extended stretches during which they seem to lose trust in one another and the more team-oriented process Ty Lue worked to instill. There are moments when they genuinely seem to have turned a corner, and others when they look no different from the team that clanked its way out of the second round last year.
On some possessions, they'll run multiple actions simultaneously, keeping everyone involved and engaging defenders on both sides of the floor. On others, everyone will just stand around, with no screening or cutting, and eventually clear out for someone to iso and shoot a contested 18-footer.
It may seem silly to nitpick the league's third-ranked offense, but the Clippers finished second in offensive efficiency last year and still wound up unanimously decrying their lack of connectivity after an embarrassing playoff failure. That's why it's worth wondering whether Jekyll or Hyde will win out when the games start to matter.
There's a version of this team that can absolutely go all the way. But that version is one that continues to trust each other if and when things start going sideways. The Clippers will inevitably face moments of doubt in the postseason. Time will tell if they've built a strong enough foundation to weather them this time. - Joe Wolfond
Denver Nuggets
Can they get by with middling guard play?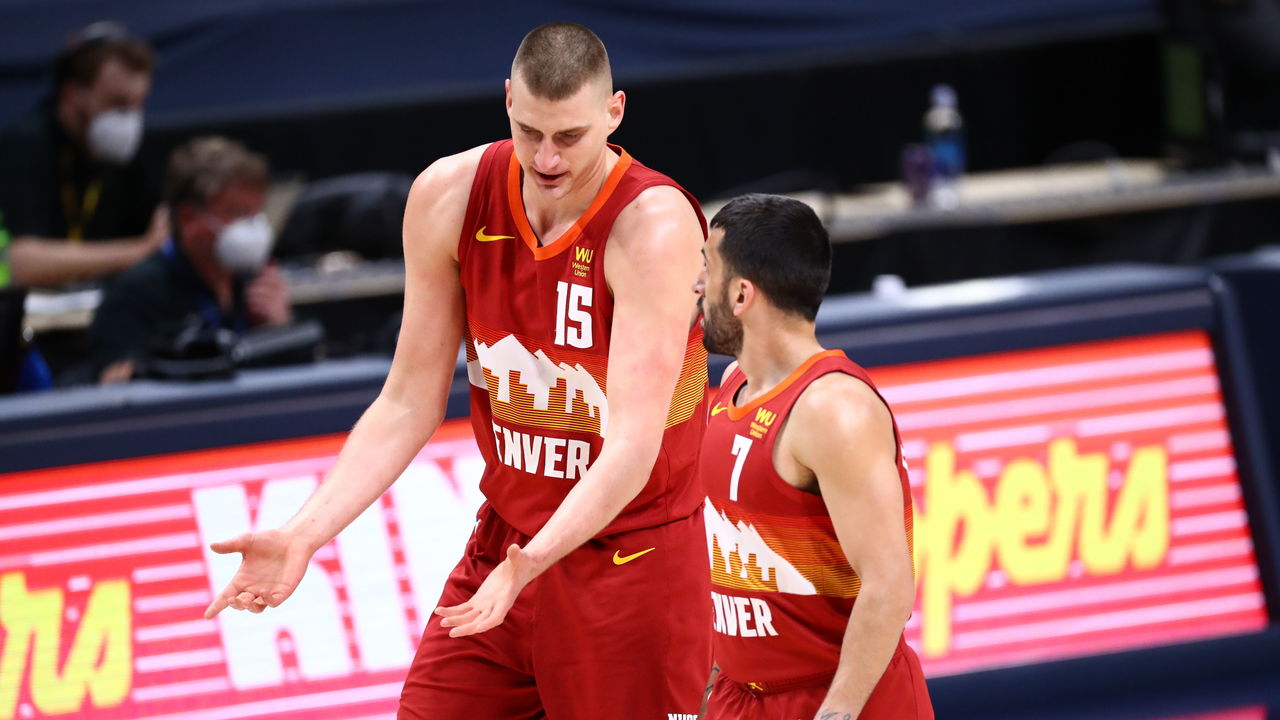 It may seem like Denver's title aspirations evaporated the moment Jamal Murray's knee gave out. And though the team's hopes certainly took a massive hit, nothing should be off the table when you employ a player as unguardable as Nikola Jokic.
The Nuggets went 13-5 after Murray's injury, with a 116 offensive rating that was nearly identical to their sixth-ranked season-long mark. They're still going to open the postseason at home, Jokic continues to tear apart every coverage and individual defender he sees, and Michael Porter Jr. has stepped into the No. 2 scoring role and is setting nylon ablaze on a nightly basis.
Can they keep doing this, though? Denver's backcourt is decimated, even beyond Murray. Will Barton, Monte Morris, and PJ Dozier are all on the shelf, and it's unclear how healthy those guys will be when the playoffs commence. Even if they're all back and close to 100%, this team has a shot-creation vacuum outside of Jokic that will be tough to overcome in a postseason setting.
It's helpful to think of Jokic as a 7-foot point guard because of the way he plays and how the Nuggets' offense is structured around him, but he still needs help. Though he's highly proficient at dribbling himself into scoring chances - be they bruising post-ups or unblockable rainbow fadeaways - it's easier and less taxing for him to get to his sweet spots when he can start possessions without the ball, and when someone like Murray can siphon defensive attention away from him.
Part of what makes the Nuggets so tough is the number of different ways they can deploy Jokic. He can be a dynamite initiator, but he's just as dangerous when he's screening and rolling, popping, cutting, or ducking in and getting deep post position. The thing is, that off-ball activity only really works if there's a competent playmaker on the other end, and one who also presents enough of a scoring threat that the defense has to react to him rather than freely loading up on Jokic.
The Nuggets still have complementary players who can score (Porter) and pass (Facundo Campazzo) at elite levels, but none who can do both. Barton and Morris are the guys who come closest to blending those skills, but in this case, that just means they're about average at each. For as incandescent as Porter has been as a shooter since Murray went down, and for as well as he plays off of Jokic, he's not a playmaker. The Nuggets can run dribble-handoffs and weak-side actions to get him clean looks, but he can't be a high-volume pick-and-roll operator at this stage.
Aaron Gordon has helped stabilize the Nugget's defense, but they still top out at slightly above average on that end, so if they're going to make a deep run, it's their offense that will have to carry them. That leaves a ton on Jokic's shoulders, to say nothing of the struggles the team could have when he's on the bench. Asking him to keep carrying that load through multiple playoff rounds might be asking too much. - Wolfond
Los Angeles Lakers
Are they healthy, and do they need to shoot better?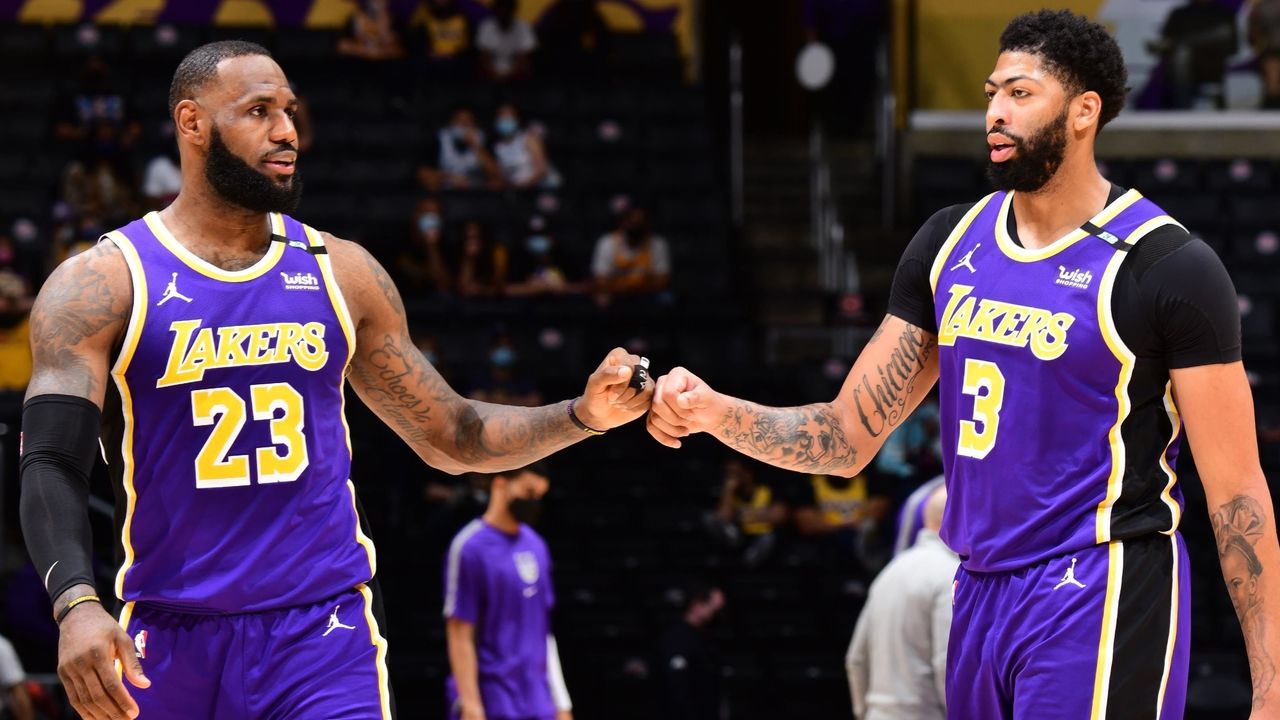 The defending champs get two questions, because the first one - while obvious - will determine the fate of the entire postseason.
If James and Anthony Davis enter the playoffs at full strength, the Lakers should be considered favorites to repeat. Whether it's the devastation the pair can wreak in the pick-and-roll and with their inside-out game on the offensive end, or the defensive ceiling the Lakers can hit with Davis and James at full throttle, no team has an answer for L.A.'s Big Two. James remains the best player on the planet when he needs to be, and Davis continues to make the Lakers matchup-proof on both ends.
With both stars on the court this season, the Lakers outscored opponents by nearly 12 points per 100 possessions (the league-leading Jazz boasted a net rating of plus-8.8). With James on the court without Davis, the Lakers continued to post elite metrics. But with both players off, or even with Davis on and James off, the Lakers played like a bottom-eight team by net rating.
The health of the two superstars can't be taken for granted. James suffered a serious high ankle sprain on March 20, returned for two games on April 30 and May 2, then needed to be shut down again due to soreness in the ankle. This season marks the lowest percentage of games he's appeared in during his 18-year career, eclipsing a mark he set only two years ago.
Davis missed 30 games due to a calf injury before returning in late April. Though he's enjoyed some dominant performances while suiting up for most of the games played over the last three weeks, he's also limped through some and looked a step slow at times.
In terms of actual basketball, the Lakers' shooting woes are fascinating, because the team faced the same question last year, and we know how that ended.
Prior to Los Angeles' 2020 title, the previous nine NBA champions finished in the top 11 in 3-point shooting during the regular season, and the last seven finished top seven. The Lakers entered last year's playoffs ranked 22nd in 3-point accuracy and barely upped their percentages during the championship run.
The Lakers once again enter this year's postseason 22nd in 3-point percentage and 3-point attempt rate, which doesn't match the profile of modern champions. As we saw last year, however, the combined dominance and brilliance of James and Davis can buck the trend and overcome any statistical advantage an opponent might appear to possess. - Casciaro
Comments
✕
5 teams, 5 questions: Digging into the doubts facing the West's contenders
  Got something to say? Leave a comment below!