What we've learned about the Lakers' supporting cast this season
Like most things in the NBA this season, the Lakers' title defense hasn't exactly gone according to plan. Anthony Davis has been sidelined for the last two months with a calf injury, LeBron James has missed the last 14 games with a high ankle sprain, and the reigning champs are treading water in the Western Conference playoff bracket. They're a game and a half back of a home-court advantage position, but they're also hovering just three games above a play-in spot.
After playing just 425 minutes all last season with neither James nor Davis on the floor, they've already played 1,087 such minutes this season. The good news is those minutes have gone better than expected. The biggest knock on this team the last two years has been the massive talent drop-off from its top two to the rest of the roster, so it's fairly surprising that L.A. is 6-8 since James joined Davis on the shelf.
Teams aren't built to withstand the loss of their two best players, particularly when the team is as top-heavy as these Lakers, and those missing players are something like the best and eighth-best in the league.
While the offense has predictably cratered, the defense hasn't wavered, ranking fourth in the league in points allowed per 100 possessions (105.3) during this stretch, a mark that's actually slightly stingier than the one it carried before James' injury (105.9).
There are caveats. Apart from a shockingly decisive beatdown of the Nets (who had two-thirds of their big three in the lineup), the Lakers haven't recorded any particularly impressive wins. It's no surprise that manufacturing points has been a struggle, but you might've hoped they'd fare better than 29th in offensive efficiency while turning the ball over on nearly 18% of their possessions, a gargantuan rate. But their sustained defensive excellence, even if it's been buoyed by some favorable opponent shooting luck, is a great story.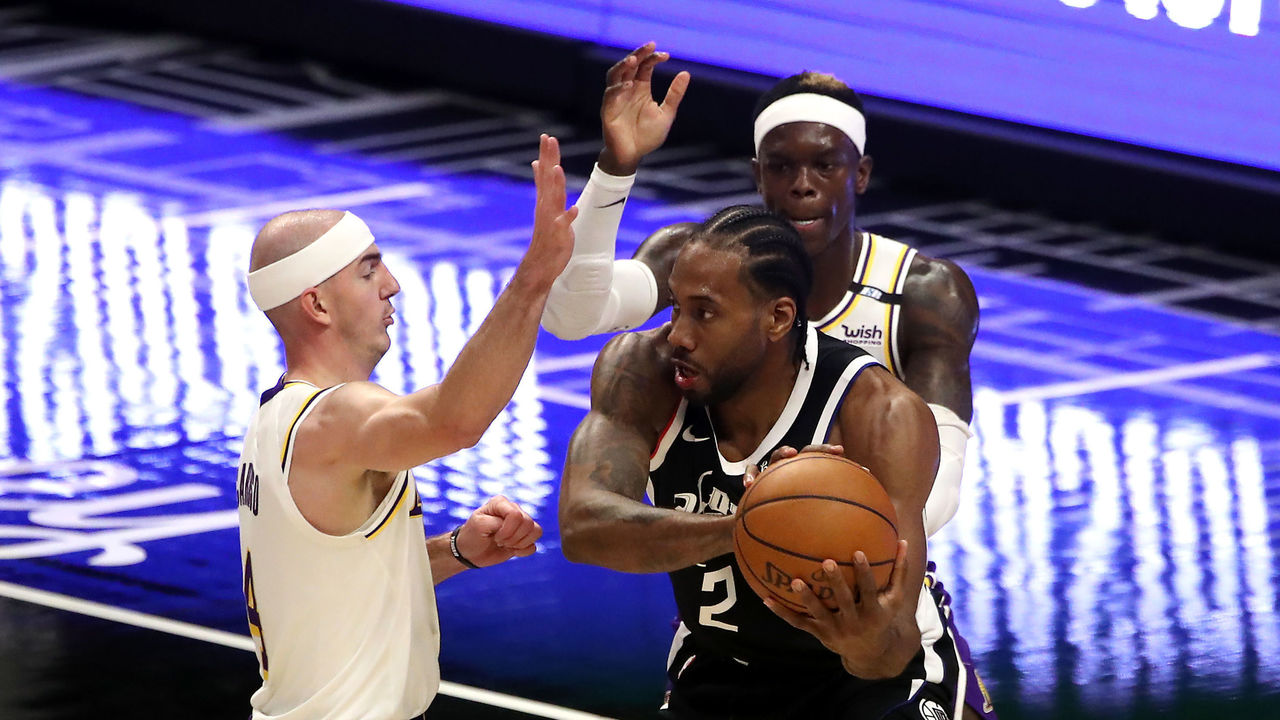 The Lakers are active and nimble at the point of attack, and hyperalert on the weak side. They close space behind double-teams as well as any team because everyone on the floor is able to process their pre-rotations and map out the offense's impending sequence of passes and cuts. That they've managed to keep doing that at such a high level without having James and Davis to put out fires on the back end is a huge credit to Frank Vogel and the coaching staff and to the whole team's attention to detail.
Even in Thursday night's wheezy loss to the Celtics, which was L.A.'s worst defensive performance of the month, there were plenty of moments of connective brilliance. This possession, for example:
The Lakers wisely blitzed a red-hot Jaylen Brown in an empty-side pick-and-roll, so Kyle Kuzma rotated to pick up Luke Kornet on the slip-out. Alex Caruso sank to cover Grant Williams' baseline cut, then closed out under control to run Marcus Smart off the 3-point line. Caruso slid his feet to cut off the drive, and forced Smart to his left hand. Marc Gasol motioned for Kuzma to help from the corner, and as the help came, Kentavious Caldwell-Pope anticipated the kickout pass and jetted down from the wing to intercept it. If you look closely, you can see assistant coach Phil Handy (on the far left end of the bench) playing out the whole sequence with his hands.
On an individual level, none of the Lakers' complementary players has done anything mind-blowing during this stretch, but there have been some encouraging indicators. Dennis Schroder, probably the team's third-most important player, has done his damnedest to keep the offense from plunging to even more catastrophic depths. He's taken on the role of primary initiator since LeBron went down, and he's spent more time on average with the ball in his hands than all but seven players over the last 14 games.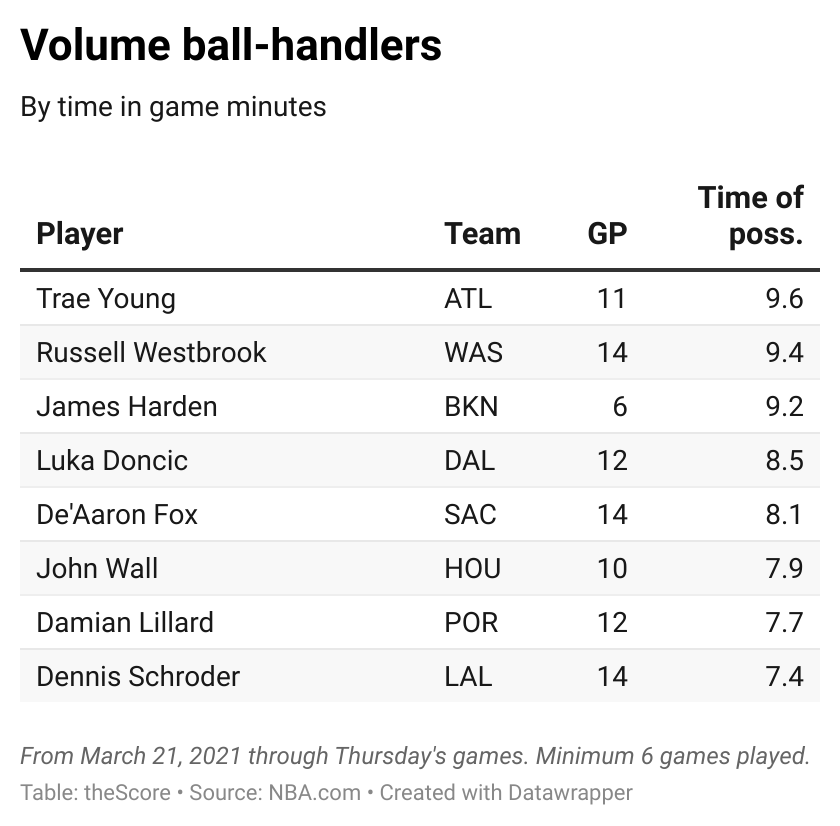 Schroder has real limitations as a passer, but he's a relentless driver with an explosive first step that makes him a certified switch-buster. He's averaging 1.033 points per possession on isolations following pick-and-roll switches, good for 13th in the league among players who've finished at least 30 such possessions with a shot, drawn foul, or turnover, according to Synergy. Before being ejected in the second half against the Nets, he repeatedly dusted Nic Claxton, everyone's new favorite switch big.
Against defenses that don't concede the switch, however, Schroder can really struggle. Most teams go under screens against him and keep their big man back, daring him to pull up or try to finish through length at the rim. Since James' injury, Schroder's shot just 37% on pull-up 2-pointers, 1-of-9 on pull-up threes, 35% from floater range, and 49% in the restricted area. All of which suggests switching is the exact wrong way to defend him in pick-and-roll. (One assumes we'll see opponents do so even less when Davis or James is on the other end of those pick-and-rolls, since that would give the Lakers the option to attack the front or back end of the switch.)
But the real revelation this season has been Schroder's defense, which has been even better than it was during his career year with OKC. He still has a tendency to ball-watch or space out when he's defending on the weak side, but when he's directly involved in the central action, he's an absolute menace. He's gotten particularly good at executing the veer switches that tie off the loose ends of the Lakers' pick-and-roll coverage:
When James returns, Schroder won't have to bear the responsibilities of a primary creator, save for a small handful of minutes each game while James sits. The rest of the time, he can lean into his role as a second-side attacker, off-the-catch shooter (37.9% from deep), and defensive pest, while shouldering just enough on-ball possessions to let James catch his breath. The Lakers have a plus-14 net rating when Schroder, James, and Davis share the floor.
This has been an interesting season for Kuzma, too. His offense has been rough in spots, especially during this LeBron-less stretch, in which he's shot 38.7% from the field and 28.7% from deep with nearly as many turnovers (2.7) as assists (2.8). He's very clearly not a self-creator and should be playing with other playmakers as often as possible. (He has a 56% effective field-goal percentage when he plays with James, compared to a 48.7% eFG without him.) But the strides Kuzma continues to make defensively represent an equally pertinent takeaway looking ahead to the playoffs.
He's honed his help instincts and improved his footwork in man-to-man defense to the point that opponents have scored just 0.84 points per possession against him in isolation, by far the best mark of his career. With the trio of Kuzma, James, and Davis on the floor, the Lakers have posted an 89.1 defensive rating. Given that Kuzma's also been pretty effective offensively when playing off of James, he's made a strong case for inclusion in their closing lineups.
Caruso should be in that mix, as well. He's probably the team's best point-of-attack defender, and he's made real strides offensively, looking a lot more comfortable handling the ball and making passes on the move. He and Kuzma do a nice job of helping each other out on defense. Check out this possession from that same Celtics game:
With Kuzma trailing Brown off a down screen on the baseline, Caruso jump-switched from the corner to deny him the ball. Kuzma peeled off to Caruso's man, Kemba Walker, and ran him off the arc. Caruso then forced Walker to pick up his dribble with a great stunt from the top; Gasol helped, and Kuzma picked off the lay-down pass with a late switch. Lovely.
It'll be interesting to see where Talen Horton-Tucker slots into the rotation down the stretch. After the Lakers steadfastly held on to him at the trade deadline, he's run with his opportunity and hasn't looked out of his depth as a primary ball-handler in transitional lineups. He leads the team in drives on a per-possession basis, and while he can get too dribble-happy at times, he's arguably the biggest reason the Lakers rank fifth in the league in at-rim attempt rate since LeBron's injury. Inexperience may limit his role in high-leverage spots, but for now, he looks like a perfectly capable backup point guard.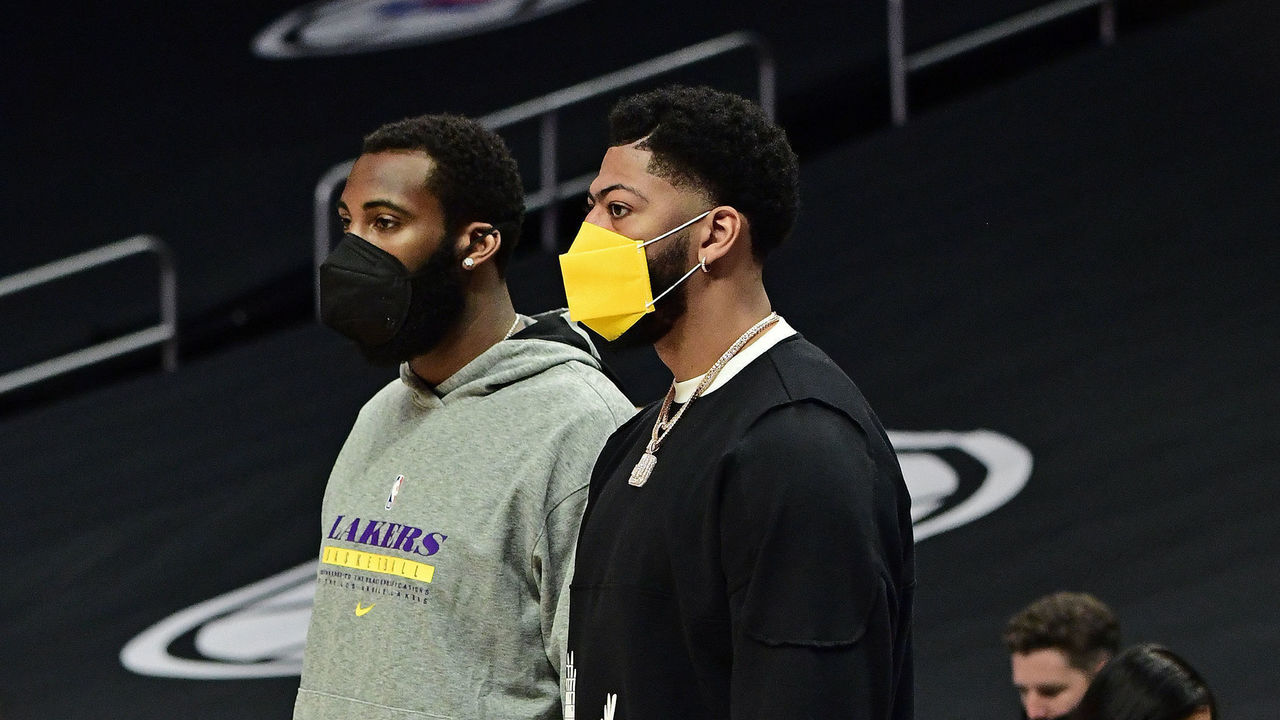 The big-man rotation is a bit harder to parse.
Montrezl Harrell is one of the few Lakers whose scoring efficiency hasn't really suffered without the superstars, which speaks to how far he's come as a self-creator and how effective he can be as a bench anchor. His face-up game against slower-footed bigs has been the team's most reliable source of offense this past month. But Davis' return is going to create a frontcourt logjam that could lead to Harrell playing the 5 less frequently.
It's hard to know what to make of Andre Drummond's fit. In true Drummond fashion, his first few games with the team have been quite a mixed bag. On offense, he's getting entirely too many post-ups, and they've been almost uniformly disastrous. He's often a beat slow getting the ball out of his hands when he sees double-teams, and he tends to telegraph his cross-court passes. His issues finishing at the rim are well-documented. He's made just two baskets out of the post since joining the Lakers, and committed five turnovers. You'd expect the majority of those post-ups to be excised when the roster is whole.
His quick hands on defense make him effective in show-and-recover situations, though he's a lot more effective on the front end of that two-step process. (The recovery portion often finds him drifting into no man's land.) Still, at the point of the screen, he can be extremely disruptive, which can come in handy against teams with dangerous movement shooters.
But Drummond also brings defensive concerns. He's not a particularly good rim-protector, and his raw individual numbers overstate the impact of his rebounding. The Lakers have recovered just 67.7% of opponent misses with him on the floor, which is significantly lower than the Pacers' league-worst defensive rebounding rate. How can someone so good at snagging boards be this bad at boxing out?
It's a different story at the other end, where he's arguably the best offensive rebounder in the league. And there's value in that for the Lakers. Gasol is a total non-threat in the post or on the offensive glass, which gives opponents license to stick smaller players on him. That opens the Lakers up to five-out lineups that can stretch them and render their airtight interior defense moot. Drummond has similar limitations as a post scorer, but he applies a lot more rim pressure with his physicality, and he can at least punish small-ball lineups by generating heaps of extra possessions, the way Dwight Howard and JaVale McGee did last year.
Gasol still feels like the more important player to the fully healthy version of this team. Drummond may be better in a vacuum, but his positive contributions will be far less necessary when Davis is back. There's almost nothing he does well that Davis doesn't do significantly better. You can't necessarily say the same about Gasol, whose high-post passing, 3-point shooting, and back-line communication are rarer commodities in the Lakers' frontcourt. And L.A.'s defensive rebound rate with Gasol on the floor, even once you filter out the jumbo minutes he's played alongside Davis, would be good for seventh in the league.
This may all be much ado about very little, anyway. The Lakers are still almost certainly going to roll with Davis at the 5 when the chips are down. But having a plethora of options is a nice luxury. The Lakers have a ton of different styles and lineup permutations they can play, and they're arguably even more matchup-proof than they were last season.
This admirable stretch of play from the supporting cast ultimately doesn't change the big picture - either the Lakers will have LeBron and Davis healthy for the playoffs and will be championship co-favorites, or they won't, and their hopes of a repeat will fizzle in short order. But, while the Lakers surely hope they won't need to rely on their complementary players to this extent again, the team has to feel good about the fact those guys have acquitted themselves so well when pressed into larger roles.
The Lakers may be one losing streak away from the play-in, but with Davis now cleared to return to practice, James inching closer, and the rest of the roster looking deeper and more versatile than it was a year ago, there's little reason to think this isn't still the team to beat.
Comments
✕
What we've learned about the Lakers' supporting cast this season
  Got something to say? Leave a comment below!