Every year as the NBA trade deadline approaches, teams have to decide on a particular course to pursue - not just for the remainder of the season, but in some cases years into the future. Making those decisions means teams must look in the mirror and assess what they are, what they can be, and what they should be trying to be.
How has that decision-making process changed in this bizarre season?
The addition of two play-in spots in each conference would seem to result in fewer lottery-bound teams being willing to sell off parts and refocus their attention on next season and beyond. But how much is a play-in spot really worth to those fringe teams, particularly in a season in which they're drawing minimal (if any) gate revenue? Is there enough value in a couple extra fan-less home games to offset the value of being one of the few teams zagging in what should be a seller's market?
Those competing factors will shape the trade market in the coming weeks as we approach the March 25 deadline. With that in mind, we're looking at the teams with the most interesting decisions to make between now and then. Up first: a pair of middling teams trying to balance present and future.
Toronto Raptors
The Raptors are better than their 17-19 record suggests. The bones of the team that lost only 19 games all last season are still in place. They own a plus-1.8 net rating, which ranks ninth in the league and fourth in the Eastern Conference. They're 15-11 since a nightmarish 2-8 start, and were finally starting to find a groove before a COVID outbreak derailed them anew. Avoiding the virus was the one thing that hadn't gone totally awry for them this season. Alas.
That outbreak further complicates an already muddled trade-deadline equation for the NBA's lone transplanted team. Even if the Raptors are better than their record, they're firmly behind the 8-ball heading into the second half. How much better can they be? Good enough to justify holding onto Kyle Lowry, their soon-to-be 35-year-old point guard and risk losing him for nothing in free agency? Good enough to dip into their own asset well to try and bolster their anemic center rotation?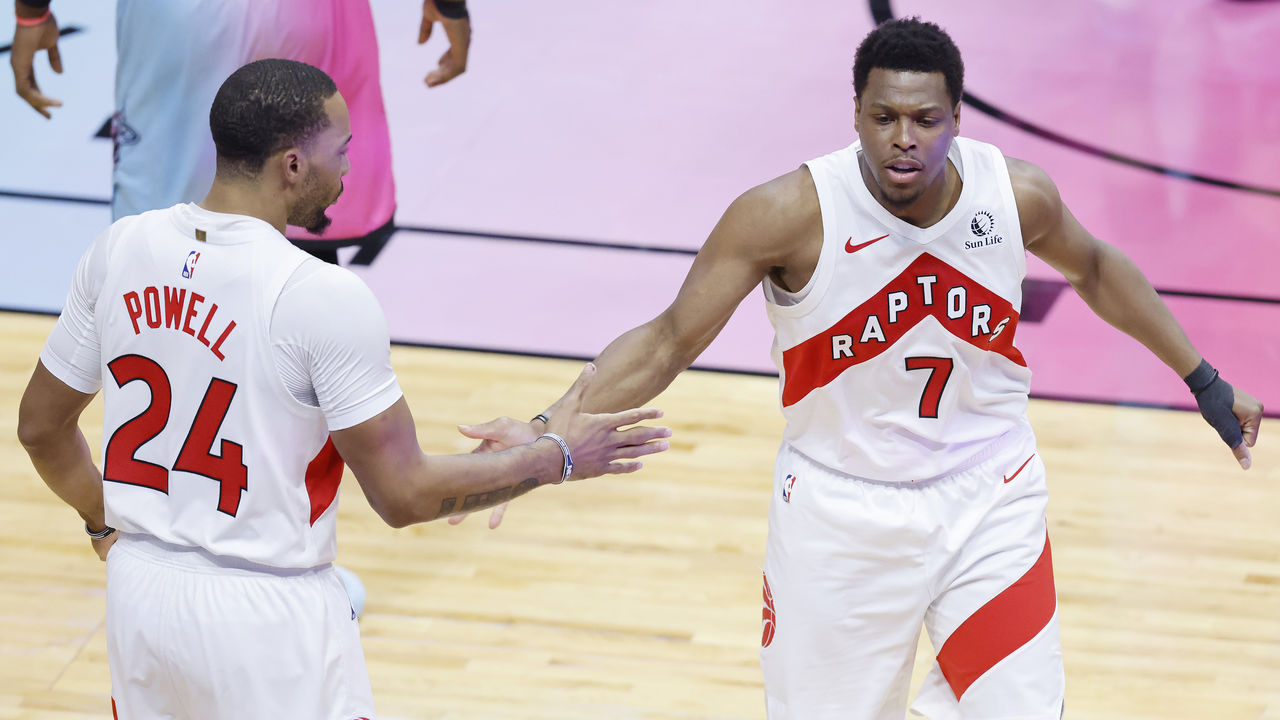 On the surface, the Lowry calculus is simple. If the front office is wowed by an offer from a team to which Lowry is amenable to be moved, it should trade him. If not, it shouldn't. But of course, there are no easy decisions when you're talking about potentially dealing a franchise icon and effectively closing the book on the greatest chapter in team history. That's especially true given the Raptors are playing in Tampa Bay, robbing fans of the opportunity to say a proper farewell to their most beloved player.
But they have to be practical, and realistic. Even in a scenario in which they add rather than subtract, it's hard to see this team advancing past the second round of the playoffs. Is it worthwhile to play out the string on a spirited but doomed playoff run in an empty Amelie Arena, 1,300 miles from home?
If there isn't significant mutual interest in Lowry re-upping this offseason, the Raptors will explore trade avenues. Lowry would likely be the best player available, and a returning package of picks and young players would help the team maximize its competitive window with a Fred VanVleet-Pascal Siakam-OG Anunoby core a couple years down the road. Trading Lowry wouldn't necessarily preclude a playoff berth, either - Toronto's 6-1 this season in games he's missed.
The challenge is finding a team that would be able or willing to offer anything that would make a trade worth Toronto's while. Lowry's age, impending free agency, and $30-million price tag all stand as obstacles, as does the fact most contenders either are set at point guard or have no draft capital left to trade. The Raptors aren't going to trade Lowry for the sake of trading him. (In other words: no, he's not going to the Clippers.) The 76ers, by virtue of owning all their own first-round picks, employing intriguing prospects like Tyrese Maxey and Matisse Thybulle, and having a clear need for a half-court initiator, may be the only team that fits the bill.
If the Raptors and Lowry agree a trade is best for both parties, the team would be hard-pressed to find a more mutually beneficial deal than one that would send him home to Philadelphia to compete for a championship. Making the salaries work would still be tricky, and might require a third team to get involved. It's unclear how willing the Raptors would be to take back long-term salary, which would eat into the cap space they could otherwise use to pursue free agents (possibly including Lowry!) this summer. But Philly is the destination that makes by far the most sense.
As an aside: it would be hilarious if the Raptors used the cap space they initially earmarked for Giannis Antetokounmpo to instead bring back Lowry a few months after flipping him to the Sixers for a bundle of long-term assets. But that scenario is also highly unlikely. You have to assume that any team putting anything meaningful on the table for Lowry will have done some degree of due diligence to gauge his interest in re-signing after the season. Part of the appeal of acquiring him, especially for a capped-out team like Philly, would be acquiring his Bird rights.
Toronto also has a decision to make on Norman Powell, who has an $11.6-million player option for next season that he is certain to decline. Powell continues to establish himself as an elite off-the-catch shooter and downhill attacker, and one of the league's most efficient play finishers from the wing. The 27-year-old is averaging 18.4 points on 49/44/90 shooting. This could be a sell-high opportunity.
Powell is going to command a sizable raise in the offseason, and if the Raptors are reluctant to be the team to give it to him - considering how little value he provides them outside of his scoring - then they'd likely be able to recoup something meaningful. Powell's contract makes him much easier to trade than Lowry, and there are any number of teams that could use him.
There's still the option to swerve in the other direction. If Toronto is intent on keeping Lowry, it should do whatever it can to upgrade the current roster without significantly compromising the future. Adding another competent frontcourt player, or a half-decent shot-creator who can shore up the bench, would go a long way toward helping this team reach its ceiling.
But the available options aren't particularly inspiring on either front unless the Raptors are willing to put a first-rounder on the table, which feels unlikely for all the reasons listed above. Maybe a couple second-rounders could get them in the mix for someone like George Hill, or old friend Delon Wright. On its own, that's probably not enough to get into the mix for, say, Richaun Holmes.
Would they be willing to put Chris Boucher on the table? With a $6.5-million team option for next season, the late-blooming big man - who's currently shooting 44.5% from 3-point range and blocking 2.9 shots per 36 minutes - may be their best trade chip. Or, he could be a valuable piece of their future.
In short, the Raptors have a ton of options, none of which are objectively bad or good. And hanging over all of it is the future of the team's chief architect, Masai Ujiri, who's an impending free agent himself. This feels like a real crossroads for the 2019 champs.
San Antonio Spurs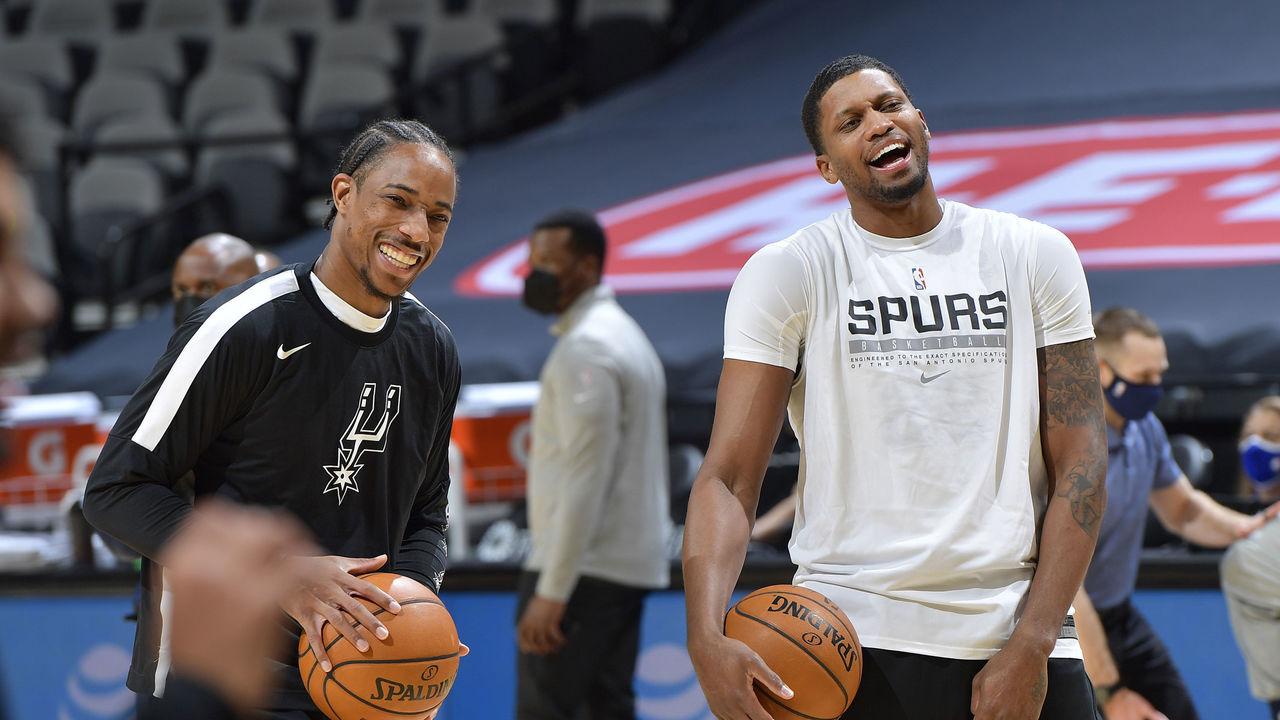 Unlike the Raptors, the Spurs are punching above their weight. They're 18-14, good for seventh in the West despite barely breaking even in scoring margin and lacking the top-end talent possessed by every other team in the conference's playoff picture. Like the Raptors, the Spurs are approaching an offseason in which arguably their best player - incidentally, Lowry's best friend and former backcourt mate - will become a free agent.
For all his well-documented flaws, DeMar DeRozan's settled into what feels like an ideal role in San Antonio. Having scaled back his shooting volume and scaled up his playmaking, he's serving as a primary facilitator and old-head mentor for a young team that relies heavily on his off-the-dribble creation in the half court, particularly at the end of games. He's scoring efficiently (59.4% true shooting) and distributing judiciously, averaging 7.2 assists against just 1.7 turnovers - the best ratio in the league among players with usage rates above 20%.
The Spurs still perform worse with DeRozan on the floor, as they have every season he's been with the team. But filter out his minutes alongside LaMarcus Aldridge (a pairing that's never worked) and San Antonio's outscored opponents by 3.1 points per 100 possessions with him on the floor, with a defensive rating (107.8) that would rank second in the NBA.
But does the 31-year-old - who remains the defensive minus and off-ball liability he's always been - fit with the team's long-term vision? What's the value of keeping him with the promising young sextet of Dejounte Murray, Keldon Johnson, Derrick White, Lonnie Walker, Devin Vassell, and Jakob Poeltl, versus adding another young piece to that group, letting those guys spread their wings, and leaning into a defensive identity? If the Spurs aren't prepared to re-sign DeRozan to a rich new deal this summer, are they prepared to take a step back and potentially punt on this season's playoff pursuit?
It feels like we've been wondering forever when the Spurs are going to stop dithering in team-building purgatory and fully commit to their youth movement. Uncertainty over Gregg Popovich's coaching future has seemingly colored their decision-making ever since Kawhi Leonard requested a trade three years ago. It's still unclear how much longer Popovich intends to coach. There's this notion that the front office owes it to him to compile as much present-day talent as possible while he's still stalking the sideline.
At the same time, the Spurs haven't exactly been shy about their willingness to part with DeRozan. The two sides have had ample opportunity to negotiate an extension over the last two years. And there were rumblings last season that San Antonio was looking to trade the four-time All-Star. The challenge, then as now, is finding a fit for him elsewhere. That should be easier than it's been in the past, given what he's proven capable of as a lead playmaker. The Knicks are starved for quality guard play, and have some room under the cap to make the math easier. The Bucks could always use another shot-creator, and have the defensive infrastructure to cover for DeRozan's weaknesses.
Maybe the Spurs can find a way to balance their short- and long-term ambitions. John Collins or Myles Turner, for example, would be fantastic fits for their roster now and in the future. Could San Antonio, say, flip DeRozan and a first-round pick to Indiana for Turner, or to Atlanta for Collins and salary filler?
There are decisions to make on other players, too. It's been clear for a while that the 35-year-old Aldridge has outlived his utility in San Antonio. He slows down a team that thrives playing up-tempo, and cripples its defense. The Spurs have been considerably better with Poeltl starting at center. But offloading Aldridge for anything of value is going to be close to impossible. It probably makes more sense to keep him and deploy him more selectively.
Rudy Gay and Patty Mills, both on expiring deals, could also be valuable trade chips. They're the two pillars of the Spurs' bench unit, which has been the biggest driver of the team's relative success for the last three years. Gay is the sort of plug-and-play role player who'd be useful just about anywhere. It would hurt to trade Mills, a Spurs lifer, but he could upgrade the second-string point guard spot for a ton of teams.
The Spurs have so far resisted swimming in the uncharted waters of a rebuild, instead opting to build a bridge. But eventually, to get where they're trying to go, they have to be willing to take the plunge.