In a league increasingly defined by player movement, the ability to quickly adapt to a new environment has become essential. After a flurry of offseason and in-season transactions altered the NBA landscape for the 2020-21 season, we're checking in on how some of the highest-profile movers have fared with their new teams.
James Harden, Nets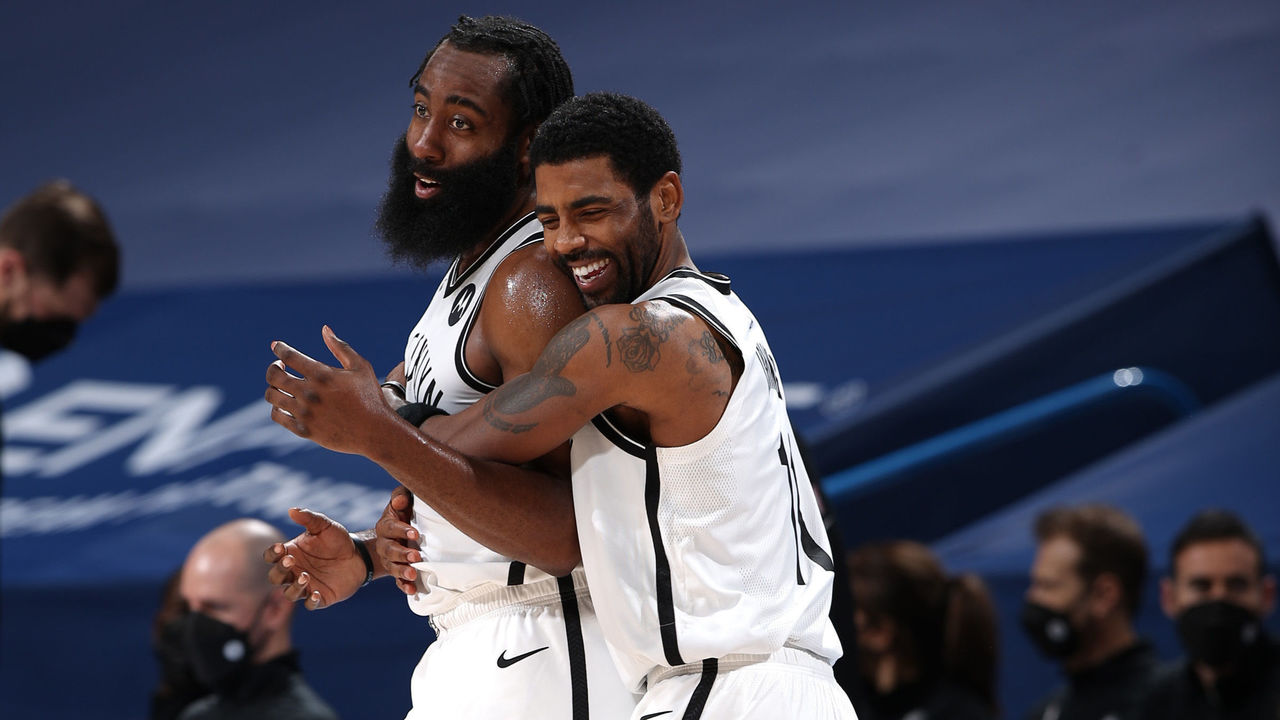 The fact Harden emerged immediately and with no power struggle as the primary initiator for a team featuring Kevin Durant and Kyrie Irving tells you all you need to know about what he's capable of with the ball in his hands. He's taken to the point guard role in Brooklyn with gusto, doing some of the finest and most deferential distributing of his career. He's leading the league in assists per game (11.2) while taking fewer shots and using a lower share of his team's possessions than he has since his Oklahoma City days.
His scoring efficiency has benefited greatly from the increased selectivity that his extraordinary surrounding talent has afforded him; he's picking his spots, striking a perfect balance between playmaking and hunting mismatches, and posting a career-best 64.2% true shooting percentage. He's finishing 7.2 isolation possessions per game with a shot, drawn foul, or turnover, down from 14.1 last season. He's averaging 1.2 points on those isos, fifth in the league among players with at least 50 such possessions (just a hair below Durant and Irving), according to NBA Advanced Stats.
When Harden's mismatch-hunting leads to the opposing defense panicking and sending a second defender his way, he'll readily sling a pass that either kickstarts a rotation or leads directly to an open spot-up look for one of his sharpshooting teammates. His pick-and-roll work has also been characteristically excellent; when he isn't generating favorable switches or creating four-on-threes by busting traps, he's roasting drop coverages with floaters, on which he's shooting a tidy 56.5%, according to Synergy.
When the trade went down, there were questions about whether Harden could adapt his heliocentric tendencies to an environment with other players who require a ton of touches. The specter of "only one ball" was raised. But far from stepping on anyone's toes, Harden's been a force multiplier on offense. He's still not moving much without the ball, and he's somehow still taking just 13% of his threes off the catch as a Net, but his work as a facilitator - and the defensive attention he siphons away simply by being on the court - more than makes up for it.
Durant and Irving have also missed time, allowing Harden to tap into his scoring impulses out of necessity. Since the trade, the three of them have only shared the court for a total of 186 minutes. But the Nets have kept chugging along, recently winning five straight over quality competition without Durant, including a dramatic win over the Suns in which Irving also sat out and Harden went for 38 and 11. That strengthened the notion that when all three are healthy, the Nets should stagger their stars' minutes such that Harden is the one most often carrying transitional lineups, since he's the one who best balances scoring and playmaking.
The Nets are obviously an imperfect defensive team, and Harden's contributed to their issues at that end in certain ways, like his lack of point-of-attack containment and laziness in transition. But he's actually been quite helpful in other areas, namely with his rebounding and ability to defend bigger players on switches. The Nets have leaned further into their identity as a switching team since the trade, and their defensive rebounding rate jumps up more than seven percentage points with Harden on the floor.
Eighteen games into his Nets tenure, Harden has them looking like overwhelming East favorites. - Joe Wolfond
Chris Paul, Suns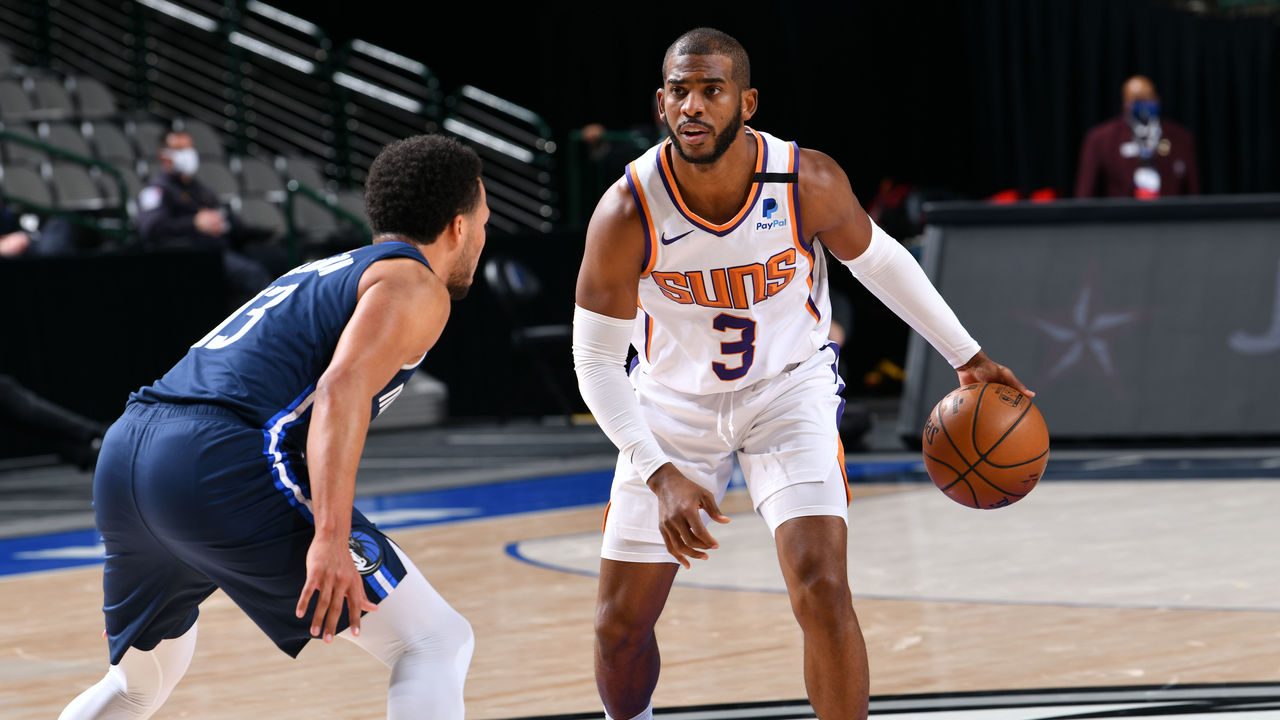 One of the big preseason questions that would determine the fate of the hopeful Suns was whether Paul's 2019-20 resurgence was the Point God's last stand as a game-changing star, and whether his newfound durability was merely a blip on the radar.
Nearly halfway through his debut season in Phoenix, that doesn't appear to be the case. Paul's production as a Sun is similar to his performance as a member of the Thunder, and he's once again been a dependable mainstay in the lineup.
| CP3 durability | Games Missed |
| --- | --- |
| 2016-17 | 21/82 |
| 2017-18 | 24/82 |
| 2018-19 | 24/82 |
| 2019-20 | 2/70 |
| 2020-21 | 1/30 |
The 35-year-old's been Phoenix's best player over its 20-10 start. Paul may not shoulder the individual offensive burden of Devin Booker, but his playmaking and basketball genius keep Phoenix's top-10 offense humming. He's averaging 16.6 points, 8.5 assists, and only 2.3 turnovers while mercilessly picking opponents apart from the mid-range, where he's shooting better than 51%. Paul also remains one of the best defensive guards in the game and one of the surest ball-handlers in crunch time, aided by the fact he leads the league in free-throw shooting at 97.2%.
There's a reason Paul's teams have won at least 60% of their games in each of the last nine seasons. The Suns are on pace to make it 10 straight. - Joseph Casciaro
Jrue Holiday, Bucks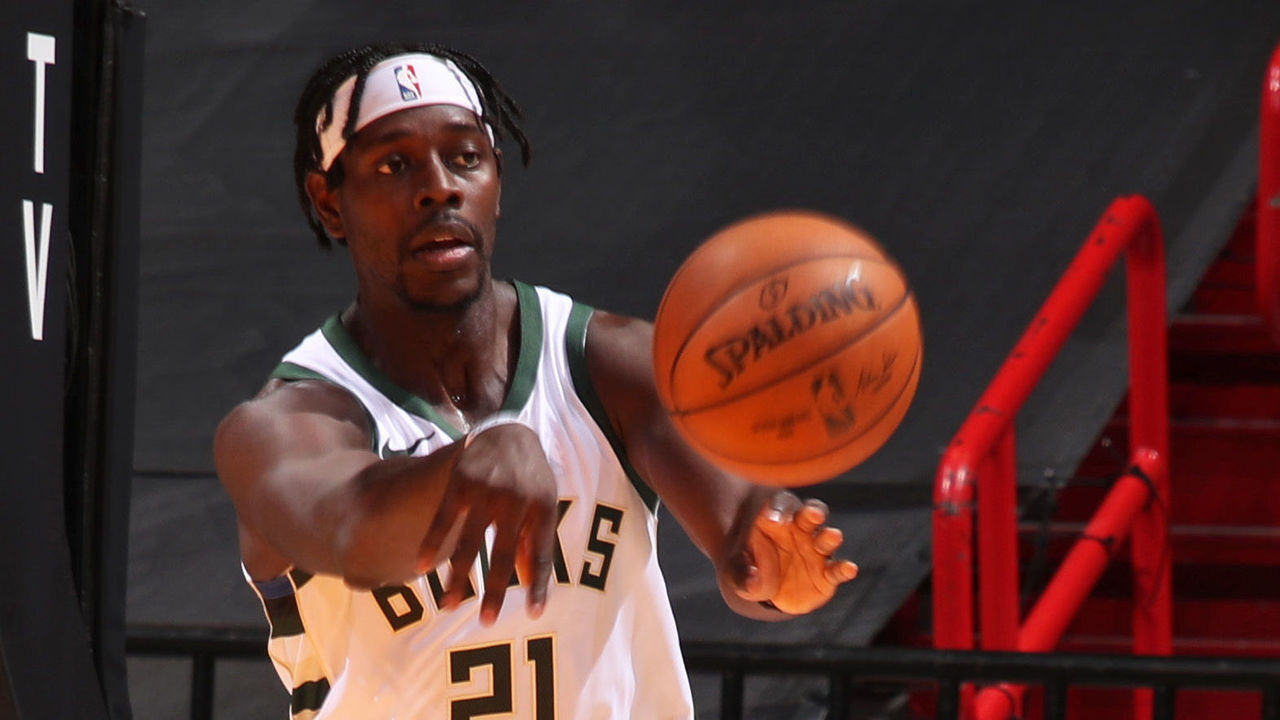 The Bucks staked a ton of future capital on Holiday's ability to raise their ceiling, and it's hard to argue with that gamble given how well he's fit. If his importance to the team wasn't evident before his recent absence due to the league's health and safety protocols, it certainly should be now: They've gone 4-5 and swooned at both ends of the floor without him. For the season, the Bucks have scored four fewer points per 100 possessions and allowed 2.1 more with him on the bench.
Offensively, his ball-handling and ability to create off the bounce have been vital lubricants for a Bucks team that got gummed up in the half court too often in prior seasons. He's significantly eased the shot-creating burden on Giannis Antetokounmpo and Khris Middleton - something that's become particularly glaring in his absence - and nudged Milwaukee toward a more pick-and-roll-oriented approach, with Giannis being featured more as a screener. Holiday's pick-and-roll passing hasn't been as sharp as you'd like for someone who'll be relied upon to initiate high-leverage possessions, but that will matter less if he can sustain his career-best 40% mark on pull-up threes.
Holiday's arrival has also contributed to a philosophical shift at the defensive end. He openly encouraged the switch-averse Bucks to embrace more switching, and whether by coincidence or acquiescence, Mike Budenholzer now has them doing just that. It hasn't always been smooth, but it's worked a whole lot better with Holiday in the lineup than without him. His strength, length, physicality, and low center of gravity make him a smothering on-ball defender against all different types of players, offering Milwaukee an element of lineup and schematic versatility it's been lacking the last two years.
Even as the Bucks work out some bugs during the regular season, related in large part to the depth they sacrificed to acquire Holiday and the anemic defenders who've been filling his vacated minutes in the backcourt, having him in the fold significantly boosts their playoff prospects. - Wolfond
Gordon Hayward, Hornets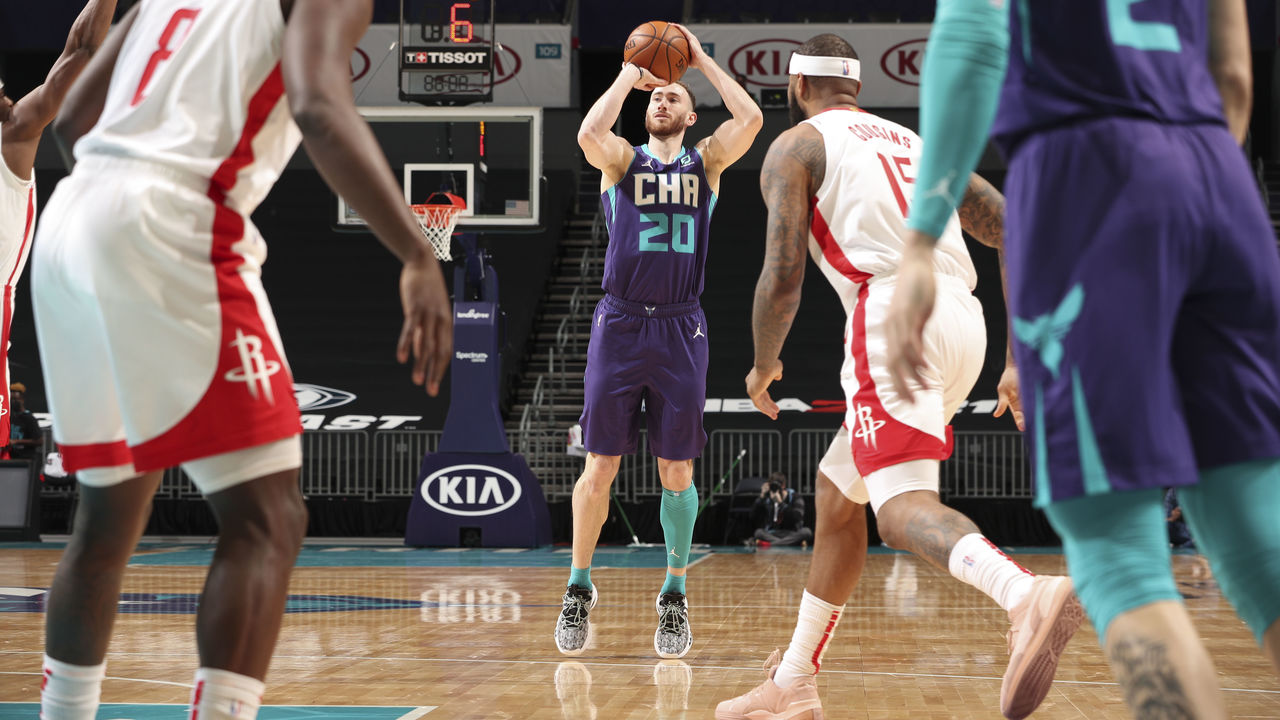 The Hornets were widely mocked for handing Hayward $120 million over four years, but the former All-Star has rewarded Charlotte's faith with his best basketball since at least 2017.
Through 28 games, Hayward's matching his previous career-high of 21.9 points per game, and he's doing it on 49-42-87 shooting splits. No Hornets player has logged more minutes, with Hayward's steady and efficient play stabilizing things for a young team.
It's easy to question whether acquiring Hayward to lift Charlotte from dreadful to mediocre was worth it, but providing a player like LaMelo Ball a competitive NBA environment to hone his skills, and putting the Hornets in position to play meaningful basketball all season long, is important for a young team in an unglamorous market as Charlotte tries to build from the ground up.
A more fitting question: Where would the Hornets be without Hayward right now?
Charlotte entered Tuesday tied for 8th in the Eastern Conference at 14-16, but nine of those wins have come in NBA-defined "clutch" time (within five points in the final five minutes), where the Hornets own the East's second-best record (9-5) behind Philadelphia. A big reason for that crunch-time success? Hayward, the team's highest-usage clutch player, is shooting 50% from the field, 60% from deep, and 86% from the free-throw line in those minutes. - Casciaro
Russell Westbrook, Wizards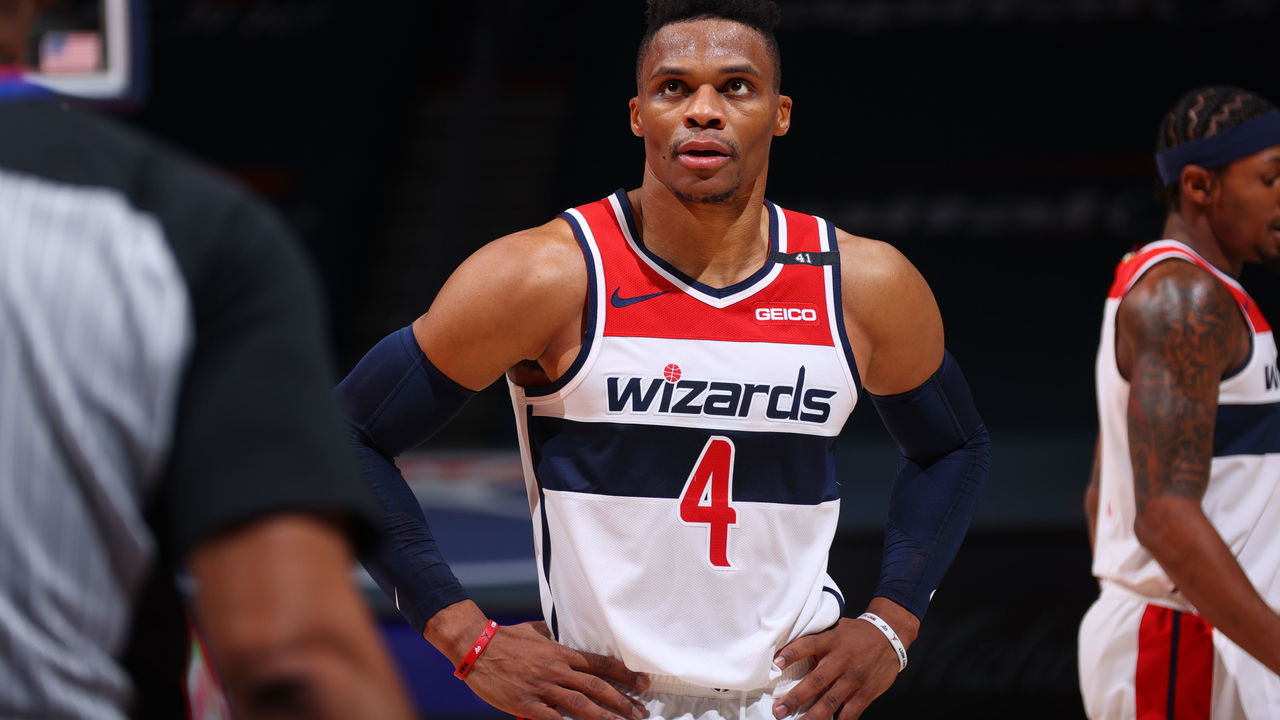 Unlike some of the other veteran stars on this list, Westbrook has not provided positive value, and has slid further toward being labeled as washed than he has toward regaining his MVP form.
Westbrook's averaging under 20 points for the first time since his sophomore season back in 2009-10, but that doesn't begin to explain how underwhelming and disappointing the 32-year-old has been in Washington.
Westbrook appeared to have turned back the clock midway through last season in Houston, as the Rockets playing small and clearing the lane of any large human impediments allowed Russ to get back to being the rim-rampaging star he once was. He cut down on his 3-point attempts and jumpers in general, got to the rim at will, and used the threat of his relentless attacking to open up passing lanes and create good shots for teammates. Since a bout with COVID-19 and injury in the summer bubble, however, Westbrook's reverted to the frustrating player he's become in recent years, and that's carried over to D.C.
More than 45% of Westbrook's field-goal attempts are either coming from 3-point range or long-two territory, despite the fact the worst volume shooter ever has canned less than 29% of his 3-point attempts this season.
By playing into opposing defenses' hands and taking teams up on their bet to let Russ shoot, Westbrook is also tanking his playmaking ability and overall offensive value by cramping Washington's spacing. It's no wonder the nine-time All-Star is turning the ball over like never before (on more than 19% of possessions).
To no one's surprise, Westbrook isn't making any of it up on the defensive end, where he continues to toggle between either gambling for steals or being completely inattentive.
Overall, the 11-18 Wizards are 7.6 points per 100 possessions better with Westbrook on the bench than they are with him on the court.
If you're looking for any hint of positivity, the 13-year veteran has totalled 79 points, 34 rebounds, and 32 assists over his last three games, while shooting 51% from the field and attempting only three 3-pointers in 115 minutes. The Wizards have also won five of six. Perhaps this is the start of Westbrook's second annual midseason charge. - Casciaro
Serge Ibaka, Clippers
With his ability to stretch the floor and serve as a pick-and-pop weapon, Ibaka's helped change the shape of the Clippers' offense, which ranks third to Brooklyn's and Milwaukee's at an absurd 117.7 points per 100 possessions and jumps to 119.7 with Ibaka on the floor.
On top of drawing opposing big men out of the paint with the threat of his 3-ball (which has helped the Clippers shoot an outstanding 67.2% in the restricted area), Ibaka's doing his part to bust drop coverages by drilling 53.8% of his mid-range jumpers, most of which have come out of the short roll.
Ibaka's playmaking on the roll has also been a welcome surprise, and a boon to Ty Lue's efforts to introduce more ball movement into the Clippers' attack. His assist rate (3.7 per 100 possessions) blows his previous career high (2.5) out of the water. The tradeoff L.A. accepted in adding him at the expense of Montrezl Harrell - sacrificing Harrell's interior scoring for better spacing and rim protection - has paid dividends so far, though there are some minor red flags at both ends.
Ibaka's defensive fit is a bit more tenuous. Early in the season, the Clippers were having him switch fairly regularly, but they've seemingly recognized that that's no longer a strength for the former All-Defensive mainstay. They now deploy him mostly in a deep drop, and the results in that coverage have been mixed. Ibaka hasn't been especially good defending shots at the rim, but he's done a very good job of preventing opponents from getting all the way there. The Clippers deter shots in the restricted area at a top-eight rate with him on the floor, and only DeAndre Jordan has coaxed more floaters out of the pick-and-roll, according to Synergy.
Still, it feels like Ibaka is caught in the middle of the Clippers' competing defensive identities. When they want to size up and play drop, Ivica Zubac is a better rim-protector. When they want to switch everything, it makes more sense for them to play center-less, as they did to great effect against the Jazz and Nets last weekend.
But for all that, the Clippers have been at their best with Ibaka on the floor. And while that owes something to the fact he's spending most of his time playing with the other starters, L.A.'s also outscored opponents by 10.3 points per 100 possessions in the 137 minutes he's played without either of Kawhi Leonard or Paul George.
The real referendum on the Ibaka addition will come in the postseason, but the early returns are encouraging. - Wolfond
Robert Covington, Trail Blazers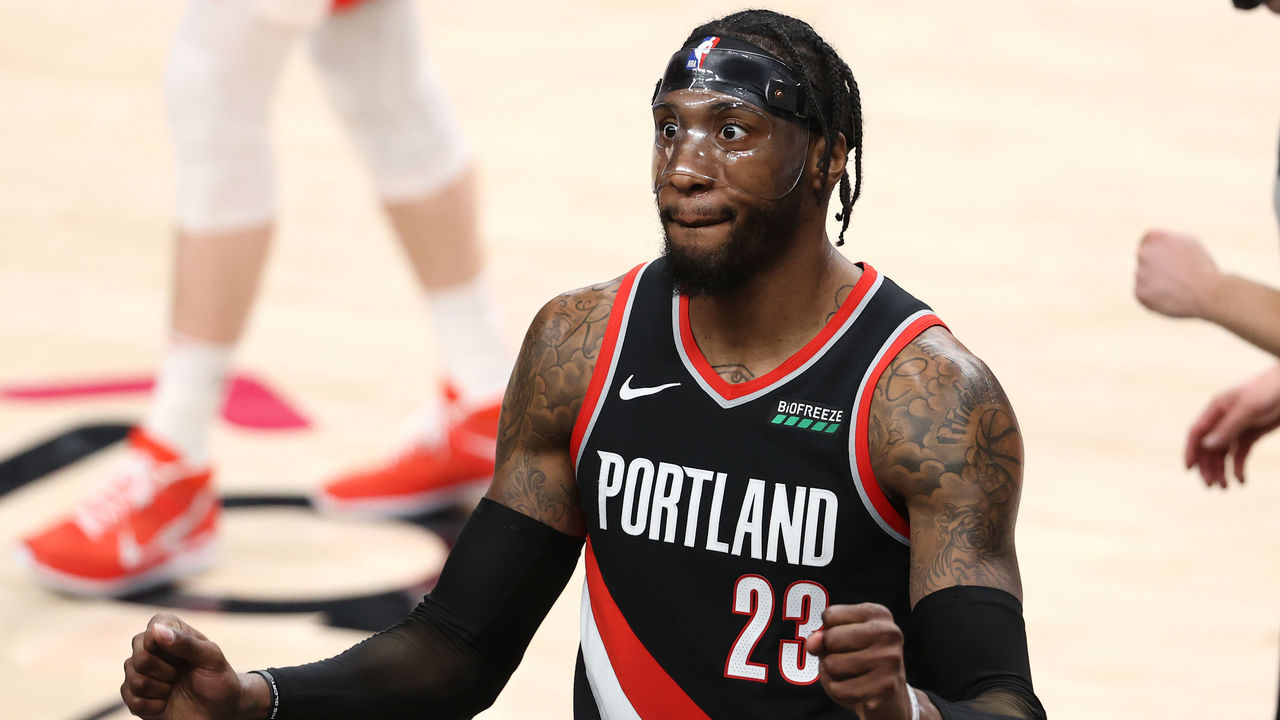 Covington profiled as a perfect fit for a Blazers team that finished 27th in defensive rating in 2019-20, had a glaring hole on the wing, and didn't need much more than reliable spot-up shooting to complement Damian Lillard and CJ McCollum on offense. And while he's been fairly solid in his role so far, he hasn't quite delivered on the promise that made him one of the offseason's most celebrated additions.
Covington's offensive struggles have been marked by an uncharacteristic hesitancy to let it fly from deep. He's always been a willing 3-point shooter, even as his accuracy hovered around league average, but he's record-scratched his way out of a handful of open and semi-open threes this season, leading to a career-low 7.8 long-range attempts per 100 possessions.
That's particularly galling given how poorly things go when he gets run off the arc. He's had a miserable time trying to finish at the rim and is shooting 45% from 2-point range, his lowest mark since his first season with the Process-era Sixers. The Blazers' offense has been dramatically better with him on the floor, but that's entirely the result of his minutes being tethered to Lillard's.
And while Covington hasn't been the problem at the defensive end, he hasn't managed to make a meaningful impact on the team's defense as a whole. Portland's actually worse defensively, and its 113.9 defensive rating with Covington on the floor is only slightly better than its 29th-ranked rating (116) overall. Covington remains an excellent help defender, but he's had a rough time in man-to-man coverage, particularly against slippery guards who've exposed his increasing lack of foot speed.
Covington's arrival gave Terry Stotts leeway to veer away from the drop defense he's employed for the bulk of his Blazers tenure and adopt a new pick-and-roll scheme in which the screen defender plays up to the level. Covington's secondary rim protection and ability to quarterback rotations behind aggressive ball pressure was supposed to be the key to unlocking the revamped system. It hasn't quite worked out that way, though it's hard to fault Covington, given how much heavy lifting he's asked to do in covering for Lillard, Enes Kanter, and Carmelo Anthony. He's still managed to be a disruptive force, ranking 11th in the league in steals per game and fourth in deflections.
It's also worth noting that while the credit for the Blazers' extraordinary success in the clutch has deservedly gone to Lillard, Covington sealed a handful of those crunch-time wins with game-saving defensive plays. That includes picking off a Harden kickout pass, stoning Pascal Siakam in the post, and blowing up a 76ers inbounds play with masterful work as a free safety while ostensibly guarding the inbounder.
Given their defensive limitations elsewhere, that's the version of Covington the Blazers need on a regular basis to fulfill their lofty playoff ambitions. - Wolfond
The Lakers' newcomers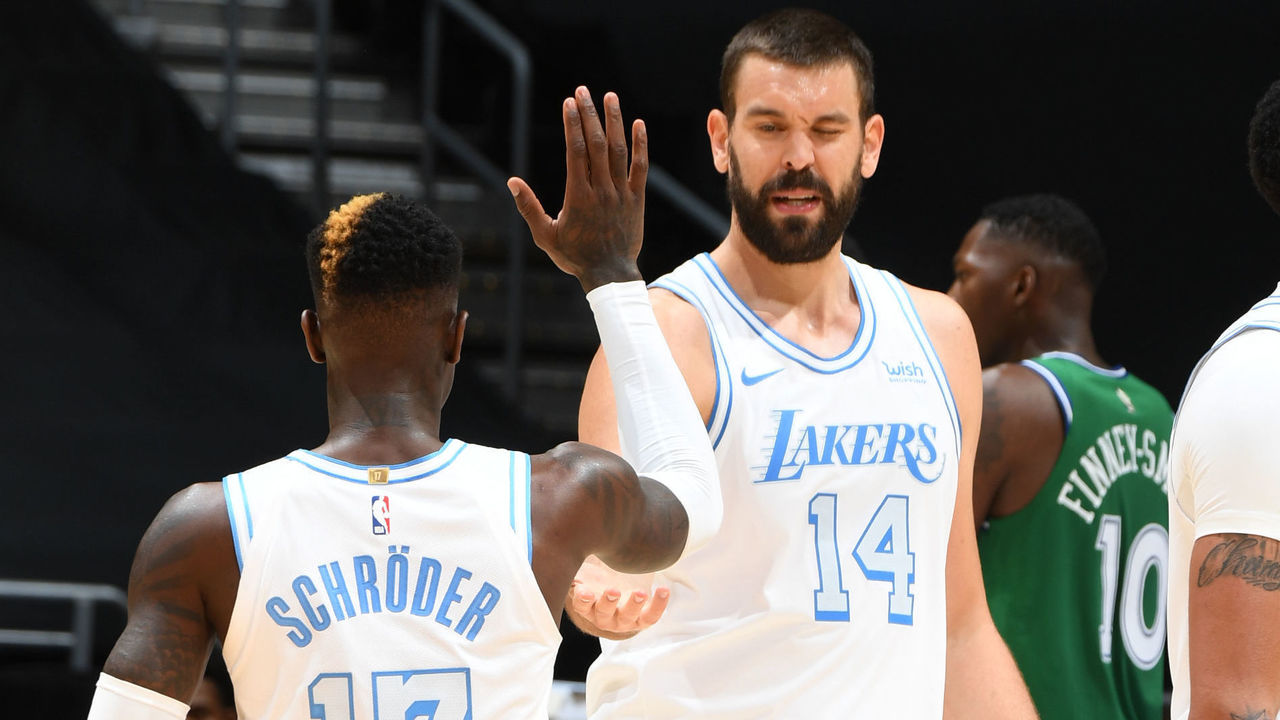 Marc Gasol remains a basketball genius, and when LeBron James has the ball in his hands with Gasol on the court, you'll often see the veteran big man direct the other three players. He's also still a capable defender in limited minutes and an important defensive specialist against true behemoths like Joel Embiid. But I'd be lying if I didn't tell you that watching Gasol this season has been painful.
The 36-year-old is showing his age. He's lost a step on the defensive end, his stamina has noticeably faded, and he's even more averse to individual offense than he was in Toronto. Gasol isn't an offensive threat in the paint, he's taking under four shots per game, more than 62% of his field-goal attempts come from long range, and he's finishing less than 11% of Lakers plays when he's on the court.
His playmaking and overall defense mean there should still be a role for him to play, but if Anthony Davis' Achilles issues limit him at all going forward, L.A.'s in for a world of hurt.
Dennis Schroder, meanwhile, has been much more valuable to the Lakers than his inefficient individual offense would have you believe. Only LeBron has more assists for L.A., as Schroder's playmaking and off-the-dribble creation is desperately needed when James is on the bench, or even to give LeBron a secondary perimeter creator when he's on the court.
It's concerning that Schroder's 3-point capabilities last season appear to have been an aberration, and while his defense is disruptive, it can also be inconsistent and risky, but overall, this iteration of the Lakers needs Schroder's skill set. Only James has played more minutes, the Lakers have lost three straight games without him, and Schroder's on/off net rating ranks fifth among the 13 Lakers who've played the most this season.
Harrell's usage and overall production have come down since his Clippers days, but he's provided insanely efficient interior offense off the bench, averaging 13.8 points and 6.4 rebounds in only 24 minutes, while shooting nearly 64% from the field and drawing a ton of fouls.
As expected, however, the same defensive issues continue to plague Harrell. He's not strong enough to bang with traditional big men, doesn't move his feet well enough to hang with more versatile forwards, and has never seemed to grasp positioning. As a result, opposing teams continue to target Harrell, especially in pick-and-rolls, meaning he's not a viable option to close games.
Wes Matthews has been a disappointment. The veteran swingman is having one of the worst shooting seasons of his career, hasn't provided the consistent defense expected of him against bigger perimeter and wing threats, earned a DNP-CD earlier in February, and owns the worst on/off net rating on the team. - Casciaro
Kelly Oubre, Warriors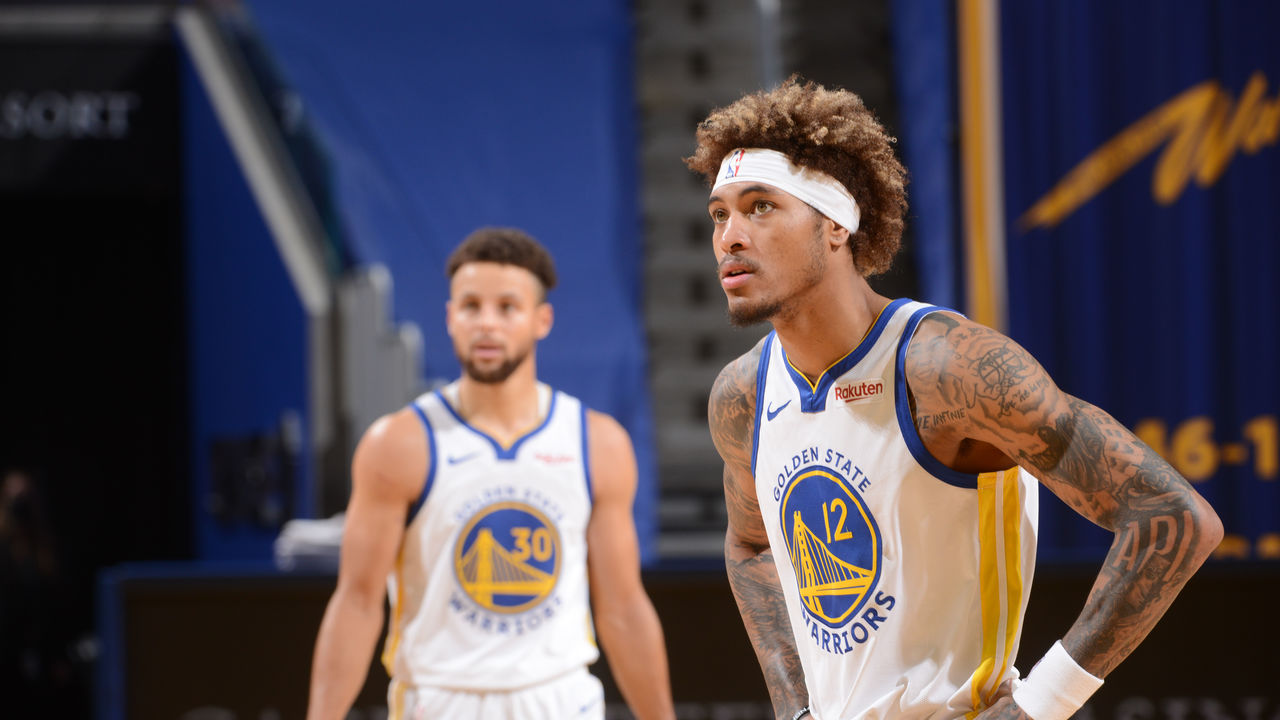 Oubre's Warriors tenure could not have began more nightmarishly. The rangy swingman clanked 27 of his first 28 3-point attempts and missed every single one of his first 31 non-dunk field-goal attempts. That is … legitimately hard to do.
On top of the shooting woes, he struggled to orient himself within the Warriors' read-and-react motion offense, often compromising the team's floor balance. He seemed uncertain of where to be or how to move in concert with Steph Curry and Draymond Green. He failed to recognize when to clear out the corner he was occupying so Curry could successfully relocate after getting rid of the ball.
While those foibles crippled Golden State's offense, Oubre worked through and around his struggles. Without posing a threat as a spot-up jump shooter, he had to find other ways to make himself useful. He skied for monstrous put-backs, sought out cutting avenues, and ran the floor hard to help the Warriors avoid playing in the half court whenever possible. He's one of the biggest reasons they rank second in the league in pace and fifth in transition frequency.
Now that his shooting's bounced back, Oubre's starting to look like the low-maintenance complementary player the Warriors acquired in the wake of Klay Thompson's injury; someone who understands his role and has a keen sense of how to play off of high-level creators. Through his first 10 games, Oubre was averaging 10.2 points on 39.4% true shooting (13.7% from 3-point range), with more than twice as many turnovers as assists. In the 22 games since, he's averaged 17.3 points on 56.7% true shooting (39.5% from deep) with a nearly 2-to-1 assist-to-turnover ratio.
He's gained a better understanding of how to utilize Curry's gravity and Green's playmaking. Steve Kerr helped bring him along with more scripted sets, many of which involve Curry screening for him and Green feeding him the ball from the top.
There are still warts. While Oubre's man-to-man defense has been passable, his team defense and general basketball awareness leave a lot to be desired. Despite his turnaround after those disastrous first 10 games, the Warriors have performed 12.4 points per 100 possessions worse with him on the floor for the season.
But as he continues to increase his comfort level, it's becoming easier to picture Oubre making positive contributions in a scaled-back role when Thompson returns next season, provided the Warriors opt to bring Oubre back in free agency. - Wolfond