The Toronto Raptors' struggles, a season after they finished with the league's second-best record and second-ranked defense, has been one of the great curiosities of this eminently strange NBA season. "What's really wrong with the Raptors?" has become something of a riddle, with any number of plausible answers to why the team finds itself at 7-11 after going nearly seven years without ever falling below .500.
A few obvious ones: The Raptors have been physically displaced, forced to play out of market in Tampa. They lost a good deal of institutional knowledge when Marc Gasol and Serge Ibaka left in free agency. Pascal Siakam, ostensibly their best scorer, has often struggled as opponents gameplan for him. They don't have a lot of interior punch, especially with Siakam flagging, which leaves them overly reliant on the 3-ball.
But the Raptors' offense isn't actually too far behind where it was last year, when they didn't suffer their 11th loss until game No. 33. After finishing 13th in offensive efficiency in 2019-20, they rank 14th this season, scoring one fewer point per 100 possessions. The far bigger drop-off has come at the other end of the floor, which is surprising for a team that remains rife with defensive talent and IQ.
| | Off. Rtg | Def. Rtg | Net Rtg |
| --- | --- | --- | --- |
| 2019-20 | 110.8 (13th) | 104.7 (2nd) | 6.1 (4th) |
| 2020-21 | 109.8 (14th) | 109.5 (15th) | 0.3 (14th) |
Even more surprising is that their wounds have been almost entirely self-inflicted. The Raptors aren't getting unlucky; their opponents haven't shot unsustainably well from 3-point range, or any spot on the floor for that matter. The real problem is that they're giving up a boatload of the most profitable shots in basketball: free throws. The Raptors simply won't stop fouling people, and that bad habit is threatening to torpedo their season.
At present, Toronto ranks 28th in the NBA in opponent free-throw attempt rate, allowing 29.7 freebies for every 100 field goals. In the five seasons preceding this one, 16 teams sent opponents to the line with equal or greater frequency, and all but three of them finished in the bottom half in defensive efficiency. Seven finished in the bottom five. The average defensive ranking of those teams was 21st. Generally speaking, good defenses don't foul this much.
All told, the Raptors are surrendering 2.3 more points per 100 possessions at the free-throw line than they did last year. That's the difference between them ranking 15th in the league in defensive rating and fourth.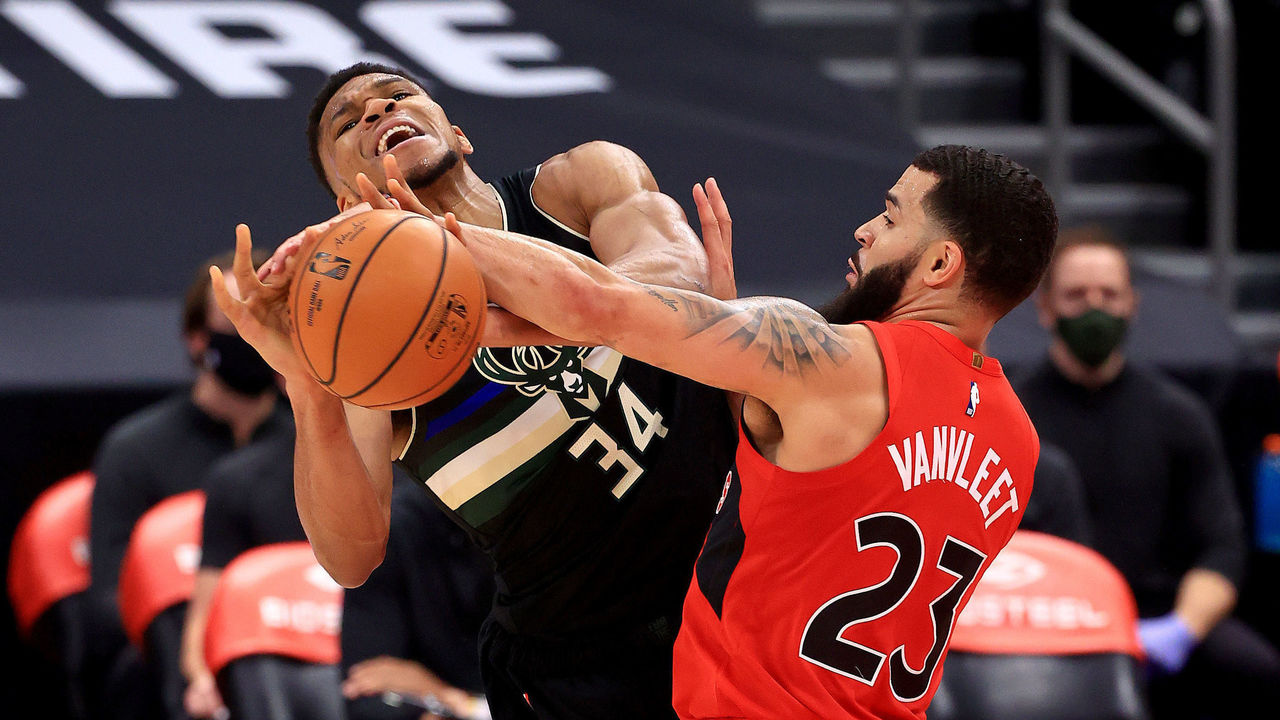 There are a few ways to rationalize the uptick. For one thing, as Kyle Lowry pointed out after Wednesday's loss to Milwaukee, aggressiveness and physicality are pillars of the Raptors' defensive identity.
"I think we try to be the more physical team, we're a lot more handsy. I think we try to be more on the aggressive side," Lowry told reporters. "We're an aggressive team. We play hard and we reach, and we've got some guys that are tough and we bang and we scrap. And sometimes we get caught in bad situations."
That aggressive style certainly has its benefits. The Raptors force turnovers at the league's second-highest rate, and they depend on those turnovers to fuel their offense because of how badly they struggle when forced to play against a set defense. Excluding garbage time, they rank 22nd in the NBA in scoring efficiency in the half court, per Cleaning the Glass. The only reason they have a league-average offense on the whole is that they rank second only to the Bucks in transition frequency. They subsist on those open-court opportunities. So in some ways, it's a necessary trade-off.
The fouling is also a byproduct of their shaky frontcourt and their defensive rebounding woes. Whatever your thoughts on the extent to which Gasol and Ibaka contributed to Toronto's success last year, they were reliably good at defending without fouling. Gasol couldn't jump, but you rarely had to worry about him being out of position. The new center rotation alone goes a long way toward explaining the team's issues on this front. Gasol and Ibaka combined to average 10 fouls per 100 possessions last season; Aron Baynes and Chris Boucher are averaging 12.5 per 100 this season.
In place of their departed bigs, the Raptors have mostly received poor center play from Baynes and Alex Len, the latter of whom was waived. That's forced them to downsize more frequently, which has exacerbated the fouling issue. Their smaller lineups have hacked like crazy, in large part due to their inability to protect their own glass.
Boucher's role on this team is nominally that of a center, but he's a hybrid big with power-forward height and point-guard weight. His struggles to contain and box out center-sized players have contributed to plenty of loose-ball fouls under the basket. Even though they're usually of the non-shooting variety, those fouls still have the cumulative effect of nudging Toronto towards the penalty.
Lineups with no center at all are having an even harder time keeping opponents off the line. In 100 minutes without Baynes, Boucher, or Len on the floor, the Raptors have allowed 38.9 free throw attempts per 100 field goals, according to NBA Advanced Stats.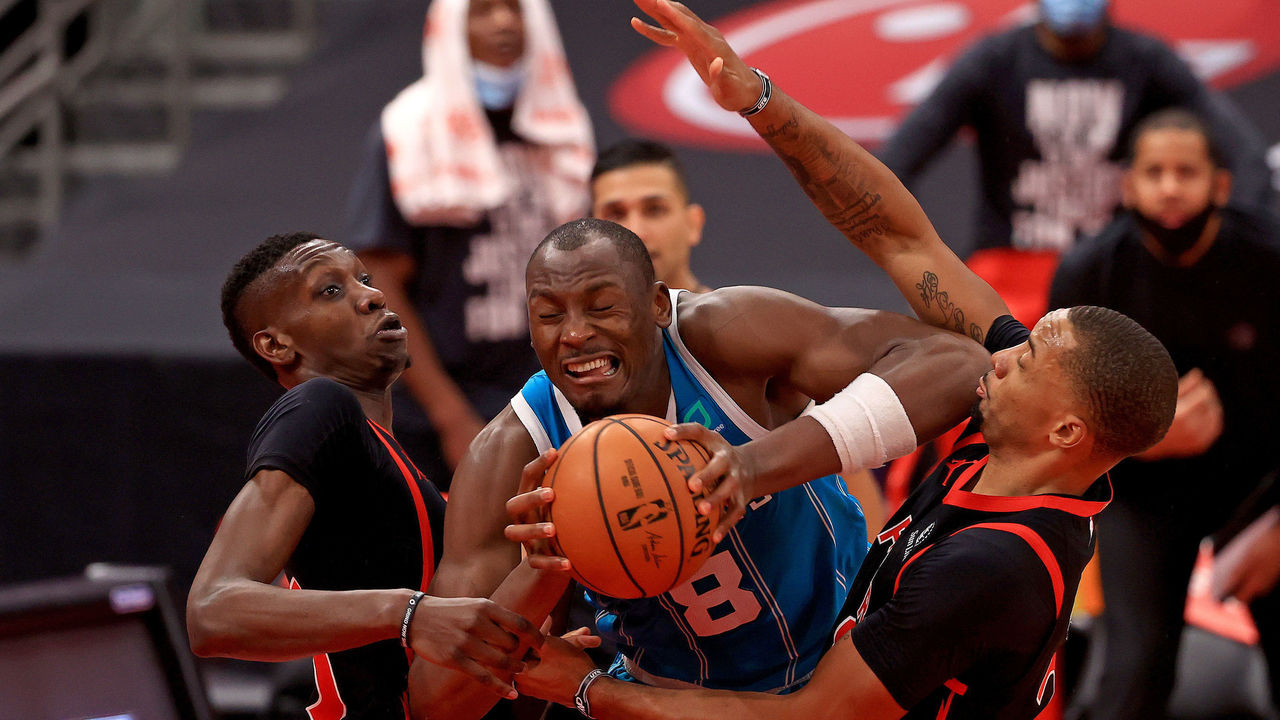 So, you can see how a lot of these issues are connected, and that leads to a chicken-and-egg question: Have the Raptors slipped on defense because they've started fouling a ton, or have they started fouling a ton because they've slipped on defense? After all, the Raptors forced a nearly identical rate of turnovers last year while maintaining a league-average foul rate. Defensive rebounding was a problem for them last season, too, but they didn't let that bleed into other habits.
It's probably a bit of both. In some cases, they're fouling because of defensive breakdowns and late rotations that weren't happening to last year's more connected unit. In others, they're just being undisciplined, in ways that should be correctible.
It's possible that aging veterans like Lowry and Baynes are being forced to compensate for their slowing feet. Lowry's foul rate is the highest it's been since 2013-14, and he's been handsier than ever as he's shown signs of slowing down on the perimeter in his age-35 season. Baynes, who leads the team in foul rate, constantly gets dinged for holds and body bumps around the basket, either because he's been beaten for rebounding position, lags behind his check, is late with a rotation, or - most frustratingly - jumps for no reason:
Meanwhile, less experienced players who've been thrust into larger roles are struggling with fundamentals. Terence Davis, a particularly egregious offender, can never seem to keep his hands out of the cookie jar. And for all the remarkable strides Boucher's made, it's still incredibly easy to pump-fake him off his feet:
None of that explains why Siakam is committing a full extra foul per 100 possessions compared to last year. For as brilliant as his defense has been at times, he's made a lot of unnecessary, low-percentage lunges:
Point being: this doesn't fall on any one player. It's been a team-wide issue, with everyone taking turns committing bad fouls at inopportune times. The Raptors are a help-happy team, and a swipe-happy team, and those instincts - for all the deflections and steals they produce - can backfire.
The Raptors own a 127.7 defensive rating in the clutch, in large part because they're sending opponents to the line an average of 38 times per 100 possessions in those scenarios. That number is inflated by intentional fouling, but there have been a handful of situations in which the Raptors have shot themselves in the foot with reckless, away-from-the-basket gambles in close games.
Norman Powell, despite being one of Toronto's least foul-prone players, has a penchant for untimely reach-ins. One particularly galling instance came at the tail end of a one-possession game against the Pelicans, when Powell pinched from the strong-side corner and swiped at Brandon Ingram while OG Anunoby - arguably the best one-on-one defender in the league - appeared to have a driving Ingram in check, and Boucher was in perfect position to help:
The Pelicans shot 28 free throws in the fourth quarter alone in that game, the most by any team in any quarter in almost three years.
Anunoby would have reason to feel miffed that Powell helped unnecessarily on that Ingram drive, but he himself committed an equally vexing bailout foul in a high-leverage spot against the 76ers, when he had Joel Embiid isolated 25 feet from the basket with four seconds on the shot clock:
Even if they're destined to be a foul-prone team as a result of some of their broader structural issues, those are the kinds of mistakes they can and must avoid. The Raptors have proven capable in the past of walking the tightrope between aggressiveness and discipline. For myriad reasons, they've been unable to strike that balance this year, and it's been a major contributor to their worst start in nearly a decade.
There's still time for them to turn things around, but continuing to hack opponents to this degree is untenable. To get back to the defensive level at which we're accustomed to seeing them play, they need to be more vigilant about keeping their hands to themselves.