Weird Week in Hoops: Kevin Porter's food fight and Bernie on the bench
David Liam Kyle / NBA / Getty
Every Sunday, theScore's Michael J. Chandler and Andrew Joe Potter highlight the week's lighter moments from around the basketball universe. Here's what caught our eye this week.
Be warned: Weird Week contains coarse content. Don't read while standing up.
Kevin Porter Jr. tosses his lunch
The Kevin Porter Jr. experience in Cleveland is over thanks in large part to a recent locker-room outburst in which the recent No. 30 pick reportedly yelled at staff and threw food.
For Cavaliers fans, the incident brought back memories of a similar episode from March 2018 when former swingman JR Smith hucked a bowl of chicken tortilla soup at then-assistant coach Damon Jones.
It's impossible to ignore the uniting factor between the original "Soup-gate" and Porter's reported tirade ...
While Porter's projectile of choice has yet to be divulged, we've assembled the betting odds:
Five-cheese burrito bowl (with guacamole) - 5-1
Fruit salad (mostly just the remaining honeydew) - 11-2
Nondescript chicken tendies and fries - 7-1
Bowl of chicken tortilla soup - 8-1
Large Tupperware container of orange wedges - 13-1
Roast chicken (with family-sized potato wedges and coleslaw) - 15-1
Cedi Osman's homemade baklava - 30-1
Waldorf salad (with craisins) - 100-1
Shrimp cocktail - 300-1
Oysters Rockefeller - 10000-1
Here's what theScore's own gambling writer Alex Kolodziej had to say about the odds:
Sharper bettors would pounce on nondescript tendies and fries at 7-1. After all, Cleveland.com writer Brenda Cain once said, "there's not much special about these tenders on their own." Porter would be unfazed hurling a basket full of Grade-B Cleveland cluck at the forehead of a passive Taurean Prince.
Feel the Bern on the bench
Alright, here's the obligatory Bernie Sanders meme section.
Let us never speak of this now entirely overcooked meme ever again.
That's Cauley-Stein's music!
The Dallas Mavericks have finished in the top 10 in defensive rating just twice (2010-11, 2011-12) since Rick Carlisle became head coach in 2008. Well, prior to the Houston Rockets hanging 133 points on them Saturday, the Mavs had conceded 107.4 points per 100 possessions, good for the eighth-stingiest mark in the league.
To keep the good times rolling, the team is now handing out a bit of hardware to the player with the best defensive effort:
With his Defensive Player of the Game belt in tow, Willie Cauley-Stein is now just an Emmy, Grammy, Oscar, and Tony win short of completing the first-ever DEGOT. He'll look to add to his awards haul this offseason as Tevye in an off-off-Broadway revival of "Fiddler on the Roof."
Beasley mimics Trae's jutted-out junk
Thanks to Malik Beasley's re-enactment, it's impossible to ignore that Trae Young's go-to foul-drawing move loosely resembles your uncle attempting the "Cha-Cha Slide" after having one too many glasses of house red at your cousin's wedding reception.
RJ teaches lesson in how to backtrack
NBA veteran-turned-television analyst Richard Jefferson has quietly built a reputation as one of the best at his current gig - and even at 40, he's shown a deft ability to switch directions in the blink of an eye.
Embiid and Theis nail synchronized simulation
With the 2020 Olympics potentially slated for a second delay, many fans of the quadrennial summer event are competing on their own terms. From the looks of it, Sixers sequoia Joel Embiid and Celtics strongman Daniel Theis have their synchronized flopping routine perfected.
After the game, Marcus Smart - who's an accomplished thespian in his own right - criticized Embiid for flopping during a chat between the pair. Embiid responded to Smart postgame: "I'm sure he knows himself, and he knows his game, too, he does a lot of that." Pot, meet kettle.
Walt Frazier roasts Nerlens Noel
Nerlens Noel should never take a 3-pointer. Even if the Knicks lose the entire roster to protocols and Tom Thibodeau plays Noel 48 minutes alongside four stray dogs, Noel shouldn't shoot the deep ball. Leave it to Knicks play-by-play man/sartorial savant Walt Frazier to eloquently deliver the consensus opinion.
Steph drags Acie Law for no apparent reason
Former Golden State guard Acie Law probably had a similar Monday night to most: a warm cup of cocoa while watching another tedious episode of Bridgerton with a loved one. Then, presumably, his phone blew up.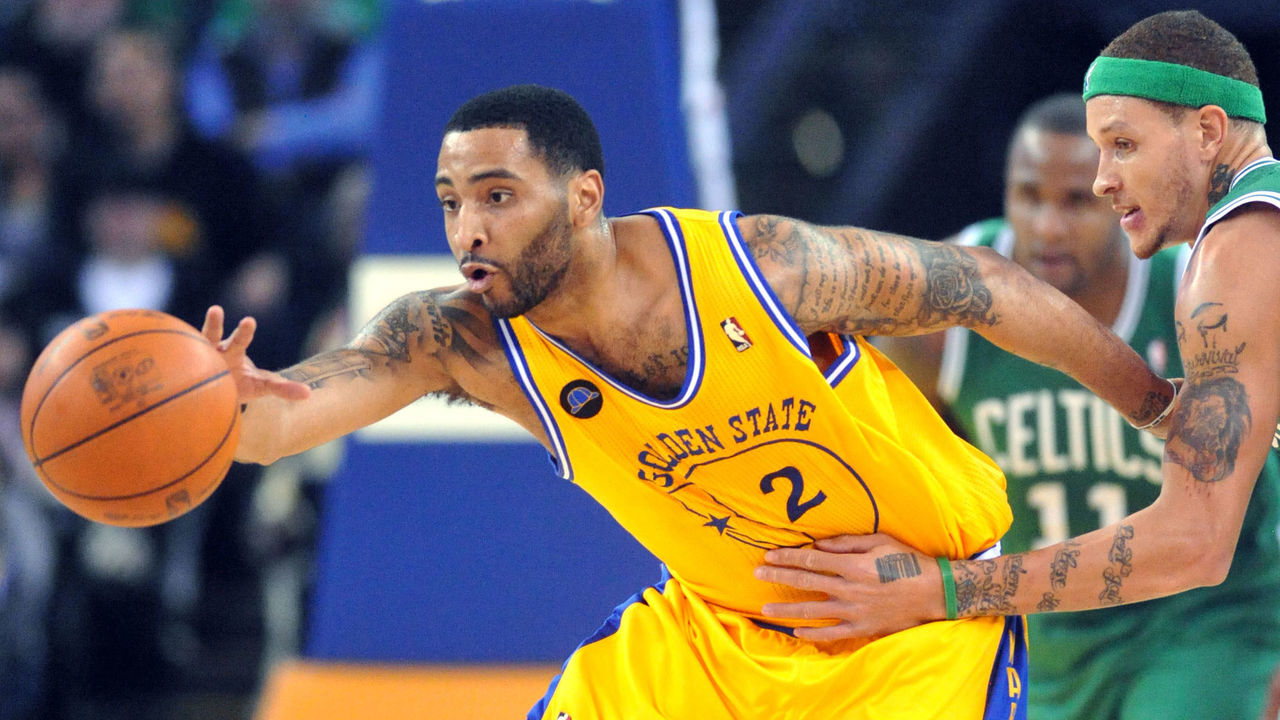 And for good reason, because when asked on Monday about James Wiseman's early struggles, Steph Curry put the rookie's growing pains into perspective, saying, "I used to get benched for Acie Law." The retiree was just at home minding his own business and he catches a stray. Harsh.
Oubre has that effect on everyone
The refs whistled Kelly Oubre for a tech after the Warriors guard celebrated a made three on Monday by blowing kisses at Lakers forward Montrezl Harrell. The NBA's (perhaps not entirely real) explanation leads us to believe the refs had an ulterior motive.
Must be those blue eyes.
Come back next Sunday for more oddities, inanities, and obscenities from the wonderful world of basketball - and remember to send your nominations and submissions to andrew.potter@thescore.com.
Comments
✕
Weird Week in Hoops: Kevin Porter's food fight and Bernie on the bench
  Got something to say? Leave a comment below!