7 players who can swing the 2020-21 NBA season
Photo illustration by Matt Cohen / theScore
Every NBA season begins with a certain number of unknowns. Each year, a handful of these intangibles have a chance to alter the league's competitive landscape, depending on which way they break.
Here are seven players who can help tilt the balance of power in 2020-21.
Kevin Durant, Nets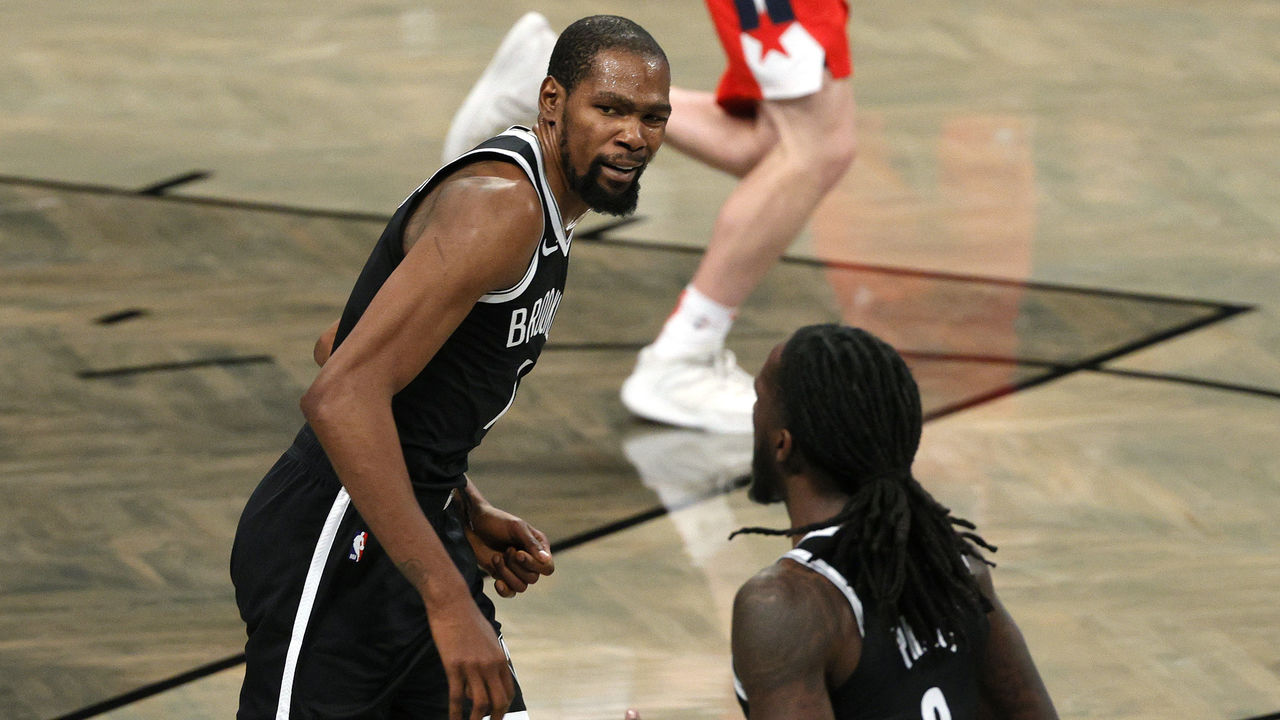 At his absolute best, Durant reached levels of dominance only LeBron James has surpassed over the last decade. In 10 playoff games before his first of two right leg injuries during the 2019 postseason, Durant averaged 35.4 points, 5.2 rebounds, five assists, 1.2 steals, and a block on 52-43-91 shooting while logging nearly 40 minutes per game.
If the 32-year-old returns from a ruptured Achilles looking like the old KD, the Nets are an immediate contender. How Durant and Kyrie Irving mesh on the court (and off) is important, as is how new coach Steve Nash manages a deep rotation and volatile locker room. However, these questions are of less concern if Brooklyn gets peak Durant. In that scenario, no Eastern Conference team - not even reigning MVP Giannis Antetokounmpo's Bucks - can match Brooklyn's top star.
Of course, it remains to be seen whether a (near) 7-footer with roughly 37,000 NBA minutes on his body can possibly return to peak form after an 18-month layoff. And while Durant has Irving as a running mate, and the Nets have surrounded their star duo with plenty of depth and offensive creativity, there's a mammoth divide between the team's ceiling and floor, and it's directly correlated to Durant.
If the former MVP can no longer shoulder the season-long burden that comes with carrying a title contender, or he simply can't be relied upon as frequently as he once could be, the Irving-led Nets have already proven to be beatable (assuming Irving himself can even remain on the court).
Another interesting wrinkle to consider is how Nash, top assistant Mike D'Antoni, and the staff deploy Durant, who's already noted he'll be playing some small-ball center this season. If true, it'll be terrifying for opponents, but only if he's up for the physical toll that might come with it. Brooklyn would be able to field their five best offensive players (Durant, Irving, Caris LeVert, Spencer Dinwiddie, Joe Harris), creating a lineup so offensively potent its glaring defensive shortcomings wouldn't matter.
Plus, a healthy Durant is a lengthy, defensive terror in his own right; his rim-protection numbers were comparable to centers Jakob Poeltl and Dewayne Dedmon during the 2018-19 season. - Joseph Casciaro
Paul George, Clippers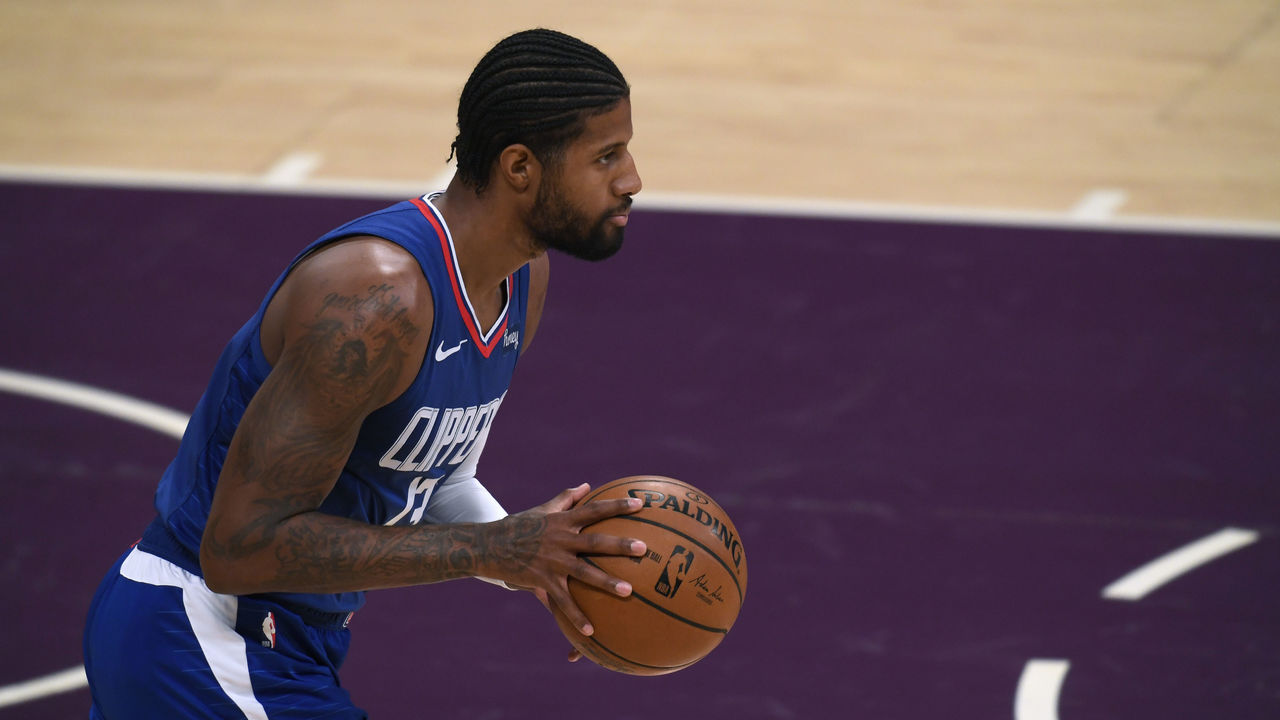 For all the internal and external theorizing about what really went wrong for the Clippers last season, the best explanation is the simplest one: George was a disappointment. He started the season on the shelf as he recovered from double shoulder surgery, played somewhat sparingly in the regular season (48 games, 29.6 minutes per game), and wasn't nearly the two-way force he'd been for the Thunder during the 2018-19 campaign, when he finished third in both MVP and Defensive Player of the Year voting.
To be clear, George was still good in the regular season; he averaged about 26-7-5-2 per 36 minutes, and the Clippers outscored opponents by 13.2 points per 100 possessions when he and Kawhi Leonard shared the floor. But he was a far cry from the All-NBA first-teamer the Clippers thought they were getting when they shelled out five first-round picks, two pick swaps, Shai Gilgeous-Alexander, and Danilo Gallinari to pry him away from OKC.
He wasn't the same enveloping on-ball defender, and at the offensive end his at-rim attempts and free-throw rate plummeted as he became more reliant on his jump shot. He was one of the least efficient high-volume isolation scorers in the league (just 0.75 points per possession), and he failed to elevate transitional lineups when Leonard hit the bench. Things got especially grim in the playoffs, where George struggled mightily with his jumper and with the mental health challenges of bubble life. The coup de grace was a 10-point, 4-of-16 shooting performance in a humiliating Game 7 loss to the Nuggets.
Look, it's not George's fault the Clippers traded a truckload of assets to acquire him. But fairly or unfairly, the obscene acquisition cost does put additional pressure on him to perform, especially now that he's signed a gargantuan extension. There may not be a single player in the league who has as much to prove this year.
The Clippers made some roster tweaks this offseason, but the team's fortunes ultimately still rest with Leonard and George. And while we essentially know what to expect from Leonard, there's really no telling how George will bounce back. In theory, being further removed from those shoulder surgeries should help. If George is to be believed, Doc Rivers never utilized him properly, so maybe new coach Ty Lue will help, too.
One way or another, the Clippers need more from him. Whether George wants to admit it or not, this is a championship-or-bust season, and his play, more than anyone's, will determine which one it tuns out to be. - Joe Wolfond
Draymond Green, Warriors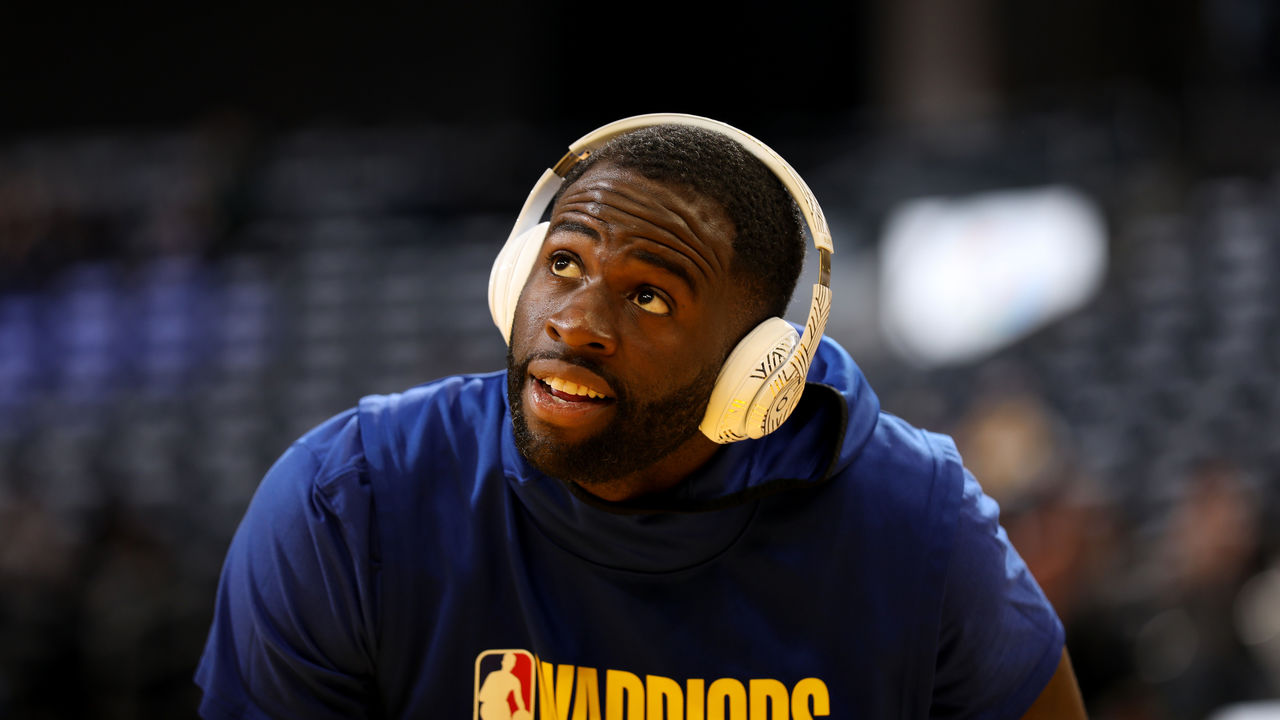 Even with Klay Thompson out, the brilliance of Steph Curry - surrounded by some intriguing, two-way talent - means the Warriors still have a path to contention if a few things fall into place. Chief among those swing factors is whether Green can rediscover the level of play that made him one of the game's most impactful players.
Green appeared to have lost a step during the 2018-19 season, and his lackluster performance last year made him the butt of "triple-single" jokes as the star-less Warriors sputtered to the league's worst record. But sandwiched between those endpoints, Green was a dynamo during Golden State's 2019 postseason run, reminding everyone that the guy who coined the term "16-game players" was still capable of playing championship-level basketball when it really mattered.
Green doesn't need to post crooked numbers or even shoot the ball all that well - he's never needed to. The former Defensive Player of the Year just needs to get back to moving well, being the defensive lynchpin opposing offenses steer clear of, and using his playmaking brilliance - plus Curry's gravity - to pick opponents apart in 4-on-3 scenarios.
No one should doubt whether Green can turn it on come crunch time or during the playoffs, but in a condensed season, in another stacked Western Conference, and with less star talent around him than the last time Golden State was playing for something, the Warriors will need the "16-game" version of Green to show up more consistently. - Casciaro
OG Anunoby, Raptors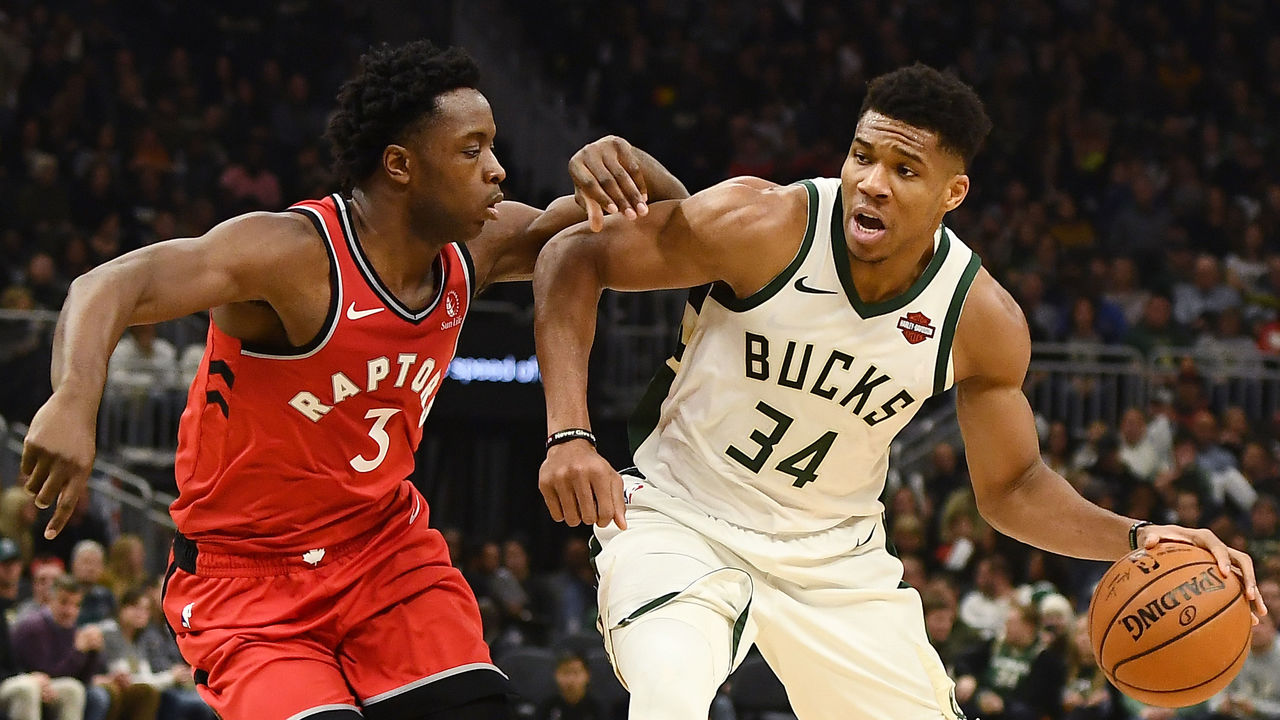 Even on a team stuffed with defensive talent, Anunoby stands out for his malleability and man-to-man stickiness. Though the Raptors deployed myriad team-oriented schemes to bamboozle opposing stars last season, Anunoby was their preeminent one-on-one stopper across the positional spectrum, with assignments ranging from James Harden to Jayson Tatum to LeBron James to Bam Adebayo to Giannis Antetokounmpo to Nikola Jokic.
Anunoby also became more of a defensive playmaker, honing his timing when it came to jumping passing lanes, pinning ball-handlers with traps, picking off wing-to-point passes, and swooping in for weak-side blocks. Tack on a reliable 3-point shot, a nose for baseline cuts, and hints of horizontality in his nascent dribble-drive game, and the 23-year-old's floor already puts him among the game's most valuable role players.
Anunoby's ceiling, and Toronto's by extension, will be dictated by his growth at the offensive end. He scored efficiently last season (60% true shooting), but his 14.3% usage rate was among the lowest in the league for a regular starter, and he ranked 10th on the Raptors in average time of possession at just over a minute per game.
He can attack closeouts with straight-line explosiveness, but hasn't yet displayed a tight enough handle to consistently create his own shot. His accuracy on pull-up jumpers is encouraging, but the sample is far too small to say whether that can be a real weapon. A little improvement and more volume in each of those areas could go a long way.
Toronto came up just two possessions short of the East finals in 2019-20 thanks in large part to Anunoby's contributions, which went well beyond That Shot. At various points in the playoffs, especially toward the tail end of the second-round series against Boston, the Raptors leaned on him as their nominal center in small, switch-everything units. In 40 such postseason minutes, they posted an 84.8 defensive rating. Those lineups also showcased Anunoby's utility as a ball screener, and as a multi-pronged threat in the pick-and-pop:
The Raptors are bringing back most of last season's core after losing big men Marc Gasol and Serge Ibaka to free agency. Aron Baynes and Chris Boucher are serviceable fill-ins, but the changes will likely press Anunoby into more frequent duty as a small-ball five, particularly in closing lineups. His viability in that role will determine the extent to which the Raptors can weather those losses.
Without Gasol or Ibaka behind him, he'll be relied upon more as a help defender and rim-protector. Matching up more against opposing bigs will spotlight his ability to stretch the floor and take slower guys off the bounce. While Kyle Lowry, Fred VanVleet, and Pascal Siaka carry the bulk of offensive initiating duties, the team will need Anunoby to be a more consistent scorer and tertiary creator if its middling halfcourt offense is to improve.
The Raptors' defensive floor should make them a solid playoff team. But if the team gets another leap from Anunoby, they could find themselves right back in the Finals mix. - Wolfond
Michael Porter Jr., Nuggets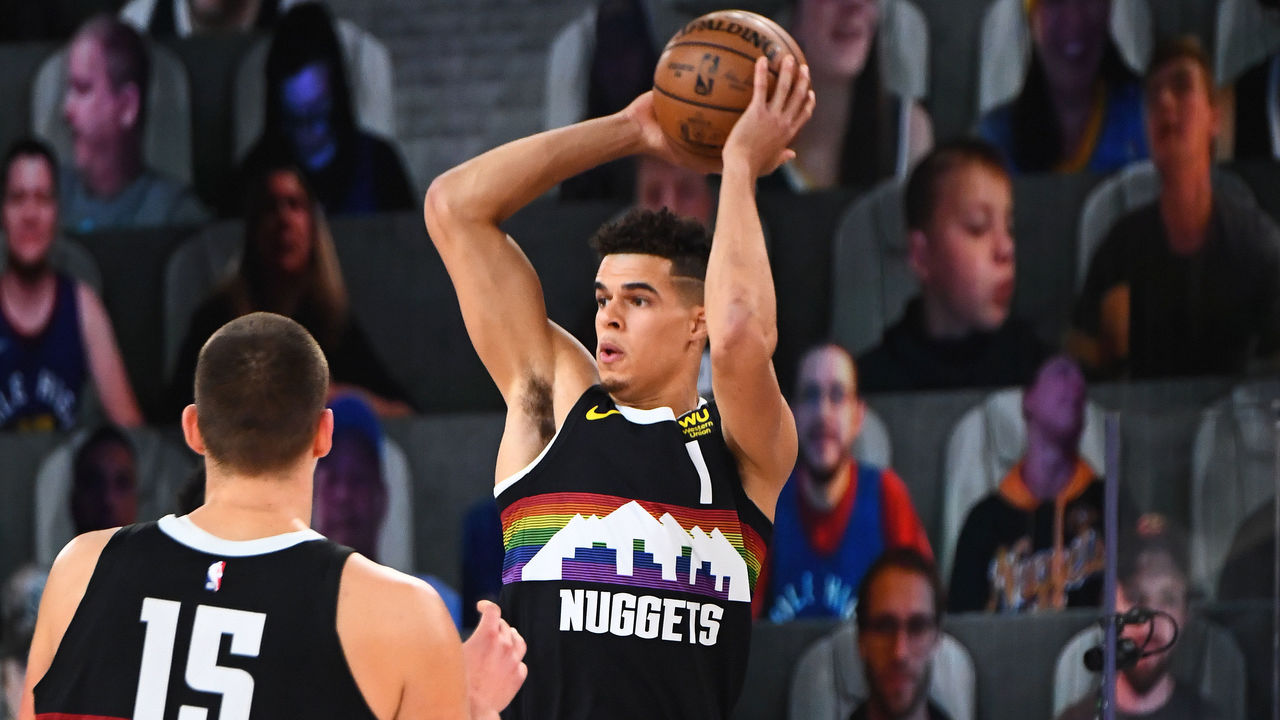 The 2020 postseason was a coming out party for Jamal Murray and a proving ground for Nikola Jokic's Nuggets, who marched all the way to the West finals after rallying from 3-1 down against the Clippers. It was also a reminder that Denver remains one piece away from true championship contention.
Enter Porter Jr.
After a back injury tanked his draft stock and wiped out his 2018-19 campaign, Porter appeared in 74 games between the regular season and playoffs last year. In the first 49 contests, he averaged 7.5 points in 14 minutes. Over the final 25 of his delayed rookie season, Porter averaged 14.4 points on 51-40-83 shooting while logging more than 26 minutes per game and earning nine starts. He topped 23 points in five of those final 25 games, erupting for 37 points on 12-of-16 shooting in the second game of Denver's restart.
As a 22-year-old sophomore, there's reason to believe Porter isn't just capable of replicating his bubble success this season, but topping it. The scoring ability and offensive fluidity he possesses at 6-foot-10 is the stuff that makes scouts drool. He can create for himself, get to his spots at will, and rise up to get a shot off over just about anybody on the planet. As a scorer, Porter's potential is limitless, and if he continues to tap into that, the Nuggets will have a top one-two-three scoring punch in the West.
The question is whether Porter can mature quickly enough as a complete player to tilt the balance of power this season. He doesn't need to become an elite playmaker on a team boasting Jokic and Murray, but he does need to tighten his handle, make better decisions with the ball in his hands, and avoid the stretches of tunnel vision he - and many young scorers - can be prone to. Porter recorded just 52 assists compared to 74 turnovers last year.
The bigger issue is on the defensive end, where Porter was a downright disaster for most of his rookie year, culminating in Utah mercilessly targeting him early in the playoffs. Whether Porter's physically capable of being an impact defender remains to be seen, but some of the fixes simply boil down to better focus, preparation, and effort. Early in the first-round series against the Jazz, Porter was caught on the perimeter standing straight up and/or looking the wrong way at times, while appearing to be unsure of Denver's defensive game plan.
To Porter's credit, he did begin to remedy some of that as the playoffs wore on, and the Nuggets will have to hope he continues to progress on that end. Porter has the offensive talent to put the team over the top if things break right for them, but he needs to prove himself as an overall basketball player to stay on the court long enough to do it. - Casciaro
Deandre Ayton, Suns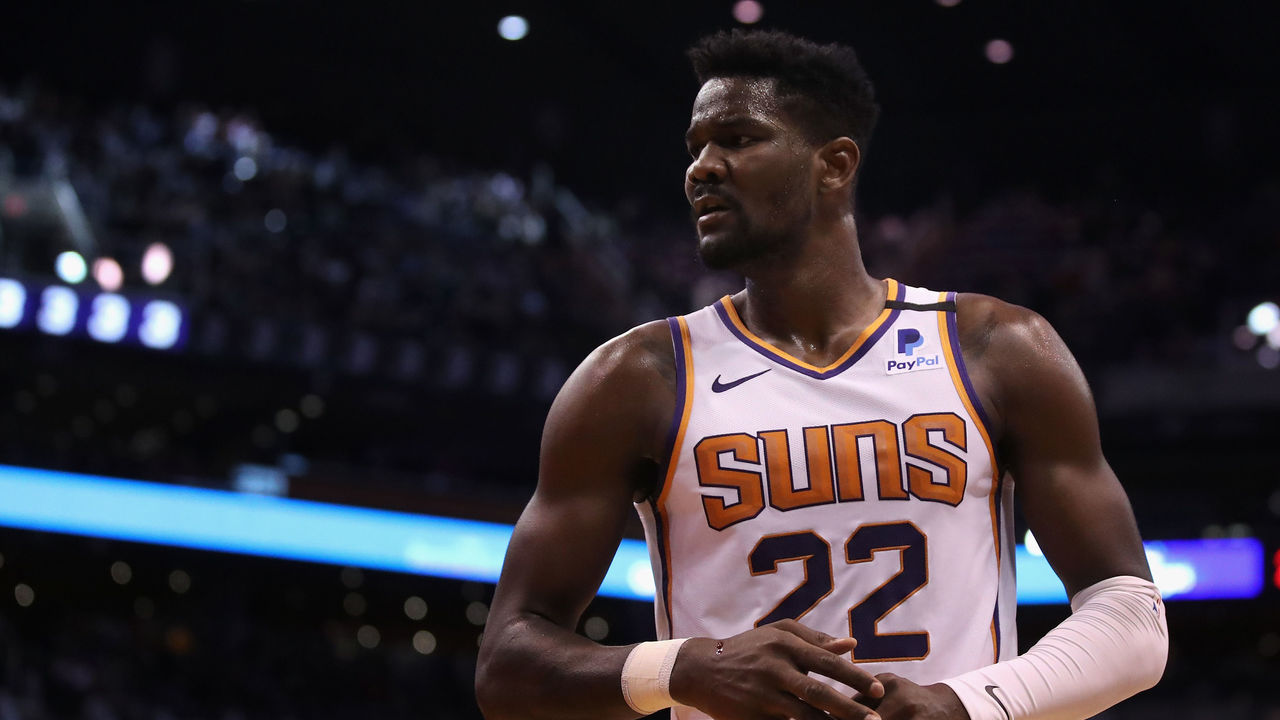 How good can the Suns be?
That's been a popular question this offseason, and it's a difficult one to answer for a few reasons: the 8-0 run in the Disney bubble was clouded by the lack of urgency shown by several of Phoenix's opponents, Devin Booker still needs to prove he can be the centerpiece of a winning team, and Chris Paul's age and injury history make it hard to imagine him replicating his fully healthy 2019-20 season. But the biggest swing factor for the Suns is the development of Deandre Ayton.
Ayton is a soft-handed giant with a smooth mid-range stroke and deft touch around the hoop. He inhales rebounds and carves out huge swathes of space with his screens. But he's still not a particularly sharp decision-maker. He has a bad habit of settling for fadeaways out of the post rather than backing down smaller defenders, and he's allergic to the free-throw line.
He scored 0.78 points per post-up possession and averaged just 2.6 free-throw attempts per 36 minutes last season - staggeringly low figures for someone his size. He scored 1.16 points per possession as a roll man, which is a good mark, but not a great one. (Playing with Paul should help in that regard.) With his combination of dexterity and size, Ayton has the potential to be an offensive monster. He just needs to play with more force.
But the most exciting aspect of Ayton's development to date has come at the defensive end, where he displayed a dramatically refined approach in Year 2. Thanks to greater economy of movement, more efficient angles, a keener grasp of verticality, and a newfound ability to keep his hips square to the ball, he slashed his opponent field-goal percentage at the rim from 64.9% to 53.6%. He had a better sense of how to use his wingspan to trap ball-handlers without allowing them to turn the corner or pass around him. He was able to bring pressure on the perimeter and still recover in time to make disruptive plays at the rim:
His help reads were still frequently slow, and he still struggled to defend in space, but by the end of the season Ayton was basically an average defensive center - a gargantuan leap from where he was as a rookie. Another jump at that end, even a comparatively small one, could mean the difference between Phoenix being a middling defensive team and a legitimately good one.
Crucially, the Suns have more capable perimeter pieces around him now. Booker is still a bit of a turnstile, but he's cranked up his effort level in recent years, and he'll be flanked by Paul, one of the league's smartest and strongest point-of-attack defenders. Throw in more playing time for Mikail Bridges on the wing, and additional versatility and grit courtesy of free-agent signee Jae Crowder, and Ayton's teammates should help simplify his defensive role. If he can sharpen his reads a bit and maintain good enough position to barricade the rim with his 9-foot-3 standing reach, this team will be able to hit opposing offenses with multiple waves of resistance.
The Suns have the pieces to reach the postseason for the first time in over a decade. If Ayton levels up again, they can start thinking about legitimate contention. - Wolfond
Tyler Herro, Heat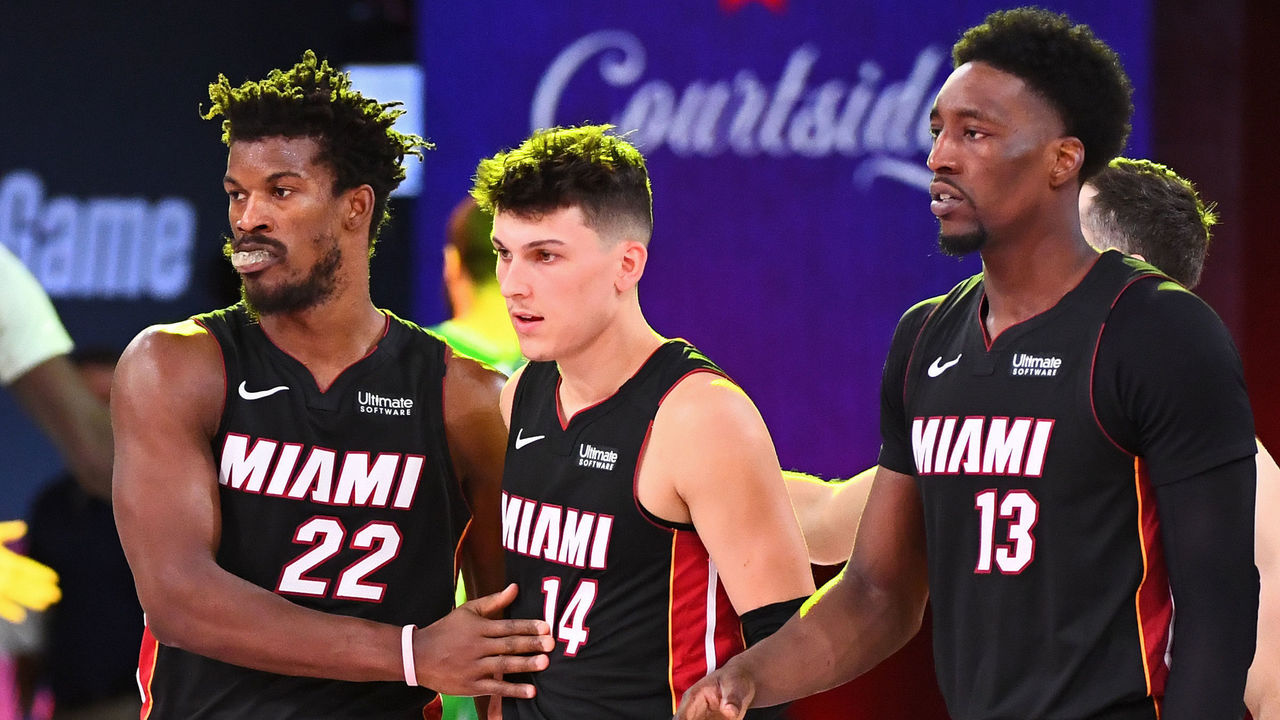 The core tenet and magic elixir of the Heat's offense is movement. And during their run to the Finals last season, few players better exemplified or benefited from that offensive system than Herro. Not only did he prove to be a smart and relentless off-ball mover with a ton of gravity as a shooter (38.9% from 3-point range on 5.4 attempts per game), he also demonstrated a surprisingly advanced feel for on-the-move playmaking.
As his debut season progressed, the Heat increasingly empowered Herro to explore the bounds of his shot-creating capabilities within their motion-based, equal-opportunity scheme. It turned out to be a perfect marriage of player and ecosystem. He rewarded the team's faith in the playoffs, where he consistently demonstrated the ability to make sharp reads and deliver pinpoint passes while gliding downhill off the dribble or the catch:
The 20-year-old fully broke out in the East finals, averaging 19.2 points, 6.3 rebounds, and 4.8 assists on 63.6% true shooting against Boston. But a disastrous Finals showing brought him back down to earth and served as a reminder that irrational confidence cuts both ways. The question now turns to whether Herro can build on his bubble breakout and help Miami defend its conference crown, or whether some of the shine will start to come off as expectations skyrocket and a bigger role spotlights his flaws.
Those flaws begin on defense, where he's hamstrung by physical limitations - including one of the NBA's shortest wingspans - and periodic mental lapses. His defensive struggles were part of the reason the Heat were forced to resort to zone as often as they did, and the main reason they performed 7.6 points per 100 possessions better with him on the bench during the regular season and 10 points per 100 better in the playoffs. (In both cases, they were outscored with him on the floor.) At the very least, his off-ball awareness and screen navigation should improve.
Herro also has plenty of room for offensive growth. As comfortable as he looked handling the ball in Year 1, he was inefficient as a pick-and-roll scorer, producing just 0.71 points per possession in the regular season and 0.74 in the playoffs. His self-creation skewed far more toward pull-up jump shooting than drives to the rim, and he either needs to strike more of a balance or improve upon his modest 32.6% conversion rate on off-the-dribble threes. He can also stand to work on his finishing when he does get to the basket.
Herro's development will be worth monitoring for reasons that go beyond his stylistic fit and ceiling-raising capability in Miami. The Heat essentially took themselves out of the running for a 2021 max free agent when they extended Bam Adebayo, which means the trade route is their only plausible avenue for acquiring a third max-level star during the life of Jimmy Butler's contract. Perhaps Herro himself can eventually become that third star, but if Miami runs out of patience while waiting for him to realize his potential, he represents the team's best trade chip.
The Heat are reportedly angling to make a run at Bradley Beal, and they've also apparently made their way onto James Harden's list of acceptable trade destinations. Herro's future is contingent on him showing meaningful improvement in the aforementioned areas. So, yeah, there's a lot riding on his performance this season. - Wolfond