Sizing up the NBA's title contenders: Part 2
Photo illustration by Nick Roy / theScore
The NBA may get back to being a superteam's league once the dust settles on 2021 free agency, but for now, there's an uncharacteristically large number of teams with paths to contention. Over the next three days, we're breaking down the reasons to believe in those contenders - and the reasons to doubt them.
In Part 1, we looked at the league's four most obvious title contenders. We examine the Eastern Conference's second tier in Part 2; in Part 3, it's the West's turn.
Miami Heat
Reasons to believe: As the bubble experience showcased, no East team is better equipped for postseason basketball.
The Heat have an alpha closer in Jimmy Butler; a prototypical big man for the modern game in Bam Adebayo; a ton of shooting, hard-nosed defenders; and one of the NBA's most cerebral coaches in Erik Spoelstra. They also boast a roster that runs about 11 deep with legitimate rotation talent.
Adebayo should continue to round out his game, while Tyler Herro has the skill set to develop into a borderline All-Star sooner than later. The Heat have the talent, depth, and basketball IQ to compete every single night, allowing Butler to once again pace himself to perfection and take over when needed down the stretch.
It's hard enough to survive 48 minutes against this team on any given night during the season. Beating them four out of seven times in a playoff environment might be the East's tallest task.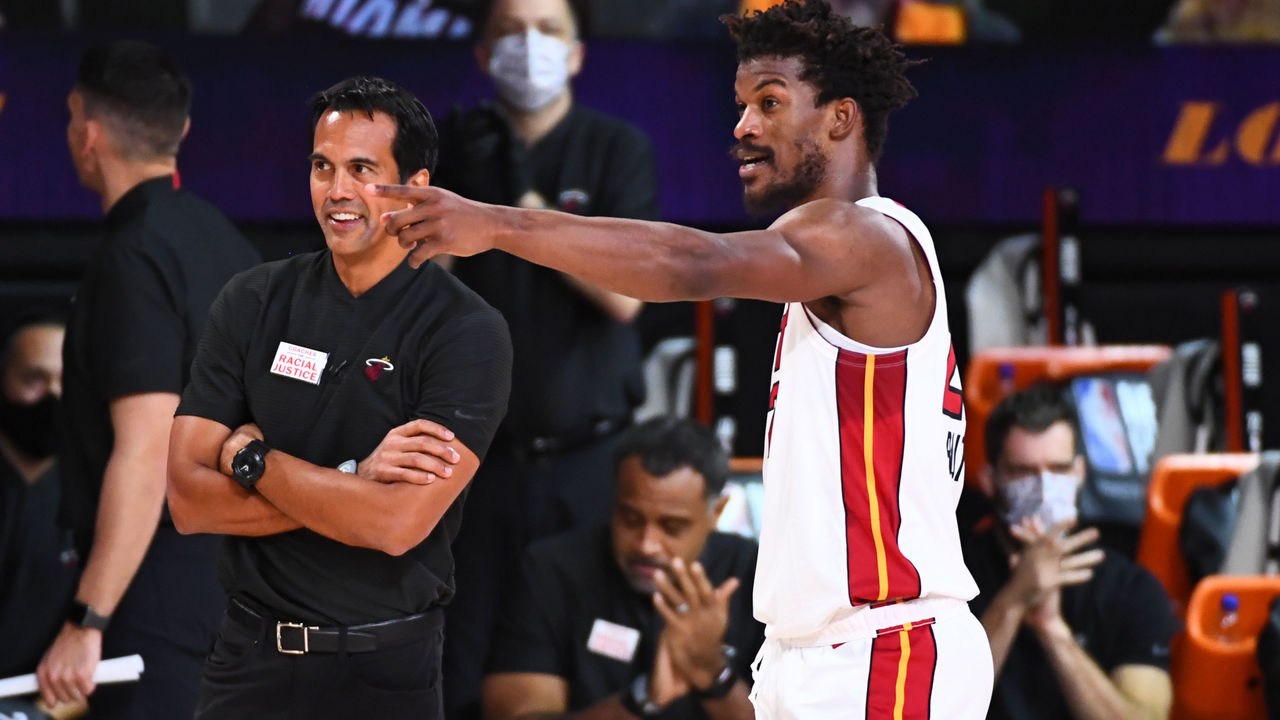 Reasons to doubt them: Goran Dragic is 34 years old, and his play has been up and down over the last couple of seasons, during which he's missed 60 games. The Finals were a stark reminder of how much Miami still needs its point guard. If Dragic can't be relied upon consistently, and Herro's not yet up to the task of matching Dragic's offensive initiation and penetration, the Heat could regress.
As remarkable as Butler was in going toe to toe with LeBron James in October's Finals, it's also unrealistic to expect an encore of such generational postseason heroics.
On the defensive end, Avery Bradley and Moe Harkless were solid pickups, but they're not quite the overall defenders Jae Crowder and Derrick Jones were. If nothing else, the Heat's defense is a little less versatile than it was a few months ago, and those tiniest of margins matter when we're talking about championship stakes. Spoelstra recently noted that Bradley can guard one through four, but that seems like asking an awful lot of the 6-foot-2 guard. - Casciaro
Boston Celtics
Reasons to believe: Jayson Tatum.
The 22-year-old is coming off a season in which he averaged 23.4 points, seven rebounds, three assists, and 1.4 steals on 45-40-81 shooting while serving as the best and most complete player on a conference finalist. Tatum's also a defensive menace the Celtics can use to neutralize an explosive guard one night and a star power forward the next.
He's one step away from the type of full-blown superstardom that remains the foundation of perennial contention in the NBA. If he takes that final step this year, the Celtics will be fine, especially if Tatum, Jaylen Brown, and the rest of Boston's core can stay healthy until the team gets Kemba Walker back to full speed later in the season.
Between Tatum, Brown, and Walker, the Celtics still have the shot creation and multi-level scorers necessary to win in the playoffs, and that's not accounting for the type of talent Boston could add with the largest trade exception in NBA history ($28.5 million, which the team received by sending Gordon Hayward to the Hornets via sign-and-trade rather than losing him for nothing).
Marcus Smart remains one of the game's best (and grimiest) defensive players, Brad Stevens remains one of the league's sharpest coaches, and the combination of Tristan Thompson and Daniel Theis ensures the Celtics should always have a mobile, defensive big man on the court.
The Celtics aren't as complete as they were last season, but they're still a matchup nightmare capable of winning the East.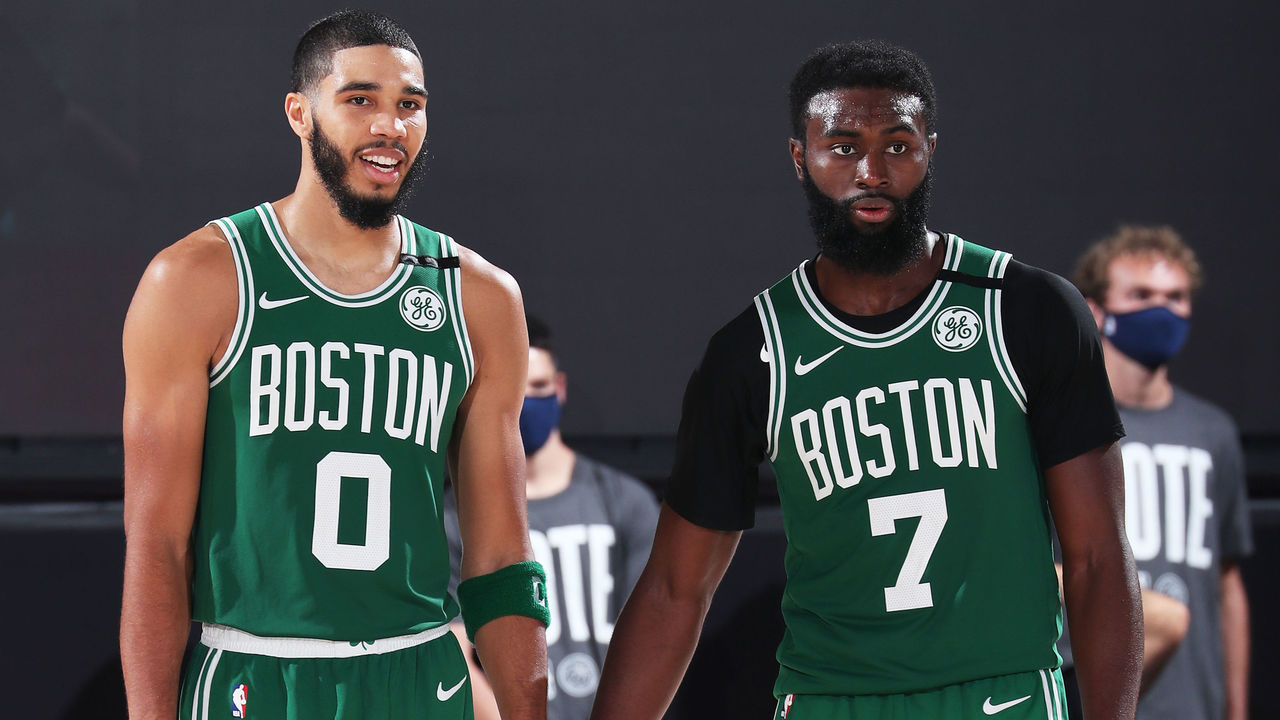 Reasons to doubt them: I mentioned the collective creation of Tatum, Brown, and Walker above, but what made last year's Celtics so special was that Hayward gave Boston four of those multi-level scorers who win playoff series. Until Boston uses that trade exception - and there's no guarantee the team will - the Celtics are a lot more ordinary than they were with that four-pronged approach.
There's also the issue of Walker's health. After missing 16 games last season due to left knee issues, the All-Star guard underwent an offseason stem cell injection that will keep him out until at least January, with general manager Danny Ainge recently providing a rather cryptic response about Walker's long-term outlook.
Walker's availability in a condensed season is even more of a concern given the Celtics' depleted depth - and the fact that they replaced the steady, two-way play of Brad Wanamaker with Jeff Teague, whose offensive production no longer compensates for his defensive shortcomings.
The Celtics are simply a thinner, less talented team than they were a year ago. That usually doesn't bode well for franchises with championship ambitions. - Casciaro
Toronto Raptors
Reasons to believe: The bulk of the Raptors' core that went 53-19 and came within an eyelash of the East finals last season will return for 2020-21, and several of the guys who make up that core still have upward developmental arcs, from Pascal Siakam to OG Anunoby to Fred VanVleet to Norman Powell.
Kyle Lowry, the patriarch of that group, is in the twilight of his prime, but there's been no indication that his time as one of the game's most impactful floor-raisers is set to end this season. His shooting, playmaking, perpetual off-ball movement, prescient help defense, and foul-drawing chicanery will continue to pace one of the league's smartest teams. There is no marginal advantage Lowry won't find a way to leverage, no low-hanging fruit the 6-footer won't be able to pluck.
Siakam struggled badly in his first postseason as a primary scoring option, but odds are the 26-year-old, who became an All-NBA second-teamer within eight years of picking up a basketball, isn't done improving yet. Anunoby is an unshakeable one-on-one defender and an increasingly reliable spot-up shooter who's flashed enough off-the-dribble pop to suggest he can transcend the 3-and-D mold. VanVleet, who joins Lowry in the league's smallest and (somehow) most defensively capable backcourt, has room to hone his pick-and-roll chops and add an in-between game to his long-range bombing prowess. Powell is an elite slasher and at-rim finisher who has now shot 40% from deep two seasons in a row.
There's a ton of continuity and institutional knowledge here that will benefit this team in the condensed season, even with Marc Gasol and Serge Ibaka out the door. And there's no reason to think this can't once again be a top-five defensive unit with the eminently capable Aron Baynes replacing Gasol in the middle. Between VanVleet's post digs and screen avoidance, Anunoby's stickiness at the point of attack, Lowry's ball-stopping help rotations, Siakam's hellacious closeouts, and the multifarious schemes in which Nick Nurse will deploy them, the Raptors will once again be a sphinx-like riddle for opposing offenses.
Their top-end talent may not measure up to that of most conventional contenders, but they're resourceful enough to jerry-rig a Finals run.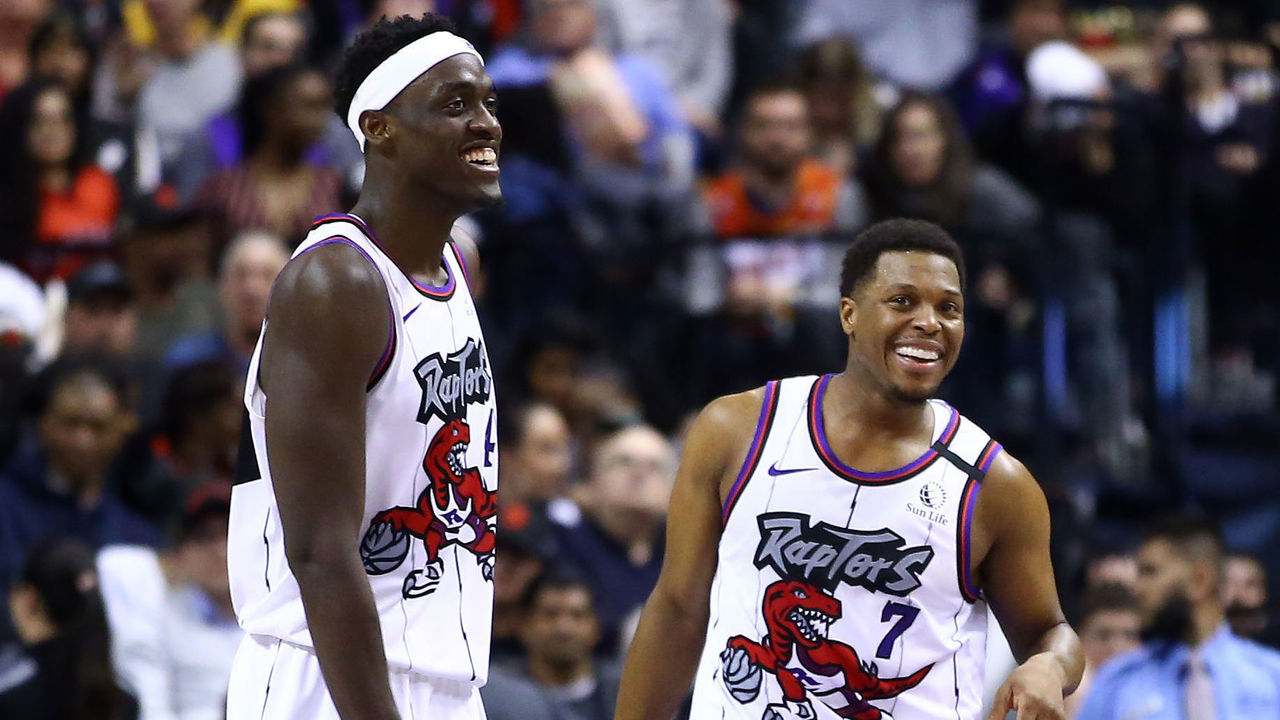 Reasons to doubt them: The Raptors' half-court offense, which failed them in the second round against Boston, is still a significant concern.
As good as Lowry is at setting the table for his teammates, he's not much of a self-creator. Neither he nor VanVleet excels at generating separation or breaking down defenses off the dribble, and both are middling pull-up 3-point shooters (the one area in which Lowry's game has significantly declined). That leaves Siakam to do a lot of the heavy lifting on the scoring front, often by trying to make something out of nothing. (He ranked seventh in the NBA in isolation frequency last season.) Whether he can do that at a high enough level to be the No. 1 option on a contending team is still an open question.
The Raptors are particularly light on 2-point scoring, which is where Ibaka's departure will hurt the most. Without his near-automatic short-roll jump shooting, they lose one of their only reliable counters to the elite drop coverages of Milwaukee and Philadelphia.
To have any hope of emerging from an Eastern Conference that's suddenly stacked at the top, the Raptors will need to be every bit as good defensively as they were last season, if not better. Given that they lost their backline anchor in Gasol, and considering their uncanny suppression of opponent 3-point accuracy is likely due for some regression, that's asking a lot. - Wolfond
Philadelphia 76ers
Reasons to believe: In his first offseason on the job, Daryl Morey managed to quickly rebalance the 76ers' roster around Joel Embiid and Ben Simmons, namely by bolstering the wing rotation, decluttering the frontcourt, and injecting a much-needed dose of shooting.
Surrounded by spot-up threats like Seth Curry (48.1% on catch-and-shoot threes last season), Danny Green (36.9%), Tobias Harris (38%), Shake Milton (43.9%), Furkan Korkmaz (43.6%), Mike Scott (37.4%), and rookie Isaiah Joe (37.8% on 9.1 attempts per game in college), perhaps we'll see Simmons and Embiid resemble the duo that outscored opponents by 15.5 points per 100 possessions amid similar spacing back in 2017-18, rather than the one that struggled to break even on an ill-conceived 2019-20 roster.
The offensive fit between those two in the half court will remain imperfect, but not untenable. The Sixers should find profitable looks via Embiid post-ups, dribble handoffs for Curry, snug pick-and-rolls for Simmons, and weak-side actions with their shooters screening and cutting out of the corners. Doc Rivers and his loaded coaching staff will get to showcase their creativity.
Meanwhile, Simmons alone should make this one of the most dangerous open-court teams in the league. Though he doesn't shoot them himself, he routinely ranks among the league leaders in 3-point assists, and he's never played with this many long-range targets before. He could very well wind up leading the league in assist points created.
It's not like the offense has to be elite, either. Philly will continue to butter its bread on the other side, where Embiid and Simmons at top gear are two of the league's 10 most imposing defenders. And, hey, if things don't work out with the roster as currently constructed, Morey will probably have the option to pull the trigger on a James Harden trade, which might instantly make the 76ers East favorites.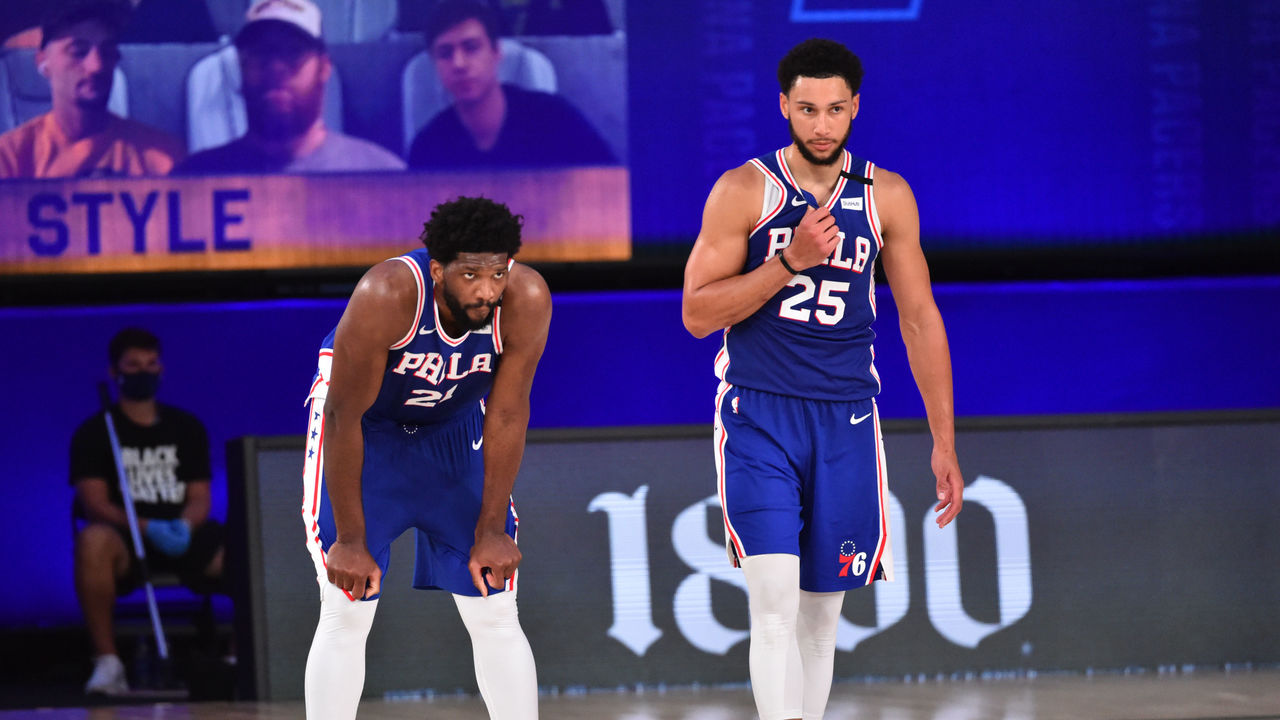 Reasons to doubt them: For all the plaudits their sensible roster makeover earned, the Sixers' biggest problem is the same as it was last season: Unless or until they swing that Harden trade, they still don't have a dependable half-court initiator. They're still alarmingly devoid of guys who can dribble, shoot, and pass. And it's still unclear who they'll feel comfortable giving the ball in crunch time. Embiid still has yet to prove he can handle double-teams well enough or take good enough care of the ball to be a late-game fulcrum in the playoffs.
The Sixers' offense will very likely be better than it was last season, but will it improve enough to offset the defensive downgrade they accepted as part of the bargain? As disappointing as Al Horford and Josh Richardson were overall, they were pretty crucial components of a Philly defense that ranked eighth in the league even with both Embiid and Simmons missing significant time. Starting Harris at the four and swapping Curry for Richardson at the point of attack makes for a decidedly smaller and less physical look. Green will help, but he's on the downswing as he enters his age-34 season.
Another concern: Does Philly really feel comfortable with an aging Dwight Howard and a raw Tony Bradley standing as their only insurance against an (inevitable) Embiid injury? Especially given that neither of those non-shooting centers seems likely to mesh well with Simmons?
For all of Morey's fiddling with this Rubik's cube of a roster, the Sixers' puzzle doesn't feel like it's close to being solved. Yet. - Wolfond
Comments
✕
Sizing up the NBA's title contenders: Part 2
  Got something to say? Leave a comment below!