Daryl Morey's challenge with 76ers is both familiar and unique
Jesse D. Garrabrant / NBA / Getty Images
Over the next few weeks, we'll examine one question facing a handful of NBA franchises during this unprecedented offseason.
Just two weeks after stepping down from his long-held post as the Houston Rockets' general manager, Daryl Morey is reportedly finalizing a five-year deal to become the Philadelphia 76ers' new president of basketball operations. So much for his purported desire to take a break from the NBA and spend more time with his kids.
It's clear now, if it wasn't already, that Morey's split with the Rockets was the result of a strained relationship that had reached an impasse for one reason or another. With Philadelphia restructuring its front office, the chance for a fresh start presented itself, and both sides quickly pounced on the mutually beneficial opportunity. Now comes the hard part: finding a way to get the most out of a talented but ill-fitting young nucleus on a roster with no financial wiggle room and no obvious path to fulfilling its championship aspirations.
Morey has a bit of experience with that. In Houston, while frequently butting up against cap and tax constraints, he became expert at tinkering in the margins, trawling the bargain bin for undervalued role players, and reinventing the team around James Harden, often pulling rabbits out of his hat just when it seemed he was out of options. His Rockets teams were defined - for better and worse - by experimentation and incessant deal-making, not unlike these Sixers.
The teams shared a lot of spiritual similarities last season, but you'd be hard-pressed to find any two clubs that were more stylistically distinct. Houston built its identity on offense, while Philly went all-in on defense. The Sixers were anomalous for how big they played, with a starting lineup featuring four guys who measured at least 6-foot-9. The Rockets committed to micro-ball, with a 6-foot-5 starting center and no one taller than 6-foot-8 in their entire rotation.
On defense, the Rockets used their lineups full of wing-sized players to switch every screen, while the Sixers played a drop coverage that aimed to funnel opponents toward their gargantuan backline. On offense, the Rockets led the league in 3-point attempt rate and posted up less frequently than all but three teams, while the Sixers ranked 21st in 3-point rate and were No. 1 in post-ups by a country mile.
All of which is to say, we'll soon find out just how dogmatic Morey is about his basketball ethos; whether he believes Moreyball (the precept of shot-value optimization he mainstreamed in Houston) is the best way to play or was simply the system he believed would get the most out of the Rockets' specific personnel.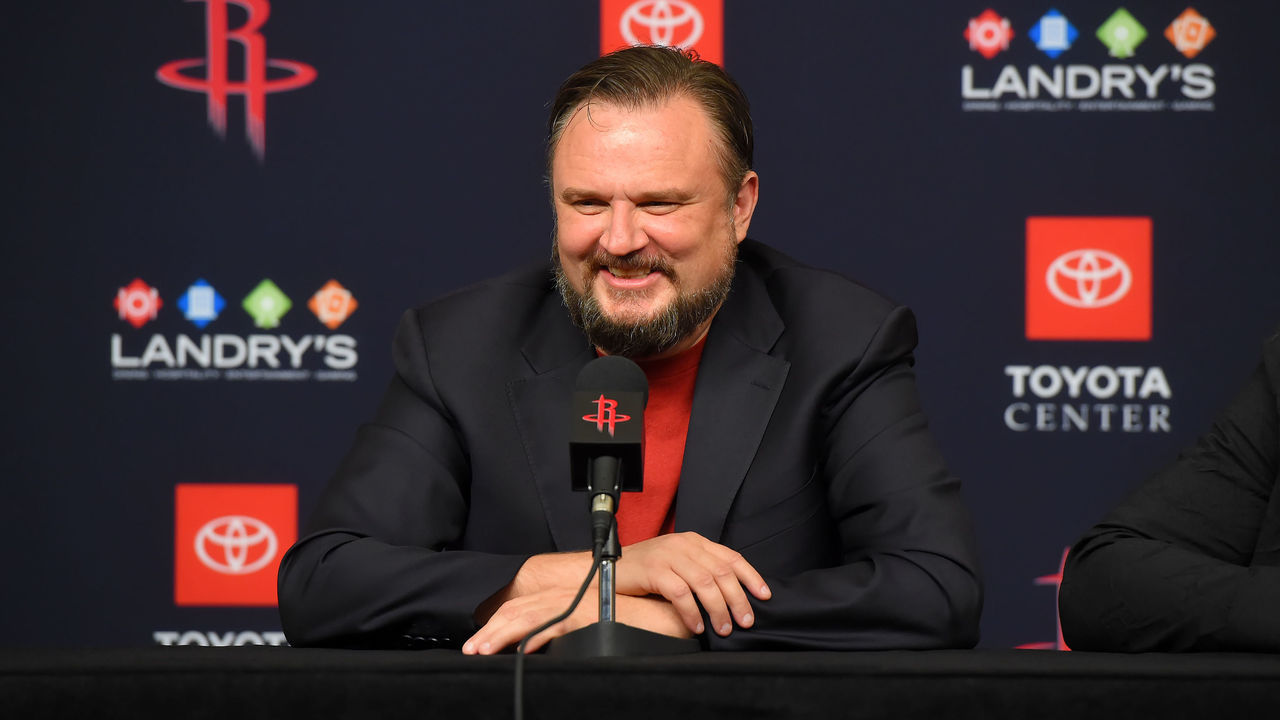 The irony is that Morey's once-revolutionary ideas have become the new NBA orthodoxy, and the Sixers as presently constructed represent something of a rebuke to that orthodoxy. It's fair to wonder whether Morey will lean into the counterrevolution he's inheriting or try to shape his new team into something that more closely resembles his old one.
Most likely, there will be a happy medium. Ben Simmons isn't going to suddenly start chucking from deep, nor will Joel Embiid abandon the post. But Morey will likely add more shooting, either on the trade market or in free agency via the taxpayer's mid-level exception, or both. Maybe we'll see Tobias Harris and Josh Richardson trade a bunch of their long 2-pointers for threes. Maybe Al Horford (if he's still on the roster) will spend less time playing alongside Embiid in two-center lineups. If, by the grace of the basketball gods, Morey manages to acquire a high-end half-court initiator, we'll surely see a lot more pick-and-roll play.
As inextricably linked as he's become to the proliferation of the 3-ball and the rise of five-out lineups around the league, Morey's actual defining characteristic as an executive has been his relentless pursuit of superstar talent and his subsequent aggressiveness in seeking out whatever near-term roster upgrades he can find to complement his stars and maximize his team's window of contention. In that sense, the most important part of the job in Philadelphia is already done: In Embiid and Simmons, the Sixers have two stars in place.
Embiid is a completely different kind of superstar than Harden, but there's more overlap than meets the eye. Embiid, like Harden, piles up free throws at an ungodly rate. They're similarly partial to one-on-one play: Embiid posts up more than any player in the league, while Harden laps the field in isolation frequency. And despite the divergence in form - Harden dribbles into step-back threes, Embiid overpowers dudes with his back to the basket - the function is pretty similar. If you include passes that led directly to shots, an Embiid post-up was worth 1.13 points per possession last season, while a Harden iso was worth 1.09, according to Synergy.
On the surface, Simmons' allergy to the 3-point line (or jump shots in general) might seem anathema to Moreyball, but his ability to create threes for teammates is virtually unparalleled. Not to mention the fact that the most efficient shots are actually shots at the rim, which Simmons generates in abundance.
Those guys are also defensive monsters, the likes of which Morey has never really gotten to build around. Embiid is one of the league's two or three most intimidating interior presences and biggest deterrents of shot attempts at the rim. Simmons, who can guard all five positions at a nearly elite level, is an exemplar of the type of versatility Morey's always valued at a premium. Seeing Morey's vision for the Sixers' defense will be just as important as seeing how he sorts out the offense.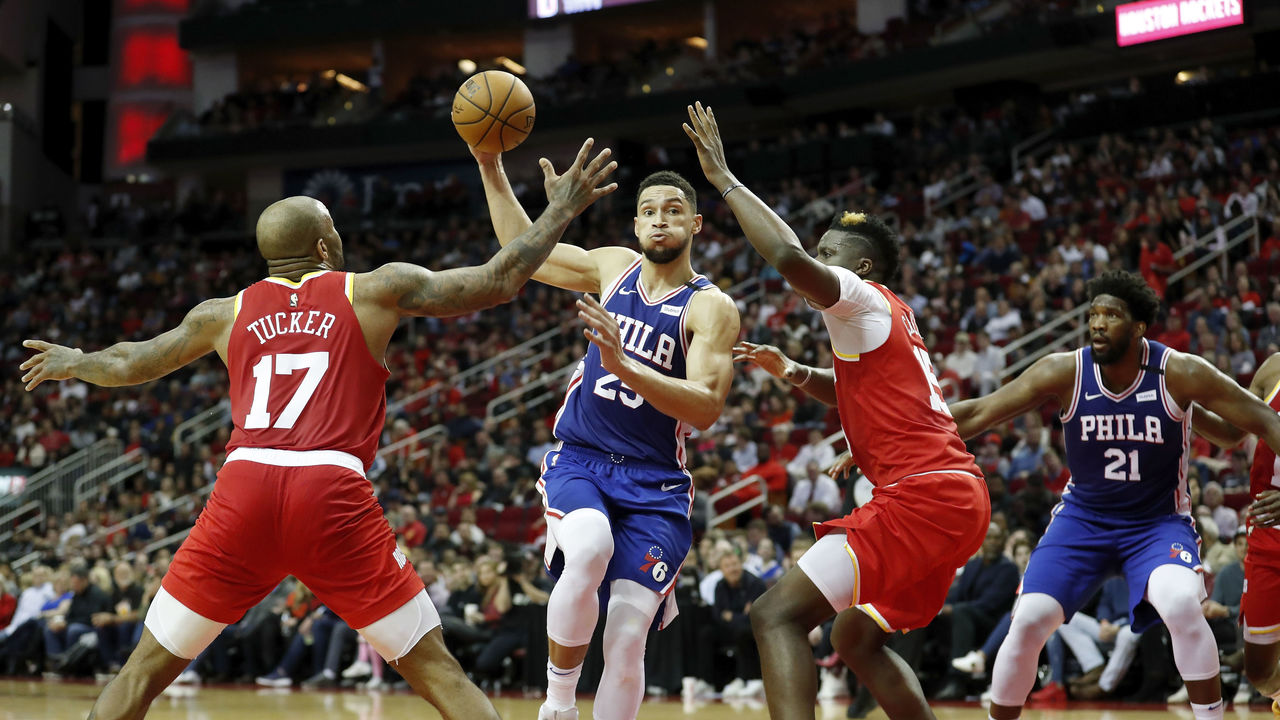 There are, of course, major complications, which broadly boil down to the fact that those two stars aren't being amplified by the players around them - or, in certain ways, by each other.
Embiid and Simmons still have a tendency to get in each other's way at the offensive end, an issue that was exacerbated by the team's massive financial commitments last offseason to Horford and Harris, two other players who like to operate out of the post. As devastating as he is in the open floor, Simmons' lack of range beyond 10 feet completely saps his effectiveness in the half court. The Sixers are bereft of reliable 3-point shooters, self-creators, and pick-and-roll playmakers.
Richardson, the centerpiece of the return in last year's Jimmy Butler sign-and-trade, disappointed in all of those areas. The Horford gambit flopped spectacularly, as the 34-year-old began to show his age, cramped Philly's offense, and demonstrated no conception of how he was supposed to play next to Embiid. Harris provided solid scoring on middling efficiency with below-average playmaking and defense, which probably isn't exactly the kind of production the Sixers were hoping for when they shelled out a max contract to re-sign him.
The Sixers' offense sunk to league average last season because they didn't have anyone who could reliably create advantages off the dribble. While Embiid can warp defenses with his interior gravity, he isn't a good enough passer or quick enough decision-maker out of double-teams to be a primary creator. He still needs someone to deliver him the ball in the right spots. But he's long been underutilized as a roll man, and in the playoffs, his teammates struggled mightily to even enter the ball to him in the post. Addressing that deficiency may be the most important task of Morey's entire tenure in Philadelphia.
For the moment, however, the Sixers appear stuck. They're already deep into the luxury tax for 2020-21. Harris has four years and $147 million left on his deal. Horford has three years and $69 million left on his. Neither of those contracts will get moved without significant sweeteners attached. Matisse Thybulle, who was an offensive zero as a rookie but arrived as an immediate impact defender on the wing, is probably Philly's most valuable trade chip outside of Embiid and Simmons. Richardson may yet have some value on the market. Shake Milton, who shot 43% from deep last season while flashing a bit of off-the-dribble juice, likely does too. But it's hard to see any of those guys bringing back a meaningful upgrade.
The one semi-realistic trade target that could truly make a difference is Chris Paul - whom Morey traded for once before, with great success. Paul carries some downside risk at age 35, but if the Thunder are truly intent on moving him - which they probably shouldn't be - he'd be a perfect fit: capable of organizing the Sixers in the half court, creating quality looks for Simmons and Embiid, utilizing both of them in the pick-and-roll, and spacing the floor when he doesn't have the ball, all without compromising the defense. Paul, who was probably the league's best high-volume crunch-time player last season, could do wonders for Philly's shambolic late-game offense.
But given that the Sixers would be sending back a bad long-term contract and tacking on underwhelming assets, it feels unlikely they'll have the best offer out there.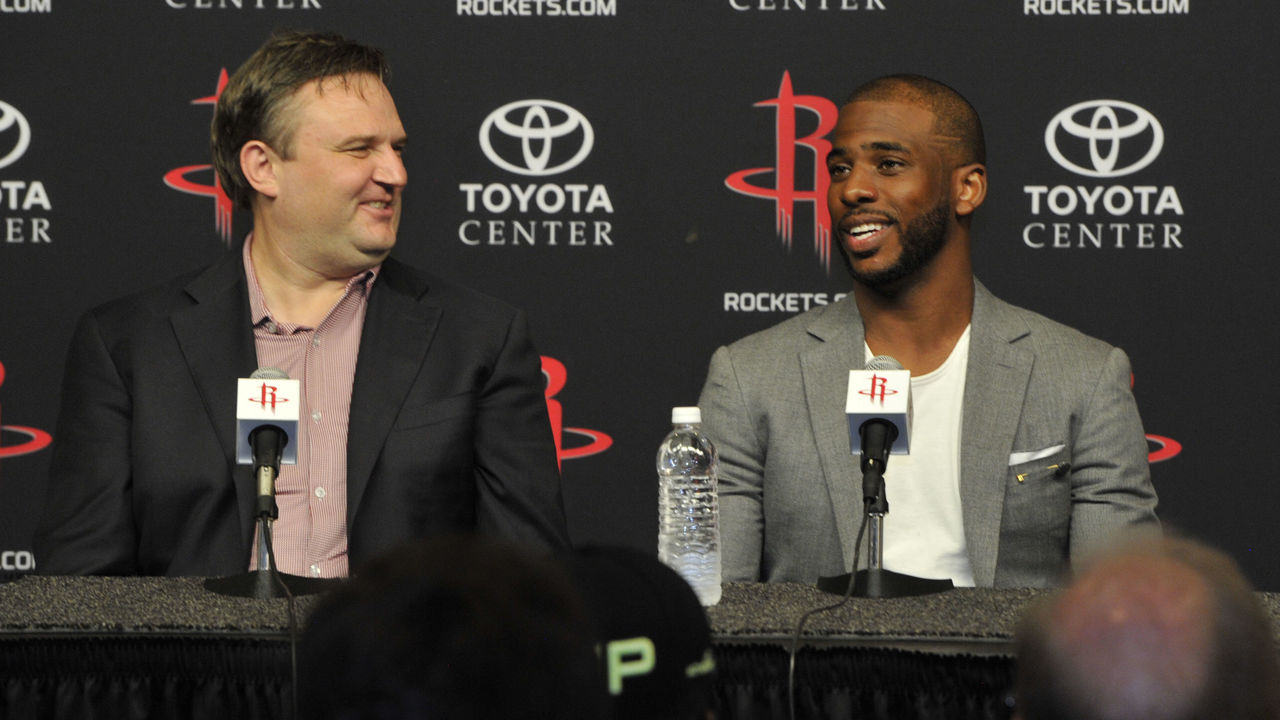 Paul isn't the be-all and end-all for this team, but when it comes to building around their two core pieces, the Sixers are running out of cards to play. They still have more outs than Houston did when Morey decided to fold, but it's possible he traded one losing hand for another. Over the past three seasons, the Sixers cashed in the entire bounty of draft and prospect capital that Morey's onetime protege, Sam Hinkie, spent the agonizing Process years accumulating, only to be left with an imbalanced, capped-out roster that was just swept out of the first round.
But there is still enough possibility to dream on. Philly has all its own first-round picks to work with, and perhaps bundling a bunch of those picks together is how Morey can eventually pull in another star. If his track record is any indication, we shouldn't expect many of those first-rounders to wind up being future Sixers. (The roster he left behind in Houston did not feature a single draft pick made by the Rockets. Not one.)
One assumes Morey still has access to the magic metal detector he used in Houston to unearth hidden gems late in the draft and the dregs of free agency - guys like Clint Capela, Danuel House, Patrick Beverley, Montrezl Harrell, Luc Mbah a Moute, and Chandler Parsons - in order to round out the roster with cost-effective contributors.
And while it's not entirely clear where ownership stands on luxury-tax payments, they've sent a pretty strong message by sparing no expense on a souped-up coaching staff, with Morey's old friend Doc Rivers heading up a group that features a successful former head coach in Dave Joerger, a heralded assistant in Sam Cassell, and one of the most venerated defensive minds in the game in Dan Burke.
And as for Embiid and Simmons, while they may not represent the snuggest possible fit, there's plenty of evidence that they can be dominant in tandem, so long as they're flanked by credible shooters and/or playmakers. In 2017-18, they outscored opponents by an insane 15.5 points per 100 possessions when they shared the floor. In 2018-19, they won their joint minutes by 7.9 points per 100.
It's not out of the question that Morey might look to move one of them at some point down the road, especially given how few other avenues he may have to remake the roster. Simmons, for all his potential and unicorn skill, has yet to prove that he can be a game-changing franchise anchor. But it's too early to start thinking about trading a 24-year-old All-Star who's also an All-Defensive first-teamer. Morey had an itchy trigger finger in Houston, and for the most part, it served the Rockets well. He can afford to take a longer view in Philly given how young Simmons and Embiid still are and the fact that they're both under contract through at least 2023.
For now, Morey's challenge isn't figuring out how to turn Embiid and Simmons into players they're not, or deciding which one of them to pawn off in a trade; his challenge is finding a way to upgrade the roster around those two in spite of the bloated cap sheet and paucity of trade assets he's inheriting.
It's a brand-new challenge, but one that should feel familiar to him all the same.
Joe Wolfond is a feature writer for theScore.
Comments
✕
Daryl Morey's challenge with 76ers is both familiar and unique
  Got something to say? Leave a comment below!