The NBA is booting up again, and we're looking ahead to how the remainder of the 2019-20 season will play out in the Disney World bubble. This week, we're exploring the most interesting teams playing in Orlando. First up: A pair of fringe contenders with unique styles and potentially damning flaws.
The Philadelphia 76ers and Houston Rockets are, in many ways, spiritual siblings this season. Both are enticing and maddening in equal measure. And both are radically experimental in their own ways.
That's not to say they're stylistically similar. Quite the opposite. Houston went all-in on offense, while Philadelphia put all its eggs in the defensive basket. The Sixers are anomalous for how big they play, with a starting lineup featuring four guys who measure at least 6-foot-9. The Rockets raised eyebrows by committing to super-small ball, with no one taller than 6-foot-8 in their rotation.
Each team had to find workarounds to its deficiencies at one end of the floor, and hope its strengths at the other end were enough. Offensively, the Rockets push the concepts of floor spacing and shot-spectrum optimization to the extreme by chucking about 46 3-pointers a game; they try to mitigate their defensive weaknesses with a switch-everything scheme that often works to limit the ground its defenders have to cover.
The Sixers aim to smother teams with their size at the defensive end while relying on transition and back-to-the-basket play on offense to override their lack of off-the-dribble half-court shot creation. While the Rockets lead the league in 3-point attempt rate, the Sixers are tops in post-ups by a mile.
A few months ago, Jared Dudley told ESPN's Zach Lowe he believed the outcome of the Rockets experiment would have huge stakes: if they succeeded, it might help bring about the extinction of the NBA big man. Perhaps the Sixers succeeding could have the inverse effect, providing proof that sheer size and bully-ball tactics can still reign supreme in a league that's fallen in love with speed and shooting.
The two teams, slated to play out their clash of styles in the last of the eight seeding games in Orlando, both currently occupy the No. 6 seeds in their respective conferences. Those rankings don't seem reflective of their true talent levels. We've seen how dangerous they can be at top gear, as when the Sixers smoked the Bucks on Christmas Day, or when the Rockets won 10 of their first 12 games - including wins over the Lakers, Celtics (twice), and Mavericks - after turning P.J. Tucker into their full-time center. No team would relish a first-round matchup with either of them, especially since home-court advantage is no longer a thing.
They're probably the two most volatile teams in Orlando; both have massive flameout potential, but also high enough ceilings to be taken seriously as championship contenders.
Then and now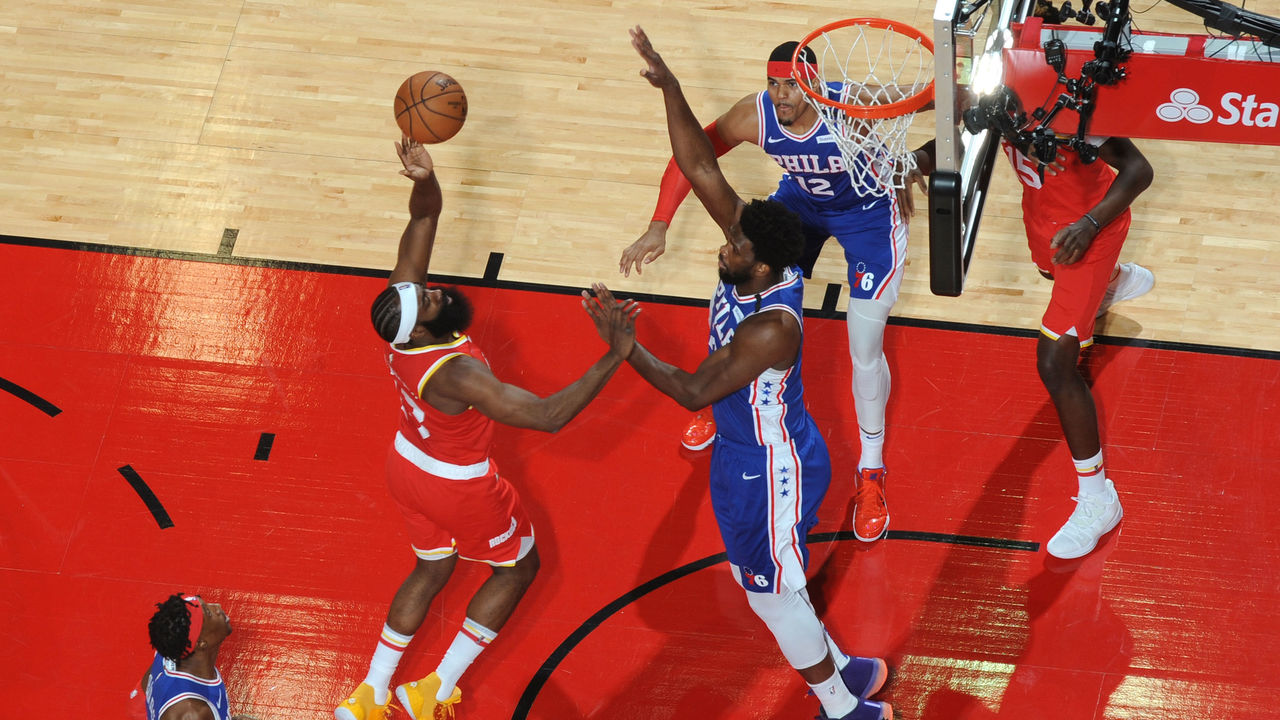 Red flags still abound, but the full-strength versions of these teams could peak at the right time.
When the shutdown occurred, both of the Sixers' best players were sidelined. Ben Simmons was dealing with a nerve issue in his back that was expected to keep him on the shelf until April at the earliest, and Joel Embiid had just sustained a shoulder injury. Both are now fully healthy, and coach Brett Brown's made a point of allaying concerns about Embiid's conditioning.
Then there's Al Horford, who was active at the time but possibly compromised by the wear and tear of the season on his 34-year-old body. He insists he's now in "a much better place" physically than he was then, which, if true, would be a monumental development for Philly.
We saw it only in spurts this season, but when healthy, the supersized Sixers should have a defensive gear that only Milwaukee can match. As it is, they give up the league's lowest rate of threes and the highest rate of long twos. Embiid might be the game's most fearsome interior presence. Simmons can guard all five positions at an elite level. Josh Richardson is a screen-dodging menace at the point of attack. Rookie wing Matisse Thybulle already has some of the best hands and maybe the best recovery instincts in the league. Even a substandard Horford remains an excellent drop defender. If Horford is fresh enough to switch and hedge and make snap rotations like the Horford of old, he could make Philly downright suffocating.
The Sixers also have the league's second-easiest remaining schedule, which should mean beating out Indiana for the 5-seed in the East. That would mean avoiding a brutal first-round matchup against either Boston or Toronto.
On a final note: Was there an odder statistic this season than the Sixers' home-road splits? What will playing games in empty gyms in a sequestered campus mean for a team that went 29-2 at home and 10-24 on the road?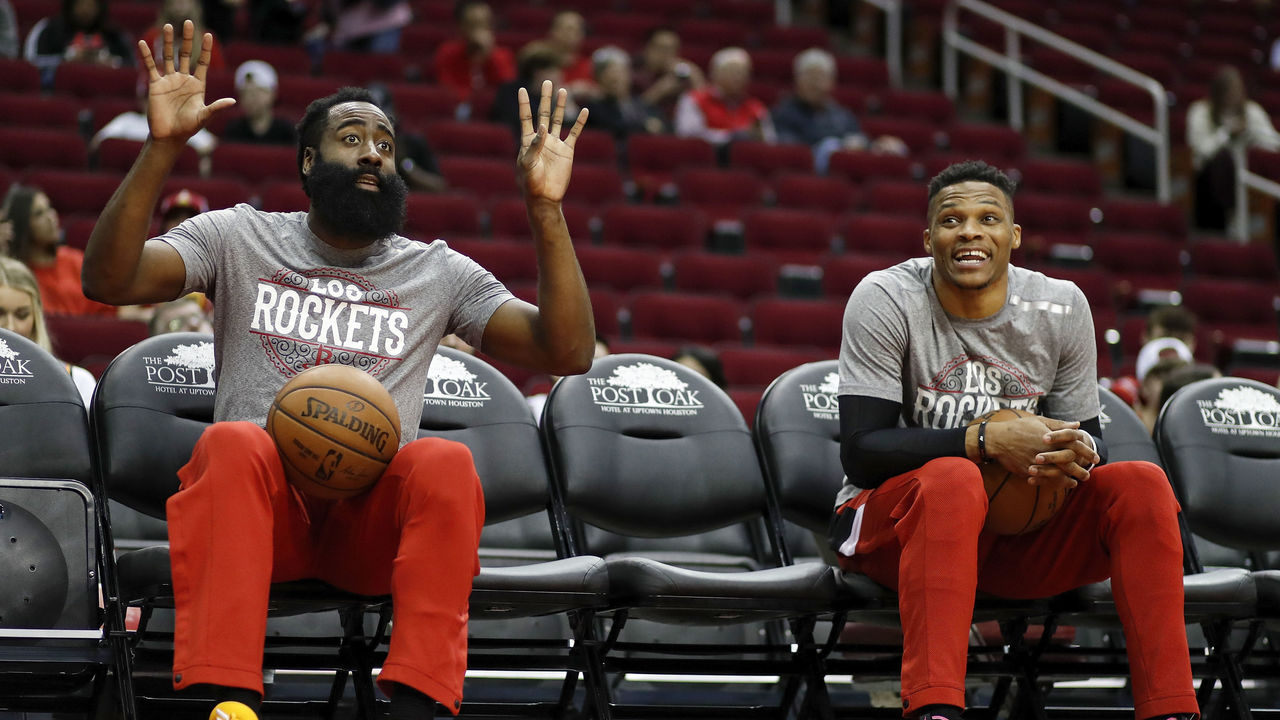 The Rockets, for their part, looked gassed back in March, taxed by the downsizing tactic that saddled their defenders with constant mismatches. They were in the midst of an icy shooting stretch, and were getting absolutely manhandled on the boards. In their last five games before the season was suspended, they lost to the lowly Knicks at MSG, got drilled by the Clippers on national TV, lost in Charlotte, and were blown out at home by the Magic. They ended the run with a less-than-inspiring six-point win over the Timberwolves.
It seemed like the time off would serve them similarly well. After years of wearing down in the spring under the weight of an enormous workload, it would give James Harden a chance to go into the playoffs fresher and bouncier than usual, especially after he apparently worked himself into peak shape during the break. But things recently got complicated: Russell Westbrook announced he tested positive for the coronavirus, and there are rumblings that Harden - who joined the team in the bubble a week late - contracted the virus as well.
The first and most important consideration here is that both are OK and can return to full health. A distant secondary concern is whether they'll be able to perform to their usual standards. Plenty of athletes who've recovered from the virus still describe feeling its effects weeks or even months after the fact, and Westbrook and Harden are missing valuable time to practice and ramp back up to game speed during this abbreviated preseason.
Given their strength of schedule in the seeding games (eighth-hardest of the 22 bubble teams), and the uncertainty surrounding their best players, it's not inconceivable that the Rockets could drop to seventh and have to face the Clippers in the first round. But if those two can fully recover, the Rockets will feel just fine going into the playoffs as a lower seed and squaring off with any of Denver, Utah, or Oklahoma City.
Five uneasy pieces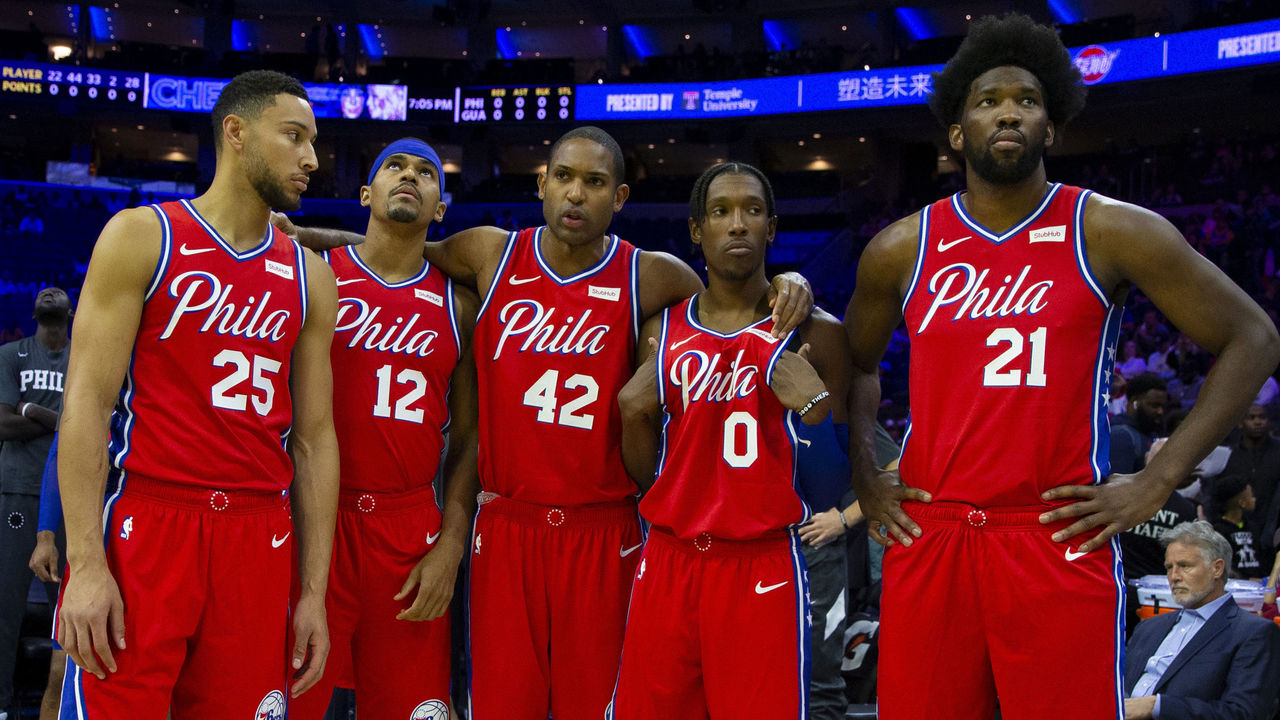 The Sixers entered the season as the primary presumptive challenger to the Bucks in the Eastern Conference, with the expectation being that their talent would trump their slapdash roster construction. Instead, for 65 games, the whole amounted to less than the sum of its parts.
The Sixers suffered from a lack of floor spacing and sorely missed Jimmy Butler as a half-court initiator. Less talked about was the loss of JJ Redick. Without him to serve as a dribble-handoff release valve (or anyone who could approximate his off-ball activity or gravity), life for Embiid became more difficult. Simmons continued to completely eschew the very concept of jump shooting. The Rockets were the only team to run fewer pick-and-rolls this season. The difference, of course, is the Rockets have Harden, the most prolific self-creator and step-back shooter of all time.
Embiid came right out and said the Sixers should play through him more frequently in Orlando, and even though he already leads the league in post-ups, he has a case. In the half court, giving Embiid the ball on the low block was generally their best option this season. They averaged an incredible 1.134 points per possession when he either shot or passed directly to a shooter out of the post, per Synergy. In half-court scenarios overall, by comparison, they scored 0.965 points per possession, very close to the league median of 0.963.
The Sixers aren't as positionally amorphous as the Rockets, but they're discombobulated in their own way. They play most of their minutes without a true point guard on the floor, and outside of Embiid at center, their lineups are hodgepodges of rotating responsibilities. Brown is now trying to cast Simmons as a full-time power forward, even though that's the position the Sixers ostensibly signed Horford to play and also the one that Tobias Harris - re-signed to a max deal in the offseason - is best suited to.
That doesn't mean the idea is misguided, it's just unclear what the designation would actually change for Simmons or the team, outside of the fact that it would relegate Horford to the bench - a decision Brown already made before Simmons' injury forced him to re-insert Horford into the starting lineup in February. Simmons will presumably still be handling the ball in the open floor and spending a bunch of time in the dunker spot in the half court. We'll see if this means Brown will finally start using him as a screener in the pick-and-roll with some regularity.
It does make sense to bring Horford off the bench in order to inject more ball-handling and shooting into the starting lineup. (Shake Milton, who shot 45% from deep this season, has reportedly been the replacement starter in practices.) The Horford signing, understandable as it was for various reasons, exacerbated Philly's fit issues rather than smoothing them out, and he served them far more effectively as a backup center than as a starting power forward.
For all the hiccups, the Sixers still performed well when Embiid and Simmons played without Horford, when Simmons and Horford played without Embiid, and when Embiid played without either of them. The Sixers did register a sparkling 101.2 defensive rating when Horford and Embiid shared the floor, but their offense in those minutes was so anemic that they still wound up a net negative. Philly scored 11 more points per 100 possessions with Horford at the 5 than they did with him at the 4.
If Brown's decided that starting all three together is untenable, will he make the same decision on his closing lineups? Is he going to leave the team's homegrown cornerstone or its $109-million free-agent signing on the bench in crunch time?
Alone, together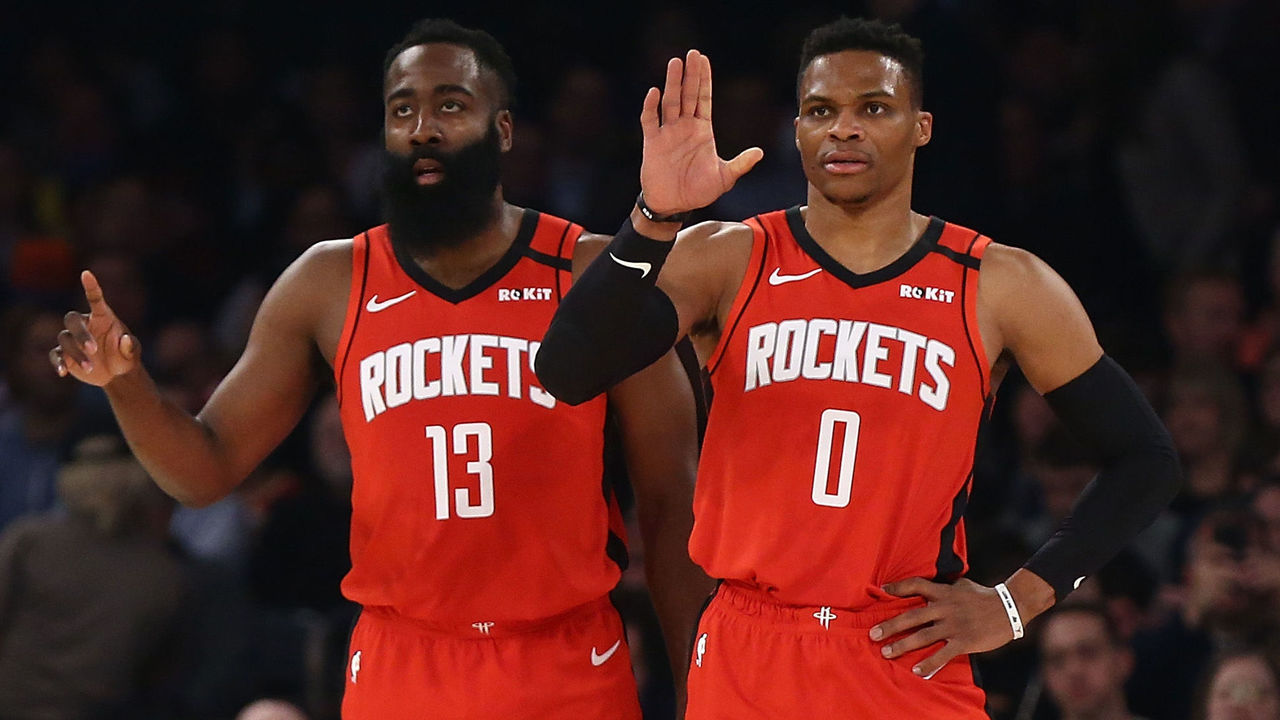 Like the Sixers, the Rockets have suffered through fit issues with their two best players. As brilliantly as Harden and Westbrook have performed individually, they're far from perfect complements to each other. Defensively, both are prone to lazy reach-ins on the perimeter, to lollygagging in transition, and to off-ball inattentiveness that makes the Rockets one of the worst teams in the league at defending back-door cuts. Both are accustomed to having better defensive guards around to help cover for them.
There are fewer kinks offensively, especially since the Clint Capela-for-Robert Covington trade that marked Houston's shift to full-time small ball. But it's been more of a my-turn your-turn arrangement than a symbiotic partnership. They rank first and second in the league in isolation frequency. The two have combined to assist on only 122 of each other's baskets this season, an indication of how they largely operate independently of each other, even as they create gobs of 3-point looks for others. It speaks to Westbrook's continued off-ball stagnancy and the fact that Harden tends to spend his off-ball possessions getting face-guarded out near half court while the Rockets play four-on-four. (Though the latter isn't necessarily a problem.)
The Rockets struggled badly throughout the season when Westbrook played without Harden - even after the Capela trade - and they performed better with Harden alone than with the two sharing the floor:
| On/Off | Net rating |
| --- | --- |
| Both on | 5.8 |
| Harden on/Wesbtrook off | 7.3 |
| Westbrook on/Harden off | -0.4 |
It's worth noting, though, that in their 343 shared minutes without Capela on the floor, Harden and Westbrook produced a plus-12.2 net rating.
The stylistic shift was an expression of Daryl Morey's confidence in the Rockets' ability to outscore teams with their spread-out, drive-and-kick offense, even if that meant conceding a few inches of height in the frontcourt. It was also geared in large part to unlocking Westbrook and making it less palatable for opponents to indiscriminately blitz Harden, as they did when he shared the floor with those two non-shooters.
Viewed through a Russ-tinted lens, it worked like gangbusters. After a rough first two months as a Rocket, he found himself operating in huge swaths of space and recaptured his form as one of the league's most terrifying downhill attackers. He excised 3-pointers from his diet, cut down on mid-range pullups, and attempted a career-high 56% of his shots from inside the restricted area.
That doesn't mean the move didn't come with a cost. After the Capela trade, the Rockets ranked dead last in overall rebound rate, with a particularly galling inability to clean up their own glass. Houston's opponents recovered nearly a third of their own misses, which not only hurt the Rockets' defense but took possessions away from their offense. It meant fewer opportunities to get out and run their devastating break.
Though they're rife with sturdy post defenders who can hold their own against bigger players on switches, the Rockets were also among the worst rim-protecting teams after the trade, allowing opponents to shoot 66.7% in the restricted area. As effective as Covington and Tucker can be as small-ball 5s, they just aren't tall enough to serve as back-line deterrents. Who's going to meet LeBron James or Kawhi Leonard at the rim?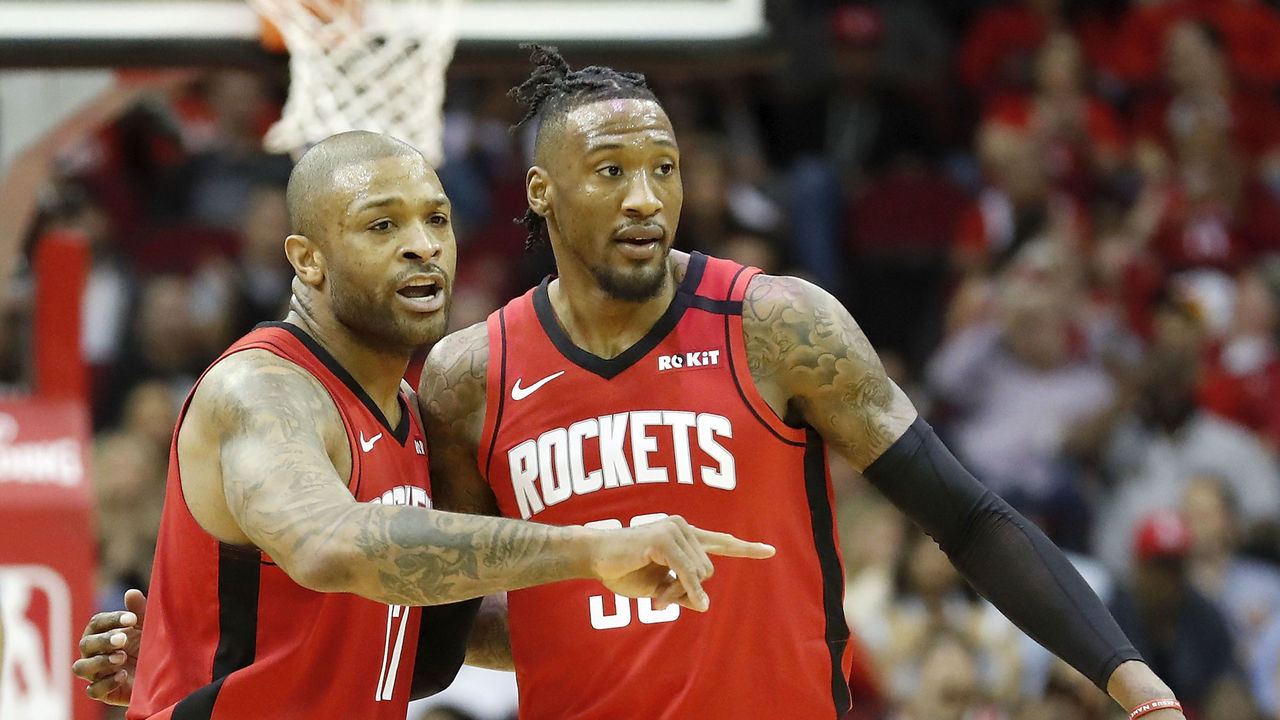 Even the high-octane offense that defines the Rockets relies heavily on 3-point shooting from a cadre of so-so 3-point shooters. For all the hubbub about the volume of attempts, they ranked 23rd in 3-point accuracy. Their hopes may rest on whether Eric Gordon can get back to being the long-range gunner he was two years ago.
On the whole, they defended at a top-10 level with both Tucker and Covington on the floor, and their scheme's always translated well to the playoffs. The variance in their setup will swing both ways. They're going to have epic shooting droughts, and they're going to have stretches where they bury opponents under an avalanche of threes. The high end of that variance is what makes them the most likely team to play interloper and bust up the Lakers-Clippers duopoly in the West.
Fallout boys
Maybe the biggest question in all this is how much stock these two front offices will put into the results in Orlando, given all the extenuating circumstances. For better and worse, Philly and Houston are products of constant reinvention over the past few years. Their lead decision-makers don't tend to take letdowns lying down - what would the fallout from a poor showing in Disney look like?
Would a first-round flop be enough for the Sixers to consider breaking up the Embiid-Simmons tandem, or firing Brown, or trying to offload Horford or Harris? Would it be enough for the Rockets to punt on the Westbrook experiment, or let Mike D'Antoni walk?
The truth is, when it comes to building around their superstars, these teams are running out of cards to play. The Sixers have cashed in the entire bounty of draft and prospect capital they once possessed; the Rockets have shipped out a half-decade worth of first-round picks, along with a Hall of Fame point guard who was a better stylistic fit with Harden than their current one. The results are these flawed rosters, that have the potential to be disastrously disappointing.
No two teams in Orlando have as much in common as the Sixers and Rockets, and few have more at stake. Whether the fascination comes from watching them put all the pieces together to justify their controversial roster maneuvers, or from watching it all go up in flames, no teams will be as interesting to watch.
Joe Wolfond is a features writer for theScore.