After an inspiring rally from Jimmy Butler and the banged up Miami Heat, LeBron James and the Los Angeles Lakers finally put the Heat away with a dominant Game 6 victory that doubled as a 48-minute coronation, giving the Lakers a 17th championship and James his fourth.
The 2019-20 Lakers may not be quite the underdogs their fans have been mocked for making them out to be, but their championship run is still a more inspiring tale than most will give it credit for.
Were they underdogs in the traditional sense? Of course not. The franchise that entered the season seeking a record-tying 17th championship employed James and Anthony Davis. But the Lakers are also a team that features a collection of players who, on some level, were all doubted or discarded as recently as this season.
After waiting in vain for Kawhi Leonard's free-agency decision last July, the Lakers were left to cobble together what most viewed as a subpar supporting cast, and they didn't even enter the season considered the best team in Los Angeles, let alone the league.
Danny Green and Avery Bradley were seen as nice 3-and-D pieces, but the Lakers as a whole were thought to be deficient in shooting, ball-handling, and defense. In the end, Green struggled on both ends, and Bradley wasn't even available during the postseason after opting out of the bubble restart, leaving the team in desperate need of its seemingly inadequate supporting players.
Kentavious Caldwell-Pope was an early-season punchline who many assumed only had a Lakers job because of the power wielded by Rich Paul, whose Klutch Sports agency also represents James and Davis. By the end of the year, Caldwell-Pope was a model of consistency, and emerged as the team's most dependable No. 3 option on both ends of the court.
"KCP saved us," Davis said after Caldwell-Pope's shooting helped turn Game 1 of the NBA Finals. Maybe general manager Rob Pelinka was onto something when he said - with a straight face - that acquiring Caldwell-Pope felt like a blessing from God.
Dwight Howard was considered a reclamation project when the Lakers signed him to a non-guaranteed contract. The former All-Star and Defensive Player of the Year ended up playing in 69 of 71 regular-season games and was a key component of the Lakers' third-ranked defense. Howard stuck to the workmanlike role the Lakers envisioned for him and wound up starting seven playoff games between the conference finals and Finals.
Despite the fact Rajon Rondo had followed up brutal seasons with awe-inspiring playoff performances on virtually every stop of his NBA journey, the phrase "Playoff Rondo" was uttered only sarcastically this year. The very notion that the 34-year-old's return from a thumb injury midway through the playoffs could boost the Lakers was met with eye rolls.
Then Playoff Rondo averaged nearly 25 minutes over the team's final 16 games. He was a key defensive weapon in the Lakers' turnaround against Houston, and his ball-handling, playmaking, and general basketball IQ helped James pick apart Denver and Miami. Rondo also shot 40% from deep during the postseason.
Alex Caruso reminded casual observers that he's more than just a meme. He's a defensive pest with some playmaking chops, he moves well off the ball, and perhaps most importantly, he earned James' trust. The 25-year-old has the makings of the type of role player who can earn rotation minutes on good teams for the next decade. In the mean time, he just started in the title-clinching game.
Markieff Morris had never even appeared in a conference finals game in his nine-year career when the Lakers signed him in February, and the temperamental power forward's fit on a team with too many big men seemed imperfect. By the time the Finals rolled around, Morris was logging crunch time minutes alongside Davis in a smaller, more optimal lineup after posting a sizzling postseason effective field-goal percentage of 59.7.
No one's quite sure what to make of Kyle Kuzma yet, but the youngster did improve as a defender this season and took to a lesser role much better than I imagined he would.
Frank Vogel wasn't even the Lakers' first choice to be head coach. His highest-profile job had been leading a Pacers team that could never get past James in the Eastern Conference. But the 47-year-old masterfully guided the league's glitziest franchise to its latest triumph, building an elite defense along the way.
Vogel pressed all the right buttons during a 16-5 playoff run, whether it was toggling between small-ball and jumbo lineups in the West semis and West finals, piecing together an effective second unit once Rondo returned, or having Davis guard Jimmy Butler in Game 4.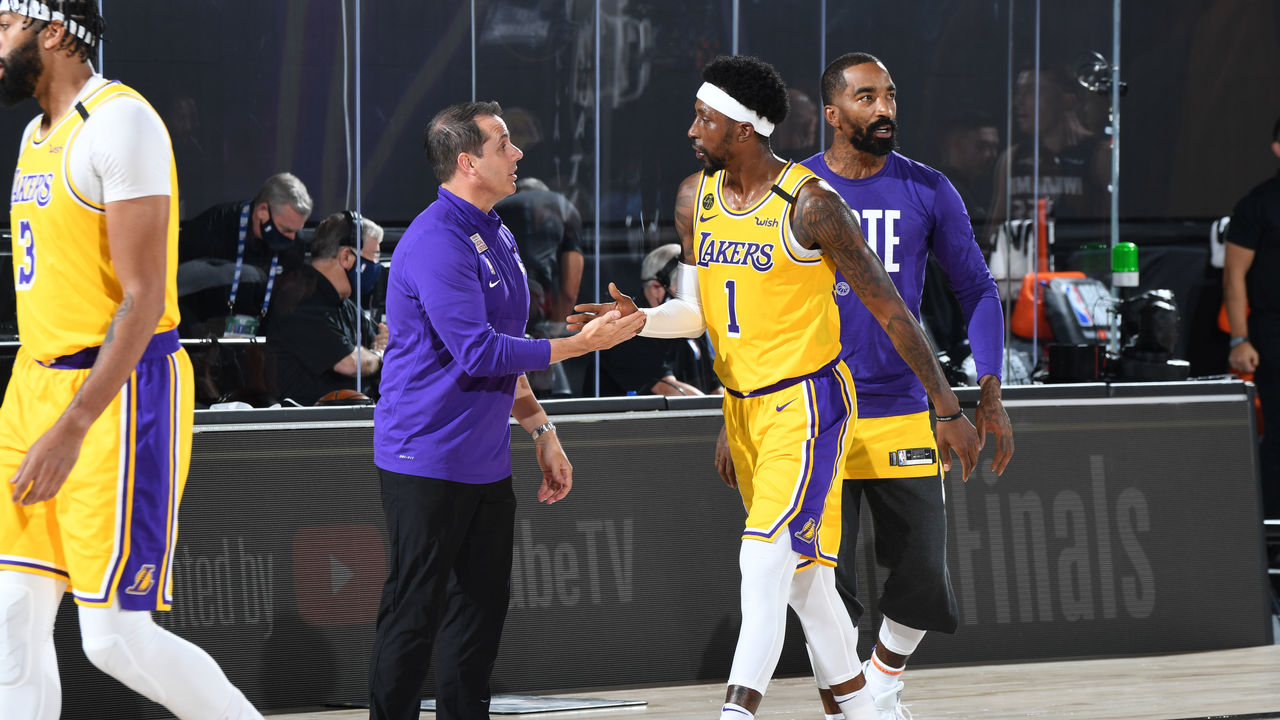 We may never know whether Davis can get the job done as the No. 1 option on a championship team, and his lethargic performance in Game 3 of the Finals was a reminder that he still hasn't exactly mastered the art of dealing with extra defensive attention. But none of that matters. He already had prolific numbers as the best player on middling Pelicans teams. Now he's attached his name to one of the great playoff runs any No. 2 has ever produced.
Davis' ability to match size against traditional lineups and match mobility against smaller teams made the Lakers matchup-proof all year. His defensive impact consistently reached heights he had only teased in spurts earlier in his career. In the Finals alone, Davis showed off his versatility by shutting down an elite wing scorer (Butler) one game, then a star big man (Adebayo) the next.
Squabble all you want about whether he's a No. 1, 1b, or No. 2. The fact of the matter is that just like during the regular season, Davis was the Lakers' leading scorer in the playoffs, averaging 27.7 points on 57-38-83 shooting to go along with 9.7 rebounds, 3.5 assists, 1.4 blocks, and 1.2 steals.
Among the 914 players in NBA history who've played at least 30 playoff games, Davis now ranks third in scoring.
Aside from that Game 3 loss, Davis saved his best for the Finals. His breathtaking two-way skills were perhaps best displayed at the end of a hard-fought Game 4 when his length, defensive presence of mind, and mobility robbed Duncan Robinson the ability to even get a 3-point attempt off. On the Lakers' ensuing trip down the floor, Davis - closing the game out at center - drilled a dagger three to clinch the contest.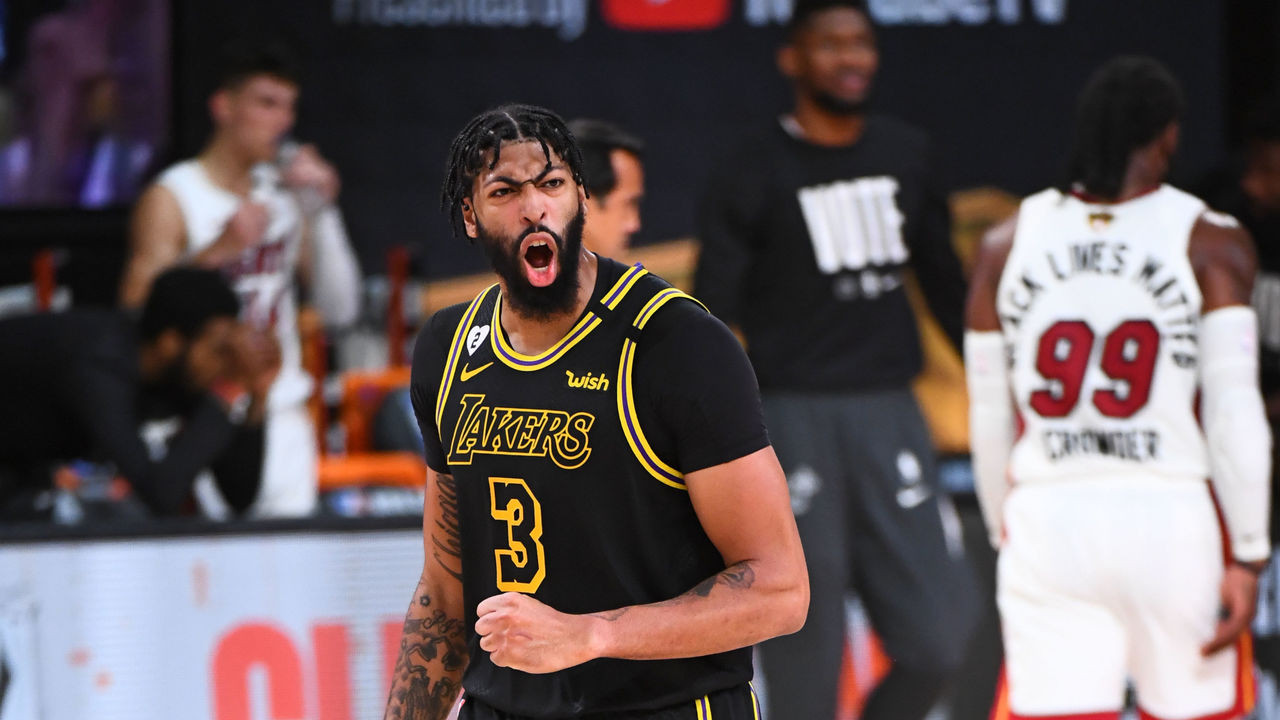 In almost any other season, or alongside almost any other superstar, Davis would have been a unanimous Finals MVP. Sharing the court with one of the two best players of all time, however, means even your best can only ever be second best.
James continues to defy logic and the limitations of the human body. You've heard the numbers before, but they remain stupefying. What James did at age 35, in season No. 17, with more than 59,000 NBA minutes under his belt, is indescribable.
No one reputable ever actually deemed LeBron the "washed king," but like Davis and the rest of his misfit teammates, King James has dealt with some level of doubt over the last year or so.
There were plenty who wondered whether James would ever be the same after finally succumbing to a significant injury last season, more than a decade-and-a-half into his career. With Leonard dominating the 2019 playoffs and Giannis Antetokounmpo the league's new regular-season king, James reclaiming his throne was anything but guaranteed.
To do it, James averaged 25.3 points, a league-leading 10.2 assists, and 7.8 rebounds during the regular season. In a Finals triumph where it rarely felt like he hit top gear of Finals past, he ended up with averages of 29.8 points, 11.8 rebounds, and 8.5 assists on 64.7% true shooting. James' four Finals MVPs now have him alone in second place behind Michael Jordan's six, though LeBron's the only player to win the award for three different teams.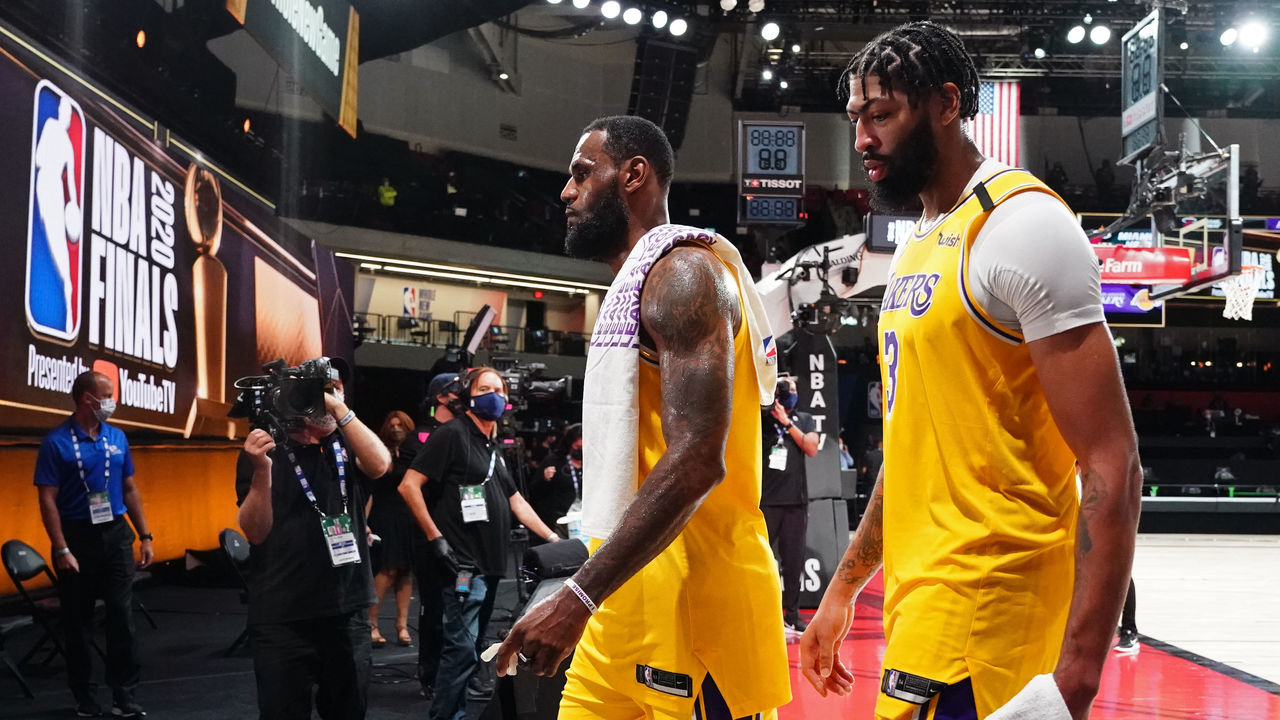 Pelinka finished seventh in Executive of the Year voting after receiving just one of 30 first-place votes, as conventional wisdom says Paul, James, and Klutch Sports as a whole engineered this championship machine by prying Davis out of New Orleans.
James, himself, hinted as much when the Lakers eliminated the Nuggets and advanced to the Finals.
Perhaps that perception of Klutch-led manipulation is why so many people this season focused on the Lakers' flaws rather than admitting Sunday night's celebration was always 2019-20's likeliest conclusion. But say what you will about Klutch, Paul, or the power James wields off the court. More than any other reason, the Lakers' 17th championship was made possible by James' continued greatness on it.
Having now proven his immeasurable value to Lakers fans, James should have no skeptics left, save for perhaps the most fervent of Jordan truthers. To that end, it's worth noting that James now owns a higher playoff winning percentage than Jordan despite appearing in 81 more postseason games.
James' four championships are more than any franchise has accrued over the course of his 17-year career. He has four more Finals appearances (10) than any team during that time and has made more Finals appearances than all but three franchises all time.
The 2019-20 Lakers were part underdog. But giving an unstoppable force like James a teammate as good as Davis made them equally inevitable.
Historically, the Lakers will be remembered as the most unusual of champions, despite the familiarity of James on the game's biggest stage. The Lakers emerged victorious after a 12-month season that was suspended nearly five months due to a global pandemic, and one that concluded in a Disney World bubble with no fans in attendance.
The Lakers also reportedly voted not to complete the postseason when the Orlando restart itself came to a halt for four days in August as players grappled with the best way to continue their push for racial justice. Teams opted not to play postseason games in an act of protest following the police shooting of Jacob Blake, but the season was ultimately salvaged.
Hanging over the Lakers' championship quest at every turn was the unavoidable cloud of Kobe Bryant's memory. Quite frankly, some of the team- and media-driven narratives connecting Bryant's death to the Lakers' title run were grossly uncomfortable. The man should be left to rest, and his family to find peace. But you also can't deny that Bryant's death was as devastating a midseason blow as the NBA has ever faced, and no team was forced to deal with the daily weight of that loss like the Lakers were.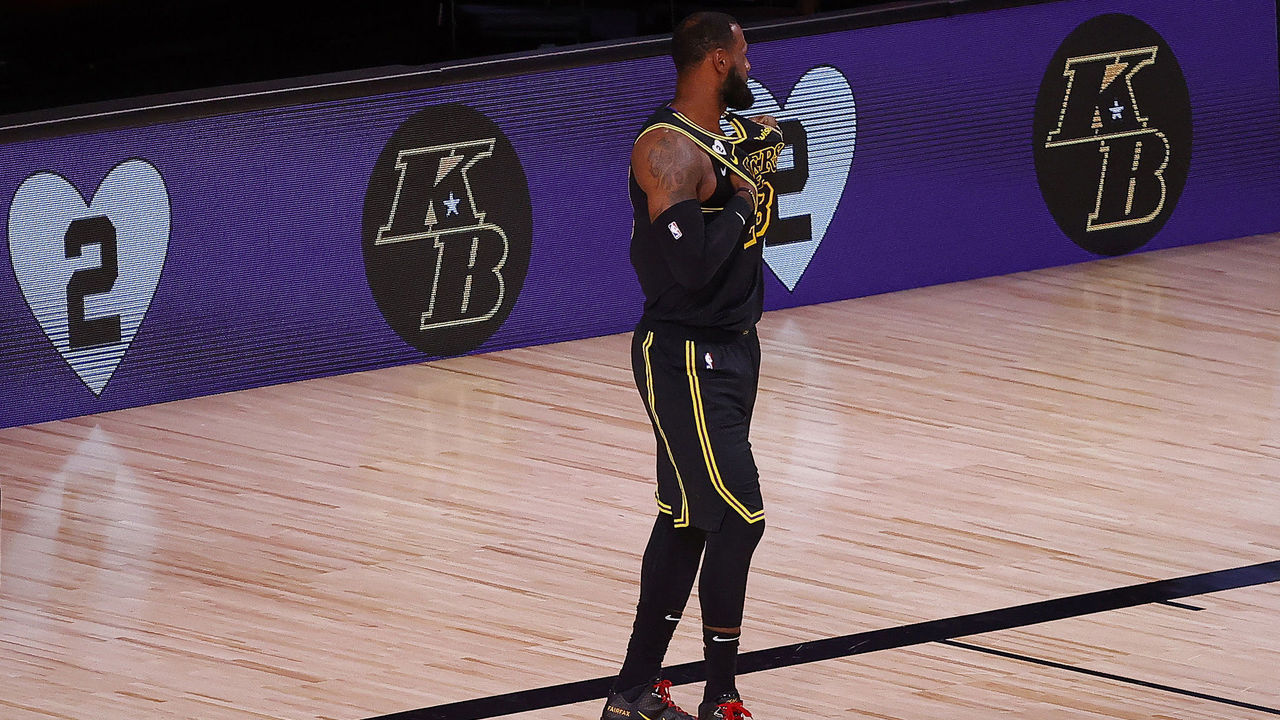 As the dust settles on 2019-20 and the Lakers begin to bask in their championship glow, the rest of the league is already plotting how to dethrone the new champs behind the scenes.
Don't let James' age fool you into assuming the Lakers' window to pile on the hardware is a short one. If he and Davis are healthy, L.A. will have as good a chance as any to win it all again next year. After a year of figuring each other out as teammates, the James-Davis duo will come back even better. We haven't even seen much of the James-Davis pick-and-roll that was expected to run roughshod through the competition, and the Lakers can still further explore smaller lineups with Davis at center.
It's also worth noting that the Lakers could conceivably retain Davis and James while clearing a path to max cap space in the 2021 offseason, when a who's who of superstars hit free agency.
Considering this was the first time in the Los Angeles era of Lakers franchise history that the team went even 10 years between Finals appearances, and that LeBron's Finals drought lasted all of two years, rival fans probably don't want to entertain such doomsday scenarios.
But on the strength of James, Davis, and perhaps some puppeteering behind the scenes, the Lakers are all the way back, and their latest reign of dominance is just getting started. The 2020 version of the Lakers may have been, at least in part, an underdog story. That won't be the case again anytime soon.