Only 48 hours removed from surviving a taxing Game 7 against Oklahoma City, the Houston Rockets stunned the Los Angeles Lakers (and much of the basketball world) by dominating Game 1 of their Western Conference semifinal.
After that series opener, a cool and collected LeBron James pointed out that Houston's small-ball style's uniqueness and speed is one that teams need to feel out before attacking. The Lakers apparently got over that feeling-out process in Game 1 because James' team has reeled off three straight wins by a combined margin of 28 points since then.
The easiest explanation is simply the presence of LeBron. Even against a Rockets team boasting two recent MVPs, James has looked like a man among boys since Game 2 tipped off. The King's greatness - especially at this stage of his career - should never be taken for granted. With the Lakers a win away from the franchise's first trip to the conference finals in a decade, let's dive into the non-LeBron reasons why this series has become a cakewalk for L.A. and has gone off the rails for Houston.
Playoff Rondo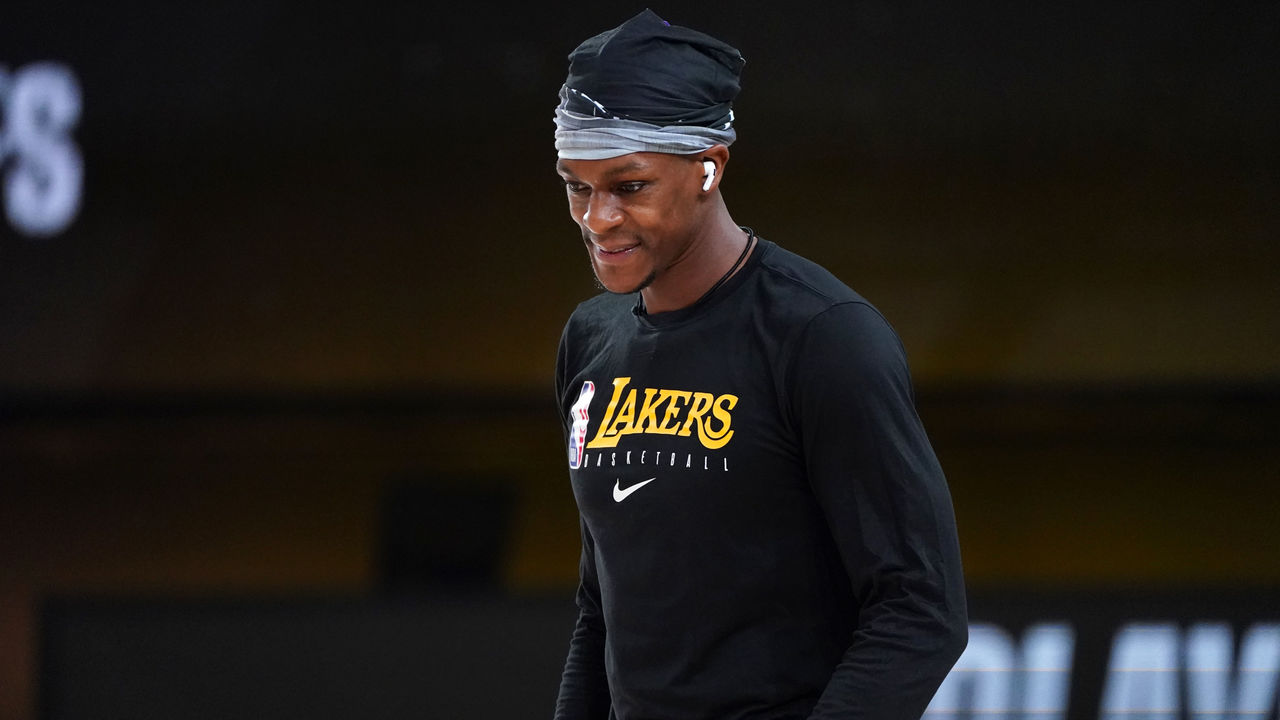 The legend of 'Playoff Rondo' had become more of a punchline recently.
Sure, the veteran point guard magically found a playoff gear in Chicago (2017) and New Orleans (2018) after poor regular-season showings, but this is 2020, and Rondo was even worse during the regular season as a Laker. Not to mention, with a fractured thumb and back spasms keeping him on the sidelines, the 34-year-old's putrid performance in Game 1 against Houston marked his first taste of action since March.
The obvious answer to Rondo's performance in the series opener was to play him less (if at all) in Game 2 than the 25 minutes he was on the court for in Game 1. So much for that.
Frank Vogel and the Lakers kept the faith in Rondo, and the former All-Star has repaid that trust by proving to be a legitimately crucial component in helping the Lakers turn things around.
In Los Angeles' three straight wins, Rondo has scored 42 points on 37 individual possessions, has handed out 26 assists while turning the ball over just seven times, and has pulled down 15 rebounds, including three offensive boards in Thursday's Game 4. On a team lacking a steady offensive initiator when the ball isn't in James' hands, Rondo has been just what the doctor ordered for the Lakers' sputtering offense. Hell, he's even gone 5-of-12 from deep.
On the defensive end, Rondo's I.Q. and communication have been invaluable to the Lakers, who have employed a more diverse defensive strategy with him in the lineup. In Game 2 especially, you could see Rondo barking out defensive orders while serving as somewhat of a rover or anchor in various zone schemes.
Add it all up, and the Lakers are plus-31 in 88 minutes with Rondo on the court over the last three games, and minus-3 in 56 minutes without him.
| LAL Games 2-4 | ORtg | DRtg | Net |
| --- | --- | --- | --- |
| Rondo on (88 mins.) | 119.8 | 103.9 | 15.9 |
| Rondo off (56 mins.) | 109.0 | 111.7 | -2.7 |
The legend grows.
Too much Westbrook, not enough Harden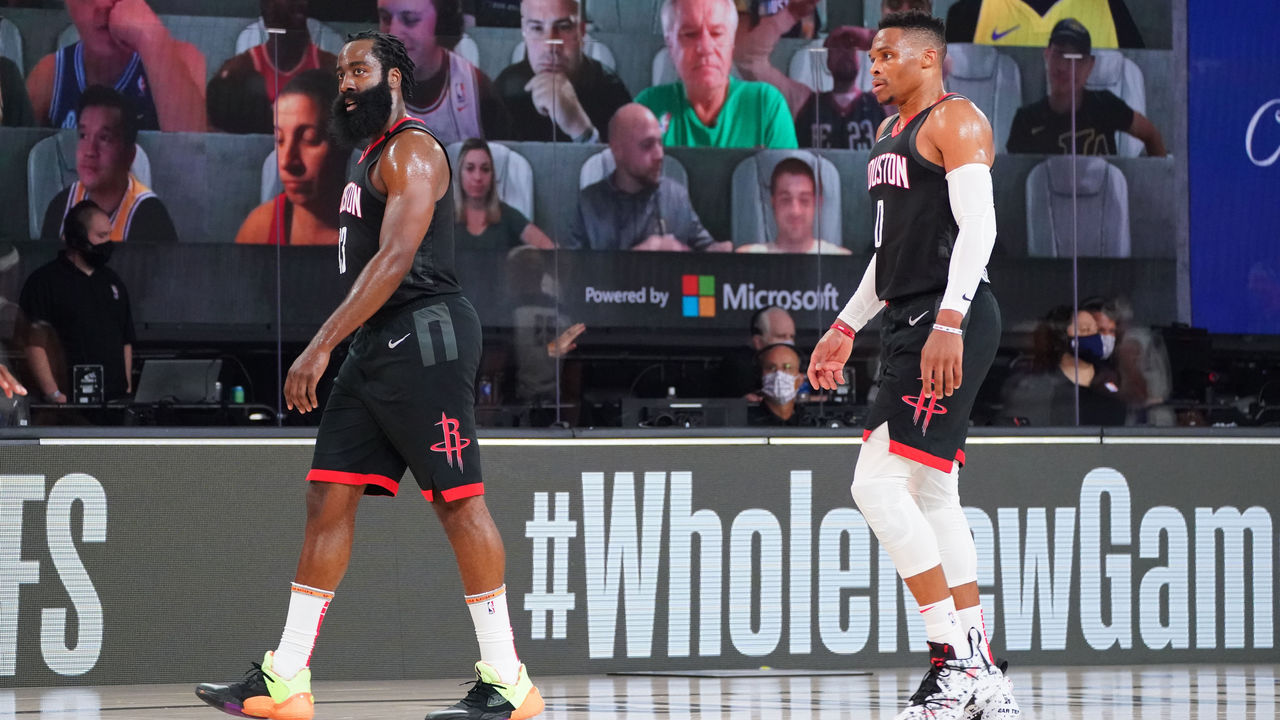 It would be bad enough if the Rockets just had to contend with Rondo pulling a rabbit out of his playoff hat for the umpteenth time in his career. The fact Rondo is outplaying Russell freaking Westbrook is a different level of back-breaker.
Westbrook's numbers the last two games (27.5 points on 52.5% shooting) look great, but anyone who's watched the Rockets this season knows too much Russ and not enough Beard is never a good formula. Westbrook's careless, undisciplined play has cost the Rockets at crucial points in Games 2 and 3. The nine-time All-Star remains one of the most invigorating players to watch, but it also remains perplexing how a star who has played at a high level for a decade still hasn't learned how to harness his speed and relentlessness.
It's especially frustrating to watch Westbrook revert to settling for long jumpers after he and the Rockets found success when Russ got back to the rim-rampaging guard he used to be, although the presence of Anthony Davis has played a role there (see below).
Having said all that, Harden's lack of aggression hasn't done the Rockets any favors. Again, the numbers are fine - 27 points and nearly nine assists per game in the last three losses - but Houston's best player is leaving way too much in the tank.
Westbrook has finished with more field-goal attempts than Harden in all four games of this series. Even when you consider Harden's usual parade to the free-throw line, he's only used two more total possessions than Westbrook through four games. That's unacceptable, and there's plenty of blame to share between the two of them for that division of labor.
Harden went 2-of-11 in Thursday's blowout loss.
Lakers going small(er)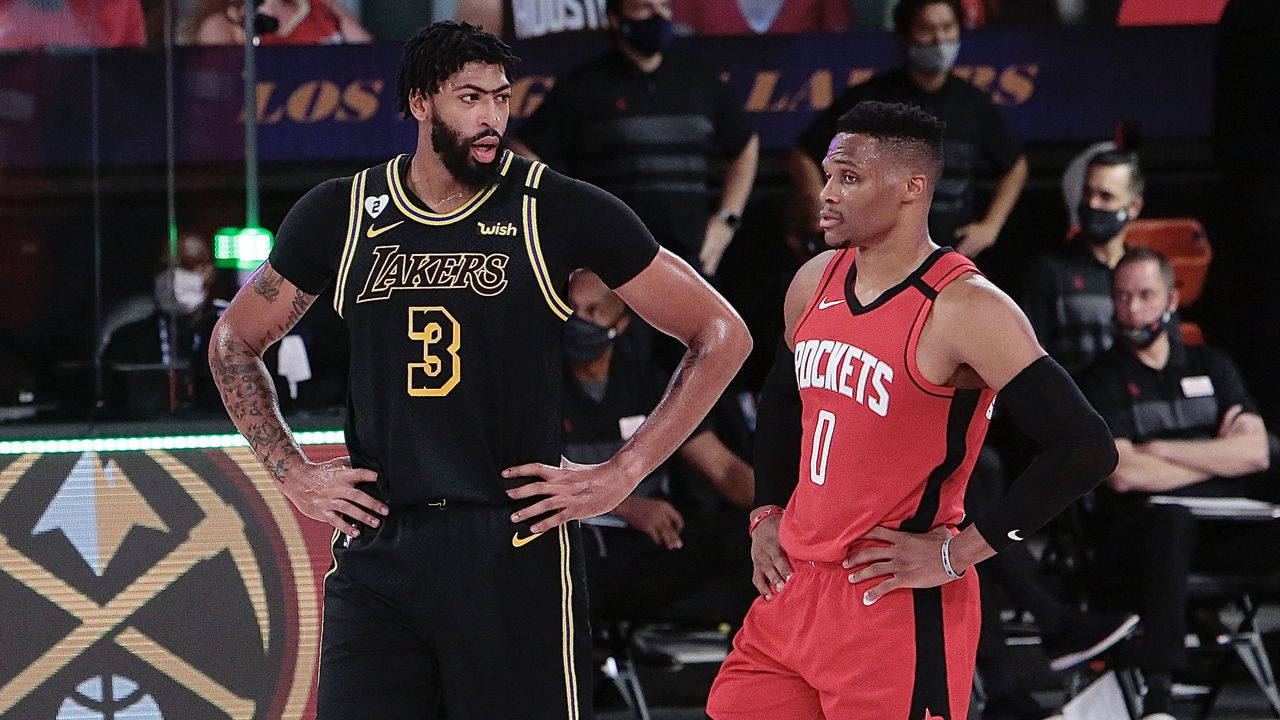 The Lakers started JaVale McGee in the opening three games, but they also began to scale back the big man's minutes and lean more heavily into Anthony Davis-at-center lineups in Game 2.
McGee and Dwight Howard combined to play 24 minutes in a Game 1 loss. McGee's played 15 minutes since then, while Howard has racked up three straight DNP-Coaches Decisions. By Game 4, the team dropped McGee from the rotation (perhaps in part due to an ankle injury) and embraced the smaller look the Rockets never had a chance against in this series.
There's nothing overly complicated about this development.
The more often you can play your top five players and the best combinations of talent together, the better. James, Davis, Rondo, Kyle Kuzma, Danny Green, Alex Caruso, Kentavious Caldwell-Pope, Markieff Morris, and perhaps even rookie Talen Horton-Tucker are all better options than McGee or Howard right now, especially against the small-ball Rockets.
Davis' size and versatility also mean the Lakers can go smaller while still owning a massive size advantage on the offensive end. They're also not sacrificing the mobility bigger teams usually give up on the defensive end against Houston. Plus, despite perennial reports he's resistant to playing center full time, Davis has always thrived at the five.
Davis has been a beast through four games, averaging 28.5 points, 12.8 rebounds, four assists, 1.5 blocks, and a steal on 62.5% shooting. Stashing Davis on Westbrook has worked wonders defensively, as it's taken the rim away from the Rockets' star and baited Russ into shooting jumpers he's ill-equipped to knockdown. That strategy is a lot easier to lean into when you don't have to worry about putting McGee or Howard on Houston's other perimeter threats.
There may be a role later in the playoffs for the bigger Lakers lineups that succeeded all season, but going for the jugular in a closeout game Saturday should mean continuing to stay smaller against the Rockets.