2020 NBA Mock Draft 2.0: LaMelo takes top spot
With the NBA season finally in the books, the basketball world now shifts its attention to the long-awaited 2020 NBA Draft.
The buildup to the event has been quite unlike years past. Teams have just begun holding in-person medical evaluations and workouts with prospects after being limited to Zoom interviews for the past several months.
Here's a look at how things could shake down Nov. 18.
1. Minnesota Timberwolves - LaMelo Ball, PG, Illawarra Hawks (Australia)
Ball and D'Angelo Russell could be a disastrous defensive pairing, but the former's upside may be too much for the Timberwolves to pass on. The teenager has elite size for his position and uses that unique vantage point to his advantage. Ball can make virtually any pass in the book with either hand and posted a 2.7 assist-to-turnover ratio in the NBL last season. However, he'll need to improve his outside shooting in order to unlock his full offensive potential.
2. Golden State Warriors - James Wiseman, C, Memphis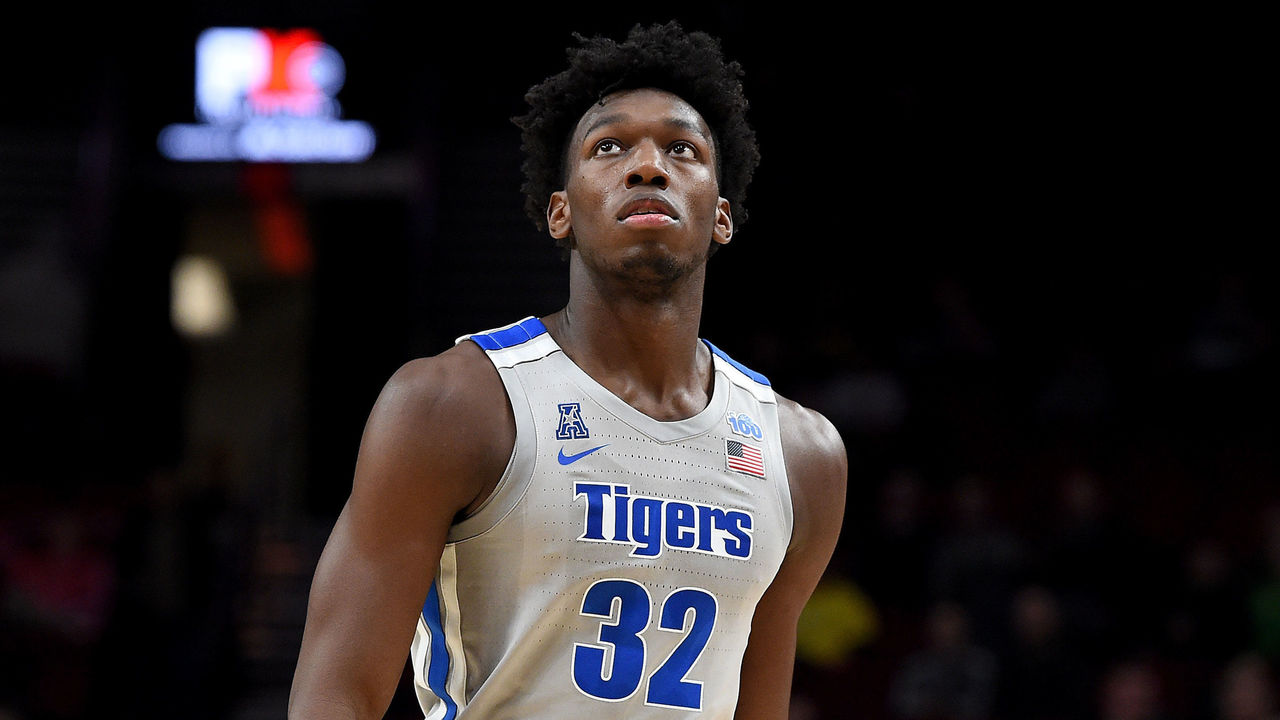 The Warriors may very well trade the No. 2 selection, but Wiseman makes the most sense should they keep the pick. The Memphis product would inject some much-needed athleticism into Golden State's frontcourt. For as dominant as the Warriors have been at full health, they've never had a center with Wiseman's two-way potential.
3. Charlotte Hornets - Anthony Edwards, G, Georgia
Forget what we know about Hornets owner Michael Jordan's tendency to draft players with more than one year of college experience, Edwards will be too much to pass up if he drops to No. 3. While no sure thing, "Ant-Man" has the tools to become an NBA star and is the top wing in the class.
4. Chicago Bulls - Obi Toppin, PF/C, Dayton
Toppin would be a fit with the Hornets, but he could also play alongside either Lauri Markkanen or Wendell Carter Jr. in the Bulls' frontcourt. The 22-year-old has the ability to score inside and out, and his bouncy athleticism makes him a terror at both rims.
5. Cleveland Cavaliers - Deni Avdija, F, Maccabi Tel Aviv (Israel)
Avdija is the top international prospect in this year's draft, coming by way of Maccabi Tel Aviv. The 19-year-old has a point forward's game that some have likened to a poor man's Luka Doncic. At 6-foot-9, Avdija has also shown the ability to play either forward spot and has impressed scouts with his confidence and basketball IQ. Avdija will almost certainly become the highest-drafted Israeli player ever.
6. Atlanta Hawks - Isaac Okoro, G/F, Auburn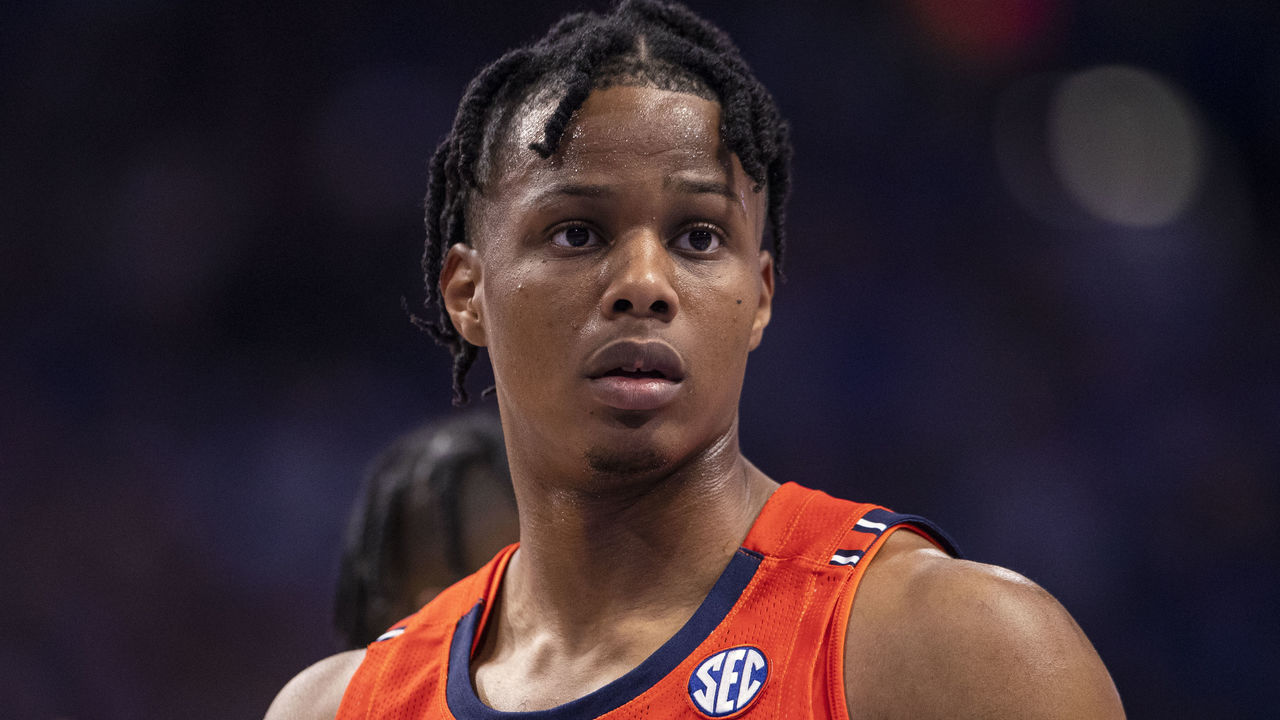 Okoro would immediately help the Hawks' defense, which ranked 28th in efficiency last season. He has the potential to be a lockdown perimeter defender with his athleticism and strength. One of Okoro's glaring weaknesses is his 3-point shooting, but Atlanta has enough firepower to make up for his offensive limitations.
7. Detroit Pistons - Killian Hayes, PG, Ratiopharm Ulm (Germany)
Hayes gives the Pistons a potential long-term solution at the point. Like Ball, the Frenchman has elite size for his position and great playmaking ability. Hayes' strong frame allows him to impose his will on smaller guards. He has the length to guard multiple positions, though he's prone to suffering defensive lapses.
8. New York Knicks - Tyrese Haliburton, PG/SG, Iowa State
Haliburton has spoken with the Pistons during the pre-draft process and remains a possibility there, but neither he nor Hayes is likely to fall beyond the Knicks. The bouncy, 6-foot-5 Haliburton said he facilitates "better than anybody in this draft" during a recent combine media call, and he possesses an NBA-ready shooting touch and long athleticism that could make him an elite backcourt defender.
9. Washington Wizards - Onyeka Okongwu, PF/C, USC
Okongwu's calling card is his defense. He was an outstanding rim-protector in his lone year at USC and has the footwork to guard players on the perimeter. Okongwu also gives the Wizards a rim-running big man. Washington finished fourth in transition points per game last season, and the return of John Wall should further bolster its up-tempo attack.
10. Phoenix Suns - Cole Anthony, PG, North Carolina
Anthony remains one of the wild cards of this draft, as he could land anywhere between the lottery and late in the first round. The 6-foot-2 son of former NBA point guard Greg Anthony has a score-first mentality and the ability to hit shots from anywhere. His facilitation needs a lot of work, but the Suns could go for a higher-risk, higher-reward pick here given their need at lead guard.
11. San Antonio Spurs - Patrick Williams, SF/PF, Florida State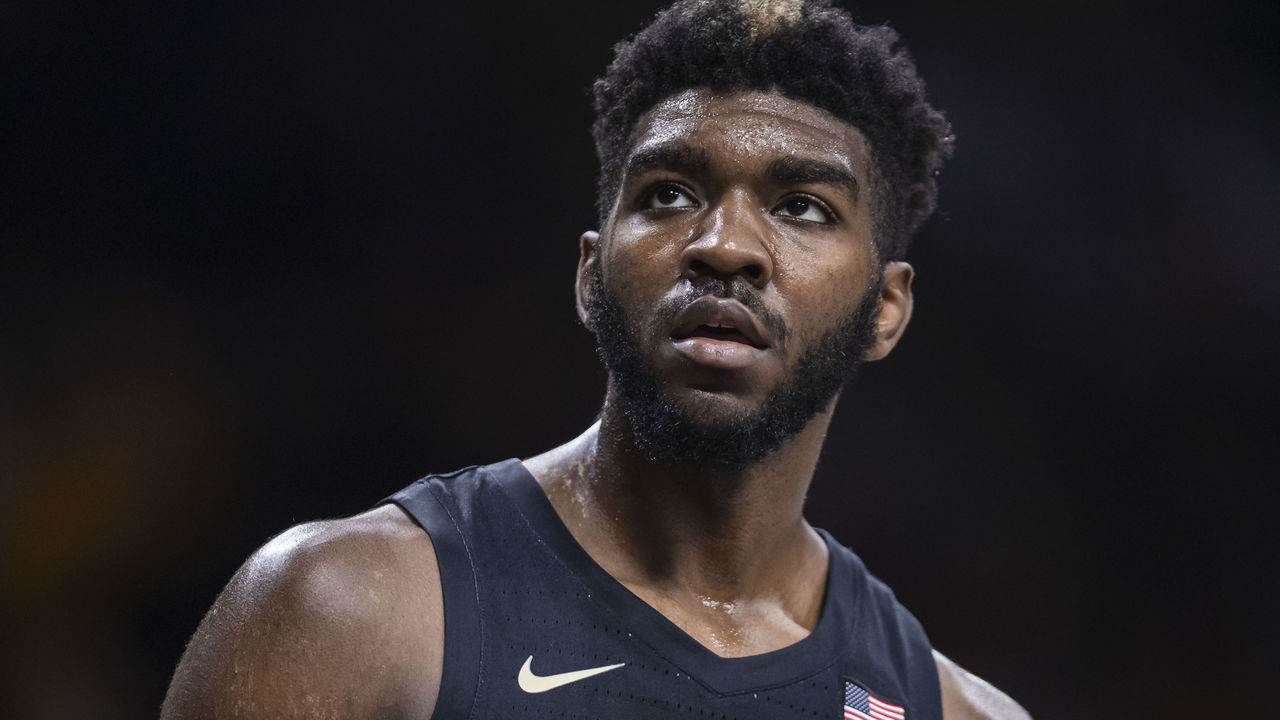 Williams' stock is reportedly rising, mostly based on his physical specs and defensive play in his lone season at Florida State. The 6-foot-8, 225-pounder has a near 7-foot wingspan and can play either forward spot. He remains raw offensively, but he's the type of player that would fit the Spurs' system.
12. Sacramento Kings - Devin Vassell, G/F, Florida State
With Bogdan Bogdanovic a restricted free agent and Buddy Hield the subject of trade rumors, Vassell would provide the Kings with some insurance on the wing. The Florida State product showed 3-and-D potential last season, shooting 41.5% from deep and finishing top 15 in the ACC in both block and steal percentage.
13. New Orleans Pelicans - Aaron Nesmith, G/F, Vanderbilt
The Pelicans could use another shooter alongside Brandon Ingram and Zion Williamson, and there's no player that fits the bill better than Nesmith. The 6-foot-6 wing averaged 23 points and shot a sizzling 52.2% on 8.2 triples per game last season. His 6-foot-10 wingspan should also help one of the Association's worst defensive units.
14. Boston Celtics - Kira Lewis, PG, Alabama
With Kemba Walker turning 31 next season, the Celtics might look toward grooming his successor. Lewis could develop into Boston's point guard of the future while also immediately bolstering a reserve unit that ranked 29th in scoring last season. The Alabama product is one of the fastest players in this year's class and would be a seamless fit on a Celtics squad that loves to attack in transition.
15. Orlando Magic - RJ Hampton, G, New Zealand Breakers (Australia)
The Magic need to address their backcourt depth, especially if starting guard Evan Fournier opts out of his contract and leaves this offseason. With Markelle Fultz set at the point, Hampton could provide some offensive punch off the ball and spell the former No. 1 pick as the primary playmaker on the floor.
16. Portland Trail Blazers - Saddiq Bey, F, Villanova
The Trail Blazers have some questions at the forward position. Carmelo Anthony is a free agent, Trevor Ariza is 35, and Rodney Hood is coming off a torn Achilles. Bey can be of immediate help with his elite 3-point shooting and perimeter defense. Portland ranked 27th in defensive efficiency and 29th in opponent's 3-point field-goal percentage last season.
17. Minnesota Timberwolves - Precious Achiuwa, PF/C, Memphis
Achiuwa's defense will be a welcome addition to a T-Wolves squad that surrendered the third-most points per game last season. His length allows him to provide ample rim protection and contest shots when switched onto the perimeter. Minnesota can play Achiuwa alongside center Karl-Anthony Towns or slide him up to the five when the star sits.
18. Dallas Mavericks - Jalen Smith, PF/C, Maryland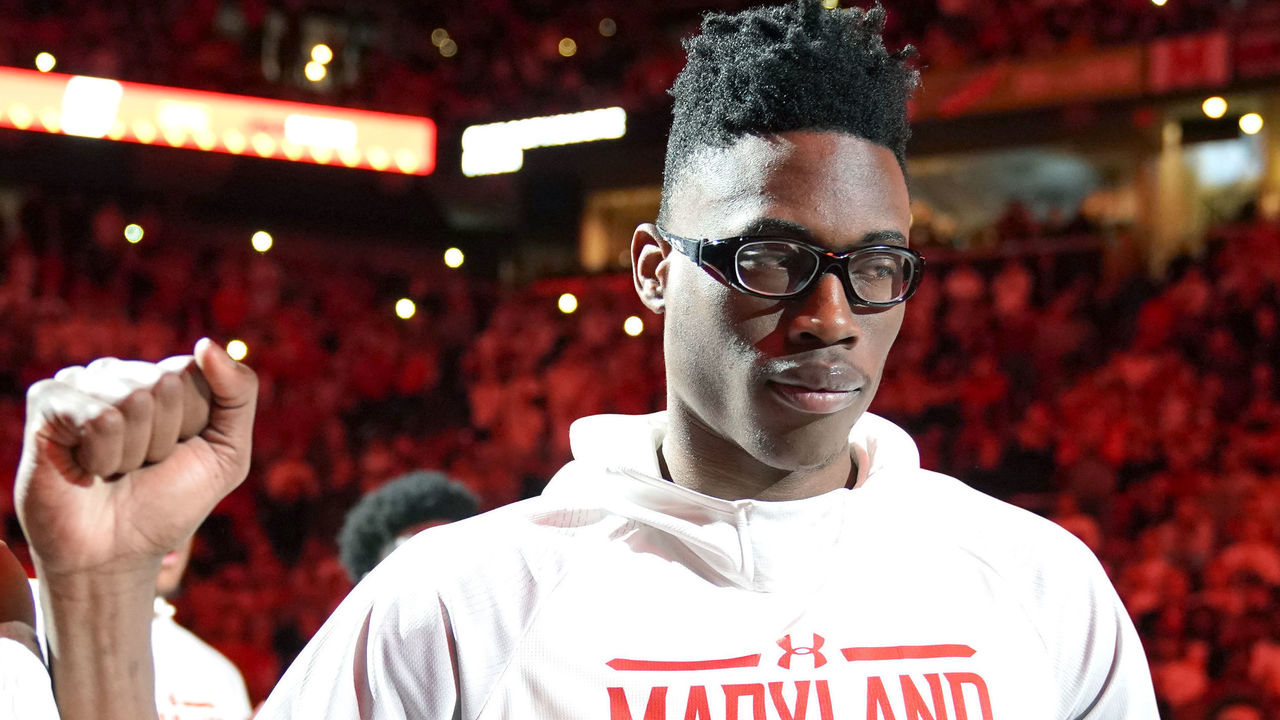 Smith brings a rare specialized mix of shot-blocking and perimeter shooting. Standing 6-foot-10 with a 7-foot wingspan, Smith averaged 2.4 blocks per game for Maryland last season while shooting almost 37% from deep. That skill set would fit nicely on the Mavericks' roster.
19. Brooklyn Nets - Tyrese Maxey, G, Kentucky
Maxey has good length for his 6-foot-3 height, and he has an ability to change speeds while scoring in any number of ways. He's also a very strong and engaged defender, averaging almost a steal per game at Kentucky. As a shooter, however, Maxey has a low release point - a red flag in the pros. He's also not a natural floor general, potentially limiting his NBA ceiling to a third guard/energy player.
20. Miami Heat - Tre Jones, PG, Duke
Pat Riley being a Kentucky alumnus - and his success in drafting Wildcats like Tyler Herro and Bam Adebayo - makes Maxey a possibility here also, though he could be off the board. If the Heat plan to bolster the point guard spot with Goran Dragic's future in Miami unknown, Jones fits the bill as a high-IQ player who defends tenaciously.
21. Philadelphia 76ers - Desmond Bane, G, TCU
The 76ers still need shooting, and at this point in the draft, one of their best bets would be Bane. The 6-foot-6 guard played both backcourt positions at TCU and excels from beyond the arc - both in terms of creating his own shot and firing off the catch-and-shoot.
22. Denver Nuggets - Josh Green, G/F, Arizona
Green, this year's top Australian prospect, is an athletic wing with the tools to become an elite defender. He remains raw offensively, but similarly to Matisse Thybulle last year, his defensive upside may be too much for teams to pass up.
23. Utah Jazz - Theo Maledon, G, ASVEL (France)
Like countryman and fellow draftee Hayes, Maledon is a big, talented point guard from France who can hit outside shots. His development isn't as far along, however, in part because he lacks strength at 175 pounds. The 19-year-old played the last three seasons with ASVEL, the Lyon club governed by Tony Parker and Nicolas Batum.
24. Milwaukee Bucks - Jaden McDaniels, F, Washington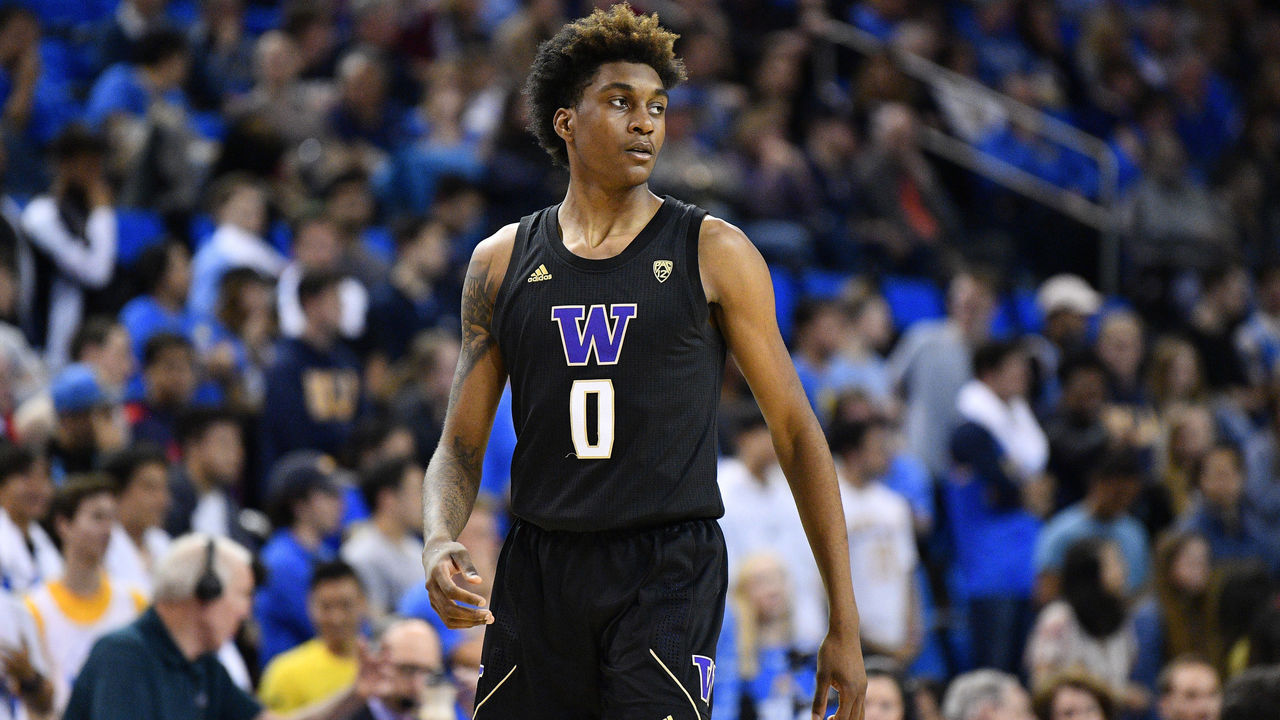 McDaniels was a top-10 prospect in last year's recruiting class, though he had his ups and downs on an underachieving Huskies squad. The 6-foot-9 forward flashed great ball-handling skills, defensive versatility, and the ability to create his own shot. He'll need to bulk up and improve his decision-making to succeed at the next level, but his two-way potential is tough to pass on at this stage of the draft.
25. Oklahoma City Thunder - Isaiah Stewart, C, Washington
Stewart was Washington's other highly touted freshman. The third-ranked 2019 recruit averaged 17 points, 8.8 boards, and 2.1 blocks during his lone collegiate campaign. Stewart plays with a physical edge, and his 7-foot-4 wingspan compensates for a lack of height. With Thunder center Steven Adams on an expiring deal, Stewart could soon slide into his place in the starting lineup.
26. Boston Celtics - Aleksej Pokusevski, F/C, Olympiacos (Greece)
It's hard to imagine Boston keeping all three first-round selections, especially with nine players on guaranteed deals for next season. If the Celtics hold on to this pick, Pokusevski is a draft-and-stash candidate. The Serbian big man is the mystery of this year's class, but his guard-like skills are worth taking a swing on.
27. New York Knicks - Robert Woodard, F, Mississippi State
Woodard fits the mold of a modern NBA forward - 6-foot-7 with a 7-1 wingspan and the ability to hit shots and defend multiple positions. He will need seasoning, but he's the type of player who could become a late-round nugget.
28. Los Angeles Lakers - Malachi Flynn, PG, San Diego State
Flynn doesn't have an elite physical profile, but his relentless work ethic and high basketball IQ make up for it. The 6-foot-1 guard shows great anticipation on the defensive end and makes great reads out of the pick-and-roll. Flynn could relieve LeBron James from some of his playmaking duties and provide the Lakers with another shooter.
29. Toronto Raptors - Udoka Azubuike, C, Kansas
Injuries affected Azubuike's four-year run at Kansas, but he remains a top traditional center prospect thanks to a 7-foot-8 wingspan and 9-foot-4 standing reach. With the futures of Marc Gasol and Serge Ibaka up in the air, the Nigeria native could be a good fit with the Raptors.
30. Boston Celtics - Leandro Bolmaro, G/F, FC Barcelona (Spain)
With three first-round picks and a glut of rostered players, the Celtics are ripe for draft-and-stashes, barring a trade. While it's undetermined if Pokusevski will remain in Europe another year, Bolmaro has said he plans to stay with Barcelona for another season. A 6-foot-8 wing, the Argentine projects as a high-upside playmaker.