There's a tendency to dismiss an NBA draft class as being bad when there isn't a consensus No. 1 pick. That's the case for 2020.
However, that sort of sweeping generalization doesn't mean there isn't significant talent and upside in this draft. With the lottery now set, here is theScore's first mock draft.
1. Minnesota Timberwolves - Anthony Edwards, G, Georgia
If the Timberwolves plan on drafting the player with the highest ceiling regardless of their current roster, then LaMelo Ball has a real chance to go No. 1. There are, however, questions about his fit alongside D'Angelo Russell - especially defensively.
With Edwards, the Wolves would get the top wing prospect in the class, and one with star potential. "Ant-Man" tormented opponents with his length, athleticism, first step, and transition game during his lone year at Georgia.
If Minnesota is committed to its core of Russell and Karl-Anthony Towns, then augmenting it with wing talent is a logical move.
2. Golden State Warriors - James Wiseman, C, Memphis
Nobody would be surprised if the Warriors traded this selection. Teams may try and move up to draft Ball, or there could be a larger package deal that includes Andrew Wiggins. Yet if they keep the pick, Wiseman would be more than a great fit in Golden State.
While his college career lasted just three games, the top recruit in last year's high school class has the physical tools that few do. The 7-foot-1 center runs the floor like a two-way wing, and he utilizes his length, strength, and athleticism as a constant shot-blocking threat and strong rebounder. His shooting remains a work in progress, but he's shown the potential to hit from the outside.
By virtue of luxury, the five has been a revolving door for the Warriors the last few years. But it makes sense to plug Wiseman's skill set into a healthy core that won 322 games between 2014-19.
3. Charlotte Hornets - Obi Toppin, PF/C, Dayton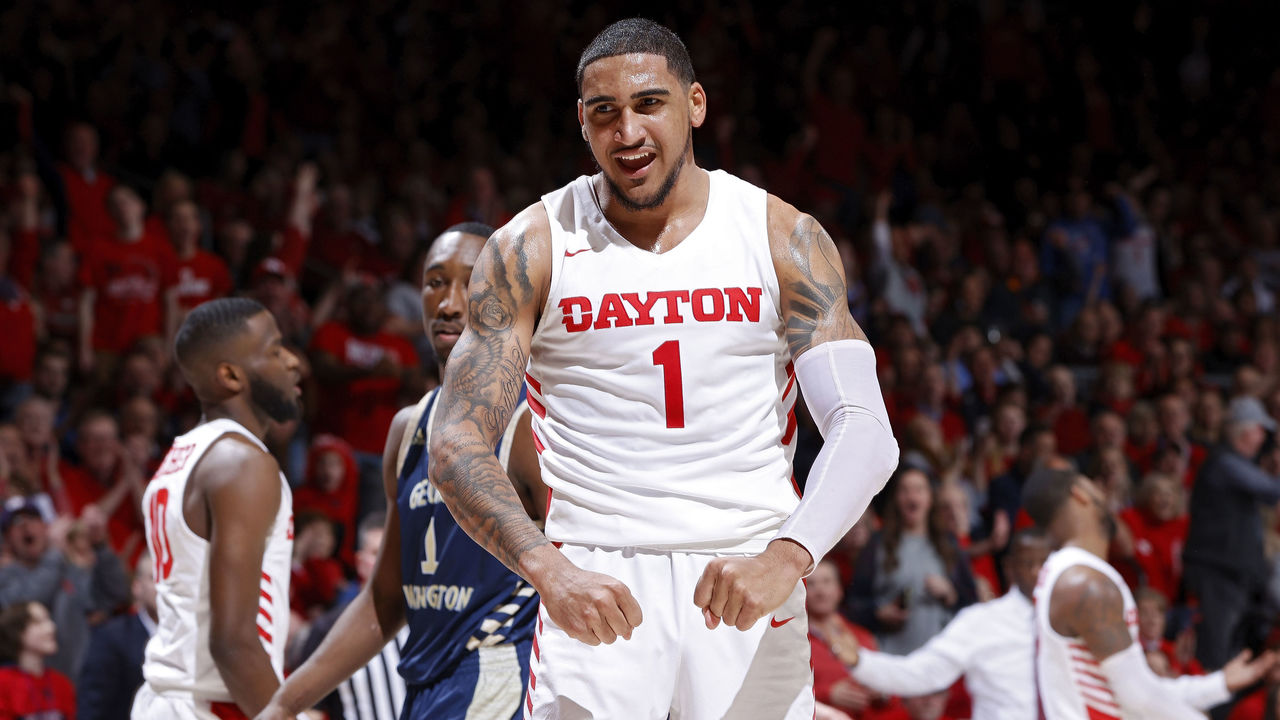 Hornets owner Michael Jordan has historically shown a preference for older collegiate talent stacked with individual accolades. Kemba Walker was the Final Four's Most Outstanding Player when he led UConn to a national championship as a junior. Frank Kaminsky swept the National Player of the Year awards during his senior season.
Although Ball presents the most upside, Toppin fits the billing of a typical Jordan draft pick. At 22, the Dayton standout is one of the oldest players in the draft, but he should be ready to contribute immediately. Toppin was a dominant inside-out force, showing an ability to finish around the rim and an efficient stroke from downtown.
The reigning Wooden Award winner would inject some much-needed scoring into Charlotte's frontcourt, though he's a bit undersized at the five. However, Toppin's athleticism and ability to stretch the floor could offset some of the defensive challenges he may have.
4. Chicago Bulls - LaMelo Ball, PG, Illawarra Hawks (Australia)
Ball dropping to No. 4 would be a dream start to the Arturas Karnisovas era. Chicago attempted to fill its void at the point by drafting Coby White and acquiring Tomas Satoransky in a sign-and-trade deal last offseason, but neither one possesses the elite playmaking potential of the youngest Ball brother.
The 6-foot-7 guard averaged nearly seven assists during his brief time with the Illawarra Hawks. Part of Ball's success as a facilitator can be attributed to his court awareness. He has a great feel for where his teammates are on the floor and often makes smart decisions with the rock, registering a 2.7 assist-to-turnover ratio last season in the NBL.
There are questions about Ball's engagement on the defensive end - and, of course, his father, LaVar, is another variable teams must consider - but it's a risk worth taking for the Bulls.
5. Cleveland Cavaliers - Deni Avdija, F, Maccabi Tel Aviv (Israel)
Avdija had the advantage of playing basketball while most of his peers have been sitting tight awaiting draft night. The 19-year-old recently became the youngest player to win the Israeli League MVP award after leading Maccabi Tel Aviv to a championship.
The 6-foot-9 forward is widely considered the top international prospect in this year's class. Avdija specializes in the pick-and-roll, showing an ability to create for himself and his teammates. He also loves to push the tempo and should bring life to a Cleveland squad finishing the 2019-20 campaign last in transition points per game.
Avdija's playmaking should complement the score-first mentality of starting Cavs guards Collin Sexton and Darius Garland.
6. Atlanta Hawks - Onyeka Okongwu, PF/C, USC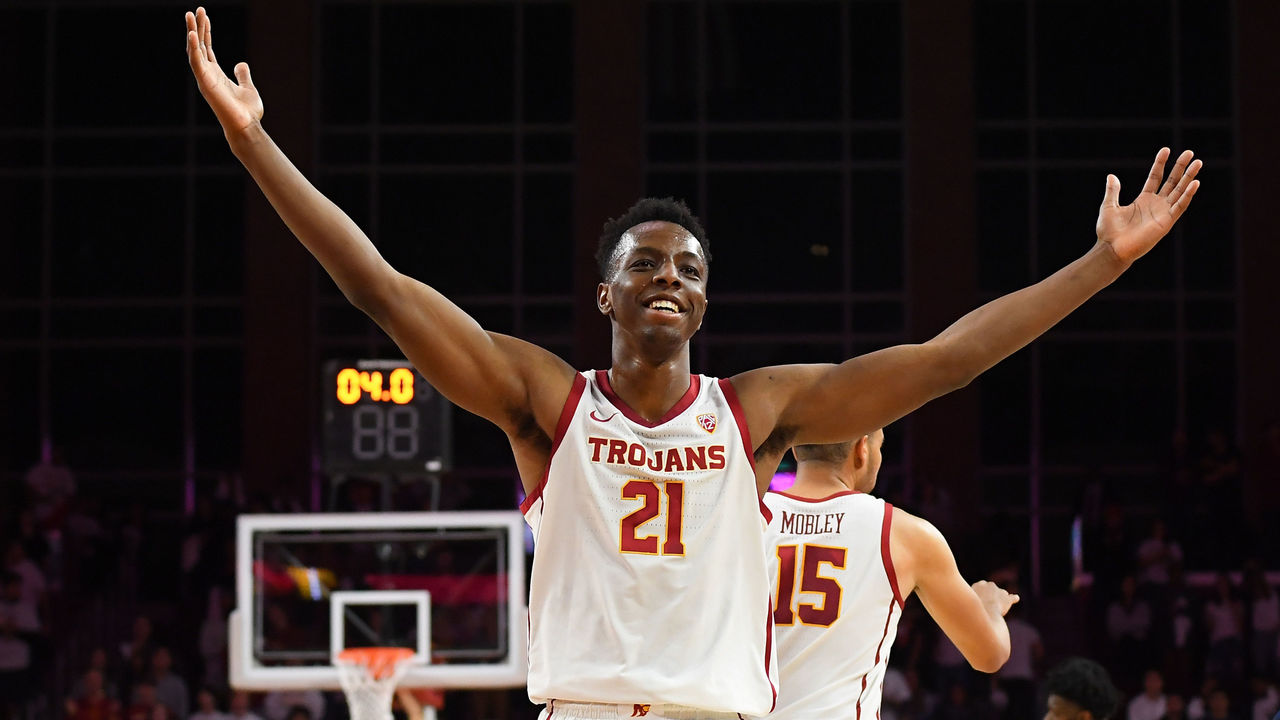 Atlanta's defensive rating has progressively worsened in each of the past three seasons. The Hawks ranked 18th in opponents' field-goal percentage at the rim last season and 28th in defensive rating. Adding Okongwu could be the first step in bringing their defense back to respectability.
The 6-foot-9 big man was a feared rim-protector during his lone year at USC, posting 2.7 blocks per contest and finishing second in the Pac-12 with 76 total swats. Okongwu's 7-foot wingspan is also a weapon on the perimeter, where he disrupts guards with his length and quickness.
Atlanta should have no problems pairing Okongwu alongside John Collins or Clint Capela.
7. Detroit Pistons - Killian Hayes, PG, Ratiopharm Ulm (Germany)
Hayes is a big point guard in the mold of Ball and Tyrese Haliburton. Reported chatter among NBA executives also places him high on some teams' wish lists. The 19-year-old showed veteran poise as a floor general last season in Germany, firing crafty passes all over the court and showcasing a nice step-back jumper.
To say the Pistons need a quality, long-term answer at point guard would be an understatement, and Hayes' talent fits the bill.
8. New York Knicks - Tyrese Haliburton, PG, Iowa State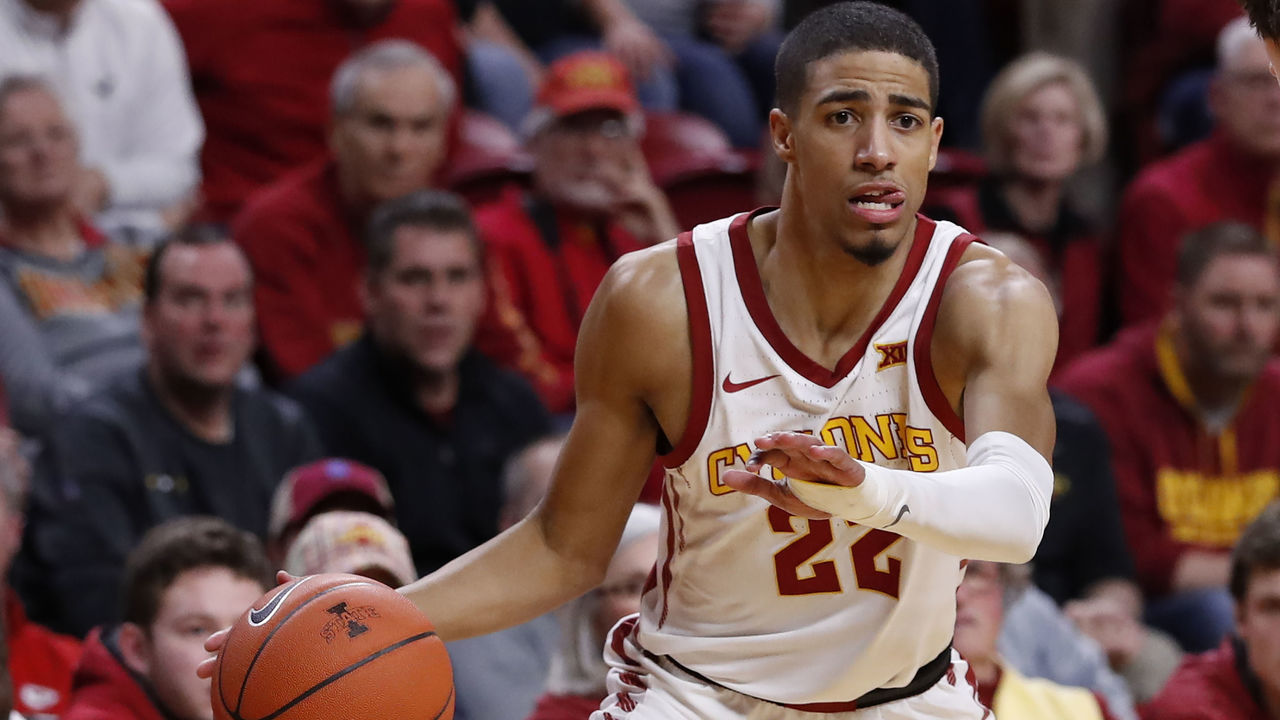 The Knicks aren't good on the court and can't catch a break off of it. They'd probably love Ball, but New York won't land him unless they trade up in the draft. Haliburton, however, may not be a bad consolation prize as a big point guard.
His sophomore season at Iowa State was cut short by a broken wrist, but before getting hurt, he played himself into the lottery conversation by exhibiting deft playmaking ability and athleticism. At 6-foot-5 with a 6-foot-8 wingspan, Haliburton has the versatility to play off the ball and the potential to be a highly disruptive defender.
9. Washington Wizards - Isaac Okoro, G/F, Auburn
Okoro possesses elite-level athleticism, which manifested in his stifling defense and quick first step in his lone year at Auburn. As a slasher, he struggled to score anywhere outside the paint in college, but there's a widely held basketball adage that shooting can be learned. Okoro's physical skills can't be.
The Wizards ranked dead last in defensive rating this season, and opponents had the league's fourth-best 3-point percentage against them. Adding a potential lockdown perimeter defender with offensive upside ticks all the boxes.
10. Phoenix Suns - Devin Vassell, G/F, Florida State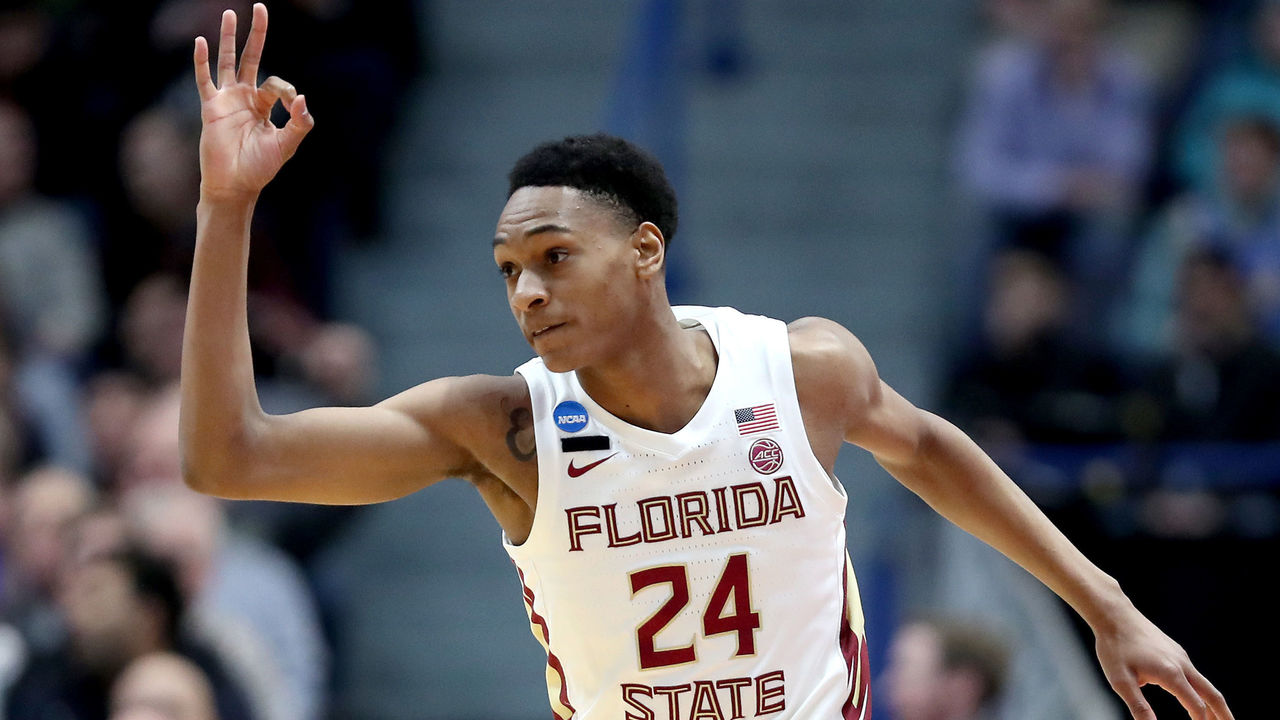 Phoenix might be closer to playoff contention than originally thought after an impressive 8-0 run in the bubble. The Suns need more outside shooting,however, and Vassell is arguably the top 3-and-D option. The 6-foot-7 wing shot 41.7% from deep across two seasons at Florida State and has the versatility to defend multiple positions.
Vassell often contests shots and disrupts passing lanes with his 6-foot-10 wingspan. Phoenix could have quite the defensive tandem if it chooses to pair his length with Mikal Bridges' 7-foot-2 wingspan. A long-term successor for Ricky Rubio is also an option should Hayes or Haliburton fall to No. 10.
11. San Antonio Spurs - Aaron Nesmith, F, Vanderbilt
If you're looking for shooting, look no further than Nesmith. While the Vanderbilt product was limited to just 14 games last season, a 52.2% clip on 8.2 triples per contest is no aberration. Nesmith's 23 points per game was fifth in the nation at the time of his season-ending foot injury.
The 6-foot-6 wing has some troubles creating his own shot, though he thrived off the ball as a shooter coming off screens. San Antonio needs another floor spacer, especially with DeMar DeRozan likely picking up his $27.7-million player option for 2020-21.
The Spurs attempted the highest percentage of mid-range shots last season and finished 28th in 3-point shot frequency.
12. Sacramento Kings - Saddiq Bey, F, Villanova
Bey's two-way play helped Villanova capture its sixth Big East regular-season title in the last seven years. The 6-foot-8 wing recorded a team-high 16.1 points per game last season and knocked down a conference-leading 45.1% of his triples.
Bey's outside shooting, combined with his size and length, should make him a reliable 3-and-D option for many years. The 21-year-old provides additional insurance for restricted free agent Bogdan Bogdanovic and would be a seamless replacement for Kent Bazemore if the Kings don't re-sign the veteran.
13. New Orleans Pelicans - Patrick Williams, SF/PF, Florida State
Williams continues the run of wing players in the second half of the lottery. The reigning ACC Sixth Man of the Year is far from a finished product on both ends of the floor, but his athleticism, 225-pound frame, and 6-foot-11 wingspan are intriguing tools.
Williams showed rim-protecting potential during his lone year at Florida State, placing fifth in the ACC with a 5.6 block percentage. He also shot 83.8% from the charity stripe, which bodes well for his development as an outside shooter.
New Orleans won't put much pressure on Williams to produce offensively, though his defensive skill set will be counted on to aid a Pelicans unit that surrendered 117.1 points per contest last season.
14. Boston Celtics - Precious Achiuwa, PF/C, Memphis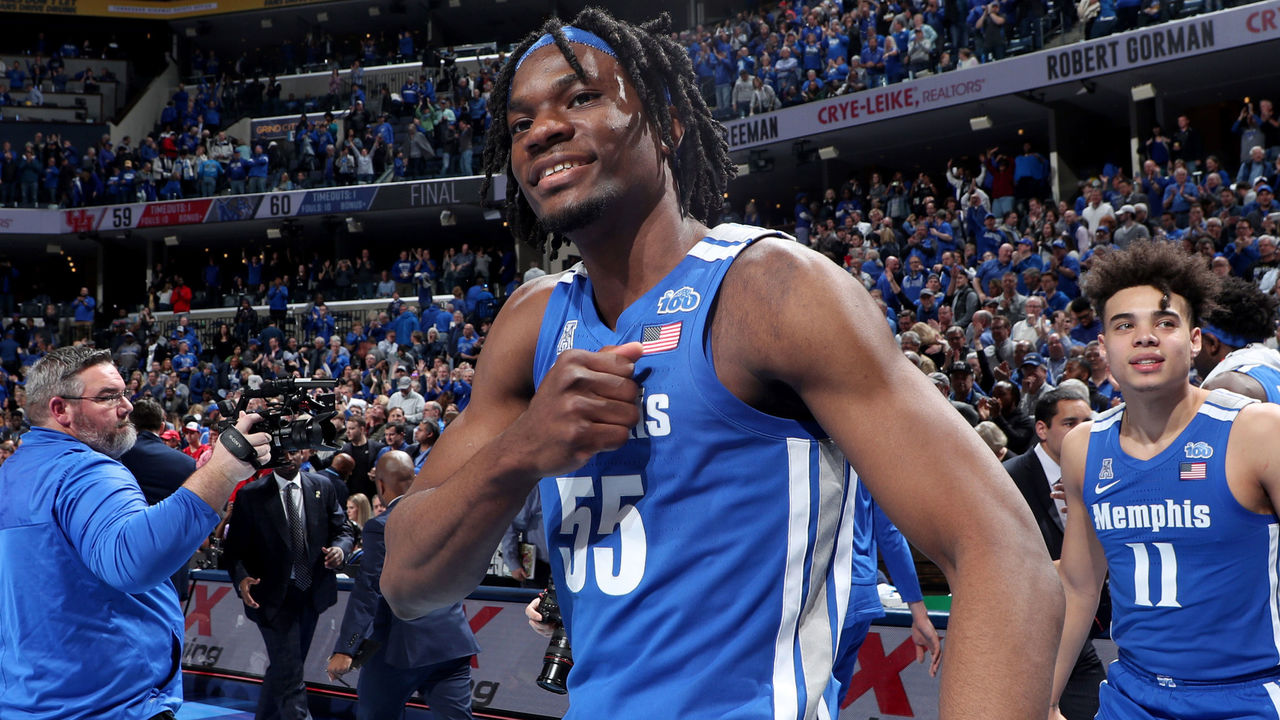 Achiuwa starred for Memphis in the absence of Wiseman, averaging 15.8 points, 10.8 boards, and 1.9 blocks per game en route to earning AAC Player of the Year honors. He was the only freshman to average a double-double last season and anchored the Tigers' stingy defense, which ranked first in opponents' field-goal percentage at the rim and fourth in percentage of blocked shots at the rim, according to Hoop-Math.com.
Achiuwa's 6-foot-9 frame isn't ideal for an NBA center. His 7-foot-2 wingspan makes up for his lack of size. Daniel Theis has done a respectable job manning the middle for the Celtics, but the club lacks interior depth behind him. The Memphis standout would fit in nicely alongside Boston's stable of switchable defenders.