The Portland Trail Blazers survived a surprisingly thrilling seeding finale against Brooklyn to set up a weekend play-in against the Memphis Grizzlies to decide the Western Conference's eighth and final playoff spot. As the eighth-place team, the Blazers only need to win one game, whereas the Grizzlies will need to beat Portland on Saturday and Sunday to make the playoffs.
With full postseason previews coming in a couple days, theScore's NBA feature writers Joseph Casciaro and Joe Wolfond tip things off by breaking down the first-ever playoff play-in:
No. 8 Trail Blazers (35-39) vs. No. 9 Grizzlies (34-39)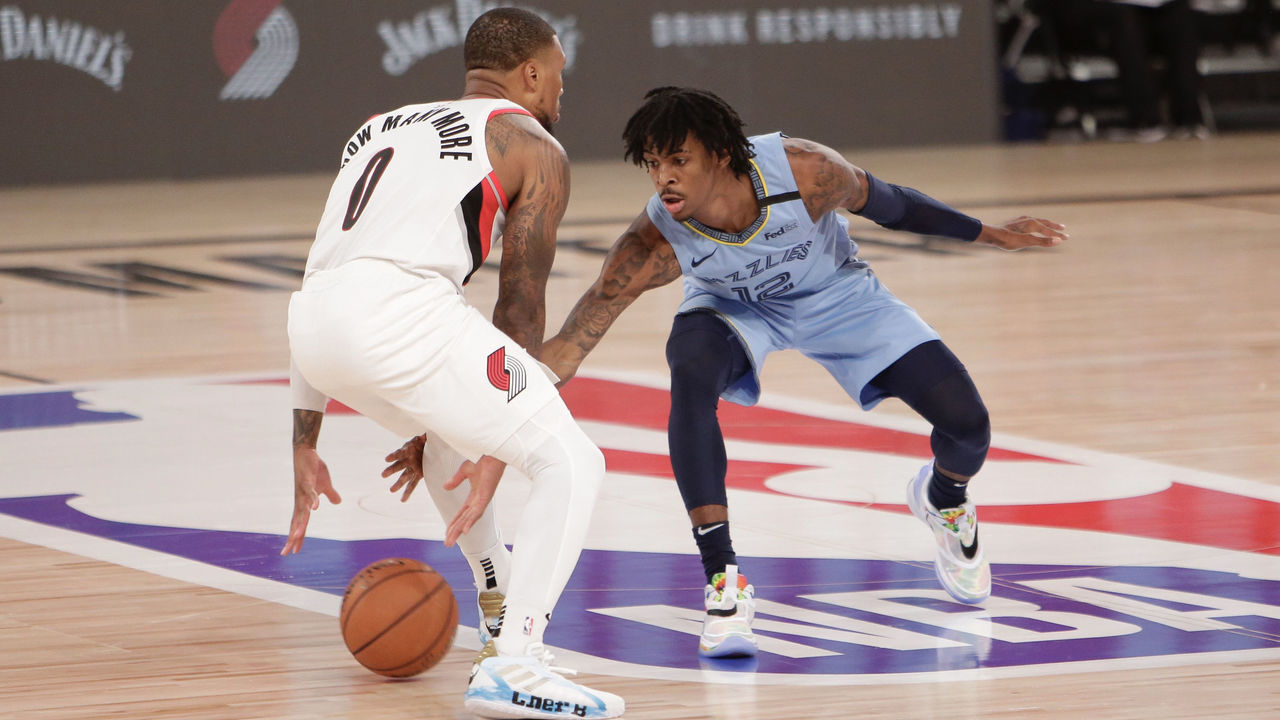 Prediction
Casciaro: Blazers in 2
On the surface, it might seem like Portland should do away with the Grizzlies in short order Saturday. After all, the Blazers are a veteran team, were conference finalists a year ago, finally got their starting center (Jusuf Nurkic) back, and surged to a 6-2 bubble record just to get to this point. The Grizzlies, on the other hand, are a banged-up squad that recently lost one of its young stars (Jaren Jackson) to injury and slumped to a 2-6 mark in the bubble to squander what was a 3.5-game cushion.
Given the excitement that the last two weeks have produced, however, it doesn't feel right to assume this will end with a routine, one-game result.
The two teams split the season series 1-1, with Memphis winning the aggregate by a measly two points and the last meeting just a couple weeks ago producing an overtime classic. Not to mention, the Blazers didn't exactly inspire confidence in going down to the wire against Brooklyn.
I expect the more desperate Grizzlies to force a winner-take-all showdown but wouldn't dare bet against Damian Lillard when it gets to that point.
Wolfond: Blazers in 1
It does seem like the Blazers are running on fumes after pushing so hard to make it here. Their defense has been a train wreck, their non-Lillard 3-point shooting regressed badly in that do-or-die against the Nets, Nurkic's lateral movement is flagging (and he just got eaten alive on the glass by Jarrett Allen), and CJ McCollum is literally playing through a broken back.
And for all that, I still like them to wrap this up in one game.
I just don't think Memphis poses any particularly daunting challenges in this matchup. Yes, Ja Morant can make the Blazers' bigs uncomfortable in space, and no, Portland doesn't have anyone who can match Brandon Clarke's athleticism in the frontcourt, and sure, the Grizzlies should benefit from tightening their rotation after being undone by their bench in several of these games. But the Blazers' biggest weakness is their lack of wing defenders, and the Grizzlies don't really have anyone who can pick at that soft spot, at least not to the point that they'll be able to overcome the offensive fireworks show that Portland's been putting on every night.
The Grizzlies' defensive scheme is particularly concerning: They've almost exclusively played a drop coverage in the pick-and-roll this season, and Lillard has absolutely obliterated drop defenses in the bubble. (To be fair, he's obliterated every kind of coverage. But with the way he's been shooting the ball, I might prefer Brooklyn's strategy of trapping and forcing him to give it up.)
I don't think this will be a cakewalk by any stretch, but ultimately, I trust Lillard and McCollum in a game of this magnitude more than I trust anyone on Memphis.
Bonus prediction: Blazers 121, Grizzlies 109
X-Factor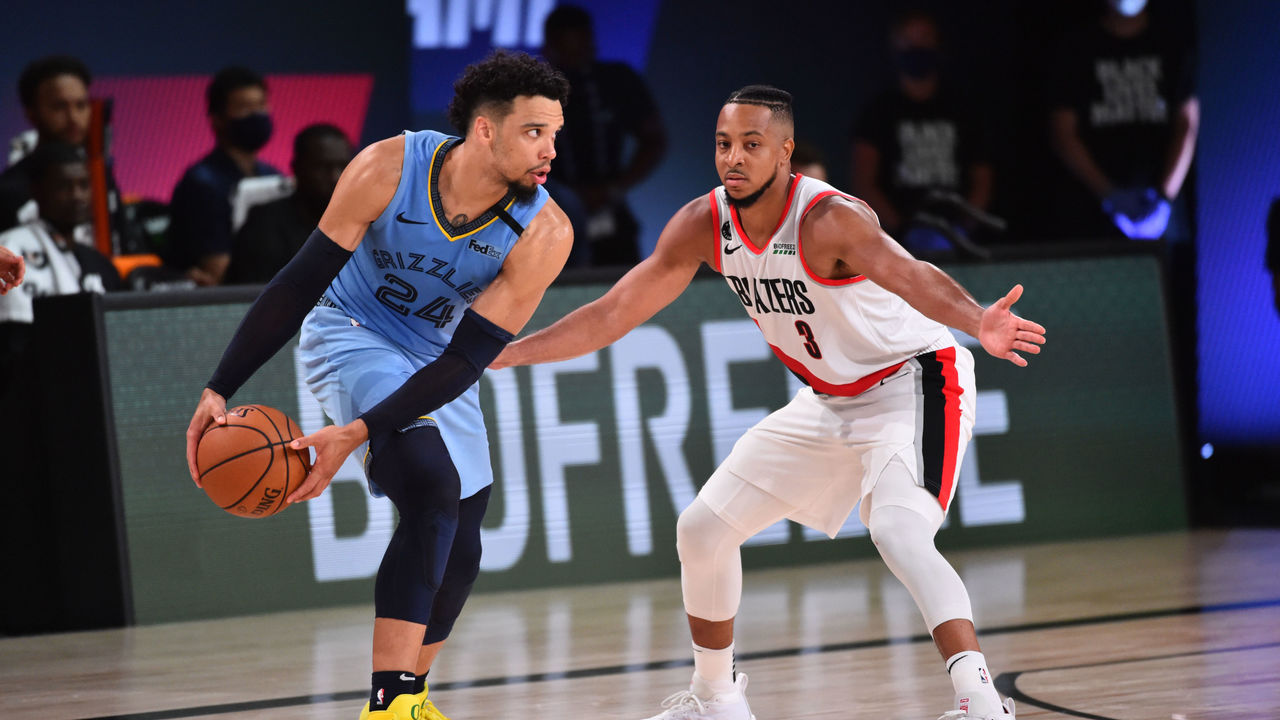 Casciaro: The transition game
Portland's transition defense is a bit of a joke, as Basketball Twitter collectively pointed out Thursday night. The Blazers couldn't even muster a consistent defensive effort in a do-or-die game. That could be a problem against Ja Morant and the Grizzlies, who thrive in the open floor.
Whether you look at the share of the team's possessions that came in transition or the points scored on those transition opportunities, Memphis graded out as a top-five fast-break team this season, while Portland ranked 24th in transition defense.
If the Blazers make a 48-minute commitment to getting back, they can end this thing Saturday and start prepping for the Lakers. If they let Morant and the Grizzlies run wild, it could be a long weekend for Portland ... and not the good kind.
Wolfond: Dillon Brooks
Brooks is the walking definition of a wild card. He might have the most lopsided ratio of hubris to shotmaking ability in the league. The Grizzlies need him to be aggressive hunting his own offense, but that's more an indictment of their secondary shot creation than it is an endorsement of Brooks' gunslinging proclivities. Even given the need he fills, he probably shouldn't be leading the team in field-goal attempts in the bubble.
That seems unlikely to change on Saturday, though. I mentioned the Blazers' lack of wing defense, and Brooks is the guy who will theoretically be in a position to take advantage. With Portland's lone plus-perimeter defender, Gary Trent Jr., likely taking the Morant assignment, Brooks' eyes are going to light up a lot when he sees who's in front of him. But it's impossible to say whether the Grizzlies will get the Brooks who barrels his way to the rim and cans spot-up threes or the one who barfs up contested mid-range jumpers off the dribble with 15 seconds left on the shot clock.
Brooks is also probably going to see a lot of time guarding Lillard at the other end, and it will be imperative for him to fight over screens and maintain some measure of contact to prevent Lillard from walking into open threes as the Grizzlies' bigs drop back. Brooks has the necessary physicality at the point of attack, but he also has to be able to rein in that physicality; to apply rear-view pressure without getting baited into three-shot fouls. That may be asking a lot of one of the league's most foul-prone guards.
One way or another, we seem primed to get the full Dillon Brooks experience, which, for one reason or another, is always mesmerizing to watch.