Top 25 rookie seasons in NBA history: No. 20 Chris Webber
Tim DeFrisco / Getty Images Sport / Getty
The greatest rookie seasons in NBA history share a number of qualities, starting with individual statistical dominance. However, you can't overlook the context beyond the box score; initial expectations, team success, and overall legacy all matter.
While we wait for the 2019-20 season to resume, theScore's NBA editors have dusted off the record books to determine the top 25 rookie seasons in league history.
No. 20 in our series is former Golden State Warriors big man Chris Webber. Catch up on previous posts in the series here.
Before the Association
Webber's time with Michigan is perhaps best remembered for his illegal timeout request late in the 1993 national championship game. However, limiting his college career to that disastrous event would be a disservice.
As part of the team's "Fab Five" 1991 recruiting class, Webber helped take the Wolverines to back-to-back national finals, though they failed to win either. Over two seasons, Webber averaged 17.4 points, 10 rebounds, and 2.5 blocks, and was voted to the 1993 All-American first team. However, many of the Wolverines' games he was involved in were vacated as a result of an infamous scandal involving a school booster.
Draft day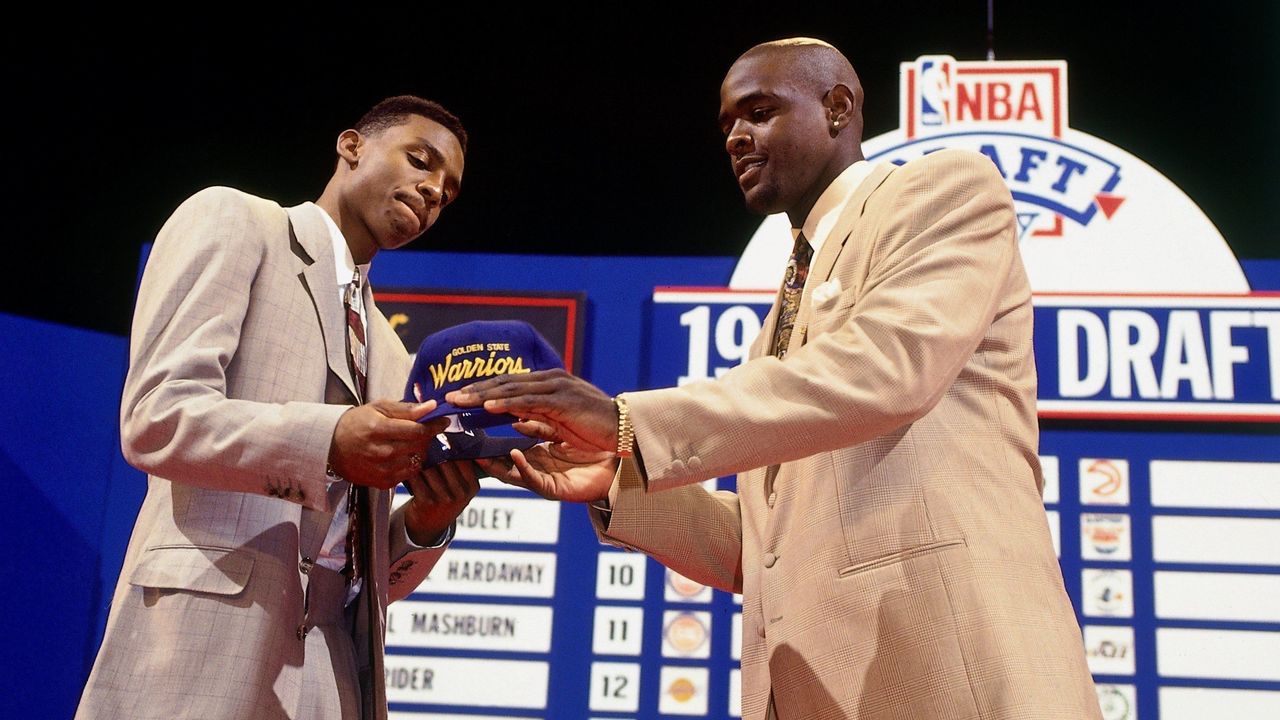 Webber was always widely expected to be taken within the first few selections of the 1993 draft. However, nobody predicted how the rest of his entry into the NBA would take shape.
Against all odds, the Orlando Magic won the lottery despite barely missing out on the playoffs the season prior. They took the Michigan product No. 1, seemingly giving them a scintillating frontcourt with Shaquille O'Neal. Except, minutes later, the Magic shipped Webber to the Golden State Warriors in exchange for No. 3 pick Anfernee "Penny" Hardaway.
How Webber and O'Neal would have fared in Orlando together is still discussed years later, a debate aided by the fact the former was sensational at Golden Sate.
Individual success
Webber had no issue adapting to the NBA. An incredibly mobile big, he could put the ball on the floor with ease and was a stellar distributor. He scored 17.5 points per game in his debut season, which ranked second among rookies. He also averaged 9.1 rebounds, 3.6 assists, and 2.2 blocks while playing just over 32 minutes nightly.
He and Hardaway would, again, be intertwined, this time in Rookie of the Year voting. Webber edged the player he was traded for on draft night, picking up 53 votes to Hardaway's 47. He was also named to the All-Rookie first team.
Team success
The Warriors had a respectable season with Webber on board. The 50-win total was their second-best since the mid-70s. They also made the postseason as the 6-seed after missing out the year before. That matched them against the heavyweight Phoenix Suns, which swept them in the first round.
However, his influence that year was undeniable. Golden State went 22-7 in the regular season when he scored at least 20 points.
Enduring legacy
Following disagreements with head coach Don Nelson about his role, Webber was traded to the Washington Bullets after his rookie season. Though he struggled with injuries, he proved himself to be one of the best power forwards in the league. Four years later, he landed with the Sacramento Kings, where he spent the most memorable stint of his career.
Webber did eventually return to Golden State at the tail end of his career. However, that lasted just nine games, and he promptly retired due to a lingering knee issue.
Today, the biggest question regarding Webber surrounds the Hall of Fame. He's been eligible for induction since 2013 but has continuously come up just short in the voting process.
Come back Saturday to see who came in at No. 19 in theScore's Top 25 Rookie Seasons series.
Comments
✕
Top 25 rookie seasons in NBA history: No. 20 Chris Webber
  Got something to say? Leave a comment below!