Ben Wallace built his entire Hall of Fame case at 1 end of the floor
Jesse D. Garrabrant / NBA / Getty Images
Hall of Fame debates are a staple of sports arguments - whether a player's amassed the credentials to be honored among the very best in their sport is prime fodder for discussion over a beer. We're spotlighting a collection of players who we believe either deserve the distinction but haven't yet been inducted into their sports' Halls of Fame, or don't quite measure up but had a great impact on their franchise or sport.
Despite all the sports adages that celebrate it, defense often gets short shrift where individual legacies are concerned. The fact that Ben Wallace remains on the Basketball Hall of Fame bubble is a perfect case in point. Wallace was the best defensive player in the NBA for the better part of the aughts, but despite having been Hall of Fame eligible since 2016, he's yet to be admitted.
The reason his case is still being litigated is plain: Even at his best, Wallace was an offensive sinkhole. You can sort of understand the voting committee's hesitance to enshrine a player who used just 11% of his teams' possessions and averaged 5.7 points per game over his career, which would make him the lowest per-game NBA scorer ever inducted into Springfield as a player. (Even Dennis Rodman, perhaps the best Hall of Fame precedent for Wallace, eked out an average of 7.3 points.)
Most low-usage bigs at least manage to score efficiently, since their shot attempts are mainly limited to dunks and layups, but Wallace's career true shooting percentage was an anemic 47.4%. He didn't have the post moves or touch to be a consistent finisher, he had zero range, and he was arguably the worst free-throw shooter in league history, hitting 41.4% for his career and never once cracking the 50% mark in a season.
And still, unless or until he gets voted in, Wallace should be considered a Hall of Fame snub because he really was that good at defense. He certainly wouldn't be the first one-way player to gain admission. A cursory rundown of his individual accolades - four-time All-Star, five-time All-NBAer, six-time All-Defensive selection (including five first-team nods), two-time rebounding champ, and four-time Defensive Player of the Year - sure reads like a Hall of Fame resume, especially when you consider that those four DPOYs represent a joint NBA record shared with Hall of Famer Dikembe Mutombo. (Though it's worth noting that Mutombo was a considerably more polished offensive player than Wallace.)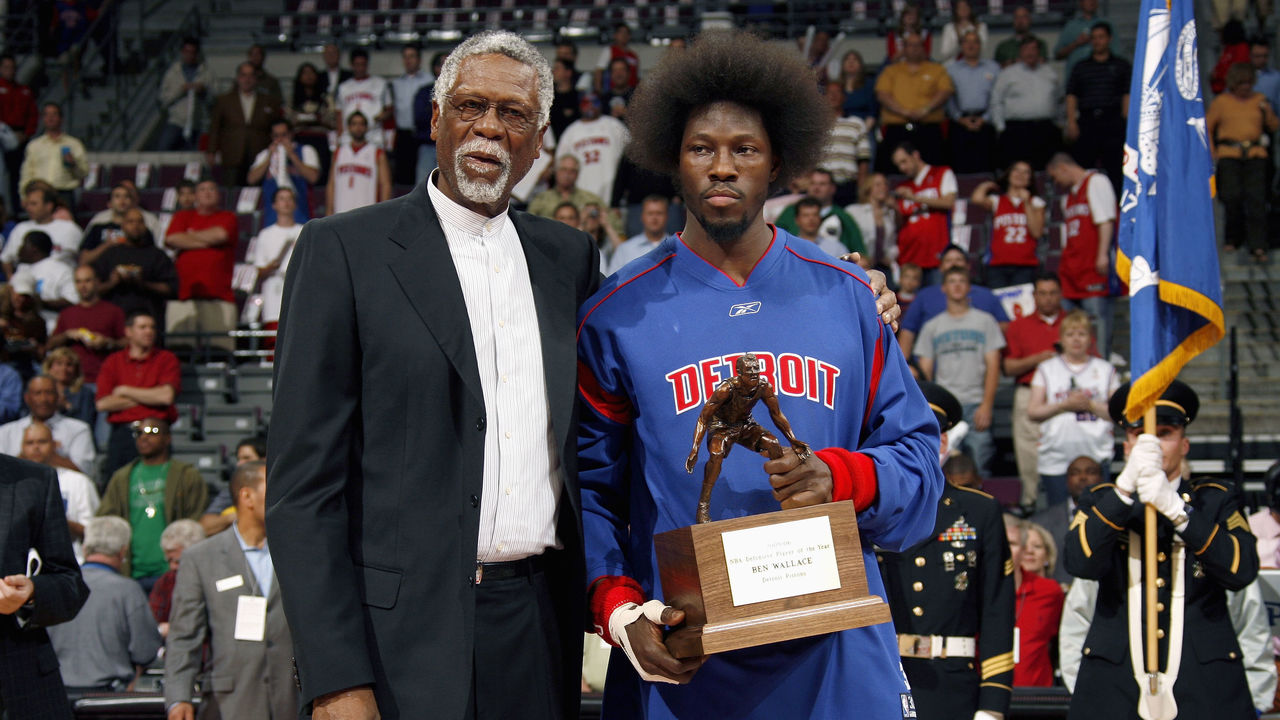 Apart from the lack of offensive counting stats, Wallace's case suffers due to a particular aesthetic bias. Among basketball fans and analysts, there's a tendency to glamorize players' offensive capabilities as "skills" while reducing the things at which Wallace excelled to characteristics like "effort" and "grit." Not that Wallace didn't exemplify those laudable characteristics, but in a just world, he'd be recognized as being every bit as skilled defensively as the game's best pure scorers were offensively. Despite standing somewhere between 6-foot-7 and 6-foot-9 (no one ever seemed to agree on just how undersized he was), he was among the greatest post defenders, rim-protectors, and rebounders of all time.
That owed plenty to his physical tools, no doubt. He possessed a ridiculous combination of strength, quickness, and athleticism. He was a cinder block on wheels, as capable of denying post position as he was hedging pick-and-rolls or switching onto guards. He had remarkable recovery speed and a sort of frictionless kineticism that allowed him to shift his momentum and glide in every which direction, helping in multiple places on the same possession and cutting off driving lanes the moment they appeared.
In some cases, his lack of height - in concert with his upper-body strength - actually worked to his advantage, as his low center of gravity flummoxed taller players who tried to back him down. He may have been the only player who could passably defend prime Shaquille O'Neal in stints of single coverage. Even on the rare occasions when he'd wind up out of position for boxouts, he could come out of nowhere to sky for one-handed rebounds in traffic.
But physicality was only half the equation. Wallace was also an incredible on-his-feet thinker and problem solver. It should've been impossible for him to consistently contest shots at the rim without leaving his feet too early or compromising his rebounding positioning since he couldn't rely on sheer size to act as a deterrent. That he was able to do so was a credit to his intuition; his knowledge of opponents' tendencies; and his knack for understanding angles, positioning, and timing. His anticipation as a weak-side shot-blocker was second to none in his and maybe any era.
Even with his offensive limitations, he managed to make himself useful at that end with heady cuts, lob dunks, and especially putbacks. His Rodman-like ability to track the trajectory of the ball and anticipate how it would carom allowed him to generate a ton of extra possessions on the offensive glass, which made up for a lot.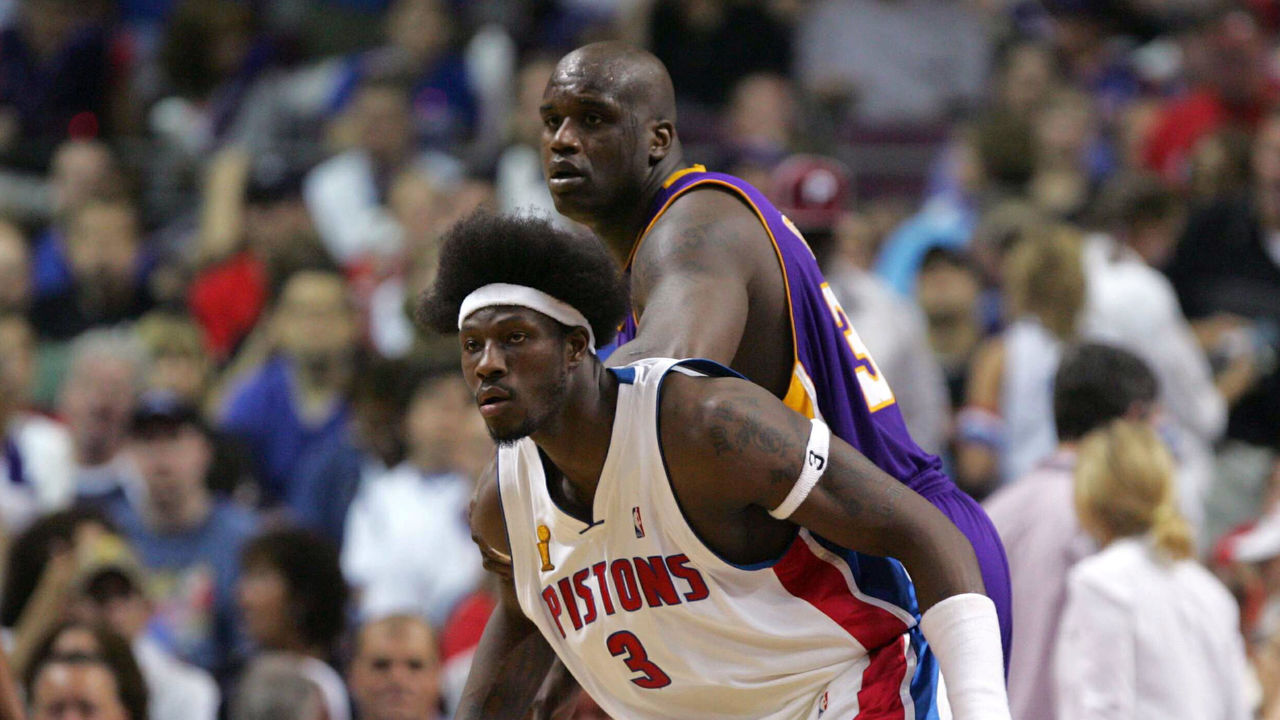 It took Wallace a few years to find his niche and his NBA home, but when he did so in Detroit, he blossomed. Though he didn't enjoy the longevity of the all-time greats, his peak with the Pistons in the early- to mid-aughts was undoubtedly Hall-worthy. He won his four Defensive Player of the Year awards in the span of five seasons - from 2001-02 to 2005-06 - during which he averaged 12.8 rebounds, 2.8 blocks and 1.6 steals while accruing four more defensive win shares than any other player.
Over that same span, the Pistons won no fewer than 50 games and finished no lower than fifth in defensive rating in any season; they made four conference finals and two Finals appearances, and they memorably won the 2004 title after beating the 61-win Pacers and then demolishing a heavily favored Lakers squad carrying four Hall of Famers (two of whom were in their primes).
The Hall of Fame is often viewed as a storytelling vehicle for the history of the game. You can't tell the story of the NBA in the 2000s without telling the story of those Pistons teams, and Big Ben was as central a figure in that story as anyone. He was the linchpin of the most iconic and celebrated defense of the decade.
It's hard to know exactly how to distribute credit for the Pistons' success given how balanced they were (Chauncey Billups has an equally strong Hall of Fame case, while Rasheed Wallace and Rip Hamilton both firmly reside in the Hall of Very Good), but the team's bread was buttered at the less glamorous end of the floor, and there should be no dispute as to who their most important player at that end was.
Wallace, who went unselected out of Virginia Union in the 1996 NBA Draft, would be the first undrafted player ever inducted into Springfield. Here's hoping the voters eventually come to their senses and make it so.