The NBA's board of governors reportedly approved a return-to-play proposal Thursday that would have the league up and running in a "campus environment" at Disney World by the end of July.
With several of the plan's details leaking Wednesday, here are five takeaways and unanswered questions about what the resumption of the season could look like:
The regular-season runway and the playoff race
The proposal calls for the league to return with 22 teams, with each playing eight regular-season games before the start of the playoffs. That group will be made up of the 16 teams currently occupying playoff positions, and six more teams - the Pelicans, Trail Blazers, Kings, Spurs, Suns, and Wizards - that are within six games of a playoff spot in their respective conferences.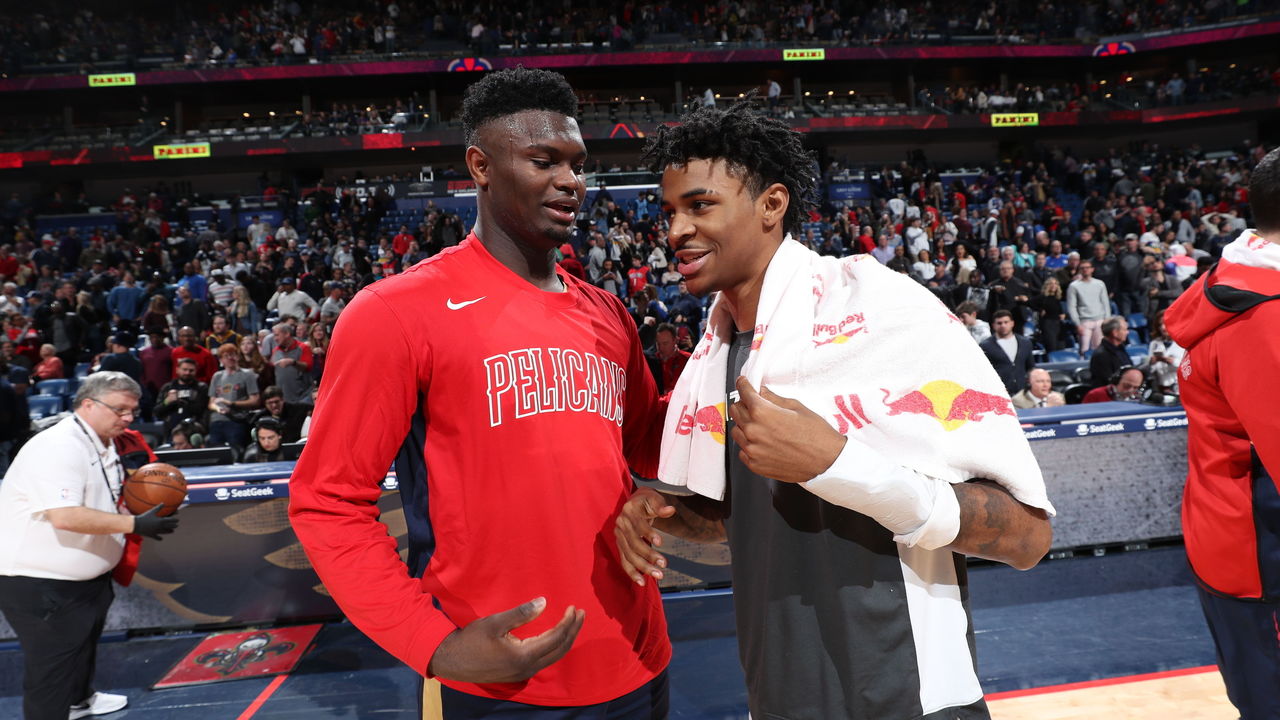 According to leaked details, if the No. 9 seed in either conference ends the season within four games of the 8-seed, those two teams will play a one- or two-game playoff in which the 9-seed can advance to the postseason by beating the 8-seed twice in a row, while the 8-seed can maintain its playoff spot by beating the 9-seed once. Here's how those races look right now:
East
| Team | Record | GB |
| --- | --- | --- |
| 7. Nets | 30-34 | -- |
| 8. Magic | 30-35 | -- |
| 9. Wizards | 24-40 | 5.5 |
West
| Team | Record | GB |
| --- | --- | --- |
| 8. Grizzlies | 32-33 | -- |
| 9. Trail Blazers | 29-37 | 3.5 |
| 10. Pelicans | 28-36 | 3.5 |
| 11. Kings | 28-36 | 3.5 |
| 12. Spurs | 27-36 | 4 |
| 13. Suns | 26-39 | 6 |
After a three-month hiatus, eight regular-season contests will give players a chance to get back up to game speed and into some semblance of rhythm before the playoffs. They'll also allow the league to recoup a chunk of TV revenue by fulfilling contractual obligations to local and national broadcast partners.
Sorting out the schedule will be complicated (more on that below), and won't offer an equitable solution for all teams involved. Some might see this format as a bald-faced attempt to get Zion Williamson into the postseason - ESPN's Brian Windhorst has long speculated that the Zion factor has played a big part in the league's desire to bring more than the 16 current playoff teams into the bubble - but Williamson's Pelicans are the team penalized most by the eight-game schedule, since they had the most remaining games against the league's bottom-eight teams. There doesn't appear to be a way to account for teams' pre-existing remaining strength of schedule.
That means the other non-playoff teams may be just as likely as New Orleans to benefit from the door to the 8-seed opening up. The Blazers, who haven't been healthy all year, could very well make a run at it with Jusuf Nurkic back in the mix. The Spurs' wounded frontcourt should be back intact and give them a chance to keep their 22-year playoff streak alive. The Kings will have a puncher's chance to end their 14-year drought. Heck, even Bradley Beal and the Wizards only need to gain a game-and-a-half on the Magic or two games on the shorthanded Nets to give themselves a crack at a play-in scenario.
As for teams already locked into the playoff picture, seeding and matchups will still be up for grabs, and playing against teams with something real on the line should help prepare them for the intensity of the postseason. As opposed to the usual end-of-season dreck, almost every game will feature two quality teams playing all-out with something at stake.
Unanswered questions: How will tiebreaking scenarios be sorted out? What if, say, two or three teams wind up tied for the eighth or ninth seed? Will the league's typical tiebreaking order of operations - head-to-head record, followed by intra-division record, followed by intra-conference record - remain in place? And if so, should the eight in-bubble games count towards those conference and division records, given that the schedules are going to be imbalanced?
The other issue is that some teams are going to wind up with more games played than others. (The Spurs, for instance, will finish having played 71 games, while the Blazers will have played 74.) The question then is: will the order of the standings be determined by winning percentage or win-loss differential? Because we may wind up in a situation in which one team is a half-game back in the standings despite having a better winning percentage than the team it's ostensibly trailing.
"Home-court" advantage
In an average season, teams scratch and claw for 82 games to earn the advantages that come with better records and higher postseason seeds. One of those advantages is the benefit of home court to open a series and in a potential winner-take-all scenario. What might Game 7 have looked like last year in Philadelphia instead of in Toronto, when the eventual champion Raptors prevailed on a last-second jumper by Kawhi Leonard?
By virtue of a fan-less, single-site setting, there will be no such thing as home-court advantage in this year's playoffs, so what does that mean for some of the league's contenders?
The 76ers, while more of a quasi-contender than the true championship hopeful they were originally pegged to be, are perhaps the most fascinating case study in this regard. Philly went 29-2 at home but 10-24 on the road - an almost unfathomable split.
Does the fact no matchup will include the usual comforts of home-court advantage mean the Sixers will look like the futile team that took the court on the road 34 times? Or does the lack of usual away-from-home disadvantages mean the currently sixth-seeded Sixers' true talent will win out against higher-seeded teams? Remember, too, that Ben Simmons is expected back in the lineup when the season resumes.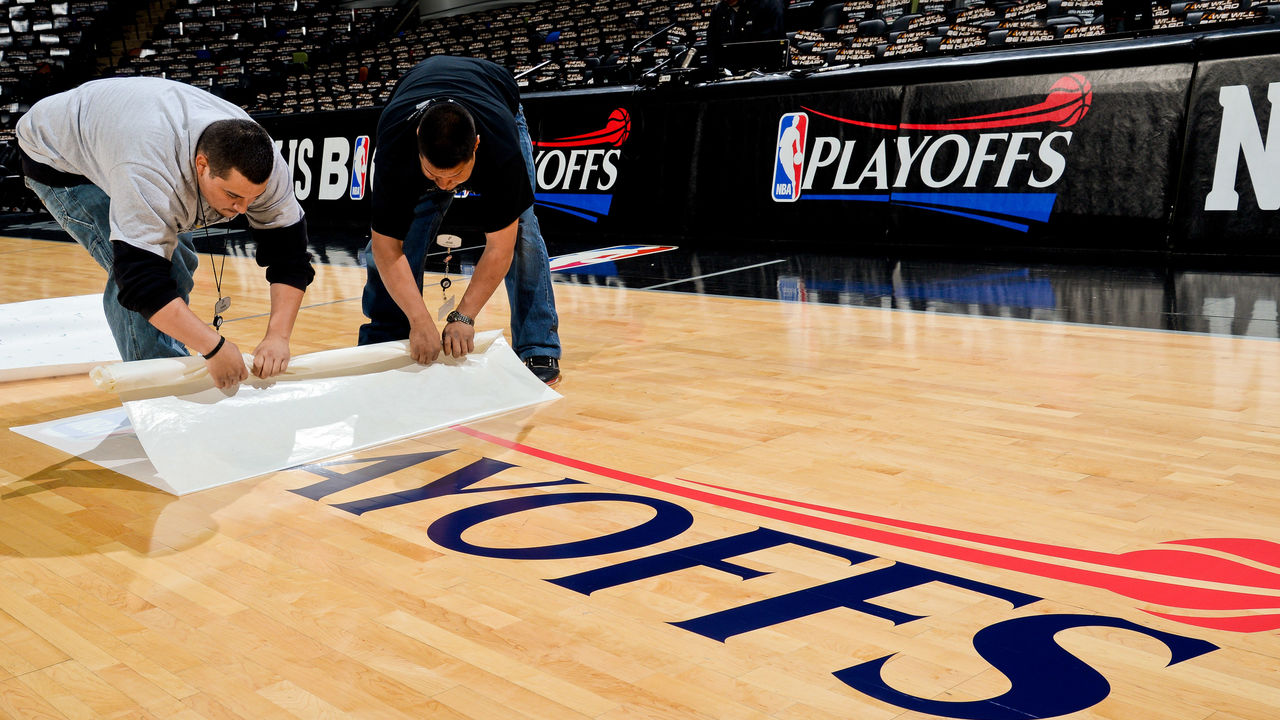 Unanswered questions: How quirky and downright freaky will the league get in trying to give higher seeds some semblance of an advantage? According to an ESPN report this week, some potential scenarios discussed by higher-seeded teams include first possession in the second through fourth quarters, getting an extra personal foul to play with, an extra coach's challenge, first choice on hotels, and even the ability to transport their literal home court - the hardwood itself - to Orlando.
The schedule
The 22 teams will play eight regular-season games each, but that statement undermines just how complicated the entire process could get.
According to Yahoo Sports' Vincent Goodwill, teams will pick up with their 2019-20 schedules as originally planned, and simply skip over the eight eliminated teams not invited to Orlando until each of the 22 teams in the bubble reach the eight-game threshold. However, as Goodwill notes, the league will need to create and utilize an algorithm to figure out how to deal with the various bumps this format will throw its way.
Using the Raptors as an example, skipping games against the Pistons, Warriors, and Knicks, Toronto's eight-game schedule would include matchups against Philadelphia, Boston, Denver, the Lakers, Memphis twice, and Milwaukee twice. However, the Grizzlies' next eight games don't include those two matchups with Toronto, and Milwaukee's eighth game would be the first of two scheduled matchups against the Raptors. So looking at only Toronto's schedule alone, there are already three games that don't add up.
As ESPN's Kevin Pelton deduced, the league can make the eight-game schedule work by adding three previously unscheduled contests: Blazers-Lakers, and games in which those two teams each play against one of the Heat or Magic.
In terms of scheduling the games, it sounds like two different arenas at Disney's Wide World of Sports Complex could have games going all day, tipping off as early as noon ET and as late as 10:30 p.m., for the remaining 88 regular-season games.
Given how starved for excitement and meaningful basketball NBA fans probably are right now, a March Madness-like return with wall-to-wall action every day could make for electric television.
As for the postseason, the television schedule shouldn't change much compared to previous years: two-to-four games per day to start the playoffs, before dwindling down to one or two a day as the number of contenders shrinks.
In terms of the league calendar and offseason schedule, the league confirmed that the tentative plan is to restart the season on July 31, have The Finals end no later than Oct. 12, hold the draft lottery on Aug. 25, and hold the 2020 draft on Oct. 15.
In addition, multiple reports indicate that free agency would then commence on Oct. 18, with 2020-21 training camps opening Nov. 10, and next season tipping off Dec. 1.
Unanswered questions: How does this restructured league calendar affect things going forward? If next season begins in early December instead of the usual mid-to-late October start, then a full season would theoretically go into late July 2021.
Will that mark the beginning of a new normal and a new league calendar for the NBA, in which less of the regular season competes with the NFL, and the playoffs take place from May-July rather than April-June? Or will the league then ensure that the 2021-22 season - the NBA's 75th anniversary campaign, for which the league has big plans - gets back to the October-June format we've become accustomed to?
It's also worth asking how a four-week offseason is going to affect this year's free-agent class and player movement in general. While it's a lot easier to navigate such a truncated offseason this year - when a quiet period was expected given the (lack of) quality of the free-agent class and limited teams with cap flexibility - it's still a very tough ask for a league with so many moving parts from year to year.
Safety protocol
The NBA will obviously need a clearly established set of parameters to ensure (as best they can) the safety of players, coaches, referees, camerapersons, media members, and all other essential personnel that will be housed in the so-called campus site in Orlando in the midst of the COVID-19 pandemic.
The first and perhaps biggest hurdle was always going to be testing capacity, and after weighing the optics of hoarding the estimated 15,000 coronavirus tests required to make it work, the league is prepared to go ahead with a plan that will involve conducting uniform, daily testing for personnel within the Disney bubble, sources told ESPN's Adrian Wojnarowski.
The NBA's safety guidelines since allowing teams to reopen their practice facilities already include temperature checks for anyone entering a facility and constant disinfection of all equipment. Charania reports that additional safety precautions in Orlando will include players being forbidden from showering in the arena, players on the bench having to sit in "spread-out rows," and no guests or family members being permitted to enter the site until the start of the playoffs.
Outside of the games, one expects that the players will be ultra-vigilant in adhering to social distancing guidelines, if for no other reason than the fact that completing the season - and receiving a significant portion of their salaries not just this year but next year - depends on it. But all the vigilance in the world doesn't change the fact that basketball is a contact sport, played indoors in close quarters. Sitting in spread-out rows on the bench seems like a pretty flimsy Band-Aid given that players are going to be jostling in the post and sweating and breathing all over each other when they're in the game.
It seems less a matter of if than when people get sick. And when that happens, it's not only the players who'll be at risk, but the 60-plus-year-old coaches and refs, along with all the medical, hotel, transport, and food-service staff who'll be catering to the NBA at Disney.
In short, there is still a lot that needs to go right, and many questions that need to be answered, in order for this return-to-play plan to not only begin but be seen through to its conclusion.
Unanswered questions: Just how much protection can the league realistically provide to the people who'll be participating in the remainder of the season?
We know that if one player or coach tests positive, the league won't consider that cause to suspend play, but will instead quarantine that person, continue to test everybody else, and carry on. But what if two tests come back positive? What about three? Five? Ten? How many will constitute an outbreak? How many will have to become infected for Adam Silver to actually consider shutting things down? Surely he has some kind of threshold in mind, some point at which it becomes untenable to continue playing.
When a test does come back positive, will regular operations at least be put on pause until the league can test everybody in the bubble and make sure there's just the one case? How quickly can they administer and analyze the tests of hundreds of people? And how much liability is the NBA assuming for the potential fallout of an outbreak among its own employees and beyond?
No asterisk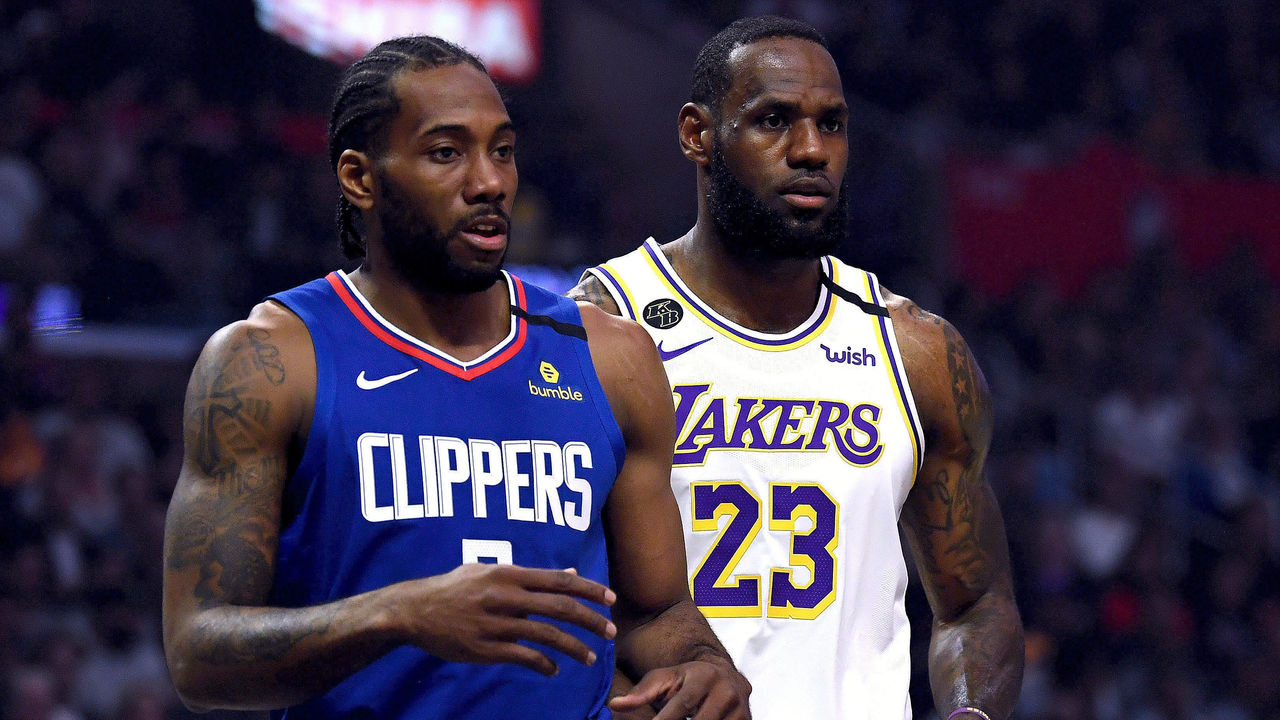 Much of the talk and debate around the NBA's potential return has been focused on how much - or how little - respect will be given to a 2020 champion. Will any team that emerges from this pack of 22 forever have their triumph marred by an invisible asterisk?
It shouldn't.
Unless the ninth-place team in one of the conferences wins the play-in and rides that momentum to the most unlikely postseason journey in league history to claim the Larry O'Brien Trophy - which is never going to happen - there will be nothing to take away from this year's champs.
By the time the regular season is over, every team involved in the restart will have played at least 71 games; five more than were played in the lockout-shortened 2011-12 season that ended in a Miami victory and LeBron James' first championship. The eventual champion will still have to win four best-of-seven playoff series, and you can make the argument doing so in a neutral-site setting is actually more impressive, and more conducive to producing the most worthy victor.
The NBA's 2020 champion will be the most unique in history, and will not be a champion of any lesser value.
Unanswered questions: The elephant in the room that could render the aforementioned argument moot: what happens if a star player's sidelined by a positive test? As outlined above, players who test positive will be temporarily removed from the bubble and treated while the league continues without pause.
Injuries can derail and define postseasons in any given year, but something about a superstar being sidelined due to a virus that resulted in a global pandemic that shut the league down in the first place simply wouldn't sit right in the history books, if that's what ultimately decided a championship series (or any series for that matter).
An asterisk could also come into play if the league gets too quirky with respect to some of those manufactured home-court advantages discussed earlier. No one wants to see a Game 7 decided by a player with six fouls who was allowed to stay on the court thanks to a rule created strictly for this unique postseason. Luckily, it's doubtful any rule change that drastic will actually be approved.