In an ideal world, the NBA would be playing the conference finals right now.
We don't know how the standings might have changed if the regular season had continued. We don't know if we'll ever get to see a conclusion to the 2019-20 campaign. But in the spirit of what would've been the final four, we're breaking down the matchups as determined by our hypothetical first-round and second-round predictions.
No. 1 Bucks vs. No. 2 Raptors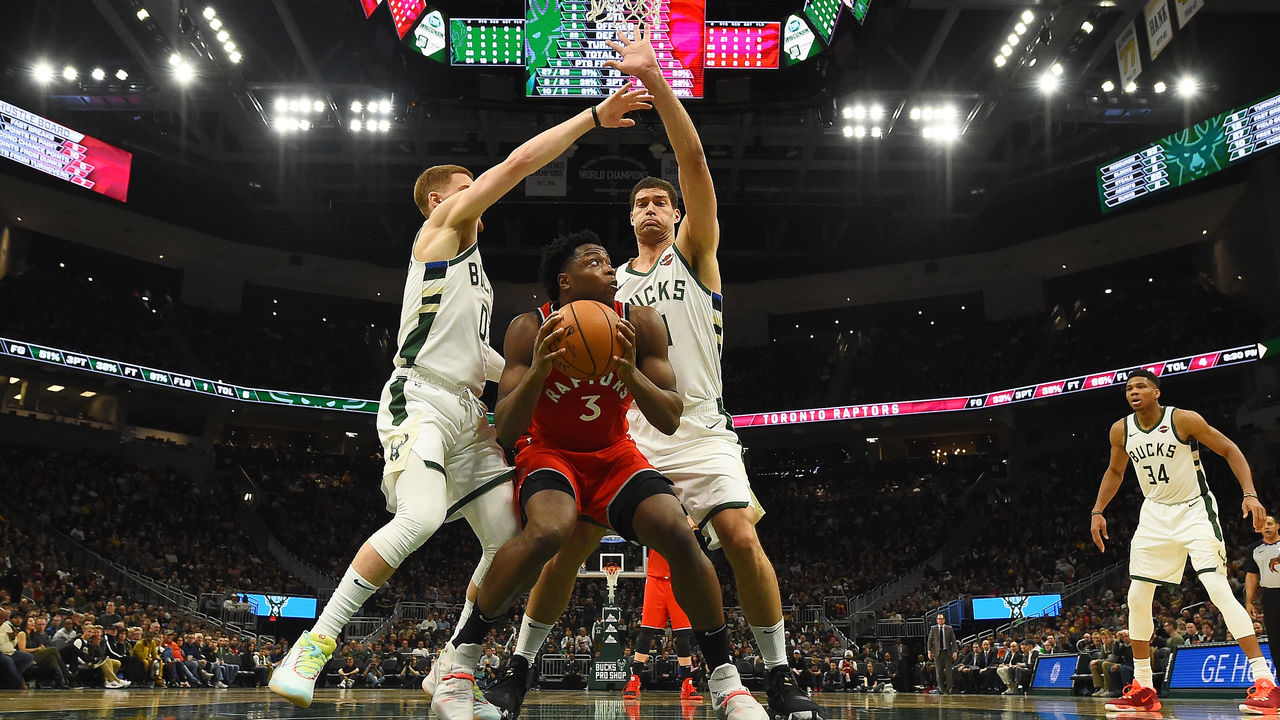 Joe Wolfond: We know the Raptors knocked off the Bucks in six games a year ago. Let's talk about what's changed for these two teams since then, and what hasn't.
A lot of the focus regarding what Toronto lost in the offseason, as it pertains to this matchup, centers around Kawhi Leonard's defense on Giannis Antetokounmpo. The popular conception is that Nick Nurse's decision to use Leonard as Antetokounmpo's primary defender is what flipped the series after Milwaukee won Games 1 and 2. There's some truth to that, but it's overstated. I think this year's Raptors are about as well-equipped to defend the Bucks as they were last year. In terms of man-to-man coverage, the gap between Leonard and OG Anunoby (who missed last year's postseason after undergoing an emergency appendectomy) is negligible, and the other pillars of the Raptors' ferocious defense that gave Giannis and Co. so much trouble are still in place.
Antetokounmpo would still have to try and bust through an outer wall consisting of some combination of Anunoby, Pascal Siakam, Kyle Lowry, and Fred VanVleet (don't let the size of the latter two fool you, they're among the league's best guards at digging down and helping on drives), only to meet a wave of backline resistance anchored by Marc Gasol and/or Serge Ibaka. The Bucks as a whole would still have to deal with the funky zones and unpredictable blitzes Nurse's squad would throw at them to junk up their rhythm and steer them away from their bread-and-butter, drive-kick-swing offense.
The real loss for the Raptors, the thing they weren't remotely able to replace even with significant internal development for several core pieces, was what Leonard gave them at the offensive end. Against the Bucks, specifically, they'd miss his pull-up shooting and ability to get to the line. Without that, Toronto wouldn't be able to bust Milwaukee's drop defense or put any meaningful pressure on the rim. The Raptors averaged 39.2 points per game in the restricted area this season. Against the Bucks, they averaged 22. With one of Giannis or Brook Lopez in the vicinity, they shot 39% at the basket. The Raptors can rain threes with the best of them, but they wouldn't have a reliable way to generate offense when the Bucks run them off the arc.
Siakam took a massive leap as shooter and self-creator this season, but he still has a mid-range blind spot. Ditto for VanVleet, who was one of the least efficient in-between scorers in the league this season. Lowry isn't quite the pull-up assassin he used to be. Not for nothing, Leonard was also Toronto's best rebounder in the playoffs last year, and that's another area in which Milwaukee has a considerable advantage.
The Bucks suffered their own offseason loss when they let Malcolm Brogdon go, but that was mitigated by Khris Middleton's vastly improved shooting, the addition of Wesley Matthews' wing defense, and a huge second-year leap from Donte DiVincenzo. Antetokounmpo made himself a more difficult cover by improving his 3-point stroke, refining his passing, and adding some in-between wrinkles like a bankable turnaround jumper. It would be hard for Eric Bledsoe to be much worse than he was in last year's conference finals.
The Raptors outscored the Bucks by only six points in that series. Even if they managed to defend Milwaukee as well as they did last spring, they'd still almost certainly lose a best-of-seven this time around because they'd have a significantly harder time scoring.
You can make the intangibles argument in either direction. You can give the Raptors the edge for their championship pedigree and psychological advantage after last season's triumph, or you can tilt it toward the Bucks for their hunger and singular focus after spending a year stewing on their squandered 2-0 lead. I'm calling that category a wash and picking the better team to win a hard-fought series.
Prediction: Bucks in 6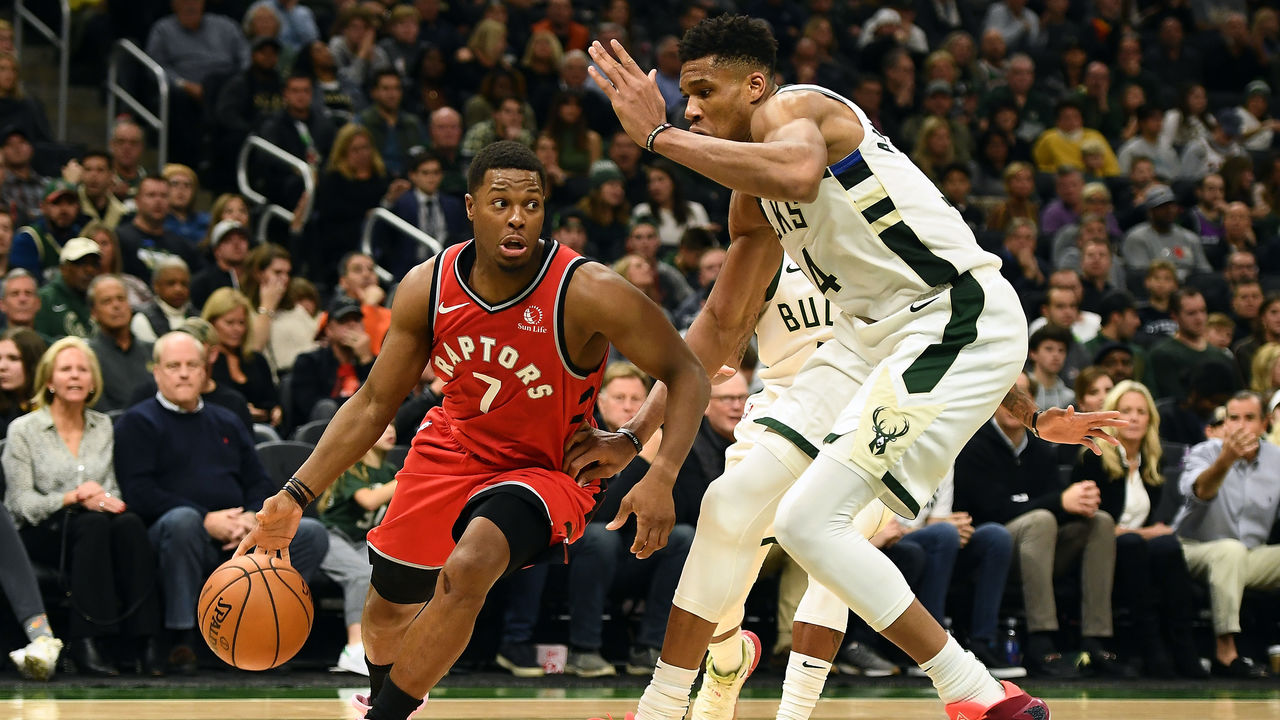 Joseph Casciaro: As you mentioned, despite the loss of Leonard, the Raptors remain as well-equipped as any team to stop the top-seeded Bucks' sixth-ranked offense.
Between the presence of Gasol and Anunoby - about as close to Leonard as an individual defender can get - and the rest of Toronto's defensive problem-solvers in Nurse's malleable system, the Raptors would cause Milwaukee major problems.
While Antetokounmpo has vastly improved both as a pure playmaker and in the more variable ways he now distributes the ball, his shot-making would remain a serious question mark come springtime, especially against defenses that can do what Toronto's can. Remember, his improved jumper still leaves him as a sub-31% 3-point shooter, and he converted just 34.4% of his attempts that came within 3-10 feet of the rim.
The Bucks become a shell of themselves against teams that limit Antetokounmo's ability to get to the rim, and the Raptors can do just that, especially in a more physical postseason setting. Brogdon was also Milwaukee's next-best player at getting to the rim and penetrating opposing defenses.
It's true that the loss of Leonard leaves Toronto lacking the type of off-the-dribble threats needed to bust Milwaukee's defense, but I'm not sure the Bucks are any better equipped with such threats to break the Raptors' D.
To beat Milwaukee, teams must be able to protect both the rim and the perimeter. The Raptors are uniquely qualified to do so, ranking second in defended field-goal percentage at the rim and first in opponent 3-point percentage. Teams also have to punish Milwaukee's propensity to give up threes on the other end, where Toronto is the league's sixth-best shooting team.
The Raptors' defense, like Milwaukee's, concedes a ton of 3-point attempts, so if both defenses cancel out each other's attacks, the series may come down to which offense makes the most of its long-range opportunities. It's quite possible one team just gets unsustainably hot in a short series, but for what it's worth, eight of the Raptors' top 10 rotation players shot better than 35 percent from deep this season. Only four of Milwaukee's did.
And finally, in a series where the margins could be razor thin, a coaching advantage this sizeable could loom large. That might sound unfair to Mike Budenholzer, who was on his way to coaching a 60-plus win team for the third time in his career, but the fact of the matter is Coach Bud is going to stick to his guns in a playoff series, while Nurse will continue to evolve. Bud's approach works in settings where his team is simply too good to be threatened or bothered by their opponents' tinkering. The Raptors are not one of those opponents.
Prediction: Raptors in 7