We broke down the first five things we learned in Part I of our series. Below is the second installment, on additional lessons we've learned through an abbreviated season:
Kyrie remains an enigma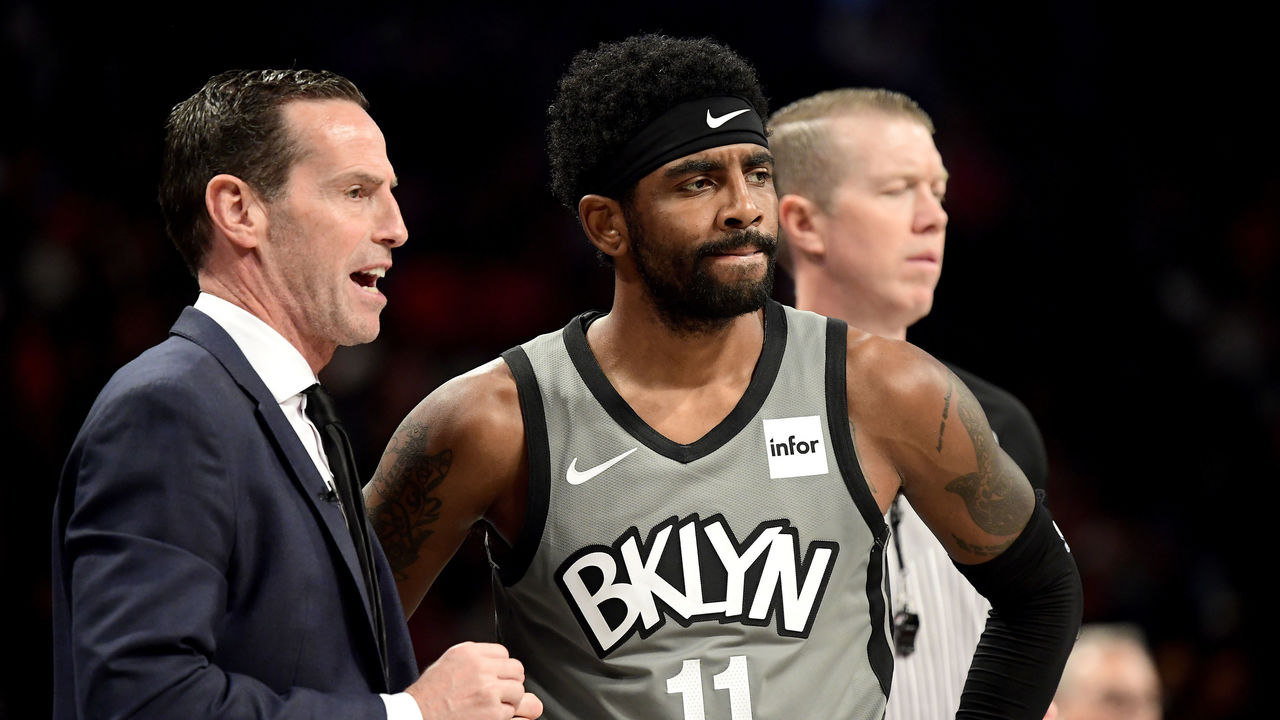 If you hoped an escape from the Boston Celtics to the Brooklyn Nets - a team of his choosing, for the first time - would provide some sort of clarity on how to evaluate Kyrie Irving's impact, think again.
The star point guard remains as confounding as ever.
When he actually took the court, Irving was individually sublime, averaging 27.4 points, 6.4 assists, and 5.2 rebounds on 48-39-92 shooting in less than 33 minutes per game. He dazzled with the tightest handle in the game, and provided some of the season's most memorable moments, leaving broadcasters cackling.
He topped 50 points twice (including a 54-point performance) and 45 on three occasions despite suiting up for only 20 games.
Alas, he suited up for only 20 games, as shoulder and knee injuries plagued him all year before he was finally ruled out for the remainder of the season to have his right shoulder surgically repaired last month.
Irving has now missed one-quarter of his teams' games over the course of his nine-year career and averaged just 54 contests per season over the last five campaigns. He's also missed 26 of 87 playoff affairs.
As his team's premier player, he's been to the playoffs just once. This season, the Nets were only 0.1 points per 100 possessions better with Irving on the court as opposed to on the bench, and Brooklyn posted a better record - 22-22 - when Irving was inactive compared to the 20 games he played (8-12).
Off the court, the famed flat-earther's "mood swings" were reportedly a concern for the Nets during his first month with the team. At one point in January, he had to clarify comments he made about Brooklyn's roster that appeared to target some of the team's younger players. When the Nets and head coach Kenny Atkinson parted ways, most assumed Irving and fellow newcomer Kevin Durant had something to do with it.
Yet just last month, Irving's peers elected him to be the players' association's new vice president, and the last time the six-time All-Star was in the news, it was for donating $323,000 to hunger-relief organization Feeding America on his 28th birthday.
Depending on where you stand, Irving could be a basketball genius or a basketball fraud - an off-court headache or simply a misunderstood humanitarian. This season did little to dispel any of those possibilities. - Joseph Casciaro
Interior defense > 3-point defense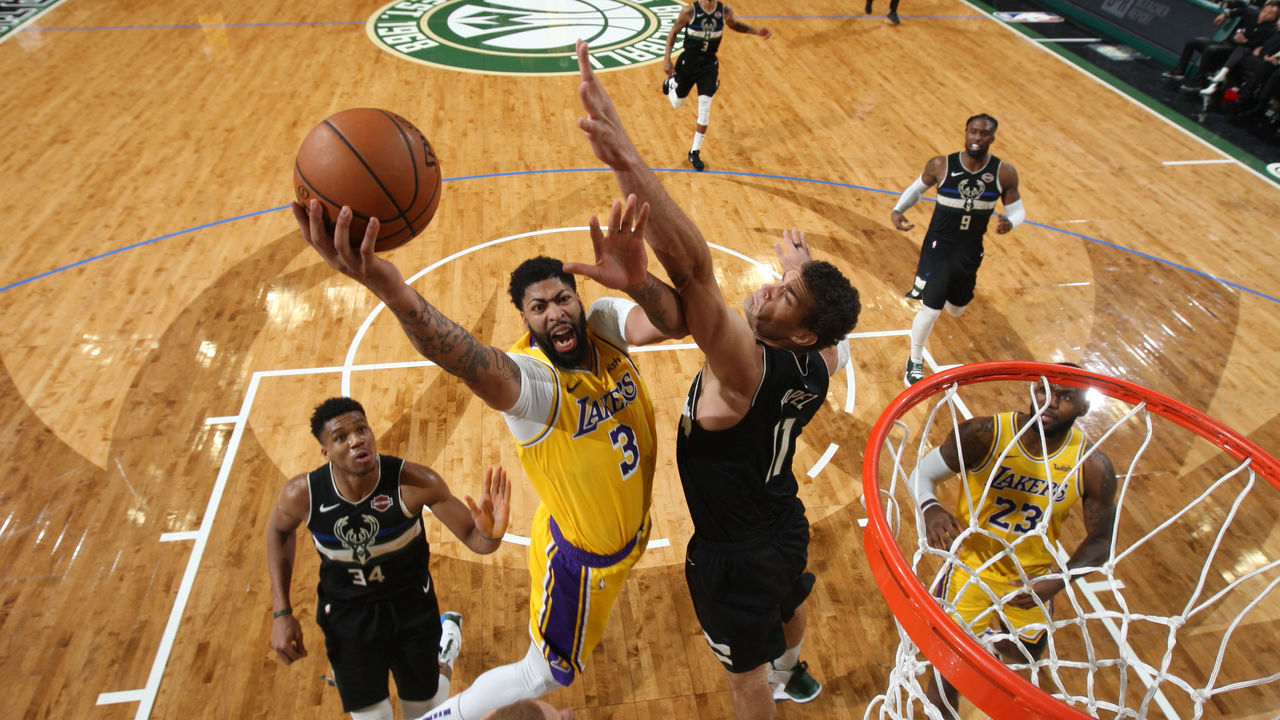 As the 3-point shot has risen in prominence and importance over the years, so, too, has the emphasis NBA defenses placed on taking that shot away. Because it's generally easier for teams to control opponents' 3-point volume than it is to control their accuracy, surrendering as few of those attempts as possible came to be seen as a foundational defensive principle for the modern age.
But shots have to come from somewhere, and this year saw a bit of a change in the kind of shots the best defenses are willing to concede. The Milwaukee Bucks under Mike Budenholzer triggered the paradigm shift last year by implementing a defensive system that went all-in on protecting the paint at the cost of letting opponents bomb away from above the break. Between Giannis Antetokounmpo and Brook Lopez, and the aggressive help they sent crashing in from the wings, the Bucks suppressed opposing teams' interior scoring to the point that the math worked out in their favor. Milwaukee allowed the highest rate of opponent 3-point shots and still finished with the league's best defensive rating.
That inverse correlation carried over into this season and influenced how other teams defend. We saw the emergence of help-heavy schemes and zone hybrids designed to seal off the interior at any cost. Half of the league's 10 best defensive teams (the Bucks, Celtics, Toronto Raptors, Los Angeles Clippers, and Orlando Magic) surrender opponent 3-point attempts at top-10 rates. Conversely, the Indiana Pacers and Los Angeles Lakers are the only teams to rank inside the top 10 in both defensive efficiency and opponent shot frequency at the rim, according to Cleaning the Glass. The Bucks have allowed an even higher rate of opponent threes than they did last year but are better at deterring and altering shots at the rim, to the point that they allow 3.3 fewer points per 100 possessions than any other team.
Not every team has the personnel to be successful playing the way Milwaukee does, but more are trying to do so. It'll be interesting to see whether that defensive trend continues to snowball in the coming seasons or if offenses can adapt in ways that make it less viable. - Joe Wolfond
Pat Riley's still The Godfather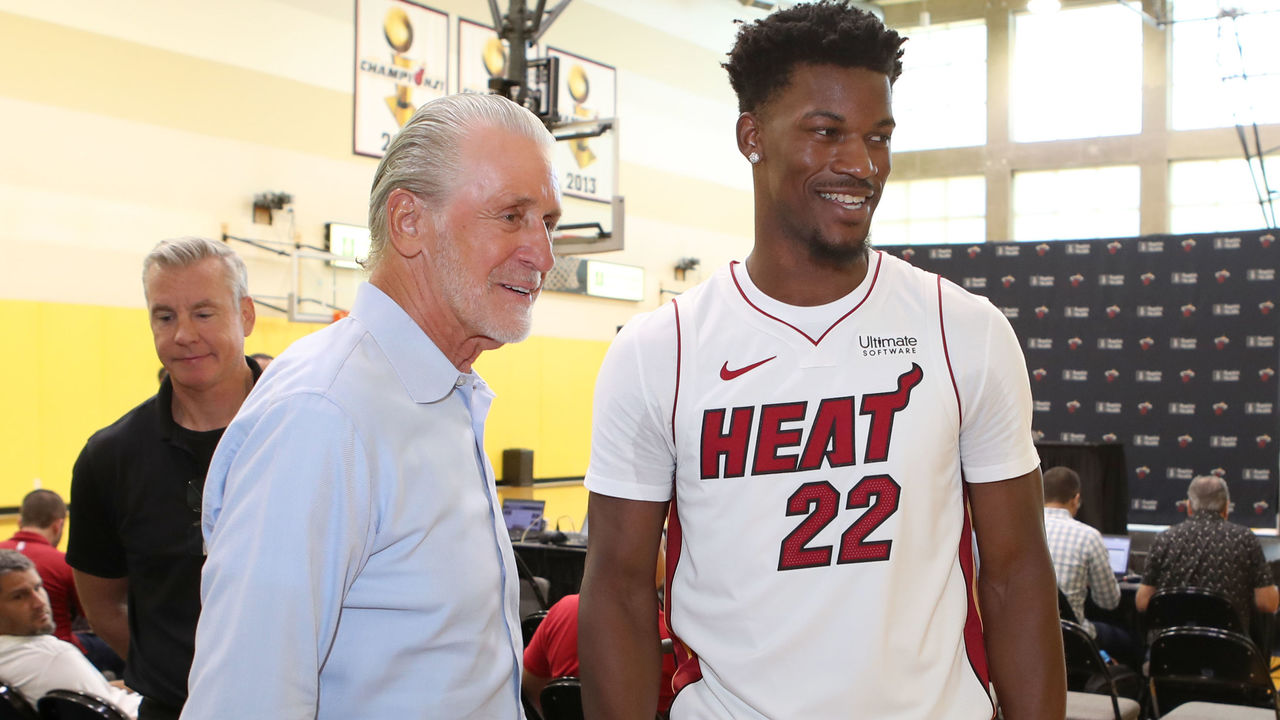 In overpaying bit players and seemingly chasing mediocrity in the years since LeBron James left the Miami Heat, Pat Riley was believed to have lost a step as an executive. What the 75-year-old reminded us of over the last year, however, is that few understand the star power required to win in the NBA quite as Riley does.
All it took was Jimmy Butler expressing interest last summer in joining Miami despite the capped-out Heat having no avenue to sign the free agent. One mammoth sign-and-trade involving the Clippers, Philadelphia 76ers, and Portland Trail Blazers later, and Riley and Co. had their man.
With a true alpha added to the mix (and one whose insatiable desire to compete complements the organization perfectly), the Heat are back in business. Add the emergence of first-time All-Star Bam Adebayo, the shooting of rookie Tyler Herro and undrafted duo Duncan Robinson and Kendrick Nunn, and the continued presence of Goran Dragic and Kelly Olynyk, and the Heat have found a grimy combination of talent that has them on pace for the franchise's first 50-win season in six years.
Moving Justise Winslow to acquire veterans Andre Iguodala and Jae Crowder wasn't the sharpest move with an eye to the future, but the core of that aforementioned 50-win team should be back next season, and the Heat should have max cap space to look forward to in 2021 when a plethora of superstars become available.
While some questioned why a team nowhere near contention would move heaven and earth to bring in Butler, Riley was bold enough to see the potential of a star-laden path. He knows all too well that in a place like Miami, you just need to get one star, and the rest will follow.
Riley landed that star in Butler and found another one in Adebayo. With the lure and power of South Beach behind them, the Heat are suddenly a very dangerous team again. - Casciaro
The future of the league is in good hands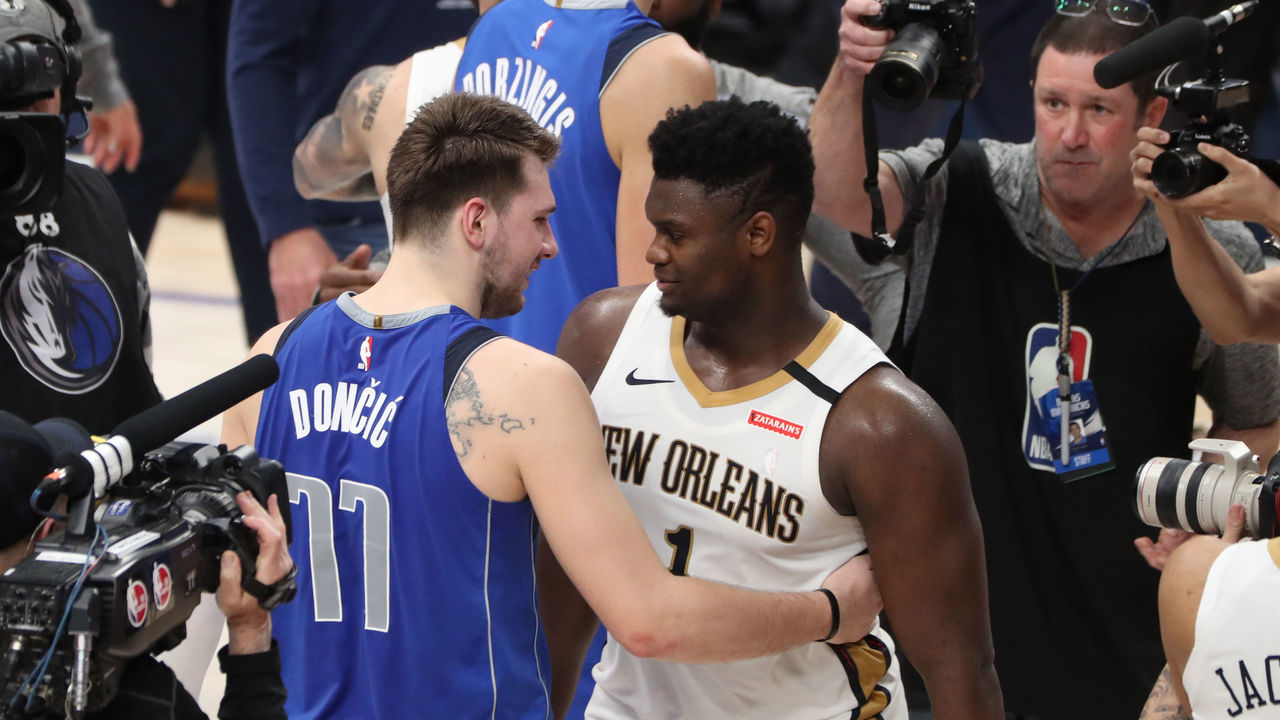 Though the NBA's immediate future has been cast into question, its long-term outlook is extremely rosy.
This season saw an explosion of 21-and-under talent, namely in the rookie/sophomore quartet of Luka Doncic, Trae Young, Ja Morant, and Zion Williamson. Their collective ascent into mainstream NBA consciousness was thrilling, not just for the prodigious abilities they put on display, but for the distinct aesthetic flavors of their games. Doncic, Young, and Morant are already three of the league's most gifted and creative playmakers, while Williamson immediately became one of its most imposing physical forces. All four play with style and flair and unbridled confidence.
You could expand that group to include the delightfully arrhythmic Shai Gilgeous-Alexander and the 7-foot shooting guard known as Jaren Jackson Jr. If you stretch it to 22-and-under, you can throw in Adebayo, Jayson Tatum, and Brandon Ingram, all of whom have had massive breakouts on their way to maiden All-Star berths.
There's still a ways to go for all of them. It's a young man's game, but the old vanguard led by James and Chris Paul doesn't look ready to let go of the reins anytime soon. Mid-prime superstars Kawhi Leonard, Stephen Curry, James Harden, and Damian Lillard will likely be around for a while, and early-prime superstars such as Antetokounmpo, Anthony Davis, Nikola Jokic, and Joel Embiid look poised to dominate for years to come. But, eventually, the league will belong to the guys who burst onto the scene this year. And this season has provided a lot of optimism about what that era will look like.
In the meantime, whenever the NBA resumes, we'll get to enjoy a cross-generational talent boom that has stocked the league with as much star power as it's had in decades, if not ever. - Wolfond
The Spurs' mystique is dead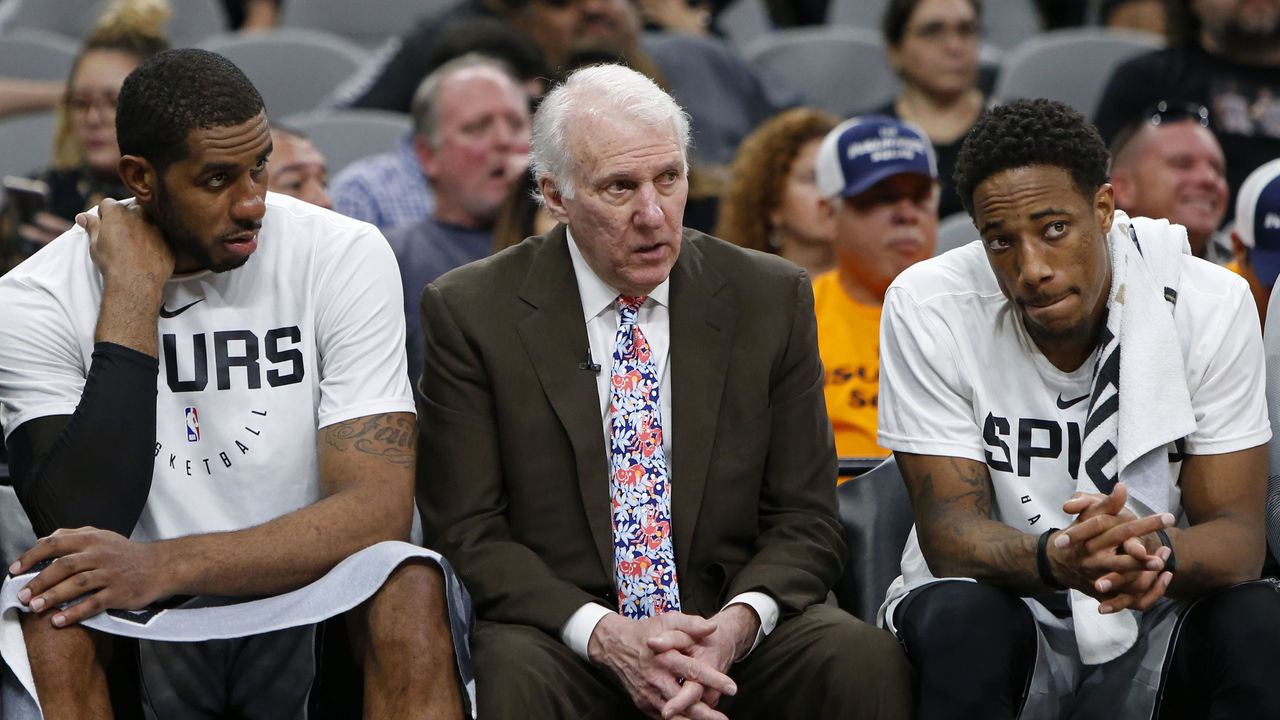 The San Antonio Spurs' Midas glow had been dimming ever since Zaza Pachulia undercut Leonard in the Game 1 of the 2017 Western Conference finals, but it didn't vanish completely until this season. Even last year when they looked mostly rudderless as they adapted to life without Leonard, Danny Green, Manu Ginobili, and Tony Parker, there was still a bit of Popovichian voodoo sprinkled atop the incongruous roster - a certain "how are they doing this?" quality to their 48-win season; a feeling that the team amounted to more than the sum of its mismatched parts.
With most of that roster returning intact, young defensive ace Dejounte Murray rejoining the fray after missing all of last season with a torn ACL, and Gregg Popovich still at the controls, it seemed likely San Antonio could, at least, extend its 22-year playoff streak. Instead, the team that for two decades was a paragon of discipline and synergy ranks 25th in the league in defensive efficiency and has a 27-36 record. Even the Spurs' longest-running carryover principle - defending without fouling - has fallen by the wayside.
They were in a position to be sellers at the trade deadline but stood pat, either because the front office couldn't stomach a full rebuild while Popovich was still around, or because there wasn't a worthwhile return offered for DeMar DeRozan or LaMarcus Aldridge. The scouting department that used to routinely unearth gems from overseas and in the latter stages of the draft hasn't turned up a game-changing player in a while (though Murray still has a chance to be very good). The offseason decision to salary-dump Davis Bertans to sign DeMarre Carroll and Marcus Morris - the latter of whom reneged on his verbal agreement during the moratorium - was the latest in an increasingly long line of recent moves to blow up.
However you slice it, the Spurs have clearly lost the plot and given themselves precious little in the way of upward mobility. After an epic hot streak, the front office has gone ice cold. The magic elixir that once coursed through the water supply at AT&T Center has evaporated. At this point, San Antonio is just another team on the treadmill of mediocrity.
The Spurs still have an outside shot at snaring the eight seed in the West if the season resumes, but it's likely they are/were going to miss out on the postseason for the first time since 1997 - the year they capitalized on a David Robinson injury by tanking to get Tim Duncan. Something tells me they won't be so fortunate this time around. - Wolfond