If the Lakers and Clippers are indeed headed for a showdown in the Western Conference finals, there's plenty of evidence to suggest it'll be a barn burner.
Thursday's meeting, their fourth and last of the season, was played in a fan-less arena, on opening night of the NBA's restart in the Disney World bubble. But it looked, more or less, like what we've come to expect when these two powerhouses play each other: save for a bit of rust and some choppy officiating early, it was a tight, tense, seesawing affair, from which the Lakers ultimately emerged victorious by the slimmest of margins.
There was plenty to talk about, from Paul George's languid brilliance, to the Clippers' continued inability to find an answer for Anthony Davis, to the surprisingly strong two-way play of Kyle Kuzma, to the sudden utility of Patrick Patterson, to the legitimate bench boost provided by Dion Waiters, to the Lakers' decision to effectively scrap the tall-ball lineups they've used so frequently this season. But one thing stood out above all the rest, one thing made the difference down the stretch, and could be the difference-maker in a seven-game series.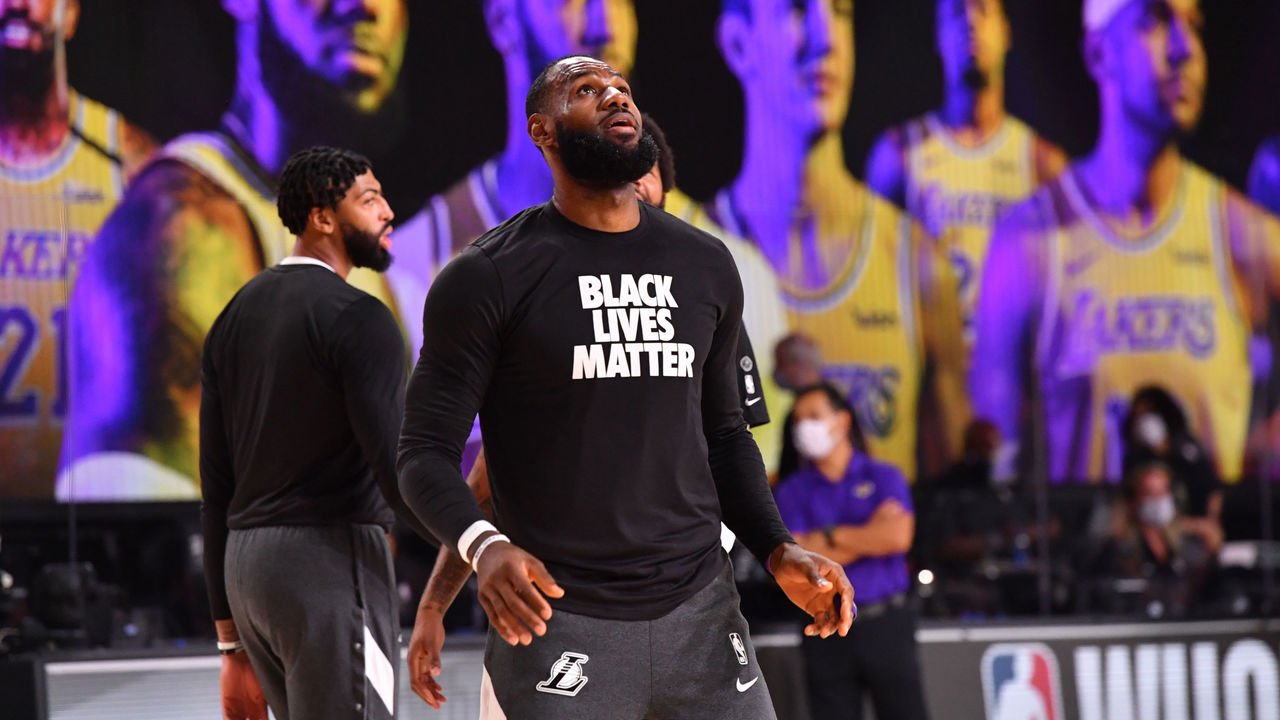 For most of the game, LeBron James was completely out of rhythm offensively. The Lakers managed to stay close only because Davis torched everyone the Clippers threw at him. James went 6-of-19 from the field, shot just two free throws, and shanked a 3-pointer that barely grazed the front of the rim. He turned the ball over five times, often while driving into traffic without a plan. But when push came to shove, he was still the best player on a court dotted with future Hall of Famers. That's because LeBron's defense in this game was bananas.
By the time he shut things down near the end of his first, bitterly disappointing season in L.A. last year, it seemed clear that James had reached a point at which, in order to preserve his body for a long season (and future seasons), he simply couldn't (or wouldn't) exert himself on defense anymore. At least not in the regular season. And yet, here he is in Year 17, still finding ways to surprise us.
James' redoubled efforts at the defensive end didn't begin Thursday night. This has been a full-season trend. Most advanced numbers paint him as one of the very best defenders in the league in 2019-20, and the eye test's been nearly as persuasive as the data. Still, I'm not sure we've seen him dial it up to quite the level he reached in this game. You can usually gauge LeBron's level of motivation by how engaged he is defensively. And in this, his first real game since March, as he resumed his quest for a fourth ring under these strange and precarious circumstances, facing his biggest challenger in the West, he looked pretty freaking motivated.
He also looked quick. Getting the spring and summer off last year seemed to serve him well. Coming out of the four-plus-month break that bisected this season, he looked that much fresher. His lateral movement was explosive, his feet pitter-pattering so fast you thought you might see him kick up a cartoon cloud of dust.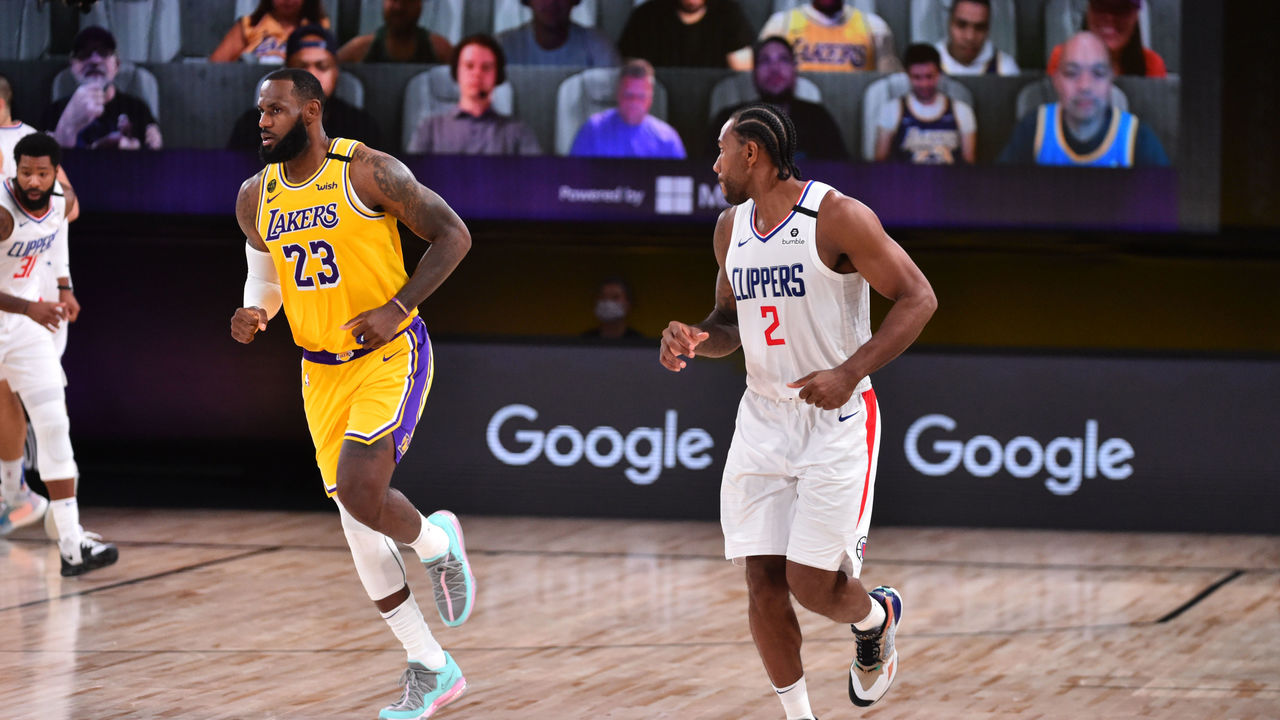 The way the game ended will deservedly get a lot of the attention. After scoring the go-ahead basket at the other end by following his own miss, James managed to ice the Clippers' two superstars in quick succession. He started out on Kawhi Leonard, denying Leonard the space to get off his mid-range jumper while also showing tremendous discipline by staying on his feet, in a wide and balanced stance, as Leonard hit the brakes and tried to shake him with a pump fake. Leonard had no choice but to bail out, slipping an escape pass to George, who James immediately switched onto and hounded out to midcourt, resulting in an off-balance desperation three that hit side rim as time expired. (Watch the whole sequence here.)
But that last possession was just a fraction of the dogged work he did throughout the game. There were plenty of one-on-one highlights like the one above - on one possession, he put Marcus Morris in such a vicious torture rack it was hard not to feel bad for Morris - but he probably did his best work as a help defender, when he was guarding lesser threats and looking for any opportunity to wreak havoc elsewhere.
At his absolute apex, James was the single most terrifying defensive rover in the league. But as he's eased his foot off the pedal at that end of the floor in recent years, and particularly last season, the off-ball negligence is what's been most glaring. He's been distracted and indifferent, made uncharacteristic mental mistakes, and made halfhearted help rotations when he's bothered to rotate at all.
This was vintage off-ball LeBron, replete with on-the-fly switches, ball denials, and weak-side rotations in which he came bounding in all the way from the 3-point line to break up plays at the rim. On one crucial, late-game set, he stepped up to divert a Reggie Jackson drive by getting into charge position, forced a drop-off pass to JaMychal Green in the dunker spot, then promptly spun around and wiped out Green's layup attempt.
Coming into this season, one of the Clippers' presumed advantages in the Battle of L.A. was that the Lakers wouldn't have the wing stoppers to slow down both Leonard and George. That may yet be true - those guys were terrific Thursday, and the Clippers outscored the Lakers by 16 points when they shared the floor - but James' rediscovered defensive verve presents a new set of possibilities.
If LeBron truly can handle a large chunk of Kawhi duty over the course of a series, while still shouldering the immense load he has to carry at the offensive end, it's a game-changer. The George matchup is tricky, but not impossible to navigate. Outside of LeBron, no Laker has the combination of strength and speed required to guard Leonard one-on-one. An important factor will be whether Davis can - as we just saw - do most of the heavy lifting on offense in this matchup and provide James some respite at that end.
If these two teams play each other again in the Disney bubble, it won't be until mid-September. For now, at least, LeBron's proven he can still win games with his defense.