The NBA's Christmas Day slate began with a pair of high-profile Eastern Conference matchups that produced a pair of lopsided results.
Here are some takeaways from the matinees:
Raptors-Celtics
It's a pity that after going 18 years without one, the Raptors had to play their long-awaited Christmas game without three of their top seven guys, including their top scorer, their defensive anchor, and their sixth man.
There's only so much you can take away from a game against such a shorthanded opponent, but it was still an impressive showcase for one of the Eastern Conference's most impressive teams, who were themselves without a key contributor in Marcus Smart. The Celtics patiently picked apart every Raptors coverage - including the vaunted full-court press - leveraging their collective size, playmaking, and shooting into a convincing 118-102 win.
A 🌟 turn for Jaylen Brown
The Celtics got strong contributions from all their wings. Gordon Hayward shifted into facilitating mode while judiciously picking his spots as a scorer. Jayson Tatum was a plus-21 despite putting up just 11 points on 21 individual possessions, thanks to his defense and his work on the offensive glass. But none shone brighter than Jaylen Brown.
On his way to 30 points on 10-of-13 shooting, Brown demonstrated the tremendous strides he's made this season as an off-the-dribble creator, repeatedly cooking the Raptors in isolation. Multi-crossover moves like this simply weren't part of his package a year ago:
That was just one of a handful of Brown's dazzling displays of creativity and shot-making in the game, to go along with his usual sturdy defense across multiple positions.
Brown still has room for growth as a facilitator, but his development as an individual scoring threat has cracked open more playmaking opportunities for him as he commands more defensive attention, and he's getting a better feel for the timing of those plays:
A terrific game for a budding star.
Raps felt their absences
While they managed to survive to this point without Pascal Siakam, Marc Gasol, and Norman Powell (going 2-1, with one miraculous comeback win and an overtime loss on the road), those absences caught up to the Raptors against a tough opponent.
Not having Siakam or Gasol fundamentally changes the Raptors' identity, and alters the shape of their defense. They couldn't close space on shooters as quickly, were a lot softer underneath the basket, and were less alert with secondary help assignments. They got torched by high pick-and-rolls and staggered screens, and even their typically airtight zone got punctured pretty easily without Gasol in the middle to anchor it.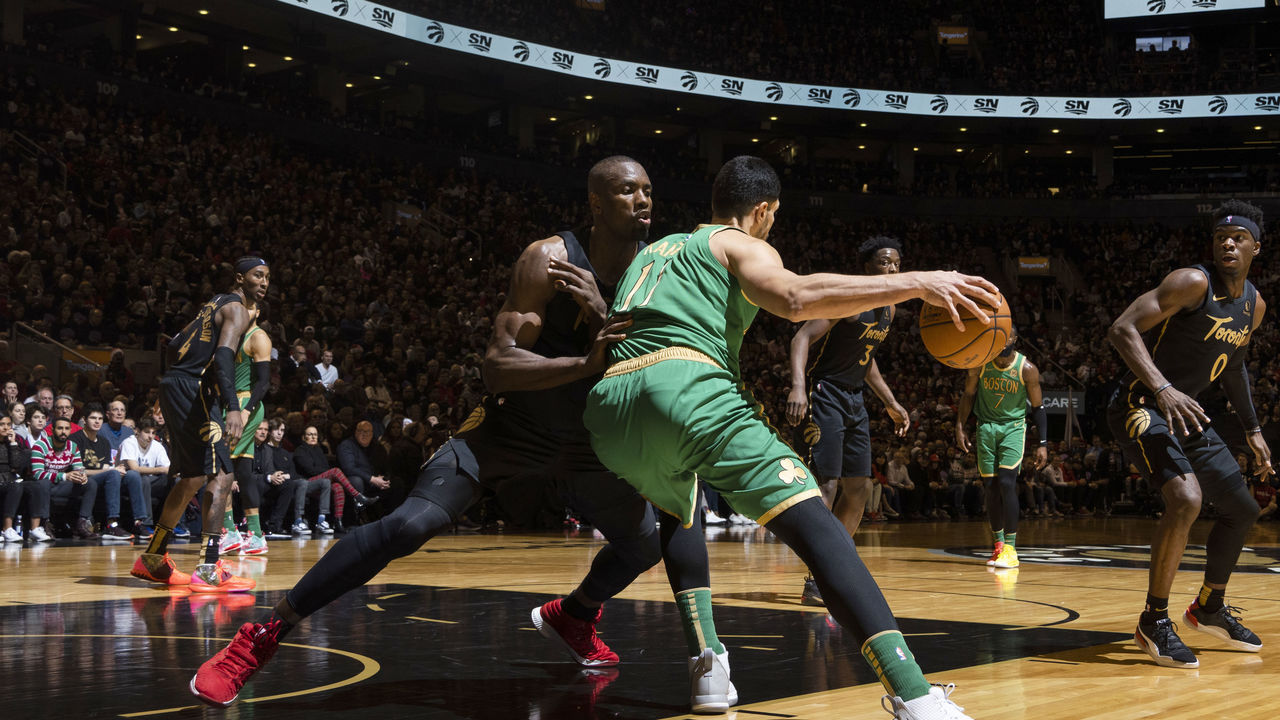 At the offensive end, their dearth of creation and outside shooting allowed the Celtics to overplay Kyle Lowry- and Fred VanVleet-run pick-and-rolls, which was really the only reliable source of offense the Raptors could conjure in the halfcourt. Boston did an excellent job tagging from the corners and neutralizing the roll man, clogging the middle of the floor and coaxing the Raptors into mid-range jumpers they aren't typically in the habit of taking.
The Raptors were forced to play small, and while they survived in some ways - Lowry did a bang-up job guarding Tatum - they got burned in others, like their front line getting smushed by Enes Kanter, and the team as a whole getting manhandled on the boards (though, to be fair, that was the case in the teams' last meeting, too). The Celtics play small a lot, too, but their small-ball lineups are still bigger than the Raptors' small-ball lineups, because they have a lot more size at positions 2 through 4.
Kemba roasted the drop
For large portions of this season, the Raptors have employed an aggressive scheme that's included trapping the ball-handler in 1-5 pick-and-rolls. But the Celtics have enough secondary and tertiary ball-handling to punish blitzes on the back end, plus the Raptors didn't have Gasol's size and hands to give those traps their bite, or Siakam's speed to make the 3-on-4 rotations negotiable. So, they resorted to more conservative pick-and-roll coverage, with their bigs dropping back below the free-throw line. (Which was perhaps also a means of combatting their defensive rebounding woes.)
The Celtics responded by setting screens for Kemba Walker - one of the best pull-up 3-point shooters in the league - up near the logo, to get him dribbling into wide-open looks from beyond the arc.
Toronto eventually adjusted by shifting OG Anunoby onto the Celtics' center so he could switch onto Walker. It worked for a couple possessions. But no matter what the Raptors did, the Celtics found workarounds. Here, they bucked Toronto's expectations by having Brown veer into a drag screen, forcing Terence Davis to panic as Brown slipped free:
This team is good, and smart.
Bucks-76ers
After an up-and-down first two months that sprinkled red flags in with moments of brilliance, the 76ers came together to play their most complete game of the season, stomping the Bucks 121-109. This was a glimpse of the apex Sixers: Totally locked in defensively, hitting all their open threes, and feasting in transition. This team was built in large part to match up with the Bucks specifically, and in the first of at least four matchups between the two teams this season, it showed precisely how well that architecture can hold up.
Embiid erased Giannis
In the game's most important matchup, the Sixers stuck Joel Embiid on Giannis Antetokounmpo and let Al Horford deal with the stretchier Brook Lopez. Embiid sat back, dared Antetokounmpo to shoot, and swallowed him up any time he tried to drive to the hoop. Embiid moved his feet beautifully, stayed down on pump fakes, and managed to challenge Giannis at the rim without sending him to the free-throw line. He even neutralized Giannis in transition, something nobody has been able to do this season.
It didn't help that Antetokounmpo's 3-point shot - which has been surprisingly viable for most of the season - completely abandoned him. He shot 0-of-7 from deep, with few of those misses coming particularly close. All told, the reigning MVP finished with 18 points on 32 used possessions. He just couldn't find a way to finish around, over, or through Embiid.
This highlighted a broader issue with the Bucks' offense: it's fairly one-dimensional. Using Giannis as a battering ram will work like gangbusters against the vast majority of the league, but the best defenses are going to be able to shut off that faucet (as Toronto did last spring). The Sixers' defense has a lot of the same ingredients that those Raptors had. They're equal parts huge and fast, with multiple guys who can help and recover in a blink, and a stalwart rim protector lurking as the final boss.
The Bucks are a little light on off-the-dribble shot creation, especially with Eric Bledsoe out of the lineup, so they continued running Antetokounmpo smack into Embiid at the rim, to no avail. They need to have more counters they can rely on - using him as a screener or off-ball cutter, screening for him with smalls - when the games start to matter.
Shooting variance reared its head
The Sixers attempted 44 3-pointers and hit 21 of them, both of which were season highs, and the latter tying a franchise record. For the Bucks, that's at least partly by design. Their defensive scheme is designed to protect the rim at the cost of surrendering threes (especially above-the-break threes, which accounted for a whopping 37 of Philly's attempts).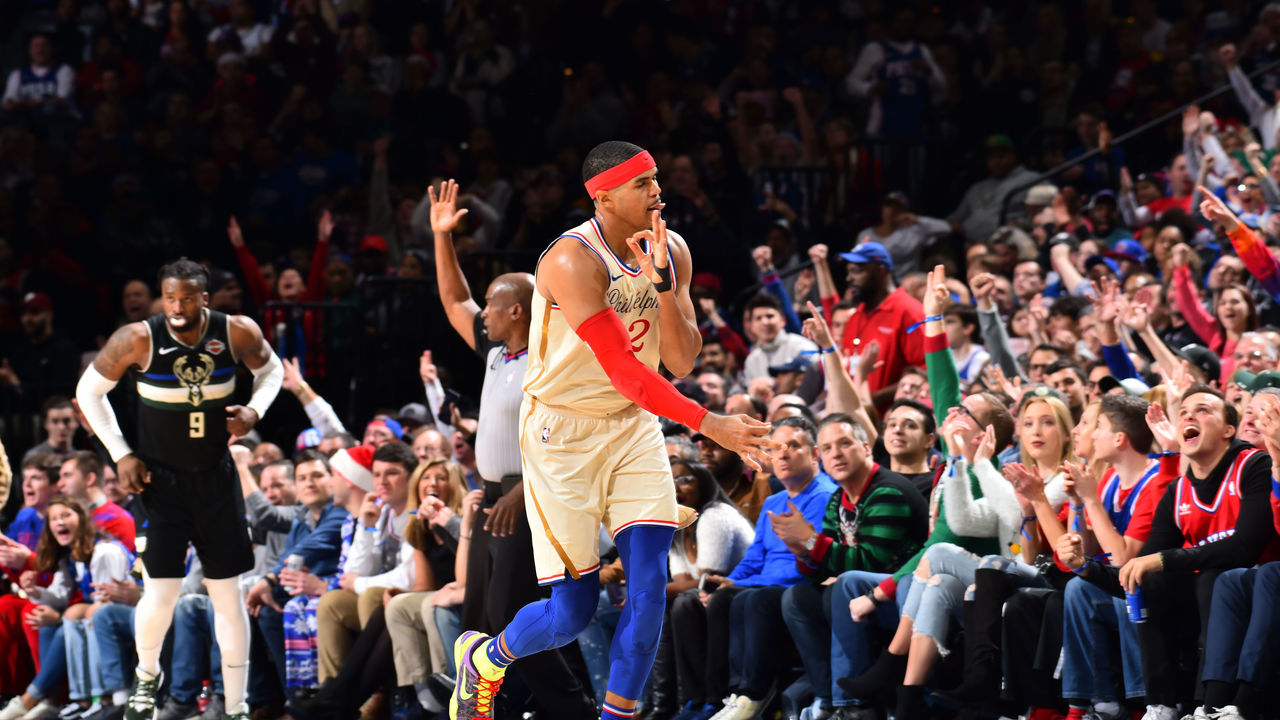 Milwaukee's defense did its job - it completely negated the Sixers' interior offense. Philly scored just 11 field goals inside the restricted area, about seven fewer than its season average. But employing that scheme means shooting variance is something the Bucks have to live with, and they found themselves on the wrong end of that variance Wednesday. The Sixers hit 18 threes from above the break. That included Embiid, a 32% 3-point shooter on the season, connecting on his first three attempts from distance, as well as a handful of mid-rangers, while Lopez gave him 10-plus feet of space. It included Horford hitting step-backs, and Furkan Korkmaz going 4-of-5 from deep.
Like every team, the Sixers are a different animal when they're making shots. Suddenly, their halfcourt offense doesn't seem like such a riddle. Late in the third quarter, the Bucks broke out a zone - something they hadn't done all season but that other teams have used to great effect against Philly - and watched Korkmaz and Tobias Harris drain four 3-pointers in rapid succession.
It really was just one of those games. And while it certainly spoke well of the Sixers' ability to counter the Bucks' paint-packing defense on the right day, it isn't necessarily indicative of a matchup advantage. The Sixers are generally a low-volume, slightly-above-average 3-point shooting team. The Bucks will force them to up the volume, but the accuracy usually won't rise in conjunction.
This is the good Ben
Though he didn't contribute directly to the 3-point onslaught that tilted this game, Ben Simmons played a crucial role in unlocking it, and his ability to kickstart the Sixers offense against an elite opposing defense should bode pretty well moving forward.
Simmons continually pushed the pace and engineered great looks in transition and semi-transition, be they for himself or his teammates.
In the halfcourt, there was far less drifting than you often see from Simmons. He was active as a dribble-handoff hub, a head-of-steam attacker, and a drive-and-kick engine.
His defensive impact wasn't as pronounced as Embiid's, but he was no less impressive in his role, which involved hounding ball-handlers on the perimeter and stepping in to provide timely reinforcement on Antetokounmpo's drives, particularly when Embiid was on the bench. At one point, he straight-up ripped the ball out of Antetokounmpo's hands in the backcourt before setting up a Harris jumper.
All told, he racked up 15 points, 14 assists, seven rebounds, three steals, and two blocks. If that's the Simmons the Sixers get on a consistent basis in the playoffs, they should feel pretty good about their chances in the East.