As the 3-point shot has risen in prominence and importance over the years, so too has the emphasis NBA defenses have placed on taking that shot away. Teams have far less control over how well their opponents shoot from beyond the arc than they do over how frequently those shots are attempted, so limiting the number of times an opponent takes a shot that's worth 50% more than one taken from inside the arc is sound strategy in a vacuum.
But a defense can't take everything away. It has to decide what it is and isn't willing to live with. The Milwaukee Bucks, in their first year under coach Mike Budenholzer, cut against the grain by implementing a somewhat radical defensive system: opponents were essentially invited to bomb away from above the break. Milwaukee voluntarily conceded 3-pointers in order to go all-in on protecting the paint, where teams historically have more control over how efficiently their opponents shoot. The Bucks figured that between Brook Lopez and Giannis Antetokounmpo, they could suppress opposing teams' interior scoring to the point the math worked out in their favor.
They also recognized that not all threes are created equal. The shots their scheme left unguarded were mostly pull-ups from pick-and-roll ball-handlers and pick-and-pops from opposing big men, which are far less profitable on balance than, say, catch-and-shoot threes from the corner. Teams that otherwise preferred to have their bigs roll to the basket had to use those bigs to pop, because the middle of the floor was too congested. All told, Milwaukee allowed the highest proportion of opponent shots from 3-point range and still finished with the league's best defensive rating.
That inverse correlation has carried over into this season and influenced how other teams defend. Five of the top eight teams in terms of opponent 3-point volume (Bucks, Heat, Raptors, Celtics, and Clippers) have top-10 defensive ratings. Conversely, the Chicago Bulls and Indiana Pacers are the only teams that rank in both the top half of the league in defensive efficiency and the top 10 in terms of opponent shot frequency at the rim, per Cleaning the Glass. In other words, deterring shots at the rim correlates more strongly to good overall defense than deterring 3-pointers does. And no team has mastered that approach the way the Bucks have.
For the second straight year, they're allowing both the lowest proportion of shots at the rim and the lowest field-goal percentage on such shots. So far this season, they've been even stingier in both categories than they were in 2018-19. (Signing Brook Lopez's brother Robin in the offseason has helped.) Only 28.9% of their opponents' field-goal attempts have come within four feet of the basket, per Cleaning the Glass. You have to go back to 2008-09 to find a team that conceded such a miniscule rate of at-rim shots, and that team (the Phoenix Suns) did not defend those shots nearly as effectively.
The closest analogs to these Bucks are the Dwight Howard-era Orlando Magic and the Roy Hibbert-era Indiana Pacers, but even those defensive juggernauts don't match this year's Bucks in terms of both deterrence and forced misses. Milwaukee is simply one of the best rim-protecting teams of the post-hand-checking era.
The Bucks are once again surrendering more above-the-break 3-point attempts than any other team, and unlike last year, their opponents are hitting a high percentage of them, at 37.3%. It hasn't mattered. They've maintained the league's top-ranked defense in spite of that, because their interior barricade has been that strong.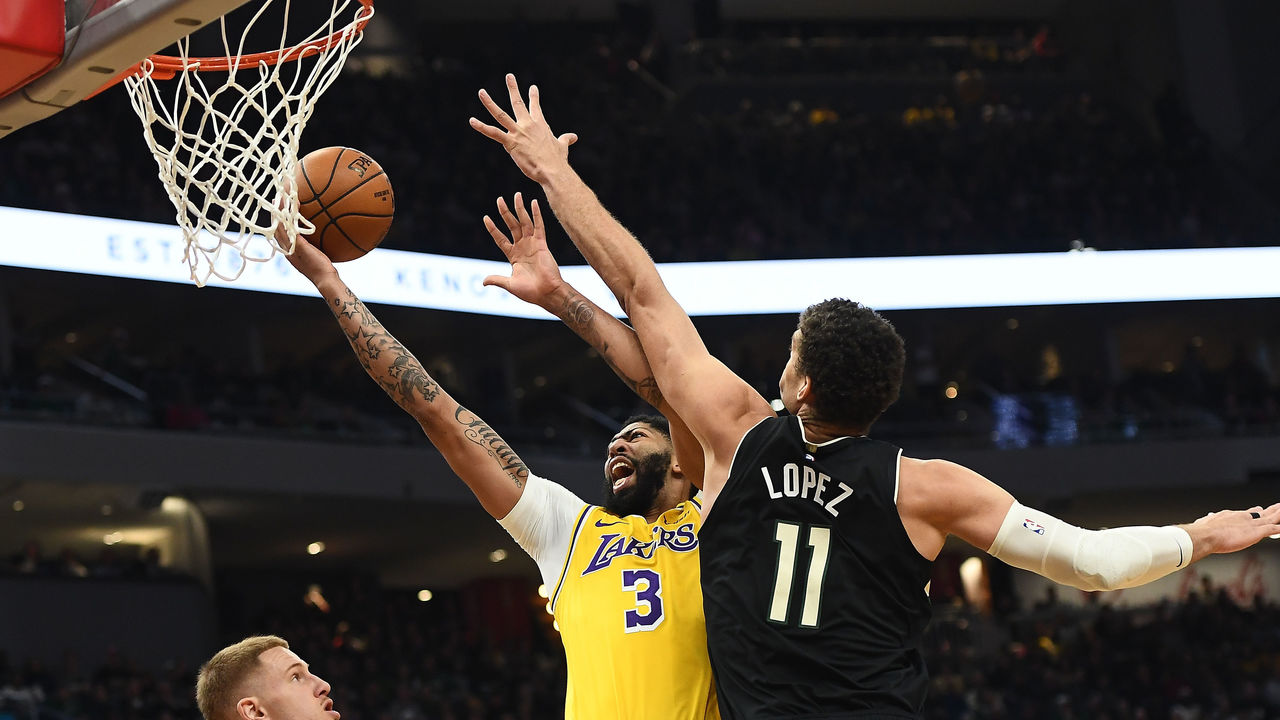 We got a great glimpse of that in Thursday night's win over the Los Angeles Lakers, in a battle of the league's top two teams, a win that bumped the Bucks to 25-4 and into sole possession of the NBA's best record. Los Angeles is a low-volume 3-point shooting team that derives the bulk of its offense from paint shots, and it ran into trouble against a defense designed to make those shots hellaciously difficult.
The Lakers attempted about seven fewer shots and made about six fewer baskets from inside the restricted area than they'd averaged on the season coming in. (They made up some of the difference with free throws, thanks almost entirely to Anthony Davis, but the Bucks are typically one of the most foul-averse defenses in the league.) L.A. drove the ball 56 times, but attempted just 19 shots directly off those drives, while turning it over seven times. It was particularly tough sledding for LeBron James, who spent much of the game aborting drives and pulling the ball back out, leaving his feet before deciding to pass, and looking altogether tentative as an attacker. He scored just three baskets in the restricted area, about half his season average.
Milwaukee's scheme relies heavily on the big men in the middle, who camp out in the lane for as long as they can get away with it (which very often amounts to longer than three seconds). Their pick-and-roll coverages ask one of Antetokounmpo or the Lopez brothers to drop back ultra deep, corral two guys at once for long enough to let the on-ball defender fight overtop the screen and get back into contact, and guard against layups or dunks at all costs.
Opponents are shooting 45.1% at the rim when either Antetokounmpo or Robin Lopez is the closest defender, and 46.5% when Brook Lopez is in the vicinity, according to Synergy. They rank second, third, and fourth in the league among players who have defended at least 50 such shots.
When Antetokounmpo's on the floor alongside one of the Lopezes, he shuttles between multiple perimeter assignments so the Lopez in question can essentially play a one-man zone underneath the hoop:
All three of them display tremendous patience; they rarely overcommit or leave their feet too early, trusting their sheer size (and in Antetokounmpo's case, supreme athleticism) to affect a shot, lob, or dump-off pass, even if they stay grounded a beat longer than base instinct might dictate. Lopez flummoxed James at the rim all night:
The real meat of Milwaukee's system is the additional help that comes crashing in from the wings and the corners. Whether it's to stymie passes to the roll man or standard drives, the help comes in waves. Wing defenders will help aggressively to the nail, and if the play breaks through that second line of defense, the corner defenders are pinching in aggressively to provide cover for the paint-bound big.
The Lakers looked to have the Bucks beat with this screen-the-screener action that flowed into a Spain pick-and-roll, until Donte DiVincenzo flew in from the weak-side corner:
The Bucks' ability to recover out to shooters is a big part of what makes their aggressive helping tenable. They know they're going to give up some catch-and-shoot looks off drive-and-kicks, but their collective speed and length allows them to contest those shots effectively.
That's if they even see the need to recover. Playing non-shooters is particularly damaging against the Bucks because of how aggressive and attuned they are with their help assignments. Rajon Rondo completely crippled the Lakers' offense any time he was on the floor Thursday, as his defender freely abandoned him even on the strong side.
Crucially, when they do recover, they remain organized and don't get their assignments mixed up. You'll routinely see three or four Bucks collapse on the paint before fanning back out when or if the ball escapes, like a freaking Hoberman Sphere.
There are plenty of reasons to believe the Bucks are title favorites this season, despite last year's playoff disappointment. One of them is that they appear to have perfected the defensive scheme they introduced a season ago. As they demonstrated in a potential Finals preview on Thursday, inside the arc they're more impenetrable than ever.