Despite most preseason projections suggesting that Milwaukee and Philadelphia were the only true contenders in the Eastern Conference, the first three weeks of the 2019-20 campaign have told a much different story.
The Bucks and Sixers are still the most likely teams to make it out of the conference. Milwaukee has by far the best player, Philadelphia has the most cumulative talent, and 538's prediction model pegs their combined odds of reaching The Finals at 85%. However, those two would-be juggernauts have looked far from invincible so far, and the gulf between them and the East's next tier isn't nearly as wide as a lot of people (this writer included) expected it to be.
The smaller competitive gap isn't just due to Milwaukee's and Philadelphia's flaws (many of which were foreseeable). It's also because of the surprising quality of the East's other top teams. The rise of the Celtics and Heat and the enduring excellence of the defending champion Raptors have made the race a whole lot more interesting. The West is obviously deeper and more competitive at the bottom, but if we're just comparing the best five teams in each conference, is there really a qualitative difference? Are, say, the Nuggets or Jazz any better than the Celtics or Raptors?
Here's a look at where things stand in the suddenly wide-open East:
The flawed favorites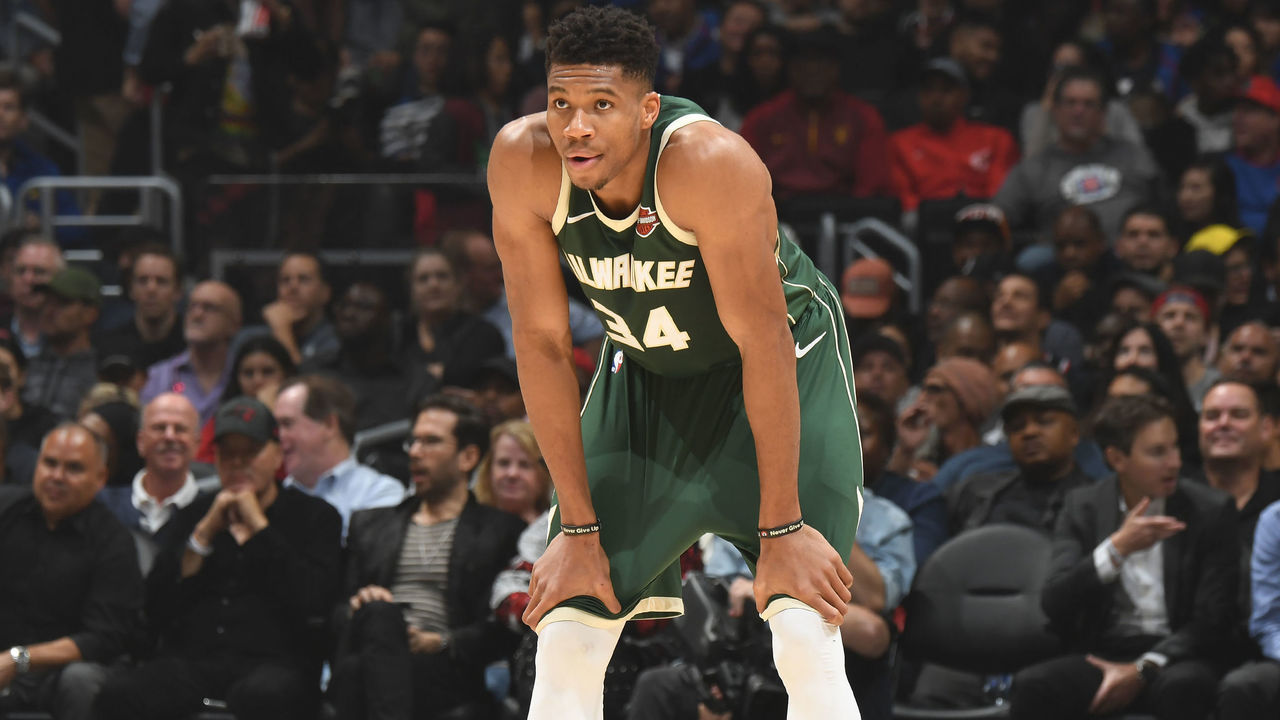 Bucks: Giannis Antetokounmpo is ridiculous, and he alone could be enough to carry Milwaukee through the conference. But the state of his supporting cast will make the team's margin for error uncomfortably slim. Last year, all it took to sink the Bucks was one playoff series of so-so play from Giannis against a smart, physical Raptors defense that completely keyed in on him. And this season, the rest of the roster is weaker.
Milwaukee's defense hasn't been quite as ferocious. Brook Lopez's shooting has nosedived. The Bucks' proportion of shots at the rim has sunk from second in the league to 25th, and to that end, they sorely miss Malcolm Brogdon's secondary creation and willingness to attack the basket. Or perhaps it's more accurate to say, they will miss it. For now, it's hard to say the Bucks miss anything, given that they rank top seven at both ends of the court and own the third-best net rating in the NBA. But come playoff time, Giannis is going to need more help than he's been getting.
It's nice to see Antetokounmpo hitting threes at a more effective clip (especially when shooting from straightaway), but it's not like his jumper is a meaningfully bigger part of his game now than it was last year. Meanwhile, his free-throw shooting has regressed, he's still not a major in-between threat, and he still doesn't have much of a post game or a push shot or any other reliable fallback when defenses manage to keep him out of the paint.
That hasn't mattered yet because no defense has been able to keep him away from the basket, but in the latter rounds of the playoffs, it could be a different story. Opponents will be smarter and more physical, and they'll sell out to stop Giannis and make any other Buck beat them. That's where the supporting cast will become a concern. Eric Bledsoe is staring down maybe the most important spring of his life - a notion that might make Milwaukee fans a bit queasy.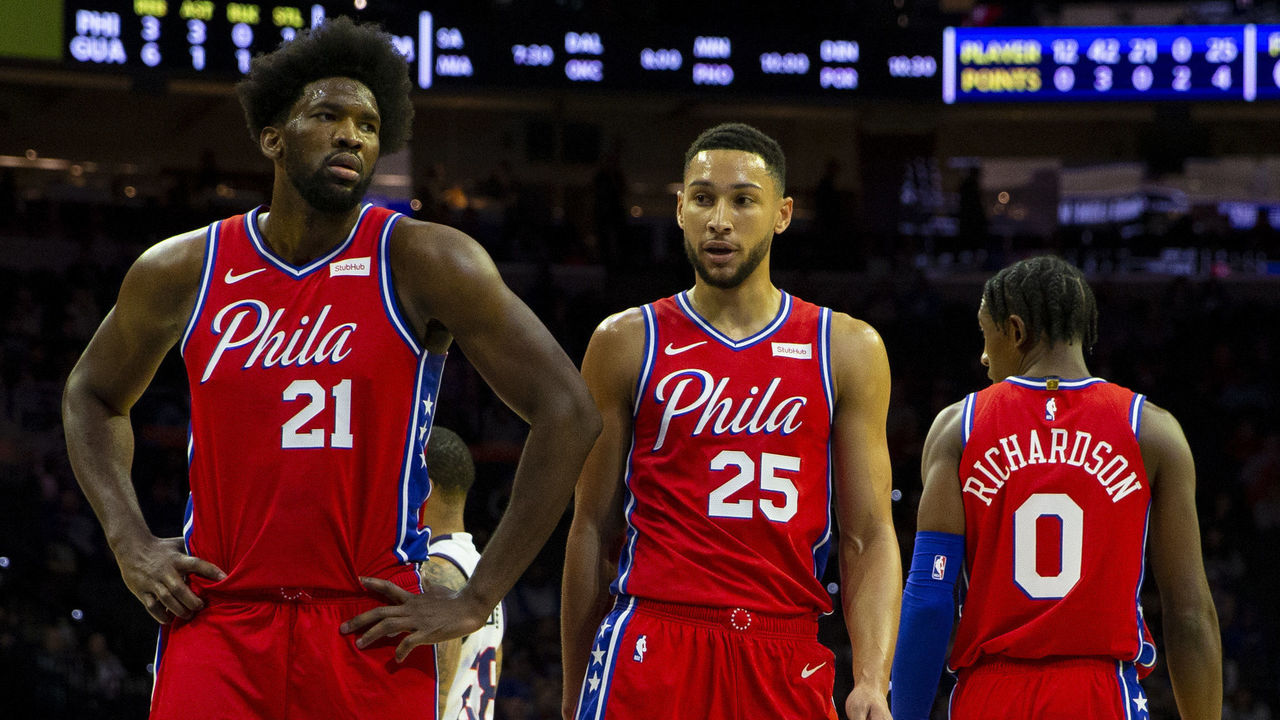 76ers: Stop me if this sounds familiar - when the 76ers have been fully healthy, their defense has been a gigantic, strangulating anaconda that squeezes the oxygen out of opposing offenses. However, the Sixers' half-court offense has been nearly as constricted. Even in the open floor, with Ben Simmons leading the charge, Philly's been pedestrian, ranking just 14th in points per transition possession.
Plus, the question that hovered over this team coming into the season continues to linger. Who can the Sixers turn to when the games get tight and the pace slows to a crawl? Neither Tobias Harris nor Josh Richardson has looked capable of taking on that responsibility. Philly ranks last in pick-and-roll frequency, 27th in turnover rate, and 24th in half-court offensive efficiency.
In the absence of better options, it makes sense for the 76ers to run their offense through Joel Embiid on the block; he's an imposing but agile brute with a knack for drawing multiple bodies and copious fouls, and he's been by far the most prolific post-up scorer in the league. But Embiid still has to prove that he can be a late-game hub without committing heaps of turnovers. His reads against double-teams and his passing out of the post could certainly be quicker, but it's not entirely his fault. There isn't enough shooting around him, which means the floor isn't being spread wide enough and defenders don't have to travel that far to double him and recover.
Harris and Richardson will eventually start shooting better, but the possibility of Philly running a functional half-court offense while Embiid and Simmons share the floor without a strong off-the-dribble creator to steer them is starting to feel more like a failed experiment than an open question.
The challengers
Celtics: Despite losing their two best players and seeing their frontcourt decimated in the offseason, Boston sits atop the NBA at 9-1, with the No. 1 offense and the best net rating.
After a disappointing 2018-19, the offense is thriving in large part due to a more optimal shot profile. The Celtics have attempted far more shots at the rim, more free throws, and significantly fewer mid-rangers. It also helps that they've been the league's best pull-up shooting team by effective field-goal percentage, led by Kemba Walker, who's been eviscerating drop coverages while scoring an ungodly 1.21 points per possession as a pick-and-roll ball-handler. Walker's judiciousness is also a big reason why Boston has the NBA's lowest turnover rate.
Meanwhile, the Celtics are getting great production out of a wing corps that captured hearts and imaginations in 2017-18 before crashing back down to earth last season. Jaylen Brown has been spectacular in a role that's seen him expand his off-the-dribble game; he's nearly doubled his average time of possession and has cashed in with 60% true shooting. Jayson Tatum has streamlined his shot selection while cutting out a lot of long twos. And before breaking his hand, Gordon Hayward looked like Utah Gordon Hayward again, shooting the lights out and attacking the rim with rediscovered vigor.
Maybe the most surprising element of the Celtics' success has been their defense. With stalwarts Al Horford and Aron Baynes giving way to the lead-footed Enes Kanter and the unproven and undersized Robert Williams at the center position, Boston figured to be mighty vulnerable. But then Kanter got injured, and this team stumbled upon a formula for downsized success.
Boston has relied on its rangy wings (and in Marcus Smart's case, its point guard) to defend up a position - or two or three or four. Late in games, Smart has routinely guarded opposing bigs. And in 71 minutes with the 6-foot-8 Tatum as their nominal center, the Celtics have posted a stellar 91.7 defensive rating and a 16.9 net rating. Somehow, despite their lack of size in the frontcourt, they rank sixth league-wide at defending the rim.
Regression will come in certain areas. The Celtics have played a soft schedule that's about to get more difficult. Their defense has been impressive, but it doesn't feel especially sustainable given that they haven't faced a dominant front line since opening night (when they got smacked by Philly). Nor does their performance in the clutch, as the Celtics have won all five games that were within five points in the final five minutes while posting a 146.7 offensive rating in those situations.
On the other hand, neither the eye test nor the peripheral stats suggest this start is some fluky outlier. This looks like the Celtics team a lot of us were expecting to see last year.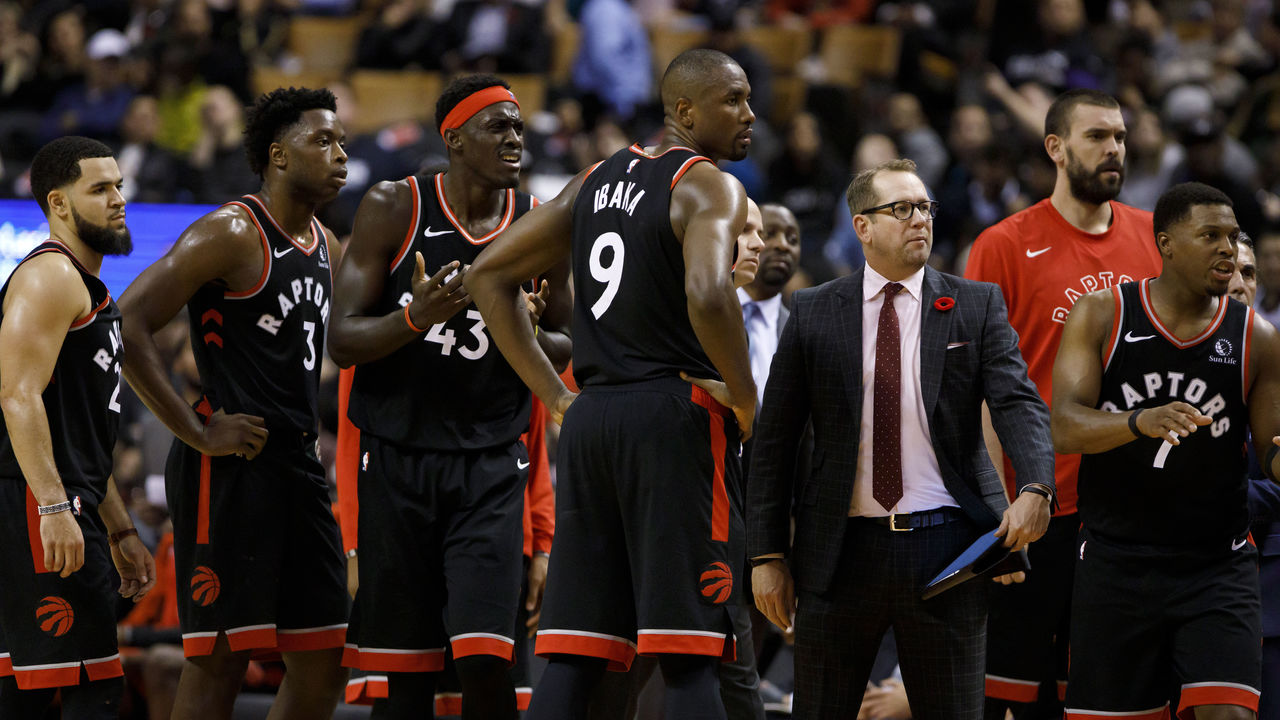 Raptors: That the Raptors are still good is no surprise. Coming into the season, we knew they'd still have a ton of defensive talent, IQ, institutional knowledge, and grit. But huge questions obscured just how good they could be after the departures of Kawhi Leonard and Danny Green. How would Toronto cobble together 48 minutes at the two wing positions every night? Who would soak up all the vacated offensive possessions Leonard had so ruthlessly and efficiently shouldered? How would Serge Ibaka, Kyle Lowry and Marc Gasol hold up in their age-30, -34 and -35 seasons, respectively? Would those veterans even be on the team by season's end, or would the front office commit to a youth movement? Would there be enough depth? Enough shooting?
The Raptors have answered all of those questions in extremely encouraging fashion. On the wing, OG Anunoby is having the breakout many expected from him a season ago, supplementing his elite wing defense with elite help D while making huge strides as a shooter and an off-the-catch attacker. As for who would fill the Kawhi void, Pascal Siakam has made yet another quantum leap, upping his usage rate from 20.8 to 30.5 and his scoring average from 25.5 to 34.6 per 100 possessions while seeing no significant drop-off in his efficiency or his defense. He's now routinely canning pull-up threes from above the break and elbow jumpers out of the pick-and-pop. He can comfortably spin and finish over either shoulder and with either hand, and he's tightened up his handle to the point where he can work as a primary initiator.
Then there are the aging vets. Lowry was playing some of the best basketball of his life before fracturing his thumb, posting a 66.2% true shooting mark thanks to career-best at-rim finishing, his highest free-throw rate in three years, and 90th percentile scoring efficiency in transition. Before spraining his ankle, Ibaka appeared as bouncy as he'd looked since his OKC days, and he owned the league's third-best defensive field-goal percentage at the rim (a paltry 36.4%). It's been a mixed bag for Gasol, who might be the slowest and most ground-bound player in the league and is somehow shooting just 28.2% from 2-point range despite being a 7-footer. But he's still anchoring the NBA's best rim-protecting team, and the Raptors have still been 12.5 points per 100 possessions better with him on the floor.
How about the depth? After coach Nick Nurse spent the first two weeks of the season running out a seven-man rotation, he's had no choice but to go deep into his bench in light of the injuries. In response, guys like Rondae Hollis-Jefferson, Terence Davis, and Chris Boucher have emphatically answered the bell. Meanwhile, the shooting - which figured to be a weakness - has instead been a strength, with the Raptors ranking second in 3-point percentage.
It's fair to believe that not all of this is sustainable (particularly the shooting and at-rim defense) and to worry about the number of 3-point attempts the Raptors have surrendered as a result of their hyper-aggressive defensive scheme. But with Siakam's explosion into the superstar stratosphere, Anunoby's transformation into an elite role player, Lowry's continued brilliance, and Nurse's endless ingenuity, this team has the ingredients of a dark-horse contender.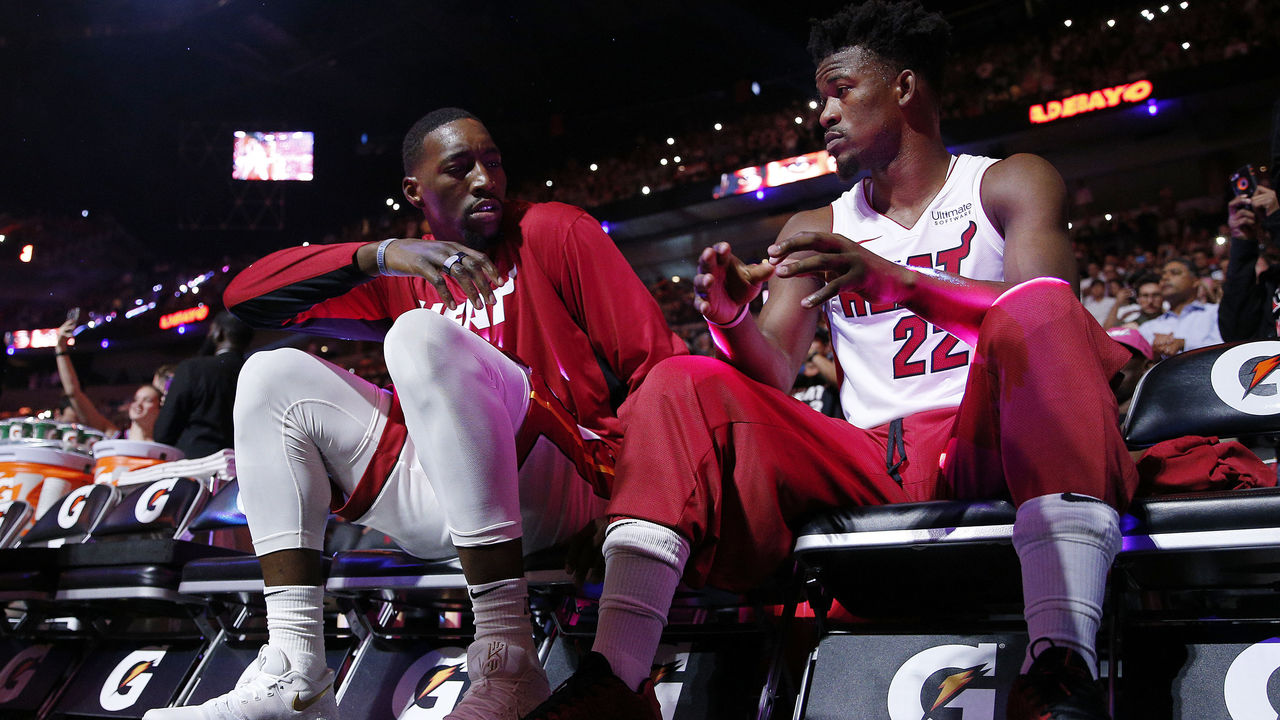 Heat: As with the Raptors, there was little doubt that the Heat would have an elite defense this year. The big question was whether they'd have enough shot-creation to keep their offense afloat.
Enter dynamic rookies Kendrick Nunn and Tyler Herro, a rejuvenated Goran Dragic, and point center Bam Adebayo. Behind a motion-based, equal-opportunity system, the Heat rank sixth in passes per game, second in assist percentage, and tops in potential assists. Nunn and Herro create more for themselves than they do for others, but that has provided a necessary antidote to switching defenses.
Miami is 7-3 after a difficult early schedule and has thrived despite not yet getting apex Jimmy Butler. The team's shiny offseason addition missed the first three games of the season due to the birth of his daughter. Since returning, he's appeared to be in feel-out mode, much like he was at the start of his Timberwolves and 76ers tenures. Butler's usage rate sits at just 23.9%, which is lower than Nunn's and about equal to Dragic's and Justise Winslow's. Eventually, he'll likely take over a larger share of the offense.
Meanwhile, the splashes of 2-3 zone have continued to give opposing offenses fits. The Heat are stocked with long, physical defenders on the wing who force gobs of turnovers, and they have Adebayo anchoring the middle. The third-year big man has been a stabilizer at both ends. He's an offensive hub who's averaged 4.6 assists and shot nearly seven free throws per game while clamping down on elite opposing bigs in the post.
There are still a few red flags. For all the pleasant surprises, the Heat rank just 17th in offense and don't appear to have a ton of upward mobility at that end of the floor. (Even a spike from Butler figures to be mitigated by some regression from Nunn, Dragic, and Meyers Leonard's 73% true shooting.) At the other end, they've surrendered the highest rate of 3-pointers as a proportion of opponents' shots (more than 40%), and they've been fortunate that opponents have connected on a league-worst 28.9% on those threes, including 31% of wide-open looks.
Miami can really change the equation and establish itself as a threat by swinging a trade (a point guard or a power forward upgrade would be nice), and the current roster certainly contains the assets to get something done. The Heat have also banked some impressive wins, but for now, of the three teams that have ostensibly jumped into the Eastern Conference mix, their early success feels the most tenuous.
Joe Wolfond writes about basketball and tennis for theScore.