Bradley Beal was long expected to define this season's trade market and potentially swing the championship race. Instead, he signed a surprise extension with the Washington Wizards, taking himself out of trade consideration until next summer.
But teams that believe they're one piece away from contention will still have the chance to acquire impact players who can tip the scales. Here are the six difference-makers most likely to hit the 2019-20 trade market.
Kevin Love, Cavaliers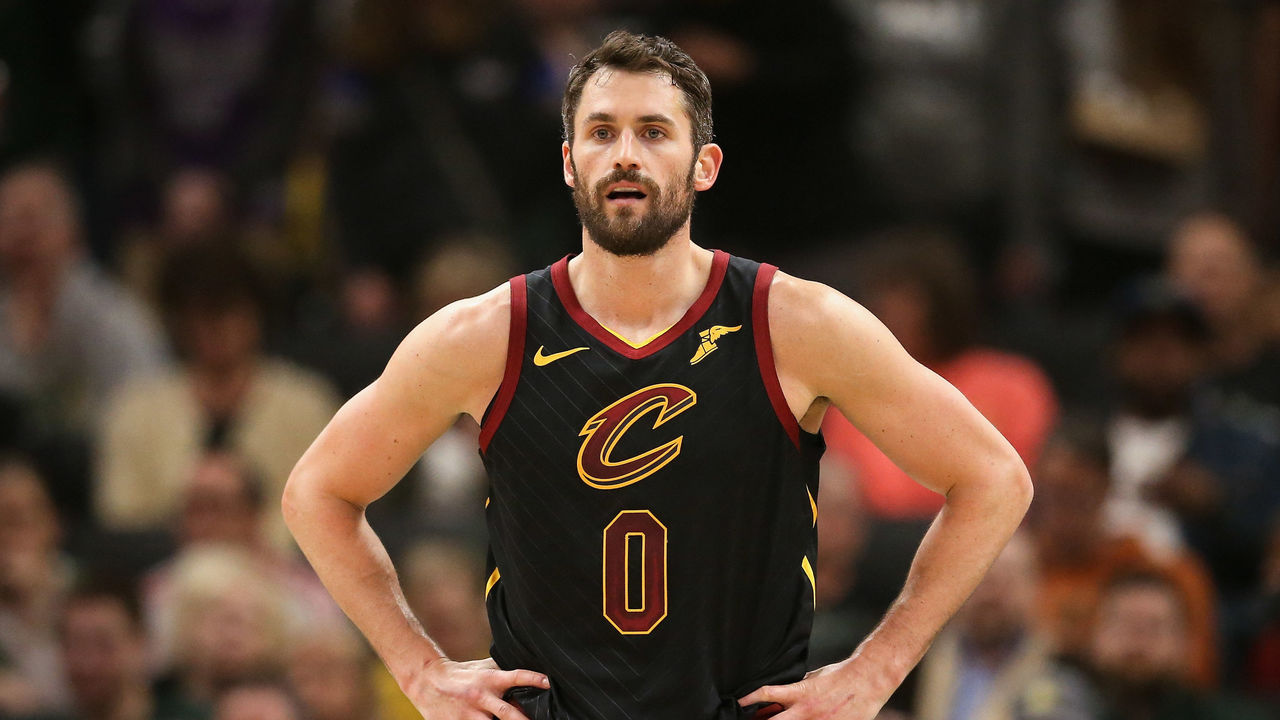 Love is about to start a four-year, $120-million contract extension, and both he and the Cavs have been somewhat cagey when discussing the possibility of a trade. Love, though, is wasted on a rebuilding team with scant hope of near-term relevance. And plenty of teams could use his combination of shooting, rebounding, post scoring, and passing.
The conundrum with Love is that he doesn't really have a defensive position. Playing him at the four is suboptimal because he doesn't move his feet well enough to chase guys around on the perimeter. But playing him at the five might be even dicier because he lacks the awareness and the physical tools to be a deterrent as a last line of defense.
Ultimately, he profiles more as a four who would ideally slot in next to a rim-protecting dive man. That shouldn't hamper his tradability; not many competitive teams need fives, but a whole bunch either have holes at power forward or are in dire need of some frontcourt stretch. Chief among them: the Trail Blazers, Pacers, Nets, and Spurs.
Love will also have to prove he can stay healthy and that he'll be able to earn his contract on the front end, let alone the back end. The 31-year-old hasn't played more than 60 games in a season since 2015-16; he played just 22 last year because of a foot injury that required surgery. But if he starts the season well, the Cavs should be able to snare a first-rounder and possibly even a decent young piece for him, provided they're willing to take back a bad contract.
Andre Iguodala, Grizzlies
Iguodala is still technically a member of the Memphis Grizzlies, but the team has essentially released him from his commitments while it waits to see how his market develops. The Grizzlies are clearly keen to get something in return, rather than simply buying him out.
That should be feasible, even though the Warriors made Iguodala seem like a negative asset when they gifted Memphis a first-rounder for taking on his $17-million expiring contract. Any Finals aspirant in the Western Conference will likely have to deal with at least some combination of Kawhi Leonard, Paul George, LeBron James, and James Harden. There aren't many players who can credibly guard those guys, let alone players who've done so multiple times in the playoffs and who have three championship rings and a Finals MVP award on the shelf.
Even in his age-36 season, Iguodala can be a difference-maker for a team with a dearth of wing defense, and there are a lot of them (the Blazers, Lakers, Nets, and Rockets, to name but a few). His salary could make it difficult to find the right deal, but it stands to reason that a team will pony up to get him before he turns into a buyout candidate.
Chris Paul, Thunder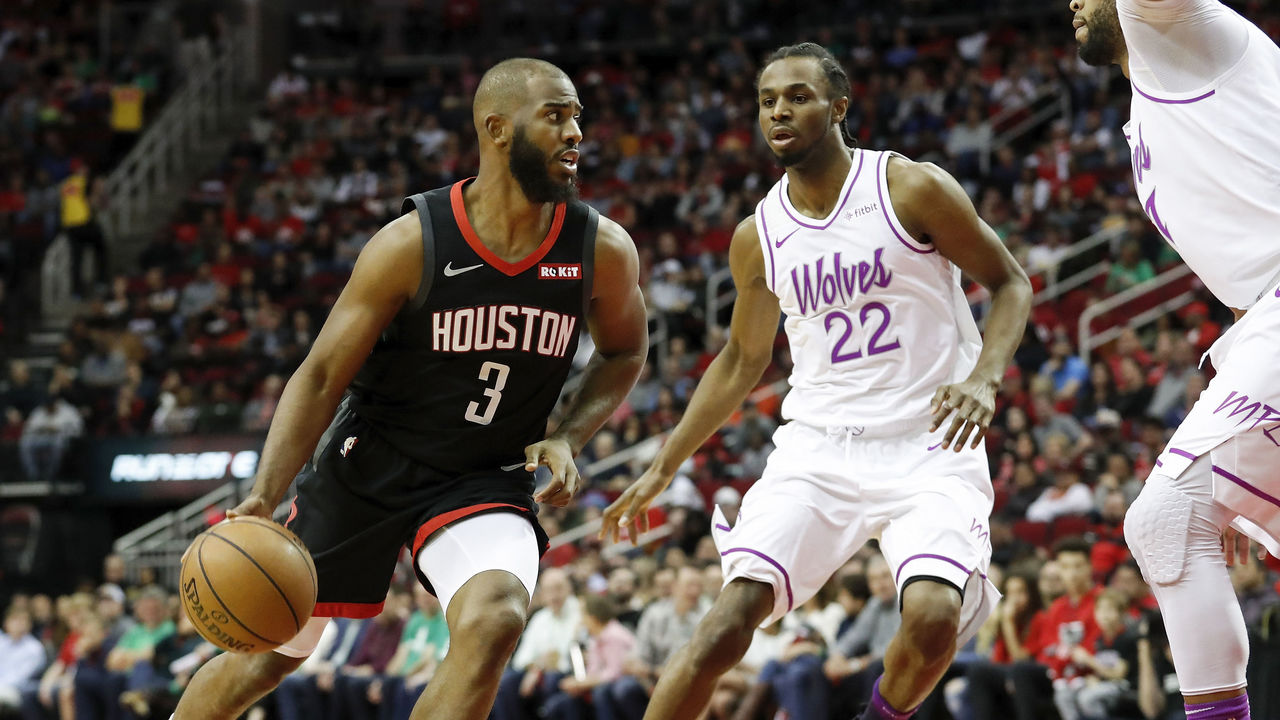 The most sizable impediment to Paul being traded is his contract - not just because teams will blanch at the thought of paying an ornery, 34-year-old, 6-foot point guard $124 million over the next three seasons, but because it will be difficult to cobble together enough salary in return to match the $38.5 million Paul is being paid this year. Some team should still find a way to make it work.
A lot of factors have conspired to suppress Paul's trade stock, but don't let that cloud his enduring value. The guy still averaged 17.6 points, 9.2 assists, and 2.2 steals per 36 minutes last year while ranking third among point guards in real plus-minus. The Rockets outscored opponents by 8.3 points per 100 possessions with him on the floor. He may not be able to dust guys off the dribble the way he once could, but he's still an ace pull-up shooter, brilliant passer, and maybe the single smartest player in the game. He can play on- or off-ball, rarely turns it over, and is one of the league's best defenders at his position.
The Bucks could use more certainty at point guard, where the Sixers and Nuggets don't even have a traditional starter. Eternally point-guard-thirsty teams like the Wolves, Magic, Suns, and Heat ought to be interested as well.
Much will come down to how Paul looks in Oklahoma City after a disappointing, injury-marred 2018-19 season that got him shipped out of Houston. It may also come down to what the Thunder are willing to deal him for. Would they do it just to get his contract off their books and take, say, Paul Millsap's expiring contract from Denver or a bunch of flotsam from Miami in return? Would they be willing to absorb an equally onerous contract if it's attached to a younger player with ostensibly more promise, like, say, Andrew Wiggins? We may soon find out.
D'Angelo Russell, Warriors
When the Warriors executed a sign-and-trade for Russell, they triggered the hard cap and forced themselves to deal Iguodala, leaving them perilously thin on the wing. General manager Bob Myers has insisted he didn't acquire Russell with the intention of trading him. Whether or not you believe that is immaterial; the fact is, Russell is an awkward fit on paper, and if that proves true in practice, Myers will look to move him.
A mutually beneficial trade with one of the aforementioned point-guard-starved teams could balance the Warriors' roster. It could net them someone who better complements Steph Curry and Draymond Green, and allow them to make a legitimate title run if or when Klay Thompson returns (which may not happen).
In Russell, they added an additional playmaker and 3-point shooter who can capably run the offense when Curry is on the bench. They also added a ball-dominant, high-volume, low-efficiency scorer who is a minus at the defensive end. The skills Russell brings will be useful to the Warriors, but they'd be more useful to another team. What the Warriors need more is a meaningful upgrade on the wing; someone who can shore up what profiles as a lousy defense, who doesn't dominate the ball on offense, and who can guard the kinds of power wings they're likely to face in the Western Conference playoffs. Think Robert Covington, Justise Winslow, or, in a best-case scenario, Aaron Gordon.
Speaking of whom …
Aaron Gordon, Magic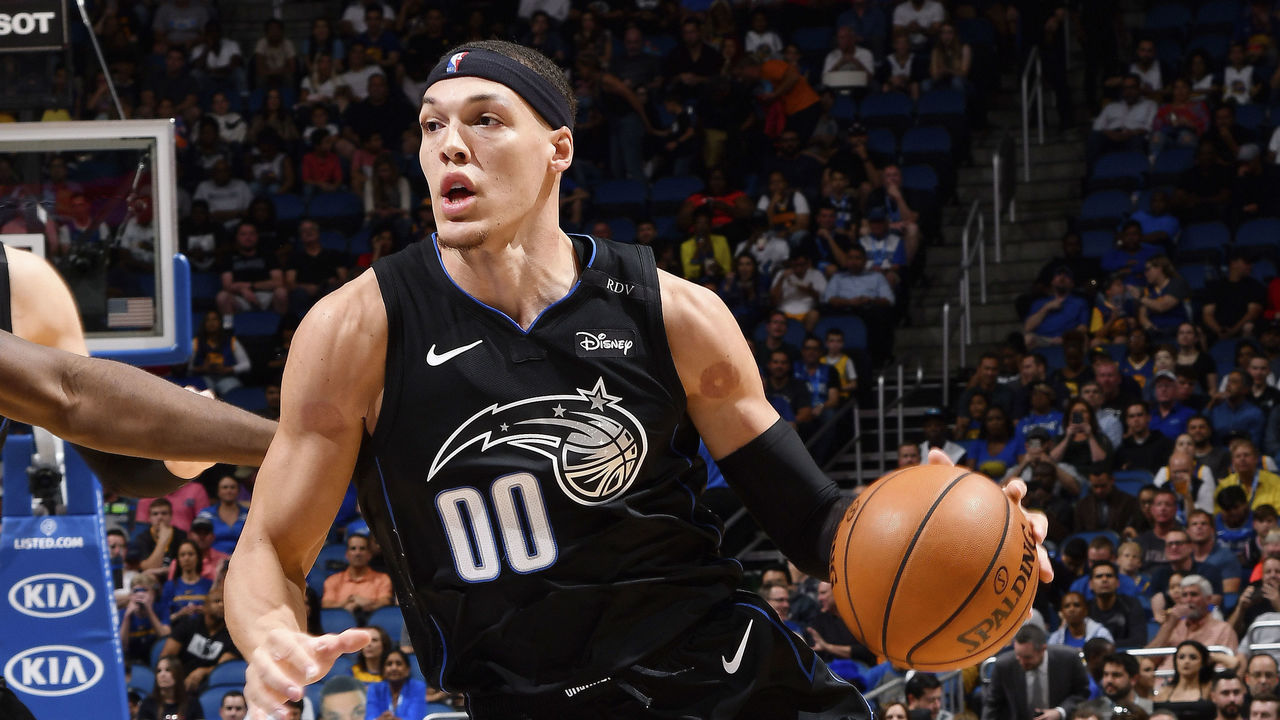 Like the Warriors, the Magic have an imbalanced roster that they can look to level out with a trade. Unlike the Warriors, it's the backcourt where they need help. Their offense ranked in the bottom 10 last year, and continuing to rely on D.J. Augustin, Michael Carter-Williams, and Markelle Fultz at point guard doesn't seem like a recipe for improvement.
Gordon is a young, dynamic, toolsy player who can guard at least three positions and has All-Defensive upside. It just feels like he'll never reach his ceiling in Orlando, where the floor is perpetually cramped and a frontcourt logjam (featuring Nikola Vucevic, Mo Bamba, Khem Birch, Jonathan Isaac, and Al-Farouq Aminu) will force him to play nearly all of his minutes at small forward.
Anecdotally, the Magic seem more invested in Isaac as a long-term frontcourt piece, and in Gordon, they have a player who lands in the trade-chip sweet spot: He's on a reasonable, midsized contract that descends in value, and he can fit in with either a rebuilding team or a contender. Which is to say, he's young enough (24) to retain plenty of theoretical upside, but he's good enough to help any team even if he doesn't improve.
For all those reasons, the Magic would have to get great return for a Gordon trade to be worth their while (would they consider Russell enough?), but they're in a perfect position to deal from an area of strength in order to address their area of weakness.
Danilo Gallinari, Thunder
Gallinari is coming off arguably the best season of his career, in which he averaged 23.5 points per 36 minutes on a staggering 63.3 true shooting percentage while appearing in 68 games - his highest total since 2012-13. Just about everything I wrote about Love also applies to Gallinari, including the injury concerns and the lack of ideal defensive position (though Gallinari is more of a three/four than a four/five).
The former Clipper isn't the rebounder, facilitator, or post-up threat Love is, but Gallinari is a more efficient and less dependent scorer who should be easier to shield on defense. A team like Portland or Indiana might consider him a better alternative, especially given the comparatively minimal salary commitment (one year, $22.6 million). That could work for or against the Thunder. Would a team prefer to surrender real assets for a one-year rental that will keep its cap sheet pliable, or for a player who will remain under team control for several years?
Gallinari feels like the most probable Oklahoma City player to be dealt this season. Unlike Paul, who can always be traded further down the road, Gallinari is on an expiring - and more movable - contract, and the Thunder likely want to get whatever they can get for him while they can still get something.